Aloha, Amazon Seller!
A complete guide from SageSeller on how you can effectively perform Amazon FBA product research. Read our article and start analyzing your business with us.
Selling online is becoming one of the most popular activities for creative people who have a lot of business ideas. Some of them think of online sales as a fast way of making easy money. Nowadays, that is not exactly true. If you'll ask a 7-figure Amazon business owner to describe his path to the top, they will most likely tell you about sleepless nights, hard work, a bit of luck, and a lot of …research.
Today you'd hardly find a merchant who has successfully 'jumped' on Amazon and made millions of bucks upfront. Before you start selling, you'll need to familiarize yourself with the rules of the game on the sales platform. This is especially true when it comes to Amazon.com since it's a marketplace with a lot of competition and strict TOS.
A key point of success in any merchant's sales journey is the product they sell. Finding inventory to sell online is done with the help of product research e-commerce. Product research includes all the way from performing market analysis, determining supply and demand for a product, and setting your strategic management goal, to making research on how your product's packaging design will affect customer sales volumes.
To put it simply, if you want to make money from Amazon online retail faster than you are losing it, you'll need to select a product that people will buy, and this can be done only if you apply Amazon product research.
In this blog, we will describe how to do product research for Amazon, the main criteria of how to do product research, and how to research products to sell on Amazon step-by-step.
To avoide long steps you may use Amazing Secret to make money on Amazon easy. Amazing Secret shares with you~75 000 products that generated over ~150 million dollars for the last 12 months. That's the easier product research for you.
What Is Amazon Product Research?
Amazon FBA product research is the way to select a product to sell on the marketplace, validate a product idea, and verify if it'll turn out to be successful or not. It's the initial part of the product development process that gives you the possibility to understand if your product idea will generate sales.
In other words, you'll need to roam a market, analyze it, and find an item that will be in high demand and will convert to sales and profit. Thus, your target is to search for a product that you can find for a low price and sell with a good profit margin, still being competitive.
To put it very short, your product idea should be profitable, have a medium level of competition in its category, have enough demand, and have competition deficiencies.
Why Is It Important to Make Product Research?
Amazon is a very crowded place with very high competition. Choosing a product just because 'your guts tell you', that it will succeed is like fortune-telling on coffee grounds – most likely will not work out.
If you don't find a product that stands out, don't create an optimized listing your potential customers will find, and won't promote your product, you'll simply waste your time and money – your product is not going to sell. Considering that Amazon charges you a lot of different fees, ranging from account fees to the fees for storing inventory in their warehouse, especially if you'll use an FBA fulfillment method, you can easily lose money instead of earning.
In order to avoid that, you'll need to check whether shoppers are going to buy your product or not.
FBA product research helps you:
Verify if your product will sell;
Identify similar products;
Outline the best ways to develop, manufacture (if applied), and sell an item;
Ensure there's a demand for your product;
Assess how much customers are going to pay;
Avoid costly mistakes;
Identify potential problems with the product;
Determine your competitors' tricks and mistakes.
Some merchants consider product research Amazon a difficult task, but it actually isn't if you know the criteria to focus on and the way how you should proceed.
How to Do Product Research for Amazon?
Basically, there are two ways to do FBA product research and find a product – you can do it manually or use automated product research tools for Amazon. Since both methods have advantages and disadvantages, you can apply both of them.
What Is a Good Product on Amazon?
When making research, it's a good idea to implement general criteria to select a product. When you start looking for a product, they'll help you filter out what's worth considering and what's not. A product you select to sell shouldn't cost too much and should potentially generate sufficient conversions. These parameters can be estimated based on researching similar products' figures in your category.
A good Amazon product should:
Have good demand;
Have a sufficient profit margin;
Have a moderate competition;
Be a useful item;
Have a price under $20;
Be an item difficult to find elsewhere;
Be a life improvement or a lifestyle product;
Belong to a popular market niche.
A good Amazon product shouldn't:
Have extremely high competition;
Be a bulk, easy to break, difficult to assemble, or very heavy item;
Be a highly seasonal item;
Be a licensed, or restricted item;
Be a product you can't promote on social media.
What Products Are Not Allowed to Sell on Amazon?
When going your product research, don't forget that there are certain items prohibited from sales on Amazon. The list of prohibited products and categories may vary from marketplace to marketplace, therefore it's a good idea to check what may not be possible to sell or what categories are restricted in your destination country.
Products you should avoid when doing product research:
Counterfeit products;
Copyright and trademark infringing products;
Potentially dangerous products;
Safety equipment;
Alcohol and tobacco;
Drugs, supplements, diet pills;
Weapons.
The full list is much more extensive, you can find it here.
How to Do Product Research Step by Step?
Now when you know what criteria you should apply to select a product, let's see what a product research process looks like. You'll need to find your product idea, select a category and niche, recheck its popularity, and validate research results.
7 Steps of the Amazon Product Research Process
Step 1. Identify your product idea.
Step 2. Detail your search, select a subcategory in your category.
Step 3. Make your product niche-specific -select products among the niche best sellers.
Step 4. Recheck the popularity of researched items on Google Trends.
Step 5. Select the products that are high in demand.
Step 6. Check competitor behaviors.
Step 7. Validate research results and start sourcing.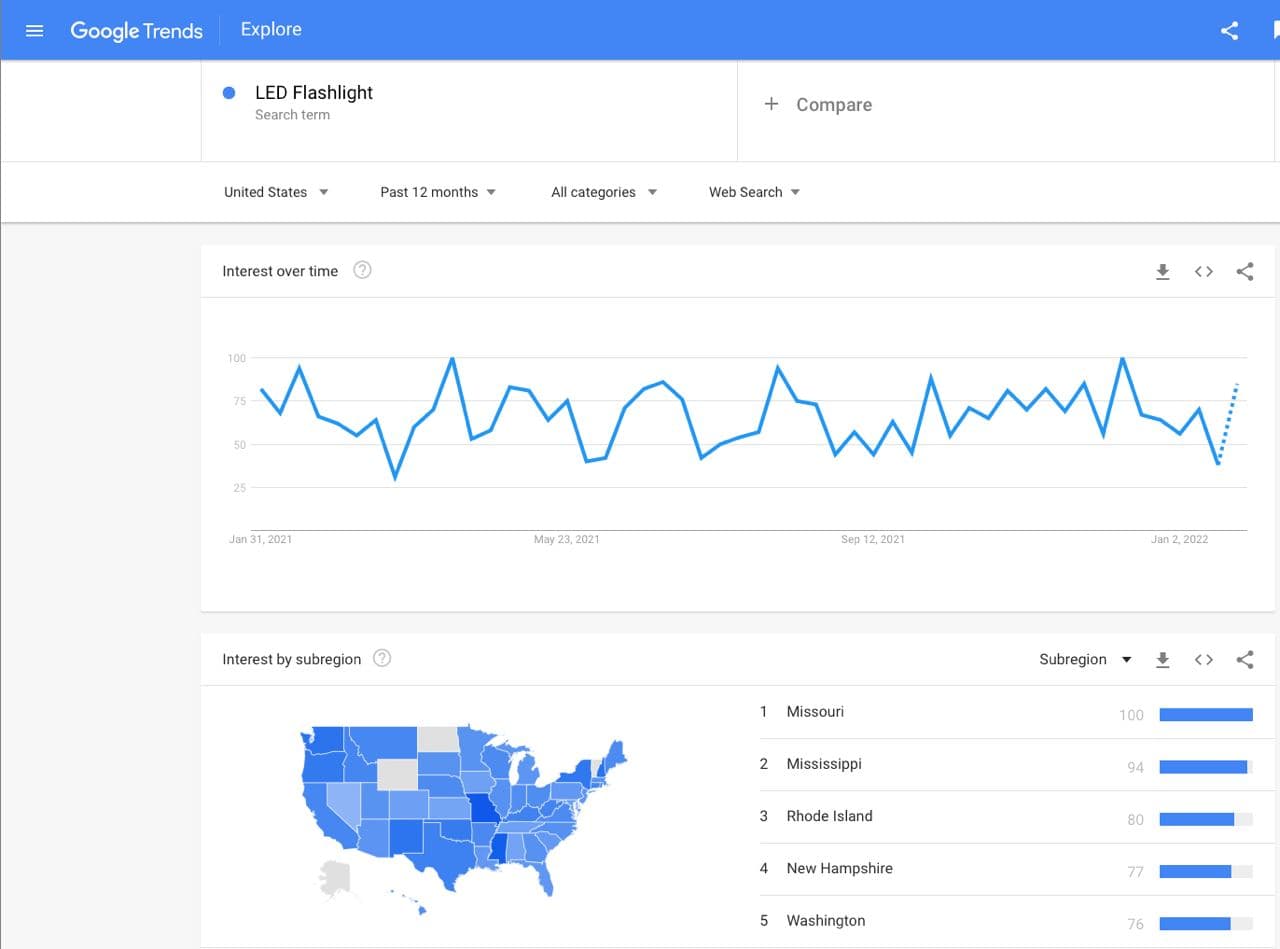 Step 1. Identifying Product Idea
5 recommendations to easily create a selling product:
Improve or upgrade a best-seller;
Create a color, size, or feature variation of an existing best-seller;
Create an accessory for a best-seller;
Create a bundle of best-sellers with lower prices;
Create an appealing packaging of an existing best-seller.
Where to find product ideas?
You can look for product ideas in the following places:
Amazon's best-seller list;
Amazon's Movers & Shakers;
Amazon Basics;
Amazon's section – "Customers Also Bought";
Amazon's product sub-tiers;
Google trends;
Brickseek;
eBay's trending list;
SaleHoo Market Research Lab;
Wallmart;
Etsy;
Pinterest;
Shopify stores;
AliExpress's best-sellers list.
Step 2. Detail your search, select a subcategory in your category
20 best selling product categories:
Arts Crafts & Sewing;
Automotive;
Baby;
Beauty & Personal Care;
Cell Phone & Accessories;
Clothing, Shoes & Jewelry;
Computer Accessories;
Electronics;
Handmade Products;
Health & Household;
Home& Kitchen;
Industrial & Scientific;
Kitchen & dining;
Musical Instruments;
Office Products;
Patio, Lawn & Garden;
Pet Supplies;
Sports & Outdoors;
Tools & Home Improvement;
Toys & Games.
Find your product subcategory in any of these categories.
Step 3. Identify the best sellers under your niche
Find the items that were sold and a lot of 4- and 5-star reviews.
10 most profitable product niches:
Home Decor & Home improvement;
Jewelry;
Health & Beauty;
Fitness;
Pet products;
Boho clothing & Accessories;
Phone accessories;
Women Clothing;
Baby Products;
Car Accessories.
Step 4. Recheck the popularity of researched items on Google Trends
Google trends is a tool that determins the popularity of a search term on Google. If it ranks as high as 100, it is very popular. The bigger the number, the more trending is the term.
Step 5. Select the products that are high in demand
Look at the sales rate of similar products. They should be able to sell at least 10 units a day or more.
Step 6. Check competitor behaviors
Research what your competition does right and wrong, find out which products sell the most, get good ratings, and have positive customer reviews.
Step 7. Validate research results and start sourcing
Checklist to verify the results of your product research - recommended parameters:
Inventory priced within $10 to $50;
Inventory generating 10 sales a day and more;
Inventory having a BSR of 5,000 in the main category;
tem's 3 highest ranked keywords gain 50,000+ monthly searches;
Inventory having 50 and more positive reviews on the first page;
The inventory you can sell at least 25% less than the market price;
Inventory having low seasonality;
Not oversized and heavy products;
Not easily broken;
Not overly complex to assemble inventory;
Inventory that's not associated with any brand names or trademarks;
The inventory you can upgrade or improve;
A product that stands out;
Inventory with a recurring sales potential;
Inventory with no legal issues.
What You Shouldn't Do When Researching a Product?
Selecting a very narrow niche;
Setting up the extremely low prices;
Selling 'average' products that do not stand out;
Forget to calculate the profit margin;
Not improving the product.