Aloha, Amazon Seller!
We prepared a complete guide on how to decrease e-commerce cart abandonment, improve your conversion rates, and increase your revenue on Amazon.
Merchants on Amazon.com implement tremendous efforts to attract and retain their customers, given also that the platform supports them with extensive marketing tools. Still, stats show, that the majority of online shoppers are leaving your Amazon store without making a purchase. This number is as high as approximately seven of every ten buyers shopping online.
This sounds extremely discouraging, though, this is a very common process in e-commerce sales, called cart abandonment. The reasons for people adding products to cart and finally not buying them are very different, ranging from high shipping costs and complicated checkout process to simply browsing with no intent to purchase anything.
However, things are not as bad as they look at the first glance. You can try and reduce your abandoned shopping carts rate by applying a proactive approach, thus increasing your conversion rate, and retargeting customers to your store. In this blog, we will discuss the most widespread reasons for shoppers to abandon carts and the ways to reduce cart abandonment.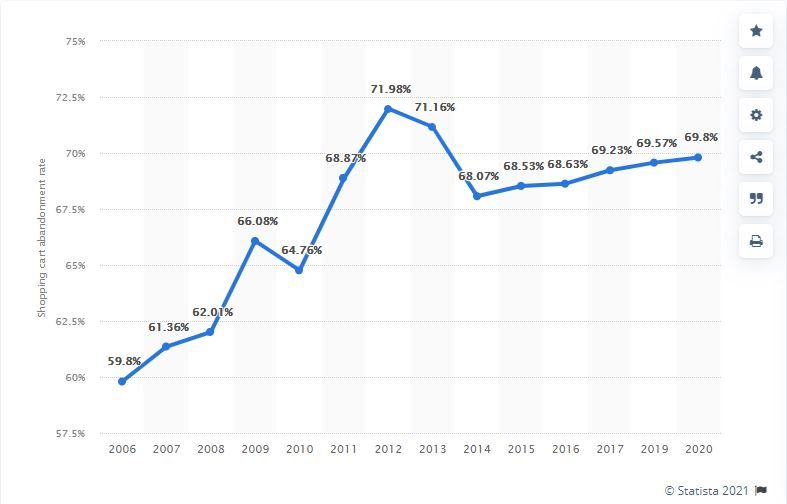 What Is Shopping Cart Abandonment?
Shopping cart abandons happens when shoppers have first added the product to their shopping cart but finally abandoned it without making a purchase.
Cart abandonment is different from browse abandonment since the latter refers to consumers who are merely viewing the items but are never buying them, not adding any products in the carts.
High cart abandonment rates may show bottlenecks in your customer journey, therefore, you need to monitor this metric and investigate abandoned shopping cart reasons, since this directly affects conversion rates, and, therefore, your revenues.
How to Calculate the E-commerce Abandoned Cart Rate?
The formula you should use to calculate the cart abandonment rate looks as follows:
1 - number of transactions completed / number of transactions started * 100
Let's take an example with figures. If your customers created 650 carts, and 230 items were purchased, then your cart abandonment rate is 64,6%.
What Are the Reasons for Abandoned Shopping Carts?
Given the high average cart abandonment rate as a trend, there is no way to put it down to zero. However, knowing the typical reasons for the process may help you in analyzing the metrics of your own store and reducing cart abandonment.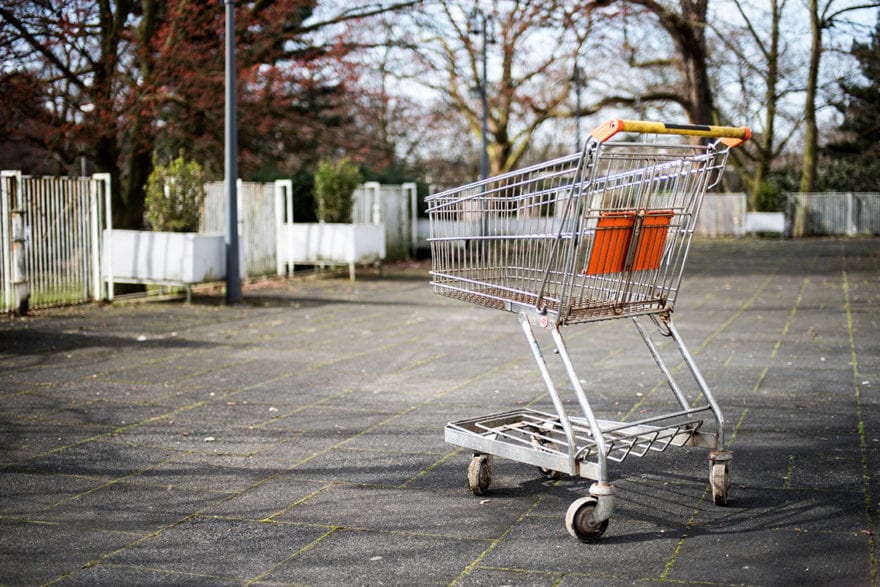 7 Most Common Reasons for Shoppers to Abandon Carts
#1. Extra costs
Extra costs that come unexpectedly, like any additional shipping, taxes, or other fees are the number one dealbreaker for shoppers. Making additional valuations may lead customers to purchase rejection. Therefore, it's very important to explicitly specify extra costs.
#2. Obligation to create an account
Forcing shoppers to create an account is a reason number two to abandon the customer journey. It delays a purchase being customer's the final goal and erupts extra barriers to it. The same thing happens when you establish a complicated checkout process. Buyers want to finalize the purchase process quickly, therefore, it should be set up as simple as possible.
#3. Complex and durable checkout
A complicated shopping cart with a lot of unnecessary elements may prevent customers from completing a purchase. Shoppers are taken aback when seeing a long list of form fields and may decide to abandon. Experts say that the number of fields in the form should not exceed 14.
#4. Unclear pricing and payment security concerns
If the price components, like shipping costs, fees, etc. are not explicitly stated, the customer may doubt if the price is stated in full. Also, any requirements for additional personal or payment information, like re-entering credit card or shipping details may raise the shopper's concerns and cause him to leave. Lack of the payment options customers are used to may also be one reason for abandonment.
#5. Issues with site speed
Todays' online shoppers lack patience, their customer experience prompts that everything should whirl around fast. If the site times out or works in an unstable way, shoppers may also have concerns as to the security of entering their payment details.
#6 Discount codes don't work
Discount codes are a good way to attract customers and increase conversions, and some of them may consider buying the product because it has a discount code. The codes also build up the loyalty of existing customers. However, if something goes wrong with promo codes, customers may get irritated and abandon their cart.
#7. Delayed delivery times
With Amazon's Fast and free shipping, nowadays shoppers expect an average of 2-3 days' delivery term. If it appears, that they have to wait too long, they may go to your competitor's store and buy from them.
The Most important Stats Re. Abandoned Shopping Carts Online
Statistics regarding cart abandonment show, what reasons customers prioritize when they abandon carts and what makes them feel most awkward in the sales process. This may help you improve the cart abandonment rate when it comes to your own store.
According to the stats, the number one reason for shoppers to abandon carts is extra costs that come up unexpectedly. The second top reason making shoppers abandon carts is when they are required to create an account. Finally, the top reason number three is too long, complex, or unclear checkout form. Basically, the majority of cart abandonment factors relate to either too complex or unstructured processes, unclear information, or a disability to build customer trust.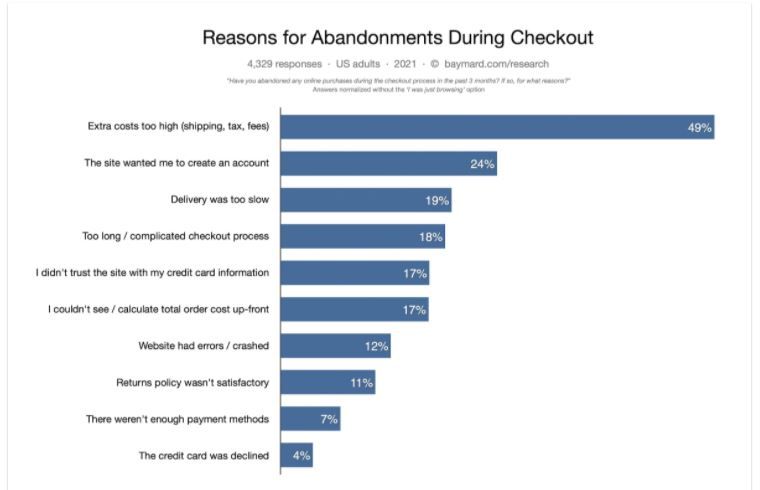 Basic Cart Abandonment Facts You Need to Know:
The average cart abandonment rate for all industries is 69.57 %;
The cart abandonment rate for mobile users is as high as 85.65 %
E-commerce seller loses due to cart abandonment amount to $18 billion;
Optimized checkout increases conversions by 35.62 %;
55 % of online shoppers abandon carts due to extra costs;
34 % of customers are leaving the cart if they are forced to create an account;
57 % of buyers abandon carts if they have to wait three seconds for a site to load;
The ideal checkout form should have 12 elements and 7 fields;
55 % of the customers leave the cart if they are asked to re-enter their credit card or shipping details;
46 % of buyers abandon the cart if a discount code is not working;
39 % of mobile users don't finalize the purchase process due to complications with entering their personal information;
Applying retargeted advertisements can revert 26 % of shoppers back to your store;
Personalized retargeted ads can increase ROI to 1,300 %;
Facebook and Google are the best platforms for retargeted ads.
10 Tips to Reduce Cart Abandonment Rate
1. Optimize your listing information, add detailed information about all costs;
2. Highlight your shipping information;
3. Optimize checkout process, reduce the number of form fields, add progress indicators;
4. Ensure that all pages on your site load within 3 sec, make navigation smooth;
5. Give shoppers incentives to buy now, add limited-time offers;
6. Make surprises, add discounts, promote them;
7. Provide live chat support;
8. Create a friendly and reassuring refund and return policy;
9. Clearly indicate your contact information on all pages to build trust;
10. Offer a number of popular payment options.
Enjoy your sales and don't forget about your product's profitability and KPIs, it's very important to keep track of them as they show your account health. To do the analysis easily, you can use Business Analytics Seller tools, like SelleRise. With this tool, you can keep track of your sales, costs, and profits and see where you can optimize them. Also, you can see sales and profit dynamics showing you how healthy is your business.