Aloha, Amazon Seller!
Do you want to increase your sales on Amazon? Start your way from Amazon search terms optimization. Follow us, and you can learn how to do it easily.
If any Amazon merchant will be asked: 'Would you like to grow your sales?', whoever of you would not answer – 'Of course I want'. In that case, the first thing you'll need to do is to ensure, that your potential customers can find your product, i.e., increase visibility.
The stats show that 87% of customer purchasing decisions start with research conducted online, majorly on Amazon or Google. On Amazon, shoppers can find items you sell via search if your listing contains the keywords relevant to search terms customers entered in the query. This means, that if you want to sell more, you'll need to ensure that the keywords you've used on your listing correspond to as many most popular search term combinations as possible.
The difference between Amazon search terms and keywords is, therefore, that search terms are word sequences written by the shoppers in the search bar when they look for an item, while keywords are the word combinations you bid upon in your ad campaigns.
Since Amazon focuses on offering its customers the products that are the most relevant match to their search query, their A10 search Algorithm operates in such a way that the shopper gets on their first Search Engine Results Page (SERP) the best products optimized by the most relevant keywords. And though relevant search terms are not the only factor considered by the A10 Algorithm, they play an important role, thus making Amazon search terms optimization necessary.
In this blog, we will discuss what is a search term, how to show more search results on Amazon by applying optimized backend keywords, and give you Amazon search terms tips.
What Are Amazon Search Terms?
Amazon search terms are word sequences that buyers use to find products. Amazon's A10 Algorithm matches the shopper's search query with the keywords contained in a product listing backend and shows products with the most relevant Amazon search keywords in the search results.
On Amazon product listing, these search terms are included in the listing backend field and are not visible to the shopper.
Backend keywords are terms hidden from the shoppers and visible only to Amazon sellers. These keywords 'tell' Amazon's A10 Algorithm that a specific keyword is relevant to your listing. Amazon backend keywords optimize product listing being invisible themselves. Though buyers can't see these keywords, they are indexed by Amazon.
Below you can find the Amazon search terms example given by Amazon itself. It displays a sequence of keywords entered in the listing "Search terms" field without punctuation and within the character limit of 249 bytes excluding spaces and punctuation, according to Amazon search terms optimization guide (we will further discuss it in detail).

The 250-bytes limit doesn't apply to Amazon India (200 bytes), Amazon Japan (500 bytes), and Amazon China (no byte limit).
Note: 250 bytes are not always equal to 250 characters - the exceptions are foreign language letters and those with accents. For instance, regular letters and numbers are one byte, through characters like "ü" equal to two bytes, and "€" is three bytes. Though Amazon says, that the word limit in the Search Terms field shouldn't exceed 250 characters, in practice, it is limited to 249 bytes. If you exceed the character limit, Amazon search terms help notification will appear.
Amazon Search Term Optimization Guide
On Amazon, there are certain dos and don'ts of using Amazon backend keywords. It's a good idea to follow best practices of the search term Amazon optimization guide when it comes to the optimized application of search terms. Generally said, you are recommended not to exceed the 249 character limit, use relevant search terms and keyword phrases, cover as many terms as possible, and avoid repetition.
Amazon Search Terms Tips:
Stay under length limit;
Include synonyms;
Include spelling variations, no need for misspellings;
Include abbreviations and alternate names;
You can use all lower case;
You don't need punctuation, such as: ";", ":", "-";
Separate words with spaces;
Don't repeat words within the Search Terms field;
No need for stop words such as "a," "an," "and," "by," "for," "of," "the," "with," and so on;
Use singular or plural, no need for both.
Prohibited Use of Search Terms:
Your brand or other brand names;
ASINs;
Profanity;
Temporary statements such as "new," or "on sale now";
Subjective claims, such as "best," "cheapest," "amazing,";
Abusive or offensive terms.
Below you can find an example of dos and don'ts of using Amazon serach terms.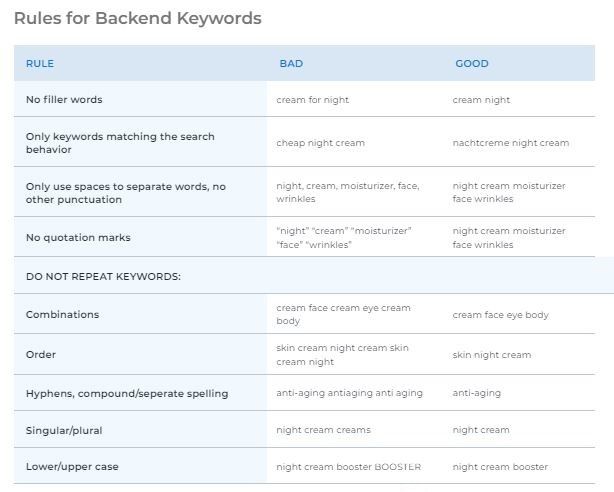 How Does A10 Algorithm on Amazon Rank Your Listing?
Since the Amazon A10 algorithm implements certain criteria to rank your product, it is important to consider them for Amazon keyword optimization. When a buyer enters a search query in a search bar, the Amazon search engine picks out the most relevant results first, and further ranks them in the order of relevancy.
A10 is an Amazon proprietary algorithm, they don't expose the exact metrics considered by the search engine. However, the criteria that matter are as follows.
Criteria considered by A10 Algorithm:
Conversion Rates;
Keywords and relevancy or completeness of product description listing;
Seller authority;
Impressions;
Sales History;
Click-Through Rate (CTR);
Organic Sales;
Internal Sales;
Off-Site Sales;
PPC sales.
10 Tips for Optimizing Amazon Backend Keywords
Apart from Amazon guidelines on how you should and how you shouldn't use backend keywords, including byte-limit, removing duplicates in the product listing, avoiding competitor ASINs, we can give you a number of useful hints on how to apply backend keywords.
Tips to Select Top Amazon Search Terms:
Add most efficient keywords;
Follow Amazon's guidelines;
Don't overstuff keywords;
Use only relevant keywords directly related to the item;
Don't use the same keyword twice on the frontend and backend;
Include variations;
Constantly monitor keyword performance;
Add search terms in the logical order;
Use keywords to target your audience;
Do not use brand identifiers.
How to Add Backend Keywords on Amazon?
If you'd like to add or edit your set of researched backend keywords, you'll need to do it in your Seller Central account.
Here's how to do it:
Step 1. Log in to your Amazon Seller Central account.
Step 2. Click 'Manage Inventory' in the 'Inventory' drop-down menu.
Step 3. Select the product listing that you want to modify and click 'Edit'.
Step 4. Select the 'Keywords' tab.
Step 5. Enter your backend keywords in the 'Search Terms' field.
Step 6. Click 'Save and finish'.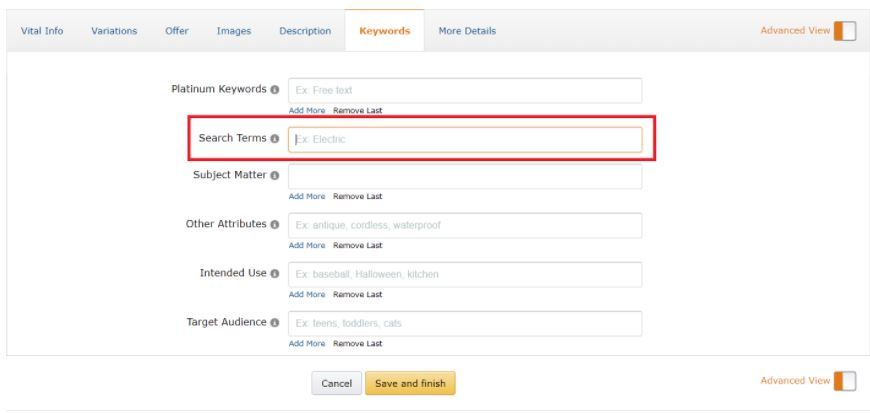 How to Find Amazon Customer Search Terms?
Amazon provides brand owners with an option to find out how customers search their own and their competitors' items. This can be done in the Amazon Search Terms report. The Amazon Search Terms report displays the most popular search terms in the Amazon store during a selected period of time and shows each term's search frequency rank.
How to Download Amazon Search Term Report?
Step 1. Login to your Seller Central.
Step 2. Navigate to the 'Reports' tab.
Step 3. In a drop-down menu, click on the 'Advertising Reports'.
Step 4. In the "All Campaigns" section, select a reporting period.
Step 5. Click the 'Create report' button.
Step 6. Click 'Download'.
Why Is Your Product Not Indexed?
Researching new search terms and adding them to your listings can help increase visibility and drive traffic to your listing, however, this will work only if you implement your keywords right. If you don't follow Amazon's instructions, your backend keywords will not be indexed.
The Main Reasons Why Backend Keywords Are Not Indexing:
#1. You've added too many keywords;
#2. You haven't included the search term into Amazon backend keywords' list;
#3. You are referring to a trademark or a brand name;
#4. You've included words like "new," "on sale," or "available now", or violated other Amazon's guidelines;
#5. You've added irrelevant or redundant information (wrong gender, out-of-context words, etc.).
Indexing and Ranking of Amazon Backend Keywords
Product ranking is the position and page number where Amazon A10 Algorithm places your product. Basically, more than 80% of Amazon purchases happen through the first page.
As said, though the algorithm takes into account multiple criteria, the searches are majorly driven by your sales velocity on a daily basis. Each and every keyword in the search result has a sales velocity influencing product's appearance on Search Engine Results Page (SERP). This means that your keywords compete with the sales of competitors' keywords in your product category. Therefore, it is vital to grow sales and create an optimized listing so that it is indexed for all the relevant keywords matching top customer search terms.
Enjoy your sales, and don't forget about your product's profitability and KPIs. It's very important to keep track of them as they show your account health. To do the analysis easily, you can use Business Analytics Seller tools, like SelleRise. With this tool, you can keep track of your sales, costs, and profits and see where you can optimize them. Also, you can see sales and profit dynamics showing you how healthy is your business.