Selling on Amazon.com but are not sure about investing in SellerSonar? This software has become a game-changer and helped many merchants build successful online businesses. In this Amazon tool review for 2022, we'll cover everything you need to know with up-to-date info.
So dig into our Amazon tracker guide and make that decision for yourself!
What Is SellerSonar And Why Do You Need It?
SellerSonar is Amazon software for merchants that notify you of all the critical product changes that can harm your business in the marketplace to help you handle the issues fast. It helps sellers monitor reviews, track keyword rankings and BSR history, estimate profit margins, and spy on competitors, all from one easy-to-navigate dashboard.
Let us describe all this in more detail.
First, SellerSonar helps sellers search for potentially successful products and validate this idea with a calculator by estimating costs and profit margin so they don't waste money and time. Besides, they can build more optimized product listings and monitor their competitors.
Then the tracker protects your business by keeping you aware of all listing changes, Buybox hijackers, and product suppressions with smart notifications. And probably even copies the seller's entire genome and stores the copies on a hard drive in Bezos' basement if they need to clone themselves (just kidding).

Instead of spending time on monotonous tasks yourself and relying on your gut feeling, SellerSonar does it for you instantly. You even don't need to log in to your Seller Central!
Keep in mind: product listing monitoring is one of the most essential factors for success in the marketplace, where the competition is growing by the day. If you don't adjust to changes, you will fail no matter how great your goods are.
According to Marketplace Pulse research, more than 2,000 new sellers have joined Amazon's twenty global marketplaces every day since 2016. That is a ton of competition. So, you have no chance to succeed unless you choose a profitable and in-demand product, optimize listings, and keep track of them.
On the other hand, the platform did over $460 billion in sales last year. That is more than the GDP of Ireland! Sounds promising, huh? Let's find out how SellerSonar can help you enhance your experience in the marketplace.
SellerSonar Puts Your Amazon FBA Tasks On Auto-Pilot
There has never been a better time to try Amazon FBA. This Seatle-based company is taking over the entire world. However, there're still a number of challenges to running your business in 2022. Below are some of SellerSonar's features aimed to make your use of the platform as smooth as possible.
Product tracking and alerts
If you wish to get a robust view of any item, just put it into SellerSonar. You will get the Amazon Best Sellers Rank, reviews, price, number of sellers, and more. Thus, you can decide whether to sell the goods, follow the changes to your competitors' listings, or stay alert if hijackers modify your product pages. Detailed reports give you a much more secure, data-driven approach to AMZ analysis.
Moreover, after adding items, this Amazon monitoring tool detects:
Title changes.
Product description changes.
Bullet point changes.
Product image changes.
Parent ASIN changes.
New questions added to Q&A.
Product listing suspensions and suppressions.
Out-of-stock issues.
Product rating changes.
Rating number changes.
New product reviews added, including upvotes on critical reviews.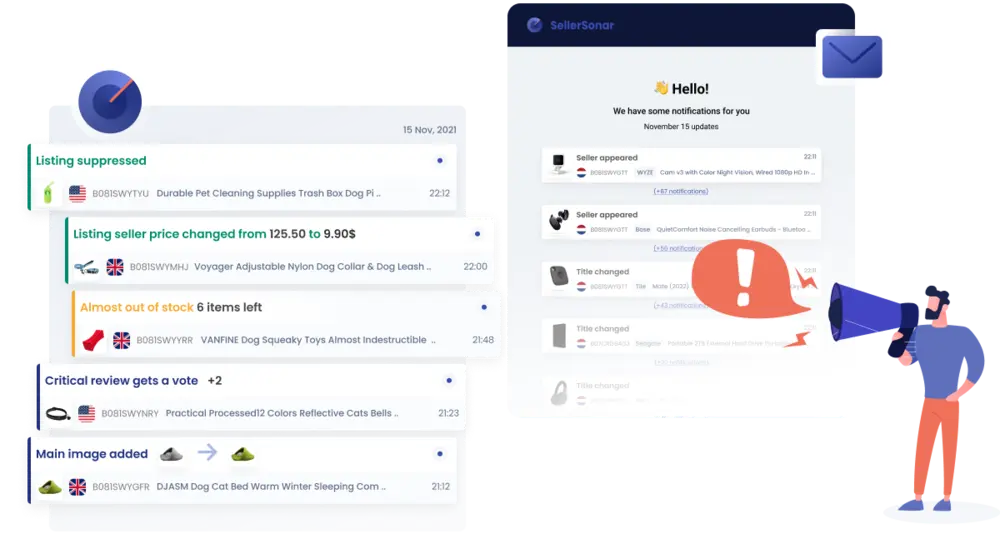 In addition, SellerSonar offers an option to set notification preferences per product and get alerts immediately or as a report with all changes to email daily.
The tool helps not to miss any changes in AMZ products, both yours and your competitors, and proceed with resolving issues instantly, protecting your brand reputation.
Keywords monitoring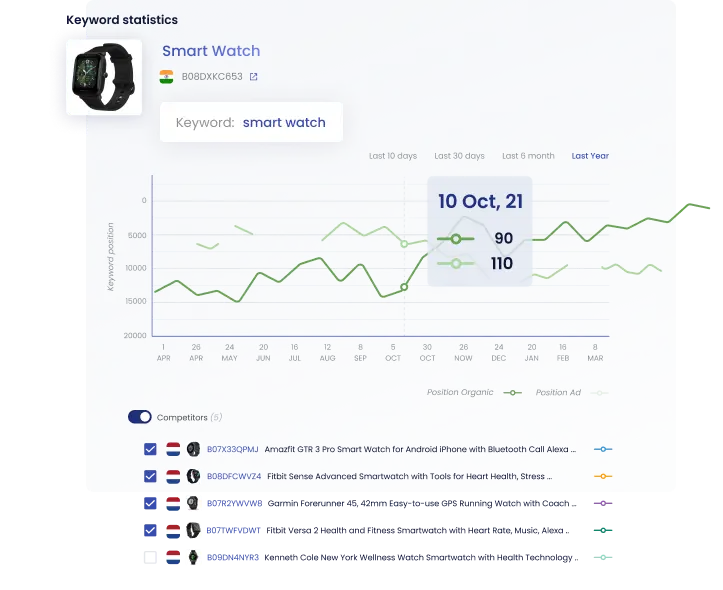 AMZ keyword tracking is essential to the success of any e-commerce company. Since you need to know how well your products rank on the target keywords and monitor your competitors' ratings.
Of course, you can do this manually by typing queries in the Amazon search engine. However, it's time-consuming and, what is worse, it might be inaccurate. Instead, SellerSonar can easily take this tedious task off you and provide clear search terms tracking.
Besides, you can view historical rankings for any keyword to check:
how well your product has been rated on a particular keyword in the past;
whether your product's rating has improved or deteriorated over time;
how your competitor's rating changes.
SellerSonar's keywords tracker provides merchants with an ultimate picture and generates valuable data for further analysis. For example, you can compare your product's keyword rank history with your competitors' search terms.
Review monitoring and analytics

After adding products, the Amazon review checker provides convenient feedback monitoring and detects the following:
Every new critical review.
Every new positive review.
Reviews removals and changes.
Critical reviews upvoting.
Next, sellers get an instant review alert via email. Receiving feedback notifications right after they have appeared is a chance to immediately handle an issue and prevent your clients from getting the wrong impression. Here is a quick reminder of why review monitoring matters:
improves brand reputation management;
provides first-hand information from customers on how to improve products;
ensures analysis of competitors and features of their products;
influences clients' purchasing decisions;
has a direct impact on sales.
FBA calculator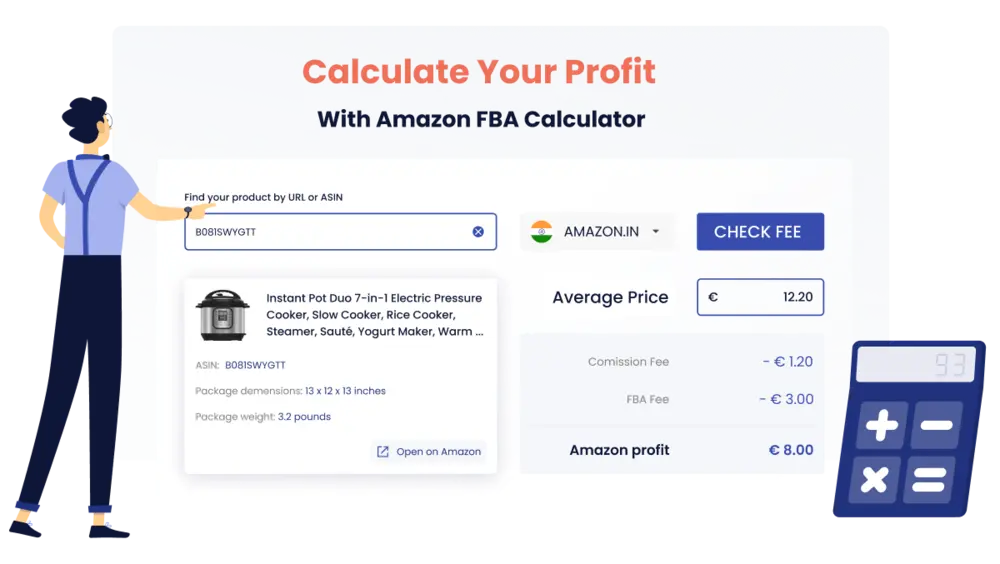 If you're an Amazon merchant, one of your most vital administration tasks is to estimate your profitability.
It is important both before and after launching your item on the platform. For example, when researching some goods, you will need to calculate and scrutinize the product's potential before starting to sell it, including all the initial investments, FBA costs, and estimated profits.
SellerSonar's FBA calculator helps to calculate your profit margin based on fees, product dimensions, freight cost, and weight.
Quick Verdict: Is SellerSonar Really Your Best Amazon Software?
It's been the claim by many AMZ sellers, and you can notice many positive reviews in seller communities out there. But, is there any truth to this?
100% yes.
Every AMZ tracking tool available falls into one of the following two groups:
We are supposed to keep it an unbiased review, so let us explain it logically without any sales pitch. Many other tools on the market excel at one specific aspect. For instance, fees and profits calculation, keyword research, review monitoring, etc.
SellerSonar is a comprehensive Amazon tool that does it all at a high level. It provides everything the other platforms do, plus several unique features and Amazon notifications that none of the others allow (at least not as well).
A single plan covers your product listing changes, new or deleted reviews, Amazon hijackers, keyword rank history, and listing suppressions. I don't know if there's an AMZ business issue that SellerSonar does not solve.
And you are welcome to test it with a free 90-day trial. Don't like it? Fine, just cancel your account and don't extend to the paid subscription. That won't happen, though.
If you wish to grow an AMZ company that makes you hundreds or thousands of dollars a month in passive income, let this piece of smart software take care of the most vital aspects of your business.