Aloha, Amazon Seller!
Look at our report of the top Internet retailers. Learn how the consumer's preferred retailers and shopping strategies are changing over time.
E-commerce shopping is replacing traditional brick-and-mortar retail stores step-by-step, being a lasting process, though. The growing popularity of such online shopping platforms like Amazon.com, Walmart, or eBay is an indisputable fact proven by retail sales figures and growing shoppers' interest. During the past five years, the online shopping volumes in the US have increased almost twice. Shoppers are attracted by innovation introduced by the top online retailers in digital distribution, its convenience, speed, favorable prices, and variety of the products offered.
For a seller, the scale of marketplace operations and other factors like target audience, level of competition, and growth trends may hint at which platform to select for expansion if you consider diversification as your sales strategy.
The list of the top online retailers didn't change much over the year, with Amazon, Walmart, and eBay dominating the market lst year.
In this blog, we're going to discuss the top retailer online list, where your potential consumers are shopping, and the latest developments in businesses of the top retailers in the US.
Your Potentual Customer Base: How Many People Buy Online?
About three-in-ten U.S. adults say they are 'almost constantly' online, and 48% of adults go online "several times a day." Since shopping is an essential part of human life, no wonder that they prefer to shop online.
International online sales grew up to $4.9 trillion in 2021. This is up from $4.28 trillion in 2020. Future estimates put the total at an impressive $6 trillion in 2024.
In the United States, e-commerce sales are forecasted to reach $740 billion by 2023. In 2020, the number of online shoppers exceeded 256 million and is expected to reach 263.01 million in 2021, and 278.3 million in 2024.
Figures show, that online shopping is growing and shoppers spend more money online compared to the previous year. In 2021, 32% of U.S. shoppers have said that their overall spending decreased, 43% said it has stayed the same, and 26% said it has increased. 39% of respondents mentioned that their online spending increased in 2021 by 5% since late 2020. Also, 77% of the poll participants have said that they expect their online spending to stay the same.
What Are the Important Trends of Online Shopping in 2021?
In 2021, online shoppers care about the price levels, prioritize fast and free shipping, the majority of the traffic is generated due to direct-to-site ads, SEO optimization, e-mail, and social media marketing, while both desktop and mobile website versions have equal weight.
The Most Important Trends of Online Shopping in 2021:
Price matters to shoppers;
Fast delivery, low shipping cost is a focus;
Shopping second-hand is growing;
Direct-to-site, email, and SEO generate most of the traffic;
Social networks grow sales;
Both desktop and mobile sites are equally important;
Customers shop online via Amazon searches;
High shipping costs are the primary reason for cart abandonment;
Online buyers purchase a lot of entertainment;
Americans favor PayPal over any other digital wallet.
You can find out more details about trends of online shopping in 2021 here.
What Are the Top Online Retailers for 2021?
Of the biggest online retailers, five companies are dominant in the market. These are Amazon, which sells more than the totals of the other four, Walmart, eBay, Apple, and Home Depot. According to Statista, the top retailers in the U.S.A. as of October 2021 are Amazon with 41 percent of the U.S. e-commerce market, Walmart, with 6.6 percent, eBay, with 4.2 percent, Apple with 4.0 percent, and the Home Depot with 2.2 percent.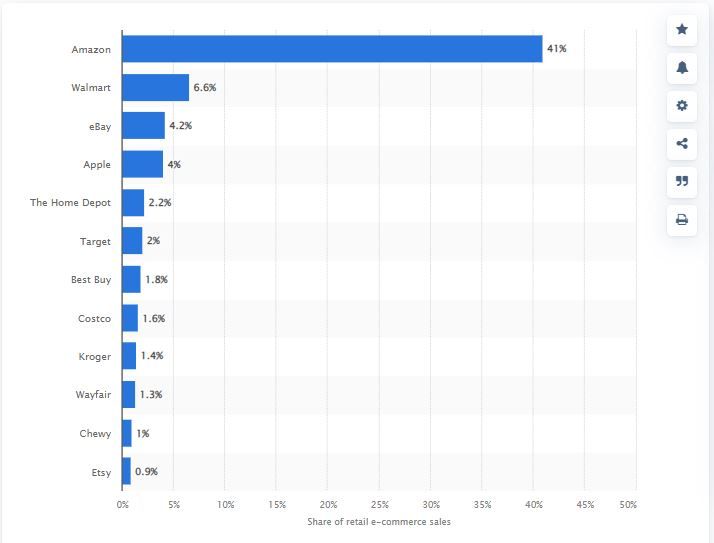 The list of the top 10 online retailers in the US:
Amazon;
Walmart;
eBay;
Apple;
The Home Depot;
Target;
Best Buy;
Costco;
Kroger;
Wayfair;
Chewy.
Which Retailers Do Shoppers Prefer In 2021?
In 2021, when shopping both in-store and online, the U.S. buyers mostly selected Amazon, Walmart, Target, and eBay.
According to Jungle Scout, the top five retailers in the U.S. (both online and in-store) in 2021 are:
Amazon – 70%;
Walmart stores – 54%;
Walmart.com – 38%;
Target stores – 30%;
Target.com – 20%.
If the figures are broken down into in-store and online retailers, Amazon still holds the lead.
Which Internet Retailers Are Growing Popularity among Shoppers?
The internet retailers where people shop online the most, are Amazon, Walmart, eBay, Apple, and Home Depot.
The online retail stores that are growing in popularity fast compared to the previous year are Instagram Shop – up 152%; Houzz – up 122%; and Albertsons.com – up 93%.
In-store retailers, including Best Buy, Kohl's, and Lowes, on the contrary, are losing popularity among shoppers.
Where Are Shoppers Searching for Their Products Online?
Among the online retail stores, Amazon is a search leader. This is natural since the majority of online purchases are made on the e-commerce giant's platform. However, Google search or social media are also popular places for shoppers to make searches for their items.
The Websites Used by the U.S. Shoppers for Second-Hand Product Search
Apart from new products, shoppers are increasingly searching for second-hand items.
The largest online retailers' websites used for second-hand product search are:
Amazon - 66%;
eBay -37%;
Facebook Marketplace - 25%;
Craigslist - 18%;
Bonanza - 14%;
Close5 - 14%;
Etsy - 14%;
Shopify - 10%;
OfferUp - 9%;
Poshmark - 8%;
Other- 47%.
What Products Do Shoppers Buy In-Store and Online
In online stores, shoppers prefer to buy Clothing, Beauty & Personal Care, and Books product categories, while Groceries, Cleaning Supplies, and Over-the-Counter Medicine categories are purchased more in the brick-and-mortar stores.
Top Products Consumers Buy In-Store:
Groceries;
Cleaning Supplies;
Over-the-Counter Medicine.
Top Products Shoppers Buy Online:
Clothing;
Beauty & Personal Care;
Books.
Top Products Shoppers Buy on Amazon:
Books;
Home & Kitchen;
Electronics.
Top Products Shoppers Buy on Walmart:
Electronics;
Beauty & Personal Care;
Groceries.
Top Products Shoppers Buy on both Amazon and Walmart:
Clothing;
Pet Supplies;
Vitamins & Dietary Supplements.
Top 5 U.S. E-Commerce Retail Companies in 2021 In Detail
The top 5 online retailers in the U.S. are Amazon, Walmart, eBay, Apple, and Home Depot.
#1. Amazon
Amazon takes the first place in the list with 41%, which is close to half of the U.S. e-commerce market share. With $386.4 billion generated in e-commerce sales, Amazon is $319 billion ahead of Walmart. During Amazon Prime Day 2021 alone, which was held in 20 countries, e-com giant's customers purchased over 250 million items. As of 2021, Amazon has over 200 million Prime subscribers, 147 million of them being based in the US. Amazon Prime Video counted more than 175 million unique viewers in 2021, and Amazon recently acquired MGM Studios for $8.4 billion, adding more exclusive movies to the platform.
# 2. Walmart
The second-largest retailer on the list with 6.6% of the U.S. e-commerce market share is Walmart. Its e-commerce sales volume amounts to $67.39 billion. For the moment, Walmart launches a program for small and mid-sized retailers to help them implement high-tech solutions in their business. The program equips them with Walmart's technology of seamless pickup and delivery of online orders. Around a year ago, the e-com retailer launched its own Amazon Prime - a new membership program, Walmart Plus. It costs $98 a year or $12.95 per month, slightly less than an Amazon Prime membership.
#3. eBay
One of the oldest players in the industry alongside Amazon, eBay occupies third place in the list with a 4.2% of the U.S. market share and $40.47 billion of online sales. eBay recently introduced a number of technological modifications on their platform and allowed buying and selling non-fungible tokens (NFTs). eBay reports to have 187 million users worldwide, its app being used by 34.9 percent of U.S. mobile users. 16.4 percent of products sold on eBay belong to the top-selling "Electronics & Accessories" category. There are 1.7 billion listings on eBay.
#4. Apple
Being one of the most influential and internationally recognizable brands, Apple takes the honorary 4th place in the list with 4% of the U.S. online market share and $35.3 billion of e-com sales. Valued at over $2 trillion in 2021, it is the most valuable technology company in the world. In June the company launched Apple Podcasts Subscriptions, the international marketplace for premium podcast subscribers. Users from over 170 countries got access to subscriptions for individual shows and groups of shows. In May, Apple released the all-new iMac, the M1-powered iPad Pro, and the next generation of Apple TV 4K.
#5. Home Depot
With 2.2% of the U.S. online retail market share and $21.42 billion of internet sales, Home Depot takes the 5th line in the list. Recently, Home Depot implemented a new "Rent Online, Pick-up in Store" technology, offering its customers an option to reserve and rent equipment online up to 30 days in advance. This way shoppers can conveniently check equipment availability and save time on the trips to the store. The company also extended its partnership with Google Cloud to expand on its digital environments.