Aloha, Amazon Seller!
Amazon logistics is an alternative to the same-day delivery shipping option. You can learn more information about shipping with Amazon logistics in our article.
The more the online retail industry grows, the more diversified and efficient logistics become. Optimization of all sales processes, including shipment to the customer's door, made it possible to introduce same-day delivery, which has nowadays become a regular expectation of online shoppers.
Amazon.com, the biggest e-commerce platform, with 41% of the U.S. e-commerce market share and $386.4 billion generated in e-commerce sales, is a pioneer in fast and free shipping and software logistics innovations.
According to customer feedback, the majority of online buyers shop on Amazon because of fast, free shipping (79.8%).
It was Amazon who introduced the practices of fast shipping, which are same-day delivery, next-day delivery, and express delivery, focusing on prioritizing particular package delivery over others, this way allowing it to be shipped faster. Amazon's fast delivery was made possible due to efficient supply chain strategy, stock management, and optimized 3PL network services.
On top of these, diversified shipment channels increased the efficiency of Amazon delivery logistics. Amazon logistics shipping service known as Amazon Logistics is an essential part of Amazon logistics process ensuring increased customer satisfaction, recurring purchases, and lower cart abandonment rates.
In this blog, we will discuss what is Amazon logistics delivery and how does Amazon Delivery Service Partners program help the e-commerce giant deliver orders to shoppers.
Innovations Grow Amazon Logistic Reach
Amazon is known for investing significant efforts and funds into cutting-edge high-tech solutions to provide customers with the best and technologically advanced services. Though not all of these projects work ideally from the start, like Amazon Prime Air delivery, these solutions add value to Amazon services and allow the platform to compete with such topmost industry providers like UPS, USPS, and FedEx. Among these services are Amazon's cargo airline, Amazon Flex, Metro markets, and more.
Amazon's Cargo Airline is an airline Amazon delivery logistics service operating exclusively to transport Amazon packages. Amazon Air uses ATR 72, Boeing 737, and Boeing 767 aircraft, currently operated by contracted partners including Atlas Air, Air Transport Services Group, and ASL Aviation, with a fleet size of 79 cargo aircraft. Since January 2021, the airline is looking into directly owning the aircraft.
A drone delivery system, called Amazon Prime Air, is still under development within the frames of this project.
Amazon Flex is a service similar to Uber, applied to deliver orders to the buyers. Drivers are using the app to receive instructions.
Metro Markets. Amazon Prime members in 75 U.S. metro areas can receive free same-day delivery on qualifying orders.
Underground Deliveries. Amazon is considering using subterranean tunnels, where they plan to apply conveyor belts and vacuum tubes to deliver parcels and containers.
Voice-assisted deliveries. With this option, Amazon Prime members can order products from Prime Now using voice search offered through Amazon's virtual assistant Alexa.
Self-driving vehicles are a new service that will be introduced to deliver Amazon orders to shoppers by driverless vehicles.
What Is Amazon Logistics?
Back in 2005, Amazon initiated its own Amazon logistic service aimed at customer orders delivery. The pilot project under the name 'Amazon Logistics' started in San Francisco, Los Angeles, and New York City, and afterward was extended to hundreds of cities across the U.S. and to other countries internationally.
Amazon Logistics is carried out by individuals or Amazon Delivery Service Partners (DSPs). It's a last-mile shipping service that delivers items shoppers order, to their door. Amazon Logistics is an alternative or a compliment, depending on the case, to the same-day delivery shipping services of the topmost shipping providers like UPS, USPS, and FedEx.
Amazon hires third-party companies or individuals to fulfill last-mile delivery services. This can range from small delivery companies to bicyclists, motorcyclists, and even walkers in certain instances. Amazon has positioned the DSP program as an investment opportunity for private entrepreneurs and third-party sellers.
If a merchant wants his orders to be shipped with Amazon logistics, they need to either be an Amazon Prime member or pay an extra fee per item.
Deliveries from Amazon Logistics are reflected in tracking as AMZL. If the delivery is made within the United States, it is referred to as AMZL_US.
When using this service, sellers should keep in mind, that the service is provided by different third-party companies and individuals that are not Amazon staff, which means that the quality of services provided may vary. Though Amazon handles specialized training and has specific selection criteria for the providers they hire, the service grade may differ company by company.

How Does Amazon Logistics Work?
Amazon logistics provides for orders delivery 365 days in a year, 7 days a week, during the day, including early mornings and late evenings. This is suitable in the cases when a package delivery requires a signature.
The drivers who deliver orders are considered third-party service providers contracted through Amazon. Amazon Logistics offers same-day and seven-day delivery options, and the deliveries are made by individual drivers or companies who are under Amazon's contract.
Here's how they operate:
Individual drivers: These drivers should be members of the ridesharing option Amazon Flex. They use a carsharing service model similar to Uber and sign up via the Amazon Flex app to get instructions, deliver orders, and register shipments in their local area.
Independent delivery companies: These companies are functioning under the Amazon Delivery Services Partners program. DSPs are owning a small fleet of vehicles operated by full-time drivers and ship orders from Amazon's warehouses to the assigned customers on daily basis.
As said, Amazon has certain selection criteria for the candidates who apply for the program, however, these companies only operate on Amazon's behalf (under Amazon's contract), but not under Amazon's name. The rules applicable with regard to the independent third-party service providers include safety training, licensing, vehicle size, etc.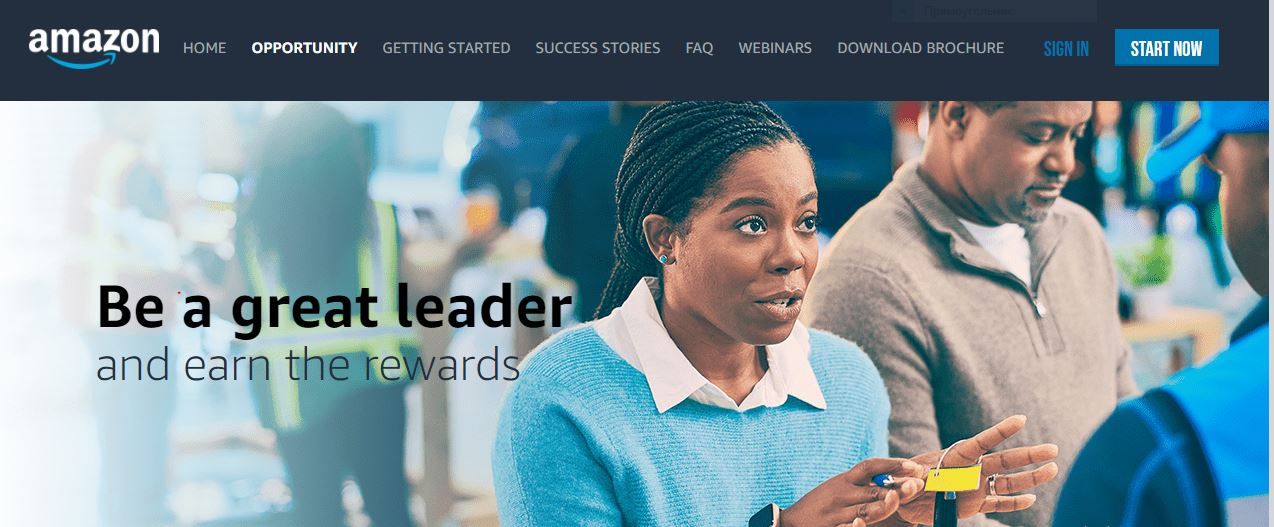 How to Join the Amazon Delivery Service Partner Program?
If a third-party company wants to become an Amazon DSP, they will need to comply with the basic requirements, including a $10,000 investment and operating up to 40 vans.
To become a DSP and work as a logistic Amazon partner, a company has to:
Invest a minimum of $10,000;
Hire and develop a team;
Operate up to 40 vans and 100 drivers;
Provide for the order delivery seven days a week and 365 days a year.
According to Amazon's calculations, with a startup cost of $10K and 20-40 vans, DSPs should be able to earn annually $1M to $4.5M and make a profit of $75K to $300K.
The program is invite-only.

Where Is Amazon DSP Available Across the U.S.?
Amazon Delivery Service Program is available in all the U.S. states, in particular cities.
It's available in:
Alabama;
Arizona;
Arkansas;
California;
Colorado;
Connecticut;
District of Columbia;
Delaware;
Florida;
Georgia;
Idaho;
Illinois;
Indiana;
Iowa;
Kansas;
Kentucky;
Louisiana;
Maine;
Maryland;
Massachusetts;
Michigan;
Minnesota;
Missouri;
Montana;
Nebraska;
Nevada;
New Hampshire;
New Jersey;
New York;
North Carolina;
North Dakota;
Ohio;
Oklahoma;
Oregon;
Pennsylvania;
Rhode Island;
South Dakota;
Tennessee;
Texas;
Utah;
Virginia;
Washington;
West Virginia;
Wisconsin.
To find out the exact locations in each of the states, click on the exact state here.
Where Is Amazon DSP Available in Other Countries?
The DSP program is currently implemented in eight countries and is expanding into others.
DSP program is available in:
Pros and Cons of Amazon Logistics for Third-Party Sellers
The advantage of Amazon logistics is the big number of warehouses, delivery stations, and drivers handling shipments, as well as fast deliveries and tracking options. The cons are related to the difference in service quality from third-party providers.
Pros and Cons for Amazon Merchants
Pros:
The fastest delivery options;
Seven-day and same-day shipping;
Compensation for seasonal delays;
Possibility for the shopper to track the journey of their package with Amazon Logistics' map tracking feature.
Cons:
Third-party providers offer different service qualities;
No possibility to select a delivery service;
Mishandled deliveries can negatively influence seller feedback from the customers.
Enjoy your sales, and don't forget about your product's profitability and KPIs. It's very important to keep track of them as they show your account health. To do the analysis easily, you can use Business Analytics Seller tools, like SelleRise. With this tool, you can keep track of your sales, costs, and profits and see where you can optimize them. Also, you can see sales and profit dynamics showing you how healthy is your business.