Aloha, Amazon Seller!
Today's сonsumers want the fastest shipping wherever they shop online. Read our article and learn about the benefits of offering fast and free shipping on Amazon.
In recent years it has become a golden standard of e-commerce retail business to offer fast and free shipping to customers. Online shoppers are getting used to one-, or even same-day shipping, to say nothing about two-day delivery. Ecommerce giants like Amazon and Walmart are fighting to implement best business practices to satisfy buyers' demand and improve customer shopping experience.
However, 15 years ago shoppers couldn't even dream of such fulfillment efficiency. Amazon.com with its Amazon Prime program launched back in 2005 made a revolution in e-commerce logistics offering free, two-day shipping due to advanced hi-tech approaches to inventory management strategy and the network of third-party fulfillment centers around the world.
This was a threshold of the "Amazon effect" and an impressive Amazon success story. Today, 71% of consumers are shopping on Amazon. Amazon's fast delivery due to efficient supply chain strategy, stock management, and optimized 3rd-party logistics (3PL) partners network resulted in increased customer satisfaction, recurring purchases, lower cart abandonment rates thus increasing sales and revenue.
What Is "Fast" Shipping?
Fast shipping is considered same-day delivery, next-day delivery, and express delivery. Fast shipping involves giving a particular shipment priority over others, allowing it to be delivered faster. For many shipping service providers, this means offering faster than normal shipping.
The majority of online buyers shop on Amazon because of fast, free shipping (79.8%).
Benefits of Fast and Free Shipping
E-commerce service providers offering fast and free shipping can grow their customer base and increase conversion rates.
Fast and free shipping allows to:
Increase conversions and reduce cart abandonment;
Increase customer satisfaction and loyalty;
Increase average order value.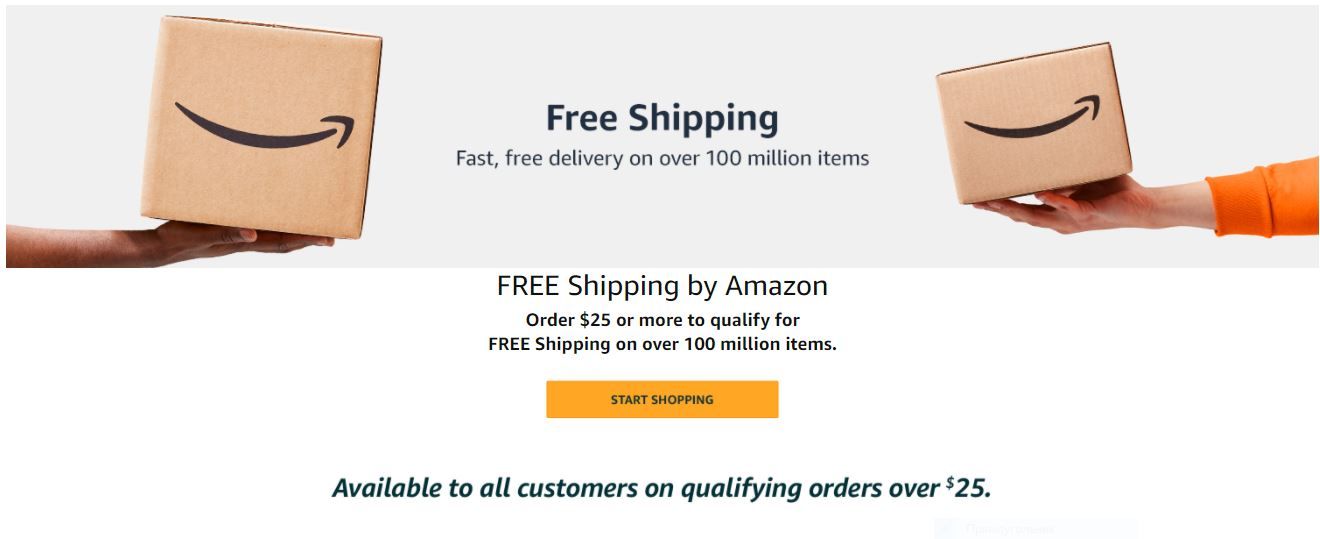 What Should Sellers Know About Shipping Preferences Amazon?
According to 2021 stats, two- or three-day shipping times are the standard for online orders — two in five consumers expect their deliveries to arrive in this window. One week is the upper limit for online order delivery satisfaction, with 91% of consumers expecting delivery within seven days of purchase.
Generalized customer shipping preferences Amazon are as follows:
2-day shipping window;
Fast and free (or low-cost) shipping;
Online access to information about customer shipment;
Notification when customer parcel has left the warehouse;
Parcel tracking for all orders;
24/7 access to customer service;
Timely parcel arrival;
Affordable, proven quality.
How Does Amazon Meet Consumer Demands for Fast and Low-cost Shipping?
As said, to achieve the fastest Amazon shipping time and reduce Amazon standard shipping time for prioritized orders, the marketplace launched a Prime Delivery program, allowing Amazon increase free shipping.
Under the Prime Delivery program, shoppers have several options.
Free Same-Day Delivery
With this option, in the US, orders placed in the morning (typically by noon) are delivered by 9 pm; orders placed in the afternoon will arrive the next day. Eligible items are marked as "Prime FREE Same-Day".
In Philadelphia, Dallas, Orlando, and Phoenix, customers can order until 5 pm and get delivery as fast as 5 hrs, with four daily delivery windows. Eligible items are marked as "Today" or "Overnight".
This Amazon free shipping on orders over $35 of eligible items is free for Prime members.
Free One-Day Delivery
With this option, shoppers can get items by 9 p.m the next day.
To access this option, shoppers need to filter products by "Get it tomorrow" when shopping. Selection and order cutoff varies by area.

Free 2-Hour Grocery Delivery
With this option, shoppers get ultrafast Amazon free shipping items of groceries and household essentials. It is also known as 'Amazon fastest shipping'.
Buyers can shop a wide selection of groceries including fresh foods and produce and get free two-hour delivery from Fresh and their local Whole Foods Market.
Available in select US cities.
Amazon Free Shipping Day
With this option, shoppers can add items throughout the week for free delivery on the day they choose.
This option is available across the US, exclusive to Prime. Shoppers select a day of the week that works best for them. Orders they choose will arrive on their Amazon Day each week.
Delivery is free, with no minimum order threshold. Amazon's free shipping speed is 5-8 days.
How Can Amazon Manage Inventory Fast?
Amazon's distribution strategy is built on several operation models aimed at reducing costs, boosting Amazon's supply chain acceleration, and maximizing efficiency.
Lean Inventory Management
Lean inventory management is an operations model of having a sufficient minimum of inventory to cover the demand. The secret of this model is in forecasting and balancing the level of stock, as freezing too much inventory is harming your business economy.
Amazon uses sophisticated AI-based software to refine Amazon supply chain management for cost optimization. Amazon AWS company implements advanced computer-based technologies of Big Data processing, involving artificial intelligence solutions, blockchain and cloud technologies, etc.
The Amazon Managed Blockchain Quick Start allows customers to set up and manage a scalable blockchain network; the Improving Forecast Accuracy with Machine Learning solution generates, tests, compares, and iterates on Amazon Forecast forecasts; Data Lake on AWS allows automated reference implementation that deploys a highly available, cost-effective data lake architecture on the AWS Cloud along with a user-friendly console for searching and requesting datasets.
Vendor Managed Inventory
Vendor Managed Inventory (VMI) is an operations model where suppliers restock products when it's time to reorder. With this model, third-party sellers control their products supply within a retailer's inventory. They send their inventory to Amazon's warehouses, and Amazon takes care of the fulfillment.
Digitizing Warehouse and 3PL
With the gigantic warehouse operations volumes, Amazon needs to optimize and streamline all of its processes. To manage this huge stock, they involve third-party logistics (3PL). Partnering with 3PL providers helps save time, money, and warehouse space.
To efficiently manage distribution and fulfillment processes, Amazon automates and digitalizes its warehouses, extensively applying mobile barcode scanners and wearables. Mobile devices enable a 24/7 cycle of order processing, item picking, and shipping, as well as real-time visibility of stock status and levels. Mobile barcoding increases visibility and accuracy.
Real-time integration with the central and multi-layer backend system, like an ERP or WMS software, ensures accurate information across geographically distributed locations. Also, live mobile inventory control connects multiple facilities in a unified supply chain.
How Can Sellers Provide Fast Shipping for Amazon Customers?
To ensure fast delivery, sellers can select one of the two fulfillment methods depending on their strategy.
Amazon Prime
Sellers can select Fulfilled by Amazon (FBA), meaning that Amazon stores, packs, and ships seller inventory to the end customer. This allows sellers to join Amazon Prime program and guarantees two-day shipping to customers who buy their products from Amazon.
Seller Fulfilled Prime
Sellers can choose to fulfill orders themselves out of their own warehouses using the Fulfillment by Merchant (FBM) method. Seller Fulfilled Prime is the Prime program that allows you to deliver directly to domestic Prime customers from your own warehouse. By displaying the Prime badge, sellers are committing to fulfill orders with Two-Day Delivery at no additional charge for Prime customers. Sellers can deliver goods on their own or outsource them to a third-party logistics provider (3PL) that can guarantee two-day shipping.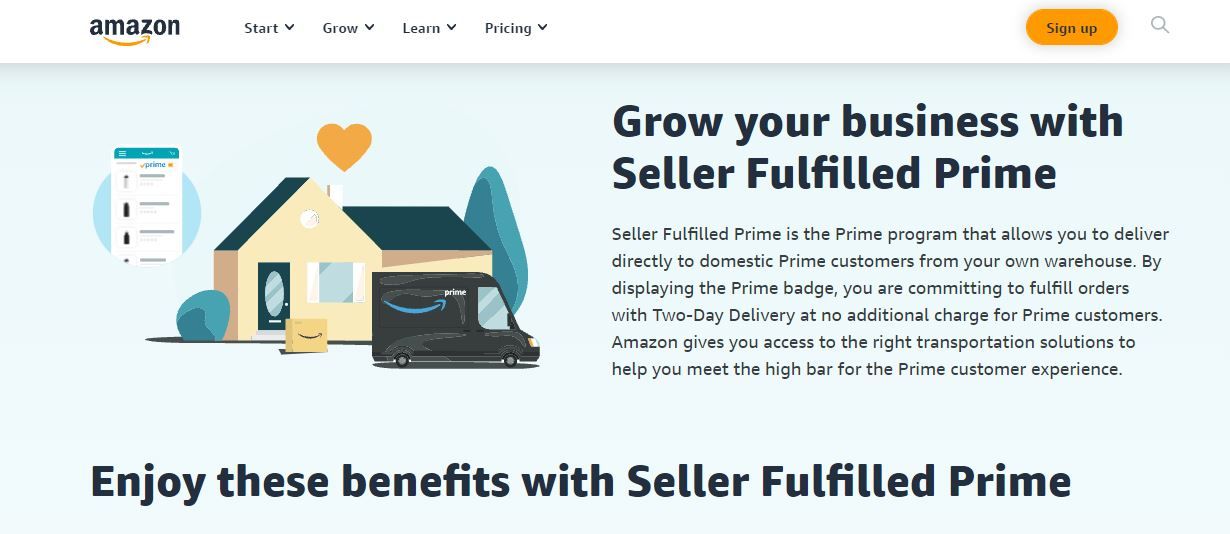 Fast and free shipping depends on:
Supplier
Ensure that your supplier observes deadlines.
Stock
Ensure that you timely reorder your stock.
Delivery method
Enroll in Amazon Prime or Seller Fulfilled Prime
Product price
Select a product with a price tag over $10.