Aloha, Amazon Seller!
Amazon is increasing FBA fees from June 1. The fee increase would be about 2-3% on average. Check the article and learn more about the latest changes in Amazon fees.
The majority of the sellers on Amazon.com are building their sales on the Fulfillment by Amazon (FBA) model. This is justified: Amazon does the majority of the fulfillment-related job instead of the merchant - they store, pick, pack, and ship your items from their fulfillment centers. On top of that, they deal with the refunds and returns of your product. While you allocate all your time and resources to your business optimization, data analysis on supply and demand, improve Search engine optimization, and deal with a lot of other important things aimed at growing your business, Amazon takes care of the routine fulfillment processes.
For Amazon merchants, the FBA fulfillment method has a lot of advantages, especially for the newbies on Amazon. This includes effortless logistics; discounts on shipping Amazon FBA seller fees; handling returns and refunds, customer service management; fast delivery, like a one-day delivery option for Prime members; saving on storage space; extensive fulfillment network, and more.
In addition, FBA merchants have a lot of benefits, especially when it comes to marketing tools and product promotion. For instance, FBA sellers are enrolled in Amazon Prime.
However, all these benefits come with a cost. There are a lot of different Amazon fees, visible and hidden, which are sometimes difficult to track. For this purpose, you can use Amazon seller tools which help you monitor all Amazon fees and how they fluctuate.
The majority of Amazon merchants who sell volumes, therefore, apply a combination of FBA and FBM fulfillment, depending on the case and a product supply strategy, since Amazon FBA shipping fees may not be the most cost-effective solution in certain cases.
It is also so, that Amazon reviews its FBA fees every year, and this year was not an exception.
In this post we will discuss what are Amazon FBA fees, Amazon FBA changes, and how are FBA fees changed.
What Are Amazon Fees?
Amazon FBA fees are charged for different services provided to the FBA merchant by Amazon.
Amazon seller fees FBA are per-unit fees charged to fulfill items to shoppers for purchases in the Amazon store. This type of Amazon FBA cost varies depending on an item's category, size, and weight.
Values used to calculate fee are as follows:
Product size tiers are measurement categories based on the unit weight, product dimensions, and dimensional weight of a packaged item;
Shipping weight is the rounded item weight used to determine fees. The shipping weight is calculated based on the item's unit weight or dimensional weight;
Dimensional weight is used in certain cases instead of unit weight to determine the shipping weight;
The fee category determines which rates apply to a particular product for certain fee types.
The types of seller fees Amazon are as follows:
Referral Fees;
Fulfillment Fees;
Monthly Inventory Storage Fees;
Long-Term Storage Fees;
Removal Fees;
Disposal Fees.
Some of these fees are unavoidable, and you will need to pay them as an FBA seller, but some other fees are not payable if you manage your inventory efficiently.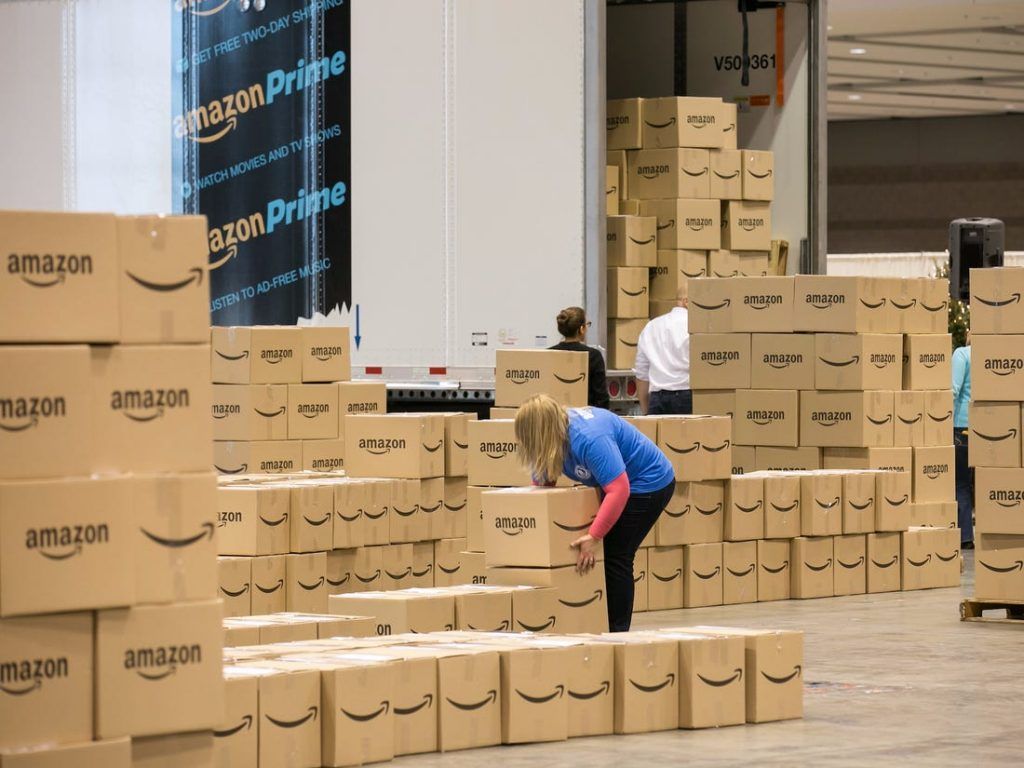 Required Amazon Fees
Referral Fees
Referral Fees are payable by every merchant, both FBA and FBM. They come up as a cost of selling on the Amazon marketplace via your Seller Central Account. On average, the referral fee is around 15% of the price of the item sold, however, it depends on the product category, and in some cases can amount to over 40%.
The full list of the Referral fees is here.
Fulfillment Fees
Fulfillment fees are paid to Amazon for handling your logistics and offering Prime shipping for your products. Such fees are calculated based on the size of your product. The prices for standard-size and oversize items differ.
The full list of the Fulfillment fees is here.
Monthly Inventory Storage Fee
These fees are paid to Amazon on a monthly basis for your inventory storage in the Amazon fulfillment center. The price is based on the daily average volume of space your inventory occupies.
Optional FBA Fees
Long-Term Storage Fees
If your product is stored in Amazon's fulfillment center for more than 365 days, you should pay a fee to Amazon. To avoid paying these fees to Amazon, you should manage inventory three to five months in advance. To get rid of the 'sitters' you could arrange a promo campaign with discounts, etc.
Amazon Removal fees
FBA Removal fees are paid to Amazon when you ask to ship your item back to you. You may want to remove an item from the fulfillment center if there is a problem with the item's quality, the item has been updated with new branding or features, or you don't want to sell the item anymore.
In one of the above cases, the storage fees add up while the item sits in the fulfillment center, therefore you need to remove it.
Disposal Fee
A disposal fee is paid when you don't want to keep an item in the fulfillment center and will ask Amazon to destroy your product.
Latest Amazon FBA fee increase
Amazon FBA fee increase became effective from June 1 and is on average about 2-3 percent. The majority of the referral fees did not change.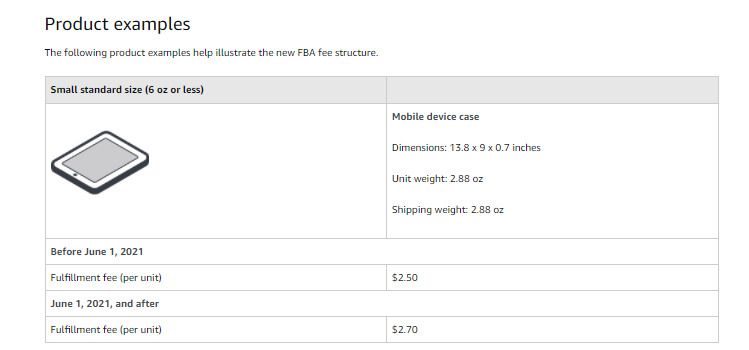 What are Amazon fees that will change?
The following fees are increased:
FBA fulfillment fee;
Amazon referral and program fee;
FBA returns processing fee;
FBA New Selection program;
FBA removals, disposals, and manual processing fee;
FBA Small and Light fee.
Significant Amazon FBA fee updates
As said, from June 1 Amazon has changed the following fulfillment fees:
Core FBA fulfillment fees (excluding apparel);
FBA fulfillment fees for apparel;
FBA fulfillment fees for dangerous goods.
The full list of changes is here.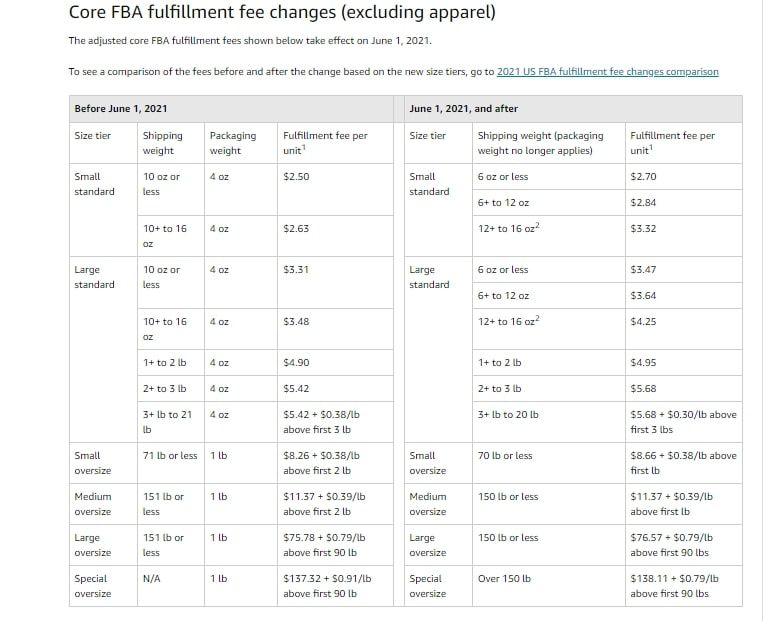 Amazon FBA fee changes summary
There's an average increase of 4.4% for standard size items;
There are minimal to no increases for oversize items due to the elimination of the 1-pound packaging weight;
There are some savings in particular categories:
  - Small Standard size items weighing 12 to 16 ounces get big savings of up to   48% as they're now classified in their own category and no longer pushed to   the 1-2 lbs category due to packaging weight;
  - Large Standard Size Items over 3 lbs have savings of 4.5% to 7.0%;
Amazon eliminated the 4ounce packaging weight for standard size items and the 1-pound packaging weight for oversize items;
There are no referral fee changes except for a few categories (full-sized appliances, personal computers, and veterinary diet food);
There are no increases to storage rates;
Amazon is increasing removal fees by an average of 28%.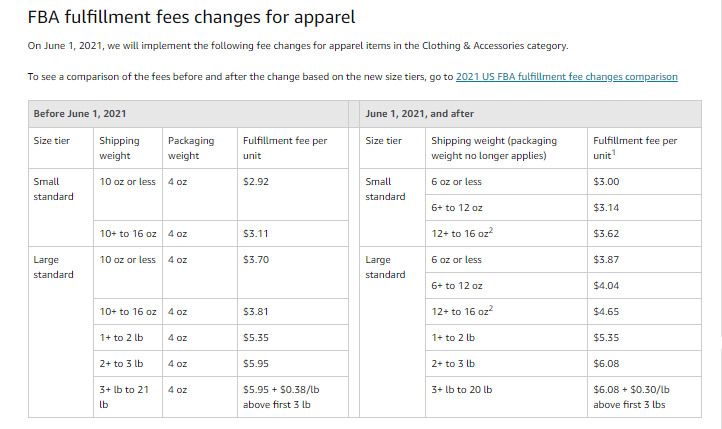 It's no secret that Amazon charges a lot of different fees and often changes them. SelleRise is a perfect tool to track all these changes immediately. Also, SelleRise's dashboards help you see sales figures for each of your FBA, FBM or FBA, and FBM orders and estimate their statistics. They show you FBA or FBM sales, orders, and units separately, their applicable and due Amazon refunds. You can visualize expenses, net profit, margin, or ROI for either your FBA or FBM orders, and for both if you wish.
Get easy and visual business analytics and track inventory with SelleRise's dashboards. Try them now, it's free.