Aloha, Amazon Seller!
Amazon Pay-per-Click advertising is part of Amazon's internal advertising system. Follow our Amazon PPC guide and find out how to improve your Amazon PPC Campaigns.
Amazon.com is the largest e-commerce platform in the world, and there are over 300 hundred million products sold on the marketplace. As always, when you'd like to show the customers that your item is different from the others and drive conversions, you would use advertising.
PPC (Pay-Per-Click) is the way you advertise your product or brand on Amazon. It is a click-based paid traffic ad platform on Amazon. PPC campaign creates a marketing channel to promote your product and gives you the opportunity to 'buy' visibility for it.
If used wisely, PPC will increase your profit, brand awareness, marketplace visibility, add on to organic sales and drive traffic and conversions. To launch the right and profitable Amazon PPC campaign, you need to elaborate a Pay-Per-Click Amazon advertising strategy tailor-made for your product. You need to select the right type of Amazon PPC campaign and make thorough keyword research.
In this blog, we will discuss what is Amazon PPC, what are the types of Amazon PPC, and how to create an efficient Amazon PPC strategy.
What Is PPC on Amazon?
If you don't know yet what Amazon PPC is, you need to keep in mind, that it is different from the other two biggest digital ad platforms, Google and Facebook ads, though they have some similarities.
Amazon PPC (Pay-Per-Click) is an auction-type system of paid traffic. According to the system, the seller who wants to advertise his product, bids on keywords. When a shopper on Amazon searches for an item to purchase, the seller who places the highest bid on a relevant keyword wins the game, and their ad is displayed in the placement selected.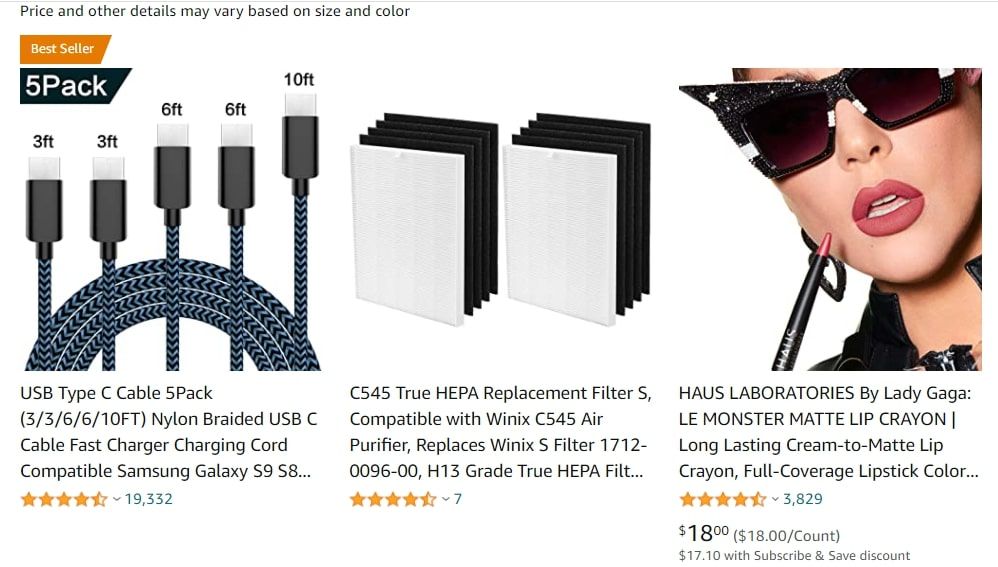 How Does Amazon PPC Work?
Unlike in the case of the advertising method used by Facebook, advertisers on Amazon are paying for the bid only if the potential customer clicks on the ad, hence the name, "pay-per-click". This way, the advertiser pays only for the ad that reached the buyer.
A principle behind PPC advertising is different from PPM (pay-per-mail), where the advertiser pays for every 1,000 potential customers who've seen the ad.
As Amazon PPC is based on the bidding principle, the seller has to pay for the advertisement just one cent more than their competitor. In practice, this means that if you placed a bid of $2 on a keyword, and your competitor bided $1.50, Amazon will charge you for the ad $1.51. This price you will pay only in the case when the shopper clicks on your ad in the process of search.
Why is Amazon PPC important?
Since Amazon becomes an ever more populated platform, and a lot of shopping shifts online, the competition is increasing drastically. With the organic ranking alone, it's quite hard to achieve maximum reach for the product.
A properly structured Amazon PPC campaign helps maximize sales, boost conversions and grow your ranking. It also helps shoppers to quickly find your item, increasing its visibility, not only on Amazon but also helps your product search engine optimization on Google Ads.
PPC campaign is a good tool to launch a new product, or clear old stock and get rid of 'sitters' or seasonal items.
Amazon PPC ads are not only helping you stand out in front of your competition. Though very often considered as a short-term instrument to launch a new product off the floor, optimized PPC campaigns can help you target audiences you were not able to reach before and get rid of 'sitters' – products that sell slowly.
Best Amazon PPC strategy based on a long-term approach can effectively help you win more clicks and sales from your competitors, as well as grow your organic visibility and rankings. If you spend your budget wisely and concentrate on the most efficient and competitive researched keywords, your ads will really pay off.
SEO Sales vs. PPC Sales on Amazon
On Amazon, there are two types of search sales: Organic and Ad sales. Organic sales on Amazon happens when a shopper finds and buys your item without you advertising the product for better placement on search results. If you put your efforts into your organic sales increase, you will need to focus on Amazon Search Engine Optimization (SEO).
Ad sales, or Amazon PPC sales, happens when a shopper finds and buys your item through an advertisement. Running a PPC campaign is the most efficient way to get your product to the first Amazon Search Results Page.
To easily determine the volume of your Organic and Ad sales, and see the figures separately, you can apply the Amazon seller tool, which can do it for your convenience.
Amazon Sponsored Ad Types
On Amazon, you can apply a variety of sponsored ad types. The most popular of them are:
Sponsored Product ads;
Sponsored Brand ads;
Sponsored Display ads.
Sponsored Product Ads
Sponsored Product ads promote your individual items on product details pages and search results. This type of advertisement becomes more and more popular as it attracts traffic to your listing and drives conversions.
This type is considered the best for those who are starting out, and it should typically occupy the majority of your Amazon Advertising budget. For it to work the best you need to conduct keyword research.
To launch Sponsored Product ads, just need to select a product, choose the target keyword, and allocate a budget. Once done, Amazon will launch your ads automatically for a suitable audience.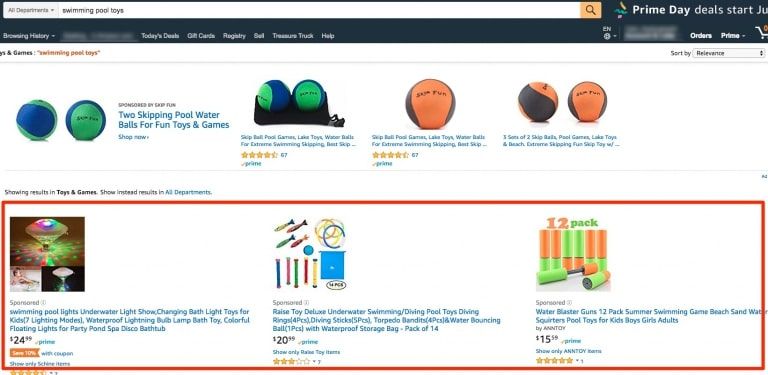 Sponsored Brand Ads
Sponsored Brand ads, also known as headline search ads, give sellers the opportunity to place their own customer headlines, logos, and landing pages in the ad. This type of ad allows to advertise a variety of items and showcase complementary products. Also, you can attract customers' attention to the items they are not exactly looking for.
Sponsored Brand Ads are a great option to use multiple places to attract shoppers' attention, including promo videos.
To create a Sponsored Brand ad campaign, navigate to the Campaign Manager in your Seller Central,  click Create campaign and select a type of campaign - Sponsored Brands. Enter your campaign name, its details, and the brand name. You can choose from a Product collection, Store spotlight, or Video ad. You will need to add at least three products to a brand.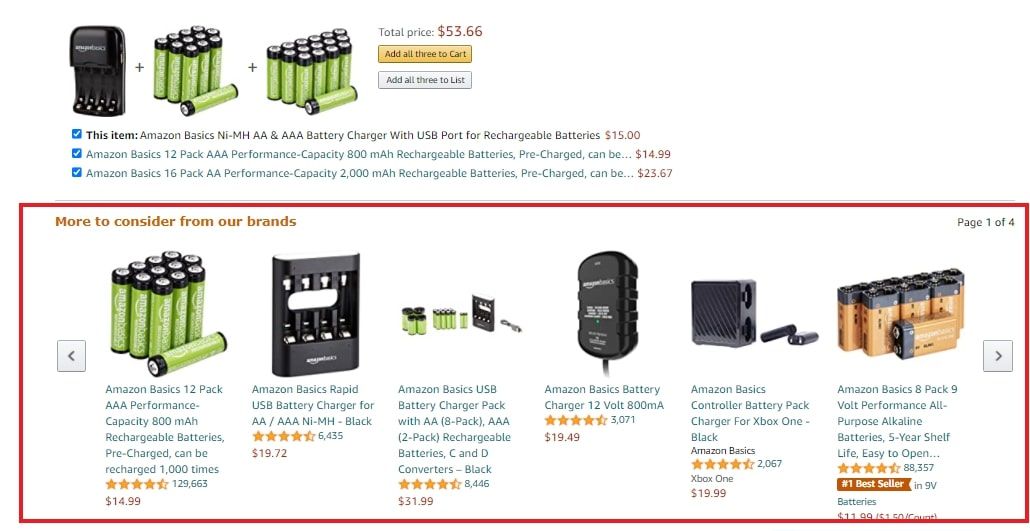 Sponsored Display Ads
Sponsored Display ads are often shown next to the "Add to cart" button.
This type of ad is directed at driving impressions and retargeting customers who have recently looked at your product pages, or used search terms relevant to your listing. The big plus of Sponsored Display Ads is that they can appear both on and outside Amazon. This type of ad can drive away conversions from your competitors, and help to launch new products.
With Sponsored Display ads you can target different audiences, use behavioral targeting, lifestyle targeting, demographic targeting, etc.
To create a Sponsored Display ad, navigate to the Campaign Manager in your Seller Central, select a strategy - product targeting or audiences, indicate your bid and daily budget and select the products you'd like to market or the audiences you'd like to target.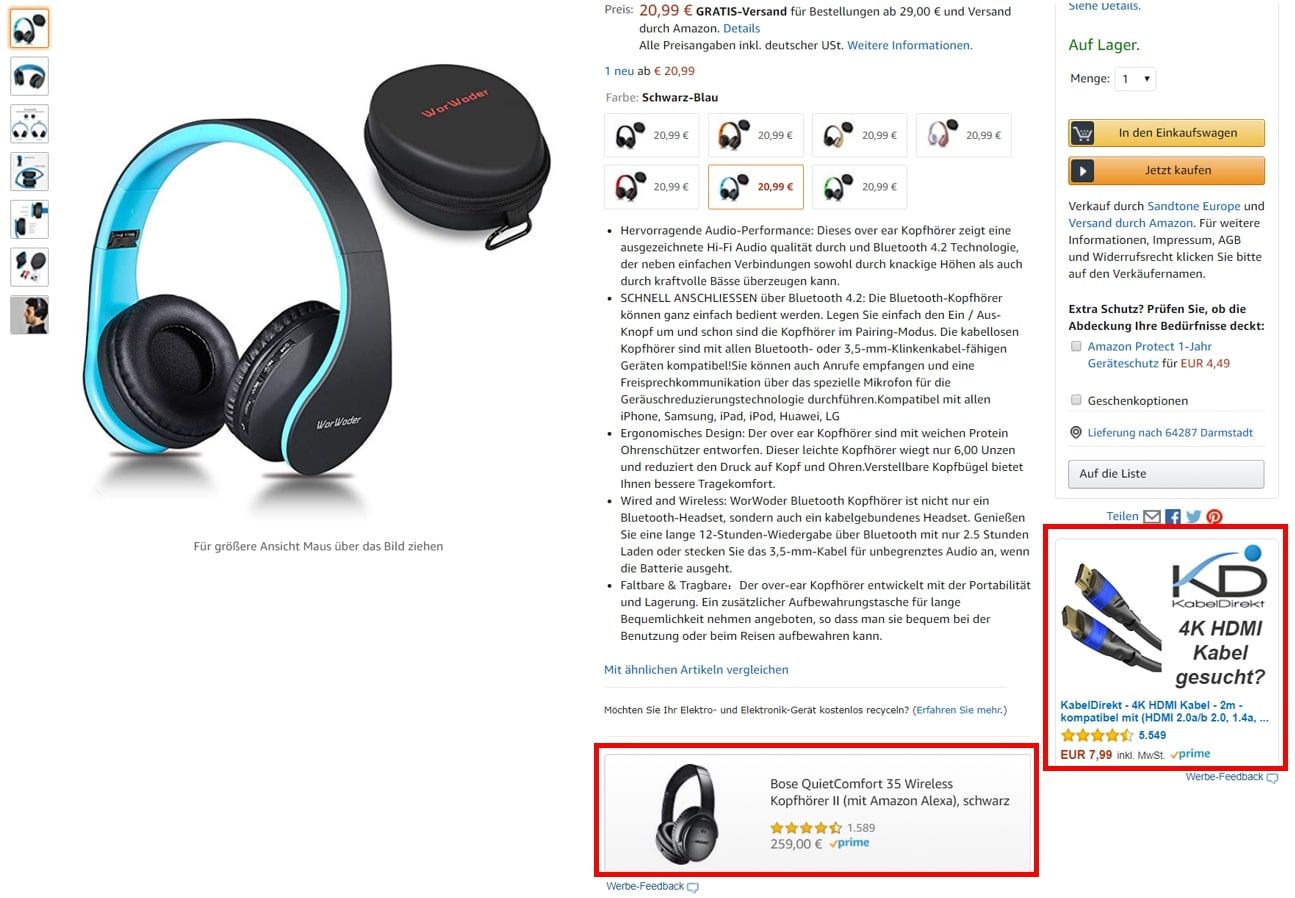 Where do Amazon PPC ads appear?
Sponsored Product Ads appear in the following locations:
Within search results;
On the right-hand side of search results;
In the bottom of search results;
On the product detail pages.
Amazon Sponsored Display Ads appear in the following locations:
On product detail pages;
On customer review pages;
On top of the offer listing pages.
Sponsored Brand ads appear in the following locations:
Above search results;
To the left of search results;
Below the search results.
How Much Does Amazon PPC Cost?
As said, PPC ads are purchased on a cost-per-click basis and the seller pays only when the shopper clicks on the ad.
The highest bidder, who has won the auction for the keyword, pays for the ad $0.01 more than the second-highest bid. The average cost per click (CPC) on Amazon is around $0.02- $3, however, it greatly depends on the product category, marketplace, as well as ad type.
When it comes to the outcome, Amazon PPC sales typically generate 10 to 30% of total sales. This means, that if a seller makes $2000 in organic sales per day, the Ad sales will be around $200 to 600 per day. Also, there are no 'hidden fees' related to Amazon PPC.
How Should I Split My Amazon PPC Advertising Budget?
Since different types of PPC work in different ways, they generate unequal volumes when it comes to click-through rates. Therefore, you need to allocate unequal portions of your budget to three separate elements to Amazon PPC: Sponsored Product Ads, Sponsored Brand Ads, and Sponsored Display Ads.
You'll need to research which of these best suits your products and marketing strategy and make a decision on how to split your funds.
Although the percentage of the money you allocate depends a lot on the marketing strategy, very often the ad spend breakdown looks approximately as follows:
75% on Sponsored Products Ads;
20% on Sponsored Brand Ads;
5% on Sponsored Display Ads
How to create an Amazon PPC strategy?
Optimization of Amazon PPC management and building a strategy on how to advertise on Amazon is crucial. It's not enough to just steal best-performing competitor keywords and set automatic PPC campaigns. You need to outline the goal you want to achieve by the campaign. The PPC campaign should be an integral part of your overall marketing strategy, and increase your sales to maximize profits.
In practice, this means that if you choose to promote a brand, you'd allocate a slice of your ad budget on Sponsored Brand ads, which you don't need to do, if you sell big volumes of individual products, for instance.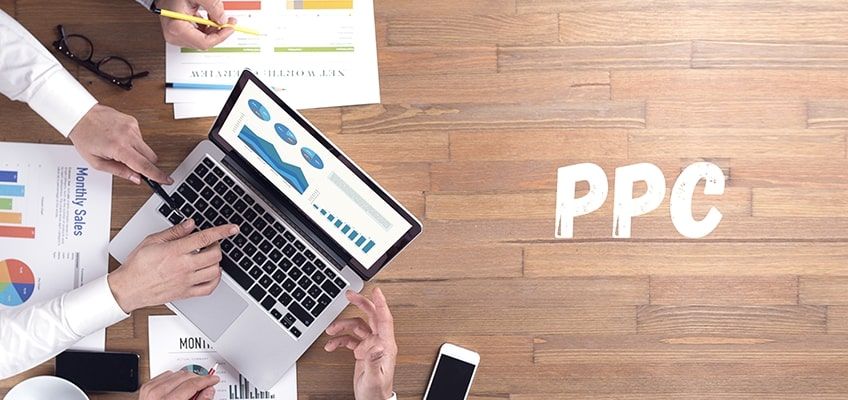 7 Amazon PPC tips for building your ad strategy
Before launching a PPC campaign, perform extensive keyword research, including competitor product analysis.
Set a test and try all types of PPC campaigns, automatic and manual keyword targeting, and select the most relevant.
Don't spend too much from the start, see how it works.
Give ad campaigns some time to run before making adjustments. They need time and they should be up and running for at least two weeks before you have enough data to analyze. See to it that each keyword gets a minimum of 10 clicks before you change a bid.
Analyze running reports once a week, to add, subtract, or adjust keywords. These reports can also be a source of new keywords.
Be ready for CPC change. There are certain metrics, like your conversion rate, CTR, etc., constantly influencing your bid rate.
Don't hesitate to delete wasteful bids.
Amazon PPC Strategies
Amazon advertising campaign strategy is basically an action plan as to how you are going to advertise your product. When you set an action plan, you would first set priorities, then goals, and then steps to achieve them. The same is true when you build your Amazon PPC strategy.
5 steps to start building Amazon PPC strategy
Step 1. Pick out the items you'd like to advertise
High-margin items;
Items where you don't compete with Amazon;
Items that have good selling potential.
Step 2. Pick out the type of ads you want to run
Sponsored Products;
Sponsored Brands;
Product Display Ads.
Step 3. Calculate your target ROAS and ACOS
ROAS is Return on Ad Spend;
ACoS is Advertising Cost of Sales.
Step 5: Launch your PPC campaign
Start running the ad campaign;
Track your key metrics and optimize bids.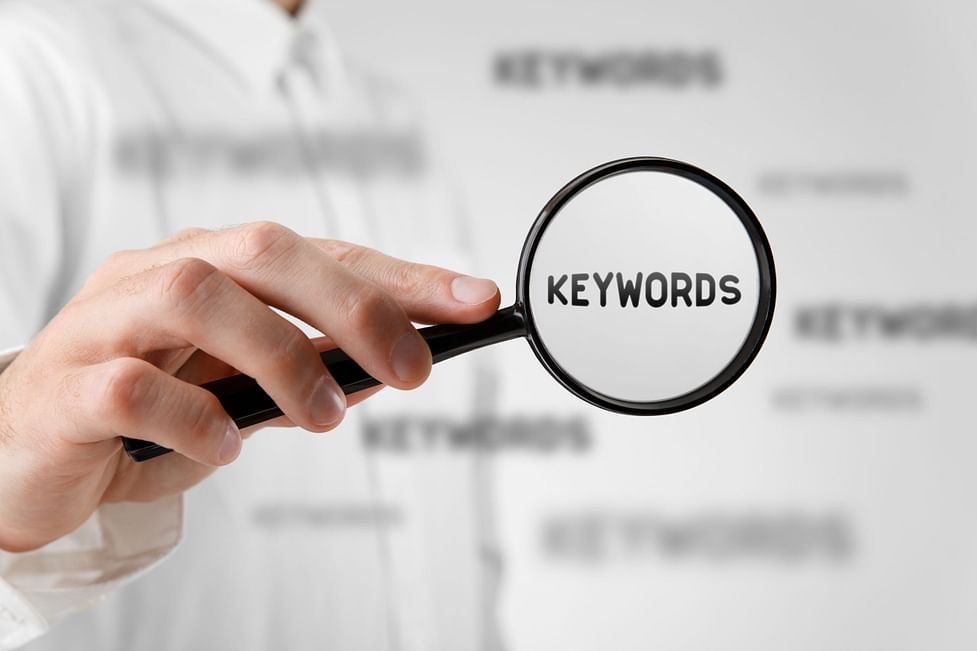 5 Best Strategies of Amazon Pay per Click
The majority of the PPC campaign optimization strategies are keyword-based. See below for new ideas for Amazon ad strategies.
1. Using different keyword match types in all PPC Amazon campaigns
Study how broad, phrase, exact, broad match and modified match types perform best for each keyword and move keywords between them.
Broad Match: Ads are displayed on keywords or their close variants, such as plurals, acronyms, stemming, abbreviations, and synonyms;
Phrase Match: Ads are displayed for an exact keyword among a sequence of words. Additional words can be added before or after by the Amazon algorithm;
Exact Match: Ads are displayed for the search phrase exactly;
Broad Match Modified: applied with Sponsored Brands ads. You can specify words that must be included in the search term by adding a + symbol before it.
For the purposes of Amazon PPC optimization, it is recommended to create separate ad groups for each match type within each Amazon Pay per Click campaign.
2. Lowering Bids on Low Performing but Highly Relevant Keywords
Often negative match keywords for the keywords that are highly relevant, but not performing well, act profitably at a lower bid. Try lowering the bid by 25% on these keywords.
3. Excluding Irrelevant Match of Negative Keywords
You can improve the performance of your automatic Pay per Click Amazon campaigns by outlining which keywords your ads should not be displayed. Mind that you should stick to only relevant negative keywords, avoiding those which are irrelevant to your product.
You can use a negative phrase or a negative exact match.
4. "Waterfall" Pay per Click Amazon Campaigns
This type of Amazon PPC campaign allows you to find the most efficient bids.
When you run automatic Amazon PPC campaigns, you can try and apply more than one.  If your launch 5 automatic campaigns with a range of different bids, you can review and estimate, which one is the most effective.
5. Branded Keywords Campaign
Most of the brand owners, especially if they have a new brand, never think of bidding on their own brand as a keyword. However, if you do, your brand name becomes more visible to Amazon Ads algorithm.