What do you know about the Amazon reimbursement service? How to get your money back? Our article can help you understand FBA returns and how it works.
Every Amazon seller counts their money and should count it carefully. If you do, then you know that there's a good chance Amazon owes you money and you don't know about it. The reason for this is obvious: Amazon processes millions of shipments per year in its warehouses and lost, damaged, or simply stolen packages are sometimes the upsetting reality. As Amazon strives to deliver your order as fast as possible in order to provide quality services, this increases the chance that sooner or later mistakes will occur.
Of course, Amazon knows about it and has certain procedures to handle it. But to be on the safe side, you always need to review your inventory and keep track of Amazon seller refund and Amazon FBA reimbursement.
If you don't do it, most likely you will get money back from Amazon, but not all of it. FBA fees mistakes can happen the same way as shipment errors.
Okay, now you know that there is some Amazon refund money you most likely didn't get. Then comes another question: how to know if Amazon owes me money, and in this case how to get money back from Amazon easily?
We know how to do it and will tell you.
What is Amazon Reimbursement?
Amazon FBA reimbursement is the money owed to Amazon FBA sellers due to errors in delivery, loss, damage, or other improper actions that need to be compensated for by Amazon according to the company policy regarding Amazon reimbursement, FBA returns and refunds Amazon.
What is an Amazon Seller Refund?
Amazon Seller Refund is a customer credit for the whole or part of the order cost. This applies in the case of FBA returns and some other cases. When Amazon refunds a customer for the FBA order, it debits the seller account for the whole or part of the refund value. Generally, if a customer is refunded for your item, but the item is not returned to an Amazon fulfillment center within 45 days of the refund, in most cases, Amazon will charge the customer and reimburse the seller.

What are the Types of Amazon Reimbursement?
There are a number of cases when you are subject to Amazon reimbursement. Such cases are:
If Amazon loses inventory;
If the inventory is damaged and not reimbursed to the seller;
If the inventory is destroyed;
In case of customer returns;
If there are issues with order quantity;
If you detected errors in FBA fees.
When am I Reimbursed for Lost and Damaged Orders?
Amazon has an FBA lost and damaged policy covering the instances when the order or unit is lost, damaged, or completely destroyed. Such instances include the orders lost or damaged in the Amazon warehouse; products lost or damaged during shipment to the customer; inventory damaged or lost during the delivery to Amazon fulfillment centers; and orders missing for 30 days.
If you encounter such cases, you need to very closely keep an eye on those, and if, for some reason, Amazon hasn't reimbursed you, you need to file a request for getting money from Amazon.
How is the Seller Compensated for Customer Returns?
There are cases when the customer, for some reason, returns the order you shipped out. Generally, Amazon takes care of the returns and corresponding refunds. But sometimes there are cases when this doesn't work as it should.
For instance, a customer can get a refund and does not return the item, or received a replacement, but hasn't returned the first order you sent, or other similar cases.
When this happens, Amazon should either fix the situation or the seller should file a reimbursement claim.
What are Order Quantity Issues?
Sometimes it can happen so that customer receives the wrong number of units. If the units are too few, he will obviously complain, but if they are too many, he may not send the extras back. Amazon is not always detecting such cases and sellers need to inform Amazon.
FBA Fee Errors
Amazon charges dozens of different FBA fees related to storage, shipment, various commissions, etc. depending on the product category, fulfillment method, and type of your business. Sometimes you can be overcharged by mistake or certain reimbursement refunds may not be taken into account.
It's very difficult to find out manually all these mistakes, not saying about following Amazon rules on how to file Аmazon seller reimbursement. You need to closely monitor all your fees and in case you discover that something went wrong, you have to inform Amazon and need to know exactly how to do it in order to get your money back. To resolve all these problems you have Amazon seller tools, of which SelleRise is a good choice, and you will now see why.
What is SelleRise FBA Reimbursement, and what can it do for you?
SelleRise checks your Seller Central inventory for FBA Reimbursement with regard to Lost&Damaged, Customer Returned items, FBA fees errors and other discrepancies.
SelleRise Reimbursements Dashboard allows the seller to easily account for the Removal orders from Amazon warehouses and get information when and if the seller should file Amazon reimbursement if Amazon failed to fulfill the order or any other mistake occurred due to Amazon's fault.
With SelleRise Reimbursements Dashboard the seller doesn't need to manually monitor Amazon inventory management mistakes. Also, with this Dashboard the seller can get timely alerts when he needs to request a reimbursement from Amazon and open a case for reimbursement. The seller can download reimbursement stats from the dashboards for the detailed monitoring.
Let's see how it works with the FBA inventory reimbursement finder. It helps you locate estimated FBA reimbursements for the Amazon FBA lost inventory or damaged inventory that you might not have even known about.
To do this, you need to connect your account, and SelleRise checks your inventory. We will find any lost, damaged, or destroyed products for which you didn't get compensation.
Features of SelleRise Refunds Amazon Manager
If you have tried any kind of reimbursement software, you know, that their features are limited and an interface is awkward. SelleRise provides a visual interface and detailed stats in its reimbursement manager.
SelleRise Refunds Amazon Manager shows:
Number of Items: the total number of items that Amazon has not compensated for you includes pending and required items.
Pending Reimbursements: estimated number of items that Amazon lost or damaged less than 30 days ago. You need to wait because Amazon may reimburse them automatically.
Required Reimbursements: estimated number of items that Amazon lost or damaged more than 30 days ago. This money you can claim from Amazon already.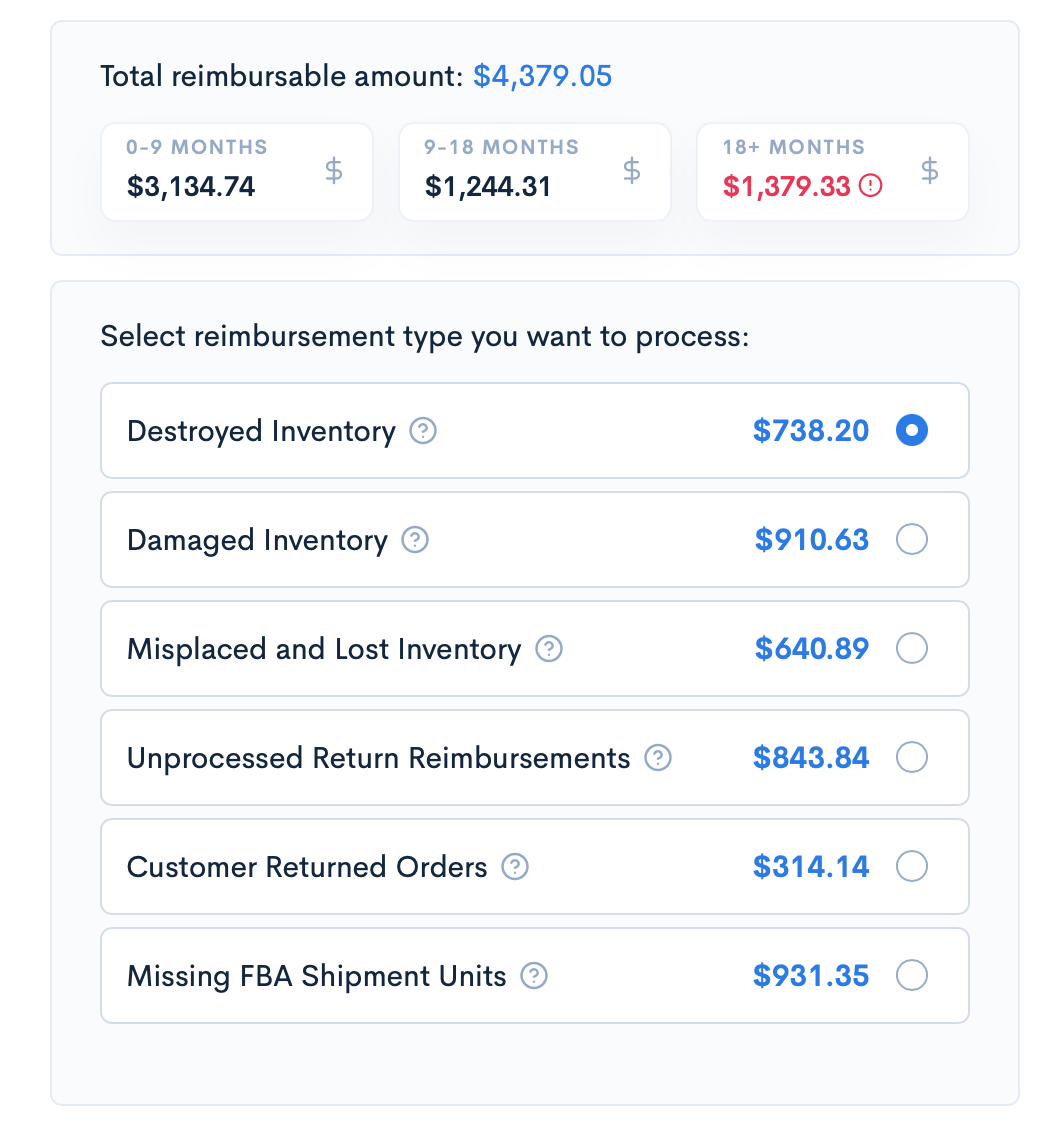 Depending on the category you chose, SelleRise provides the table with the statistics for each product for the last 18 months.
Lost: the number of lost items.
Found: the number of items found.
Damaged/Disposed: the number of damaged or disposed items.
Cash: the number of items already reimbursed in cash.
Product: the number of items already reimbursed in products, e.g., if Amazon lost an item and then found it.
Pending: the number of items lost or damaged less than 30 days ago.
Required: the number of items lost or damaged more than 30 days ago. You can already claim compensation for them.
Estimated sum: a sum that you probably may get from Amazon in reimbursement refunds. Amazon calculates compensation in its algorimts, but it's always close to the estimated sum.
This table helps you better monitor your cash flow and historical information on your actual reimbursements for the past 18 months.
Lost and Damaged instruction
As soon as you receive the required sum, you see a big green button. You will see the required transactions for all products and the final sum of Lost and Damaged reimbursements by clicking on it.
To get money back, follows the instruction making it much simpler to submit reimbursement requests to Amazon. For every date when SelleRise found reimbursements for you, there is a ready message you need to copy, and press the button "Create a case in Seller Central".
Generally, it helps you keep track of past reimbursements from Amazon.
SelleRise Reimbursements Pricing
There are a lot of software tools for Amazon sellers, and you may try most of them. Usually, other reimbursement tools charge up to 25% to recoup reimbursements. All-in-planform such as Helium charges $97 for Refund Genius.
SelleRise provides different subscription plans from $39. These plans also include many analytics dashboards, Inventory Manager, and other services.
That's why SelleRise is a good choice for you, affordable and value-added.
Wrap-up
SelleRise is the most affordable solution for small sellers or medium-size Amazon businesses that help you get money fast by automating the complicated FBA reimbursement process for lost or damaged inventory.
You don't need to worry about reimbursements again so that you can concentrate on your business. You don't need to spend time or share your money with the service.
It's a simple and easy-to-use refund management tool with clear statistics.
It supports all Amazon marketplaces and instantly brings money back into your account.
Try SelleRise now and get benefits!
It's a pretty good time to make sure it's the simplest service.