Aloha, Amazon Seller!
No more HTML in Amazon product descriptions! The company has announced that it will change how your Amazon HTML description will be displayed to your customers.
On Amazon.com, your product listing is your product's face. All sellers are constantly struggling to optimize their listings and make them look clearly structured, and readable since this is where the customer gets all information about the item and makes a decision about a purchase.
Structured e-commerce product description with the bullets and formatted text looks more attractive, catches an eye, and increases sales. Very often, to highlight the important information, sellers used Amazon product description HTML, despite it was discouraged by the marketplace rules.
Recently Amazon has announced that they are going to stop supporting HTML on product descriptions due to security reasons and because they want to offer a better experience to non-HTML devices. They will remove any HTML tags from the product pages. This is going to be a nightmare for the sellers who are not using A+ content. In this post, we're going to discuss how to deal with the new Amazon rules.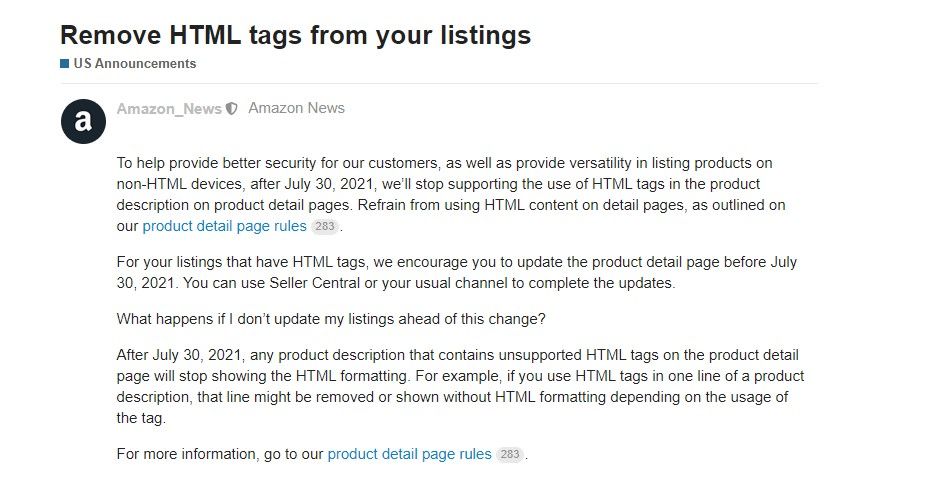 What is Amazon Product Description HTML?
HTML stands for HyperText Markup Language. Amazon HTML consists of rules about how a document or file data should be formed and displayed. Highlights in the text, breaks, etc. are HTML tags. Many Amazon sellers used those to stand out their product descriptions in front of the competition, as they look more attractive.
Amazon is Forbidding HTML in Product Descriptions
Unfortunately, Amazon HTML descriptions will not be supported by the marketplace after June 8, 2021, for the UK and July 17, 2021, for the US. However, Amazon recently extended the US deadline to July 30th, 2021.
Amazon has announced that the Amazon description HTML will be modified or completely removed. Therefore, any Amazon product description will appear without HTML tags.
Policies for Writing Amazon Listings
The general rules applied to all products on Amazon when writing product listings are as follows:
Do not use Javascript, HTML, or any other type of code in the product listing pages. However, line breaks (</br>) can be used in the description;
Product titles must not exceed 200 characters, including spaces;
Product titles, descriptions, and bullet points must be written neatly and concisely to help customers understand the product;
The images used to accompany the products must follow Amazon Product Image Requirements;
An existing listing must not be used for a new product;
All products must be correctly categorized.
What Is Not Allowed:
Promotional material, advertisements, or watermarks on videos, logo, or pictures;
Reviews/Testimonials and requests for the same;
Spoilers/Crucial plot details on books, music, video, or DVD listings;
Links to other websites for placing orders and alternative shipping methods;
Any time-sensitive information such as dates of seminars, lectures, or tours;
Information about price, availability, or condition;
Personal information like email addresses, individual addresses, phone numbers, or website URLs;
Obscene, pornographic, or offensive content.
Any listing that doesn't follow these standards, may become subject to suspension or ban.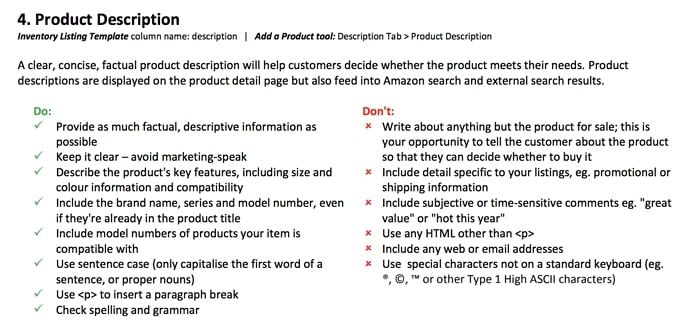 How to Change the HTML Descriptions on the Product Listing?
As there's not a lot you can do about the new Amazon regulation, you would need to change the content according to the new standards.
Here's how you do it.
Step 1. Login to your Seller Central account. Navigate to the main dashboard > Inventory tab > "Manage Inventory".
Step 2. Choose the listing you want to edit and click the Edit button. You will get to the product page.
Step 3. Select the description tab and edit the HTML tags. Once done, click the Save and Finish button.
To quickly update the product listings into the new format, you can use one of the Amazon HTML editor or Amazon description HTML generator tools. Generally, they are copy-paste type: you copy the content from your detail page, paste it to the description HTML editor, which will convert it to the new format.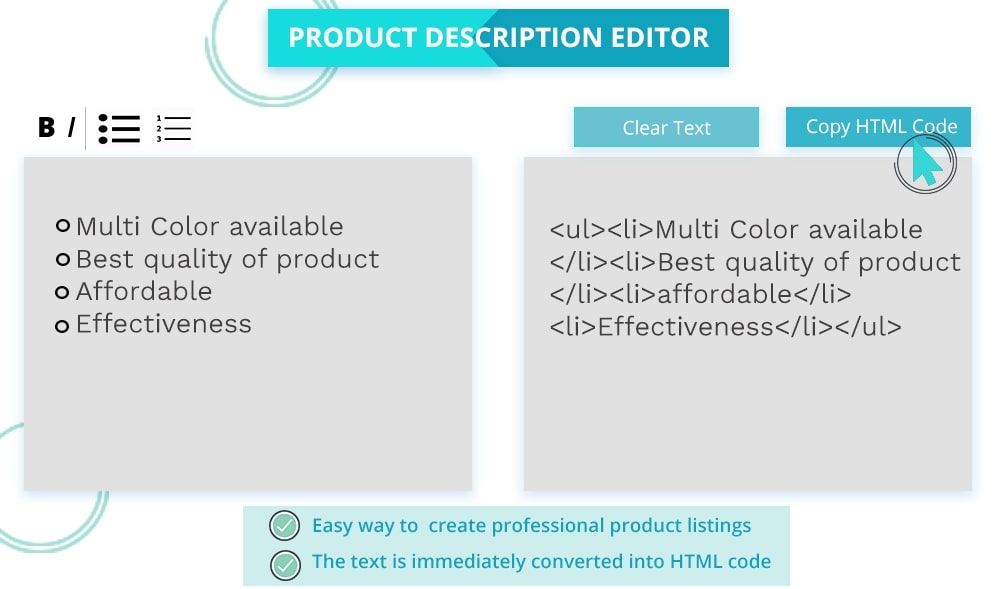 How to Edit Amazon Listings in Bulk?
For the majority of sellers, who have multiple listings, editing them one by one would be a real headache. You can edit them in bulk.
Here's how you do it.
Step 1. Login to your Seller Central account. Navigate to the main dashboard > Inventory tab > "Add products via upload".
Step 2. Go to the Download an Inventory file tab, choose your category, and download the corresponding flat file.
Step 3. Navigate to Inventory > Inventory Reports. In the Select Report Type box, select Inventory Report, and download the file. Open the report file and select the SKUs you want to edit. Copy them into the flat file you downloaded in step 2. Inside the flat file, navigate to the Template tab, and make changes in the Description column. Select 'Partial Update' in the Update Delete column.
Step 4. Once done, save the file, and upload it.
How to Easily Add the New Formatting?
Now, when you're done with editing, the description looks drab. You need your nice formatting back.
There are basically two ways to do it.
The first one, provided by Amazon, is A+ content. This set of formatting options from Amazon allows sellers to customize Amazon product descriptions to showcase their product. However, this tool is available to vendors and sellers who have joined Brand Registry.
The second one is to choose between one of the free Amazon HTML editor or Amazon description HTML generator tools, which are a lot on the market.
Enjoy your sales and don't forget about your business analytics. Keeping track of your figures is key to your account health and maximizing your profits. Get your easy and visual business analytics with SelleRise's dashboards. Try them now, it's free.