Aloha, Amazon Seller!
Do you know what Facebook Marketplace is? Or how to sell on Facebook Marketplace? We would like to show you all details of the tried-and-true techniques.
Everyone knows that Facebook is a perfect way to socialize, connect with other people and strengthen relationships. However, it's much more than that. For instance, your potential customers can use Facebook as a search engine, or you can communicate your brand story to your target audience or followers on Facebook Live. In other words, Facebook is a good and efficient business instrument.
Social networks are a free way to market your business and expand your online presence. For e-commerce sales, Facebook is a perfect tool for driving the external traffic to your website or product listing, and Facebook Ads are among the most efficient and scalable channels helping attract customers.
Moreover, alongside Amazon.com, eBay, or any other online selling platform, you can use FB marketplace to sell goods to the shoppers, and create your Facebook store. Selling on the Facebook marketplace is a good way to diversify your sales channels and expand your customer base. Unlike e-commerce selling platforms, Facebook doesn't charge any Facebook marketplace fees to list products if you sell them locally.
In this blog, we will discuss, what are Facebook marketplace rules for sellers and give you tips on how to sell on the FB marketplace.
What Is Facebook Marketplace?
Facebook marketplace is a convenient location for buyers and sellers to find and propose products. Shoppers can search for items they want to buy and filter results by destination, category, and price. Merchants selling on Facebook can market their products to the vast 2.8 billion Facebook's customer base and extend their reach.
Facebook has launched the Marketplace back in 2016 and it quickly gained popularity among buyers and shoppers as a local sales platform due to its easy and user-friendly functionality. Since that time, the marketplace has evolved from the place where people offered each other used or unwanted items locally, to a retail arbitrage platform offering shipping options.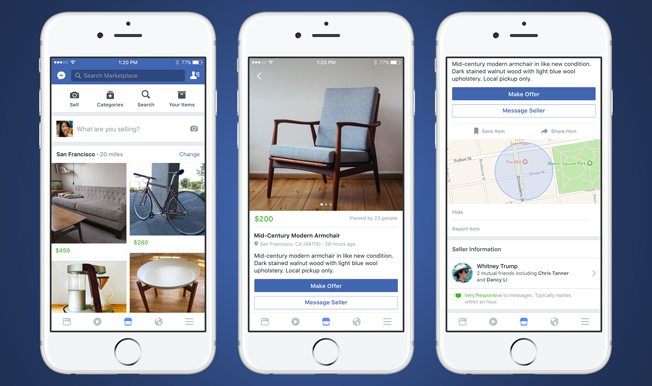 Pros and Cons of Selling Facebook Marketplace
There are both pros and cons of selling on the FB marketplace compared to, say, Amazon or eBay. Generally said, it's easy, and involves no fees to list products, however, it's not as safe to operate.
Pros
1. Anyone who has a Facebook account can sell on the marketplace;
2. It's easy to buy and sell products;
3. You can offer products you don't need anymore or buy for a low price;
4. You can buy or sell products in your location;
5. 2.8 billion potential customer audience;
6. Buyers and sellers can easily communicate with each other via Facebook Messenger and build relationships;
7. It's free to list products.
Cons:
1. Purchases are not protected;
2. Products for sale are not verified;
3. Products picked up locally or using a peer-to-peer payment method aren't covered;
4. Buyers and sellers are not verified, giving room to scammers;
5. Safety concerns;
6. Not many people use Facebook to buy products;
7. No reporting, promotion, or other seller tools available.
How Much Does Selling on FB Marketplace Cost?
Facebook doesn't apply any fees or charges for buying or selling items. There are no listing fees as well, which makes this service different from other online selling platforms.
If you sell your inventory on Facebook as a shop and use its checkout, you will be charged 5% per shipment or $0.40 for orders priced below $8.00.
What Are the Shipping and Returns Rules on Facebook Marketplace?
A seller can use the shipping option only if he sells as a shop. As said, in such a case he will be charged a selling fee of 5% per shipment, or a flat fee of $0.40 for shipments priced below $8.00.
To request online checkout and shipping, you'll need to specify the amount of time after every order to ship that order to the shopper, so that it's not deleted or canceled by Facebook. You can select who will pay the shipping costs – you or the shopper. You'll also need to enter tracking information and mark the package as shipped to get paid on the orders that use the shipping option.
If the shopper requests a refund, you can contact them and try to settle the problem within two business days. When you receive any returned items, the refunds should be issued within two business days as well.
How to Sell on Facebook Marketplace?
To start selling on the Facebook marketplace, you'll need to go through more or less similar steps as when you want to list your product on any other online shopping platform, like Amazon, Shopify, Etsy, or any other of them. You'll need to create an account, find a product to sell, a supplier to produce or contribute it, create a listing or a store, get orders from the shoppers, and deliver them.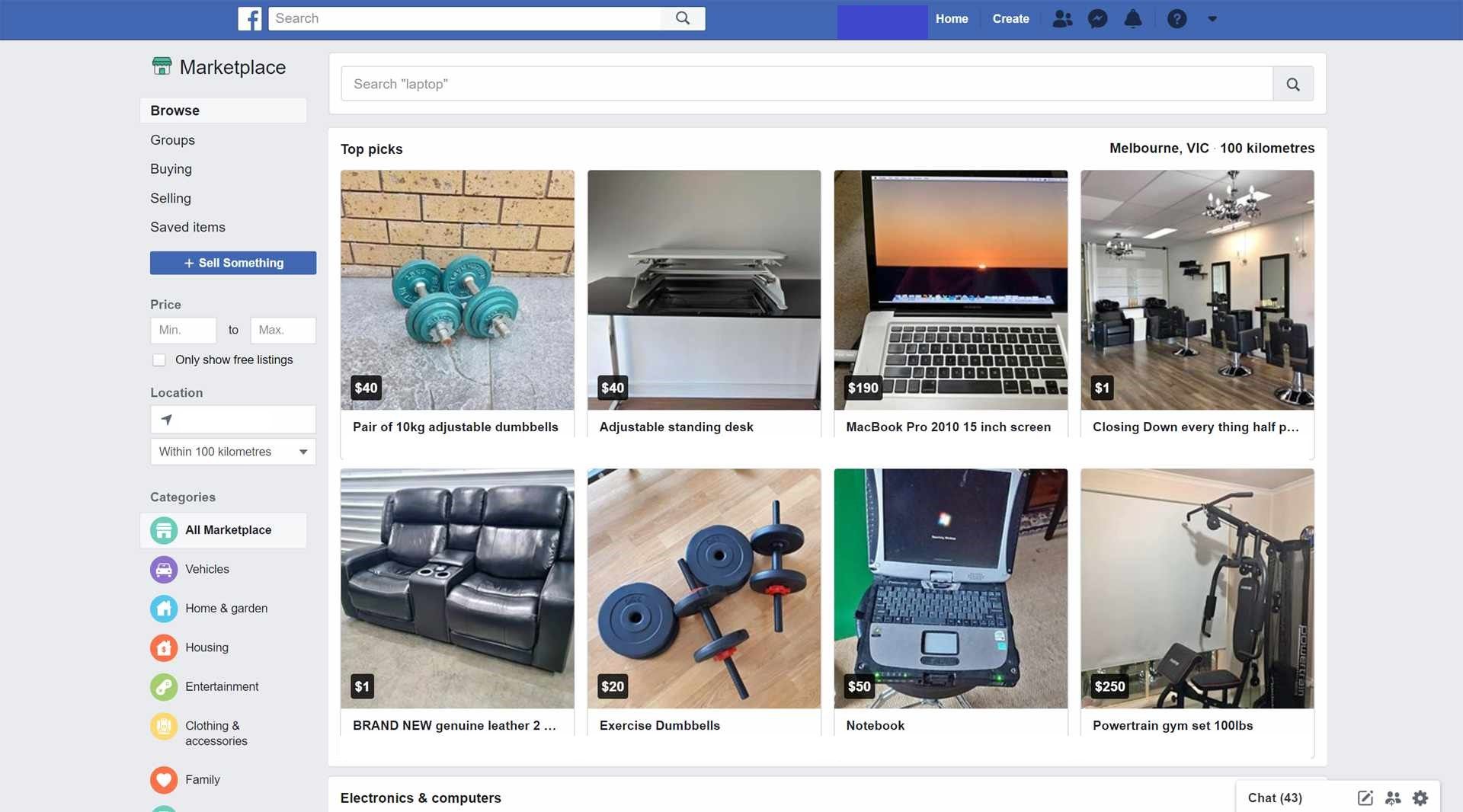 Here is a step-by-step guide on how to sell on the Facebook marketplace.
Step 1. Create a Facebook Account
If you already have an active Facebook account, find a Facebook Marketplace section on the left-hand side of your Facebook homepage under a "Marketplace" tab. If you don't see it, search for "Marketplace" in the search bar.
If you select to offer shipping on your listings, it is necessary to add your payment and shipping details.
If you don't have a Facebook account, you'll need to set it up. Go to Facebook.com and click "Create New Account."
Step 2. Select a Product to Sell on Amazon
In order to find items for sale on Facebook to make a business out of it, you'll need to make product research. This means, that your product should have a sufficient profit margin; it shouldn't be fragile or too big so that you can easily ship it. Also, don't focus on extremely seasonal items, since they'll not sell during the whole year.
As an individual, you can sell any items you don't need and want to get rid of. They just have to be in good condition and you shouldn't overprice them.
On Facebook, you can sell in many categories. It can be:
Vehicles;
Property rentals;
Apparel;
Classifieds;
Electronics;
Entertainment;
Family;
Free stuff;
Garden & outdoor;
Hobbies;
Home goods;
Home improvement supplies;
Pet supplies;
Sporting goods;
Toys & games.
You can find some useful tips on how to find a product to sell online here.
Categories not allowed to sell on the Facebook marketplace:
Digital products;
Weapons, ammunition, or explosives;
Animals;
Illegal, prescription, or recreational drugs;
Ingestible supplements;
Real, virtual, or fake currency;
Misleading, deceptive, or offensive items.
Step 3. Source a Product
There are many places where you can find Facebook products. It can be best-seller or trending lists of online selling platforms, like Walmart, AliExpress, eBay, Etsy, or Chinese Alibaba. You can roam shopper forums or social media groups. Also, you can use search terms and tags, or study the competition in your category.
20 Places to Find Facebook Product Ideas:
Walmart;
Dollardays.com;
Target;
Liquidation.com;
Kohl's;
Big Lots;
Marshalls;
Gabes;
Ross;
Tuesday Morning;
TJ Maxx;
Price Master;
Homegoods;
Dick's Sporting Goods;
World Wide Brands;
Dollar General;
SaleHoo;
CVS;
Burlington;
Lotus Light.
Step 4. List a Product on Facebook
To make your product stand out, you'll need to create a listing that should include high-quality images; frequently used tags and search terms for the shoppers to find it; clear product descriptions and informational bullets so that shoppers can see the advantages of your item.
How to List Products on Facebook Marketplace?
You can list your products on Facebook Marketplace both from desktop or mobile.
To list items on desktop:
1. Log in to your Facebook account.
2. Click the "Marketplace" tab on the left-hand side of your homepage;
3. Select "Create New Listing".
4. Select "Item for Sale".
5. Click "Add Photos" and upload a quality picture of your product.
6. Add the information about your item. Select "Next".
7. Choose the shipping method, and click "Next".
8. Click "Publish" to post the listing.
To list items on mobile:
1. Open the Facebook app and log in to your account.
2. Tap the "Marketplace" tab in the center of the bottom toolbar.
3. Select "Sell".
4. In the pop-up, under "Create New Listing", select "Items".
5. Enter the information about your product, upload a quality picture, and tap "Next".
6. Select a shipment method and tap "Publish".
Enjoy your sales, and don't forget about your product's profitability and KPIs. It's very important to keep track of them as they show your account health. To do the analysis easily, you can use Business Analytics Seller tools, like SelleRise. With this tool, you can keep track of your sales, costs, and profits and see where you can optimize them. Also, you can see sales and profit dynamics showing you how healthy is your business.