Aloha, Amazon Seller!
Create display advertising campaigns in minutes with Sponsored Display ads to reach the right audience for your business on and off Amazon.
All of you know how efficient are Amazon tools when it comes to marketing and advertising. Amazon sponsored ads are handy not only to introduce a brand or product to wide audiences but also to boost sales and conversions. Sponsored Display Ad, Sponsored Product, and Sponsored Brand campaigns allow you to target all categories of consumers depending on your goals and strategies.
Naturally, one of such goals should be retargeting shoppers on Amazon.com to your listing. One of the best instruments to do this is a Sponsored Display Ad, which helps buyers reengage with your brand.
According to Amazon, vendors using Sponsored Display audiences can attract as much as 82% of new-to-brand shoppers. Display campaigns increase impressions twice and grow the number of clicks by 1.5 times.
In this blog, we will discuss what are Sponsored Display ads Amazon, how they can help you grow reach, and how to set up an Amazon Sponsored Display ad campaign.
What Is a Sponsored Display Ad?
In a definition given by Amazon, Amazon Display advertising is "a self-service display advertising solution that helps you grow your business and brand on Amazon by engaging shoppers across the purchase journey, on and off Amazon."
In practice, Sponsored Display Amazon is based on a different principle than Sponsored Products and Sponsored Brands, since it doesn't target keywords. In the campaign, promotion is structured considering customers' interests, shopping behaviors, and the products they've viewed.
Amazon Sponsored Display is a combination of an appealing image with a call to action (CTA), similar to Amazon banner ads. This type of Amazon Sponsored ads allows attracting attention to your product of those who have recently viewed a listing, of those who viewed look-alike products or categories or target them based on their browsing and buying signals.
Sponsored Display ads are available to sellers enrolled in Amazon Brand Registry, vendors, and agencies.
How Are Sponsored Display Ads Different from Sponsored Products and Sponsored Brands?
Unlike other types of Sponsored ads, Sponsored Displays are not keyword-based. Amazon remembers the products a shopper searches for and repeatedly displays them to the shopper on Amazon and third-party pages and apps, including the websites of your competitors. They may appear on their favorite news or weather sites, or in any other place they are used to browsing. When potential customers clicks on the ad, they are retargeted to your product listing.
Since Sponsored Display campaign is not keyword-based, there's no need for you to add keywords to it. Your product will be automatically shown to the most relevant audience based on your selection.
Also, there's no need to make an ad creative - ads are generated automatically and include a product image, pricing and rating details, and a "Shop Now" button that retargets customers to your product detail page.
A big plus of these ads is that they pop up outside Amazon, considerably growing impressions.

Where and When Do Sponsored Display Ads Appear?
Display ads are shown on the Amazon home page, product detail pages, shopping results pages, and also on third-party desktop, mobile websites, and apps, which is an essential advantage compared to other Amazon Sponsored ads.
They may appear along the top or the sides of a webpage, or in the middle of the content. These ads are "retail aware," which means that they are displayed only when your products are in stock and if they are the Featured Offer.
The typical Display ad sizes are as follows:
Medium rectangle: 300 x 250 px
Leaderboard: 728 x 90 px
Wide skyscraper: 160 x 600 px
Large rectangle: 300 x 600 px
Mobile leaderboard: 320 x 50 – 640 x 100 pixels @2X (required).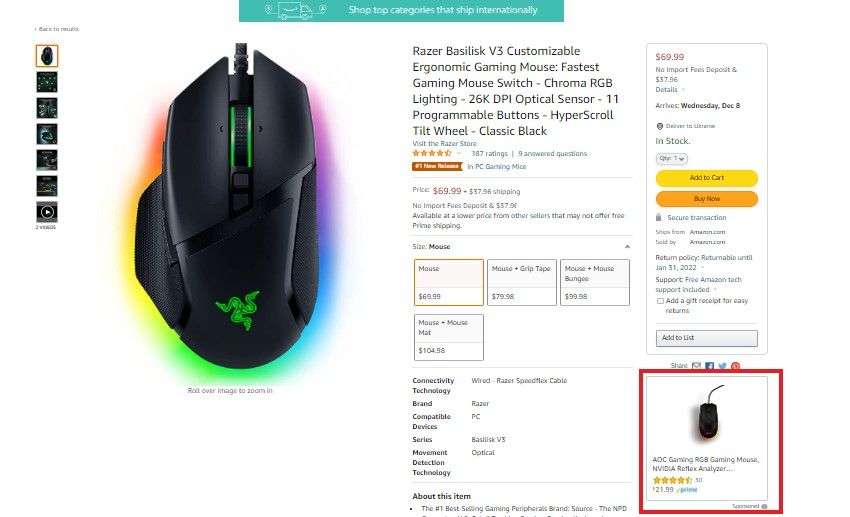 What Is the Cost of Sponsored Display Ads?
Sponsored Displays price is CPC-based, you need to pay for an ad when a customer clicks on it. You are free to select a daily bid and budget, and modify a bid or pause a campaign at any time.
What Are the Advantages of Display Advertising?
On top of the advantage that with Display advertising you can target customers off-Amazon on third-party webpages, there are a number of other benefits of these ads.
The advantages of Amazon Display Ads are:
Measurable: You can count clicks, and the efficiency through ACoS;
Cost-effective: it increases reach, it's dynamic and easily set up to budget;
Adds value: it complements other ad types allowing a full-funnel strategy;
Flexible: you can test different content formats for various audiences.
How to Create Display Advertising Strategy?
In order to create a Sponsored Display advertising campaign, you need to outline what goals you want to reach and at which type of customer audiences it's directed. Here's how to elaborate the campaign's strategy, step-by-step.
Step 1. Defining Target Audience
First of all, you need to determine, to whom you are going to show your ads, and make a customer persona. This is a starting point since you need to show the right products to the right people. You can find out your customer persona shopping behaviors from their inputs, like demographics and shopping signals. Research your audience's shopping habits to reach new potential customers based on ad relevance.
Step 2. Set Campaign Goals and Configure Settings
Elaborating on the goal of your campaign should include setting KPIs and allocating the corresponding budget. Calculate ACoS and ROAS. You can also configure additional settings, such as pacing, supply sources, device types, pre-bid traffic filtering, etc.
Step 3. Create Eye-Catching Content
Depending on your target audience, select a creative product image or lifestyle image. Add CTA, attention-grabbing headline, don't forget your brand logo. Use simple and refined design.
Step 4. Size Creative
Don't forget that ads may look different on mobile or desktop devices. Consider bigger and smaller formats differences as well.
Step 5. Set Timing
Define a time schedule when your ads should be shown as per the media plan.
Step 6. Follow Up and Measure Results
Give a campaign time to work out. After a time, monitor the major metrics: ACoS, acquisition, CTR. Make A / B testing. Optimize creative, audiences, or bids. See if your KPIs are achieved. Discard poorly working campaigns, escalate efficient ones.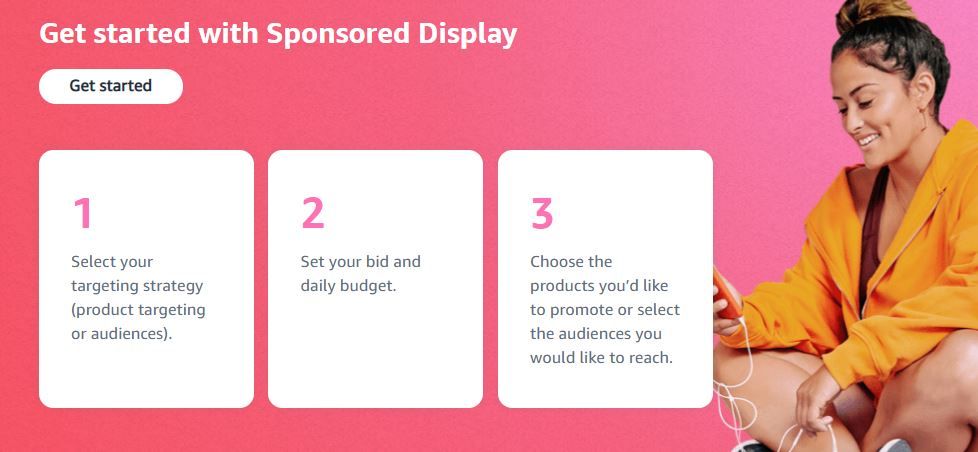 How to Set Up a Sponsored Display Ad
Setting up Display ads doesn't require any specific skills or big funds, and it's not complicated.
Step 1. Log in to your Seller Central, navigate to the Advertising tab.
Step 2. Click Campaign Manager, and "Create campaign."
Step 3. In Choose your campaign type click Sponsored Display.
Step 4. Specify campaign name, period, daily budget, ad group name.
Step 5. Select targeting options from Audiences and Product Targeting.
Step 6. If your choice is Audiences – select from Views remarketing, Searches, or Purchases.
Step 7. Select from the products you want to advertise. Set your per-click bid.
Step 8. Set your Custom Audiences.
Step 9. Customize your ad creative or leave it to Amazon. Add in your brand logo.
Step 10. Specify where you want your ads should be displayed on Amazon.
Tips for Call to Action in Sponsored Display Ads
CTA is an essential part of Sponsored Display creative since this is a place where a customer is redirected to your product listing or store. Therefore, CTA should be visible, easy-to-understand, and convincing shoppers to perform an action you urge them.
Workable Display Ad Call to Action examples:
Shop now;
Learn more;
Pre-order now;
See details;
Watch now;
Subscribe & Save.
Enjoy your sales and don't forget about your product's profitability and KPIs, it's very important to keep track of them as they show your account health. To do the analysis easily, you can use Business Analytics Seller tools, like SelleRise. With this tool, you can keep track of your sales, costs, and profits and see where you can optimize them. Also, you can see sales and profit dynamics showing you how healthy is your business.