Aloha, Amazon Seller!
Black Friday and Cyber ​​Monday are coming soon. Black Friday this year falls on November 25, and Cyber ​​Monday falls on November 28. During these days you have an excellent opportunity to increase your sales and profit because these events attract many buyers, especially now, when many people make purchases on Amazon.
Black Friday Sale is attracting millions of shoppers each year. In the previous year, Amazon buyers spent twice as much as they spent on Thanksgiving, while the sales on Amazon grew up to 20%. This year, figures are expected to be even more impressive. This big piece of cake is worth fighting for.
Therefore, to stay fit for the event it's high time to start prepping and implement your proactive Black Friday FBA marketing tools. You will need to review last year's patterns to see what can be implemented this year; reorder inventory well in advance; polish your listings and review keyword set; monitor your competitor activities, and a lot more.
In this blog, we are going to share with you useful Amazon FBA Black Friday tips that will help you boost your sales and get a lot of new Amazon Black Friday deals.
Prepare well in advance for Black Friday & Cyber Monday
Black Friday Amazon and Cyber Monday – great opportunity for sellers
Black Friday, Cyber Monday, and the rest of the holiday season are huge sales events for Amazon FBA sellers. More than half of Amazon sellers said that Black Friday and Cyber Monday are crucial for their profits. The rising number of shoppers has driven the rapid growth of e-commerce, and of course, those who make purchases on the Internet mostly use Amazon services.
During these events, shoppers are roaming online retail marketplaces and looking for catchingproposals and attractive discounts. During this period, shoppers are ready to spend more than they usually do, thus creating a window of opportunity for creative sellers.
Amazon limits its order fulfillment and inventory resources
Due to the high season, sellers can face unexpected problems receiving Amazon FBA shipments because of increased demand during the holiday season.
Think about a reliable plan in advance to stay on top and get your shipments out considering the new restrictions from Amazon. It is worth making supplies as early as possible to have enough reserves before the upcoming events and holidays.
In recent years, some of the sellers faced problems with receiving inventory. Amazon has created a Guide to FBA Holiday Sales Dates. Look at the schedule for this year's season.
Prepare in advance for Holiday season sale
Holiday sales often start in November. 58% of Amazon sellers observe an increase in sales before Thanksgiving, while 22% see an increase before the month of November. Therefore, in October, November, and December Amazon usually has a higher-than-normal stream of shoppers. This is the reason why you'll need to prepare for the upcoming holidays in advance.
How to prepare for Black Friday
Look at the next 7 steps to prepare for Black Friday and Cyber Monday:
Review inventory storage limits
Order enough inventory to meet seasonal demand
Ship your inventory by critical dates
Optimize your product listings
Optimize your PPC campaigns
Plan your promotions
Monitor your sales and performance
Step 1: Review inventory storage limits
The important step to get started is to check if you have any storage restrictions or any ASIN-level inventory restrictions. It will help you estimate the amount of inventory that you can ship to Amazon warehouses.
If you are faced with limits for stocks, contact third-party logistics companies (3PL) for help.
Step 2: Order enough inventory to meet seasonal demand
As soon as you start working with suppliers, the more time you will have in the future to solve problems that may arise. You will also have enough time between the production and delivery of goods to the warehouse.
Also, compare your sales over the past year and the recent few months. How much did your sales increase during the pandemic? Are your sales increasing during the holiday season, or are they not changing?
Think about these issues 7-9 weeks before the start of the sale date.
Step 3: Ship your inventory to FBA by critical dates
Сheck out the estimated timeline for the current year, so that you can receive your FBA inventory on time for Prime Day, Black Friday, Cyber ​​Monday, and December holidays.

Step 4. Optimize product lists
Try to create the best possible listing. For best results, pay attention to keyword/text optimization and image/photo optimization factors.
1. Keyword optimization
"Keywords" in simple terms are how your customers will find your products. Amazon will show up your product better in search results if you add relevant and high-volume keywords to your listing.
2. Photo optimization
Product photos are an essential aspect of a good Amazon listing. They focus buyers' attention on your product.
More than half of Amazon customers shop on their phones. Using the Amazon application, all the customer's attention is attracted to your product photos and images.
Also, check out the "infographics." It is an excellent opportunity to add visuals to your photos and images, which will help to explain your product to buyers without reading oversized descriptions.
Think about all possible customer questions about your product and add this information to images. For example: add a comparison chart, sizing chart, ingredient list, etc.
Good photos help you sell your product.
Also, non-brand registered sellers can add videos to their lists. It can be 30-60 seconds video.
Check your set of keywords. Ads reports show you which keywords are converting well in your PPC campaigns. Add these keywords to your listing.
Information about your product must be clear, accurate, and complete to prevent the customer leave your listing and going to competitors.
Step 5. Optimize your PPC campaigns
Make sure your ads are optimized for conversions, all of your keywords are working, and you're not wasting your budget for low-quality keywords. In simple terms, disable the keywords that are more expensive than your ACoS (Advertising Cost of Sale) and are not converting to sales.
Many buyers come during the Black Friday and Cyber ​​Monday week and later, so you need to make sure your ad is active all these days and appears at the top of search results.
Step 6. Plan your promotions
Black Friday and Cyber ​​Monday give shoppers an excellent opportunity to buy their favorite items at great discounts. So it would help if you elaborate exciting offers for your customers. These can be discounts or deals, which in turn will help increase conversions to sales.
Amazon provides various types of deals. On Black Friday and Cyber ​​Monday, you run these deals for a whole week. So try to start planning these deals now.
To schedule a deal, go to your Central merchant account >  Advertising > Deals.

On the 'Deals' page, select 'Create New Deal'.
You may choose a 7-day deal that will advance your business for seven days in a row, or the Lightning Deal, a 4-hour flash sale. But be aware that the deals directly during the week of Black Friday and Cyber ​​Monday will cost more than usual since these days all sales are competitive.
For example, Lightning Deals are offers advertised on Amazon's Deals page.
Click 'Select' to select a date, and you will be given several weeks to choose from. Your Lightning Deal will run on one day of the week selected.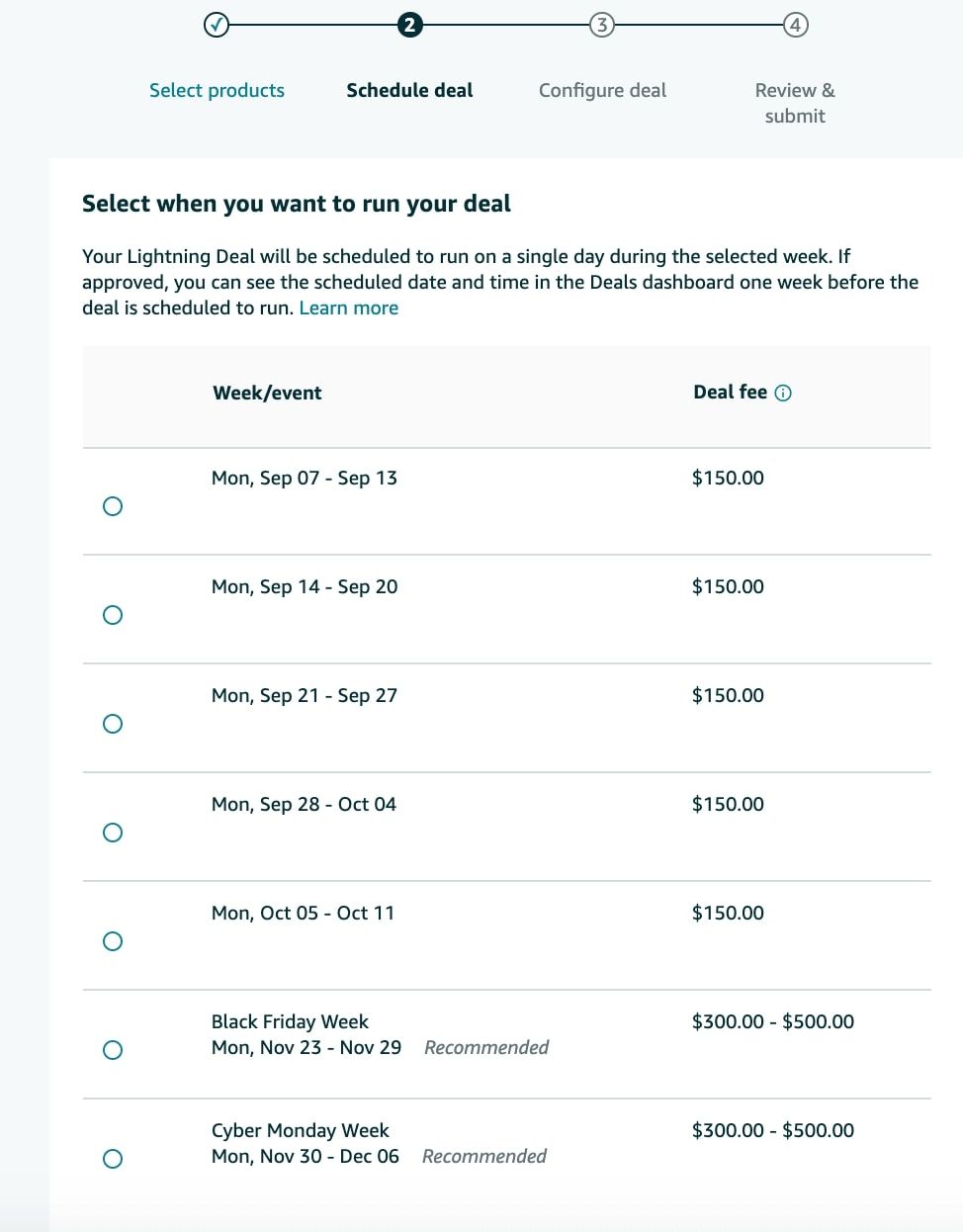 Deals made during Black Friday Week and Cyber ​​Monday Week will cost twice as much and even more than lightning deals. It's good if you have a budget for this and good sales of the product.
You may also create coupons and an exclusive Prime discount.
Step 7. Track your sales and performance
Of course, don't forget to check your product's performance and correct your listing or PPC campaigns if it's necessary. This way, you will not lose your sales and money.
Here at SelleRise, we show you accurate Sales&Profit - summary and for each SKU as well. This includes sales, ad spend, estimated payout, and profit calculated based on your product cost price and all Amazon transactions.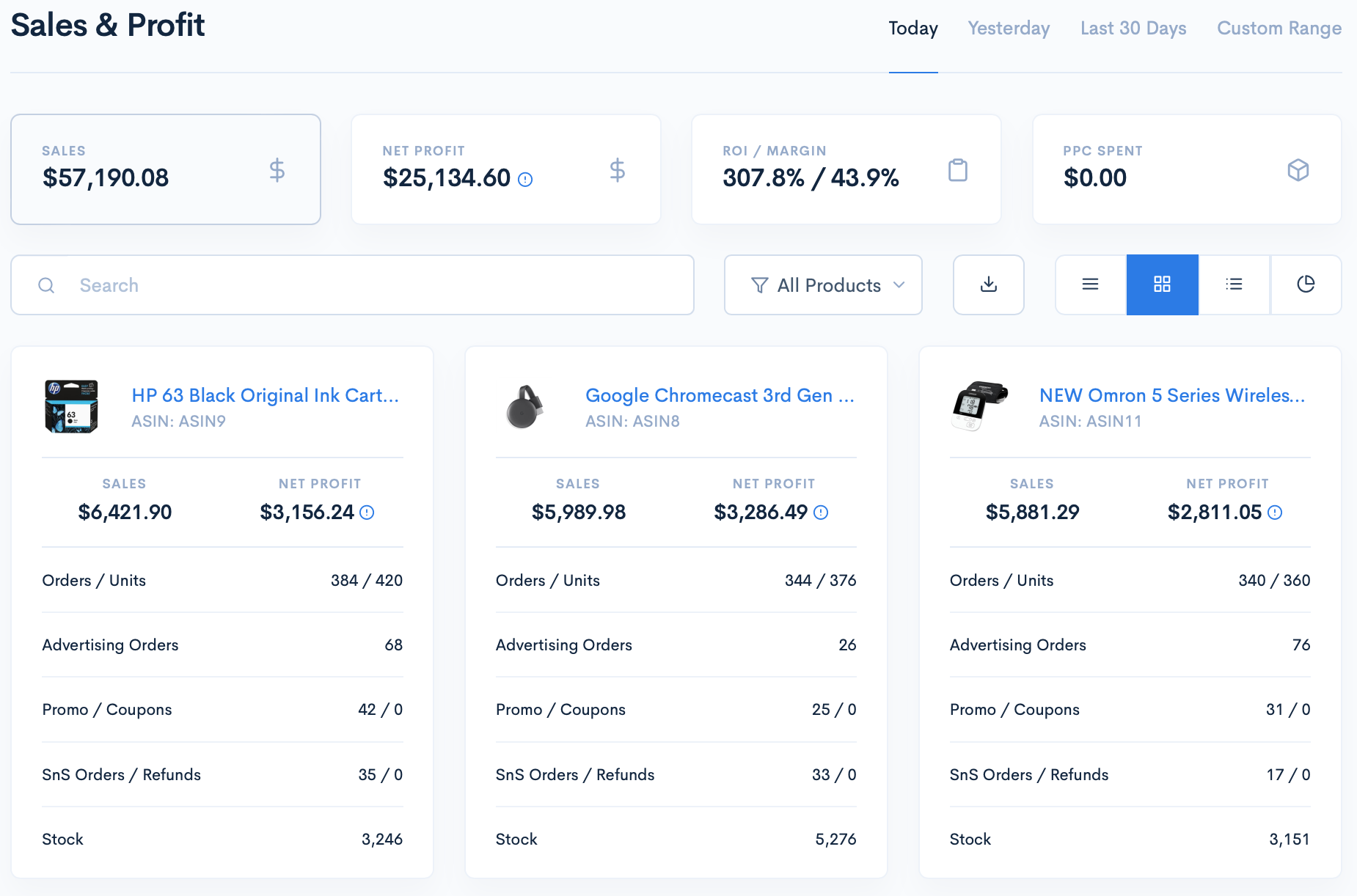 Wrap up
In 2021, the holiday season will be busier than in previous years. With our tips, you'll be ready for Black Friday and Cyber ​​Monday.
Enjoy your sales, and don't forget about your product's profitability and KPIs. It's very important to keep track of them as they show your account health. To do the analysis easily, you can use Business Analytics Seller tools, like SelleRise. With this tool, you can keep track of your sales, costs, and profits and see where you can optimize them. Also, you can see sales and profit dynamics showing you how healthy is your business.