Aloha, Amazon Seller!
Do you think about who shops more, men or women? What are men's shopping habits? What do women buy? Know more with SageSeller.
A study from Wharton School of Business states, that "men buy, women shop". In practice, though men and women exhibit certain shopping and spending behaviors in common, there is a difference between male and female shopping stereotypes, perspectives, and motives.
In e-commerce, this difference between male and female customer behavior is even more evidently exposed. Studies show, that shopping plays a stronger emotional, psychological and symbolic role for women compared with men. Men, in turn, are more rational, are making decisions fast, and are ready to anticipate risks associated with new high-tech applications.
Overall, the average online shopper is predominantly male, aged between 25 and 49 years, and the interest rate of men buying online is 84.3 % compared to 77 % of women.
For an online retailer, these stats and trends are important to understand the man vs woman shopping route and adapt their listings in certain product categories accordingly. Depending on the gender-based buying decisions you can adapt your e-commerce strategy and marketing campaign targets.
Why Do You Need to Know Men vs Women Shopping Behaviors?
For an e-commerce seller, especially on Amazon, where the competition is tough, it is important to look for new creative approaches to attract new customers and grow their business. Analyzing your men vs women shopping data may help target a definite market niche. You can also visually design your online store with gender in the mind.
When it comes to the customer journey, the seller's goal is to attract a shopper, make them stay in the store longer, influence their buying decisions, and turn them into loyal return customers. In this respect, the introduction of a more segmented approach based on understanding what and how men and women buy may help increase traffic turned into conversions.
General Shopping Habits: Male vs Female Shopping Profiles
Studies demonstrate, that male and female shopping habits differ substantially with regard to goals, aproaches, and customer journey length.
General Profile
Both women and men tend to do most of the shopping from their laptops;
Men are more likely to use their smartphones for a purchase, (45% vs. 34%);
Women are much more likely to buy something if it is on sale. (74% vs. 54%);
Male shoppers tend to stop shopping after they find the first workable product;
Female shoppers are more likely to plan out their shopping strategies and make their purchases based on future needs.
Men Profile
Want their shopping experience simple and straightforward;
Focused on the goal – purchase;
Interested in the result – not captivated by the process,
Stop shopping after they find the first workable product;
Tend to purchase when the need is immediate;
More likely to spend money on themselves;
Tend to think logically when making purchase decisions;
Less interested in discounts, deals, or out-of-season sales
Like to research products before purchasing;
Need detailed product descriptions, feature comparisons to other similar products, and customer reviews.
Women Profile
The Online shopping experience has to be social and comprehensive;
Shop based on future needs;
Tend to follow trends and fashion, and make the purchasing decision with them in mind;
Enjoy the shopping process as a whole and tend to spend more time shopping online;
More selective and more likely to buy a product that fits their requirements;
Buy gifts for others too;
Make impulse purchases;
More responsive to marketing emails, coupons, and sales;
More receptive to other people's opinions;
Need online chat feature, discussion forums, high-quality visuals, customer reviews.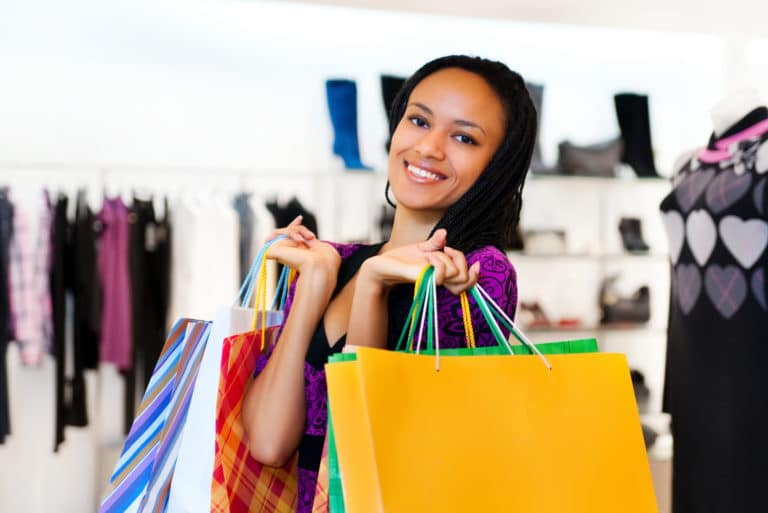 In What Things There's No Difference Between Men and Women Shopping?
Despite a lot of differences in men's and women's shopping behaviors, there are several things that are equally important for both genders.
What is equally important for males and females?
Free shipping – is equally important (to 60% of both men and women);
Best bargain – matters nearly equally (to 74% of men and 77% of women);
Buying on sale – is more crucial to women (74% compared with 57% of men).
Do Women Shop More Than Men?
While women buy on average about 7.1 times a year and men only about 5.4 times; they spend more money on the Internet: men spend 10 euros more on each purchase than women. Men perform many more product searches on the Internet than women, 70 % versus 30%. At the same time, women's sessions are substantially longer.
Why Do Women Like Shopping?
It's more or less common knowledge that differently from women shopping, men shopping start to treat the process with bore after a short time. The study states, that men got bored of shopping within 26 minutes, while women did not show any signs of weariness after two hours. But why is such a difference and why do women enjoy shopping? One explanation is given by the "hunter-gatherer" theory bringing us back hundreds of thousands of years when our ancestors lived in caves. At that time, the theory claims, the males went out to hunt animals while females gathered food (fruits, veggies, berries) from the forests. For the male hunters, it was needed to react quickly and make a decision within a very limited time span to catch the prey.
Female gatherers, on the contrary, were not limited by time, and their activity required a lot of patience and the job had to be done thoroughly.
This is why, the theory explains, men "catch" their purchase and run home, while women compare products, look at alternatives, and spend time roaming aisles to select the best product option fitting their taste.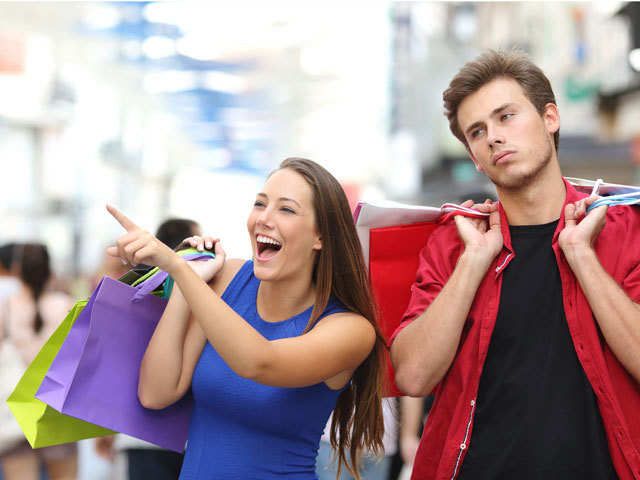 What Do Women Buy and What Do Men Buy Online?
There are certain categories of products, that man buy more than women, like high-tech products or automotive spare parts. On the other hand, ladies always buy more beauty & personal care products.
Product categories where males dominate:
Computer and tech (39%, compared to 18% of females);
Travel and holiday accommodation (37%, compared to 35% of females);
Household items (32%, compared to 30% of females);
Tickets for events (27%, compared to 26% of females);
Media content – movies and music (22%, compared to 16% of females).
Product categories where females dominate:
Clothes and sports goods (46%, compared to 14% of males);
Books, magazines, and electronic educational literature (25%, compared to 23% of males);
Groceries (18%, compared to 14% of males);
Medicine (10%, compared to 8% of males).
The data also differ over the years.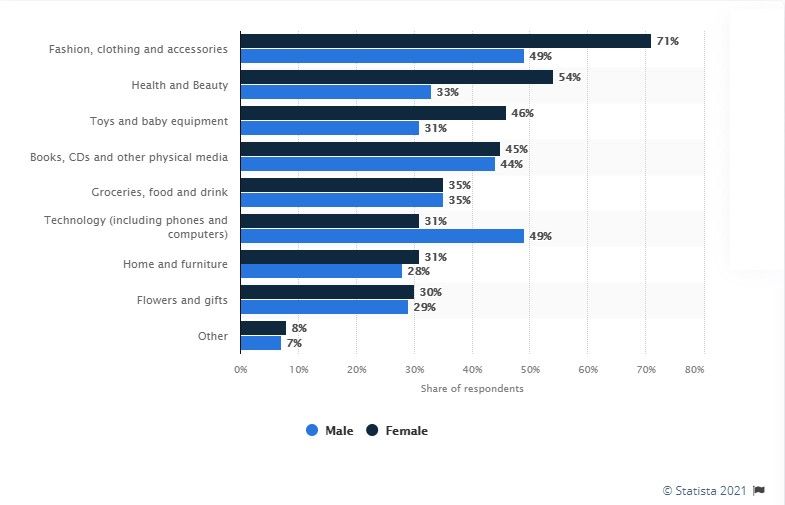 Men Shopping vs Women Shopping in 2021
In 2021, there were no major changes in the shopping structure by sex, however, there are some new trends.
Women are spending less than men in 2021
Around three-quarters of males and females in the U.S. said their overall spending dropped or stayed the same in Q1. At least 61% of both groups said their spending online, on Amazon, and in-store at Walmart had also decreased or remained level over the same time period.
Men outnumber women as a proportion of consumers who reported higher spending in 2021.
Men shop online more frequently than women
Men tend to shop more frequently than women online in 2021, on Amazon, and at Walmart.com, on a daily and weekly basis: 24% of men shopping vs women shopping online at least daily- 17%.
Men are buying more non-essential goods than women
In terms of men shopping habits vs women's spending, there were no essential changes from Q4 2020 to Q1 2021.
There were notable increases in health-related categories, grocery, cleaning supplies, vitamins & dietary supplements. Clothing, electronics, and office supplies went down.
Men and women prefer the same retailers, with some exceptions
In terms of where consumers shop in 2021, some of the top retailers are favored equally by people of both genders. For example, roughly the same proportions of men and women shop online at Amazon and Target and in-store at Walmart and Costco.
Men are more brand loyal
When it comes to brand preferences, men are more likely to stick with specific labels. 65% of men and 54% of women would describe themselves as "brand loyal".
Men are more brand loyal in such product categories as tobacco, pipes, and accessories (59%), automotive parts (32%), exercise and fitness supplies (28%), and garden and outdoor products (20%). Women are about 9% more brand loyal than men when shopping online for beauty and personal care products.
Men are more likely to shop using social media
Despite the fact that more women than men use social media, men are more likely to use Instagram, YouTube, Facebook, and TikTok for product searches.