Aloha, Amazon Seller!
Are you an FBA seller or just interested in Amazon logistics? Read this article to learn how Amazon is changing supply chain management.
One of the most efficient approaches for businesses to providing the best customer services is to strategically prioritize supply chain management. This is proven by the impressive Amazon.com success story. The e-commerce giant, started by its founder Jeff Bezos as a small online bookstore with a list of 20 products, has grown to an online retail platform with the company's revenue amounting to more than 386 billion U.S. dollars in 2020.
One of the keys to the marketplace's tremendous success is the Amazon supply chain strategy innovation, allowing fast product delivery from the warehouse network to the customer, and the application of human-robot interaction in Amazon supply chain management.
What Is Supply Chain Management?
Supply Chain Management (SCM) encompasses all the processes integrating suppliers to integrate efficiently together to move a product from creation to the customer's hands, considering supply and demand along the way.
Describing Amazon supply chain strategy and innovation, Amazon's AWS writes: "Today's supply chains are global networks of manufacturers, suppliers, logistics, and eCommerce/DTC retailers that work together to deliver products to the end customer. As modern supply chains continue to expand, they also are becoming more complex and disparate. They require a unified view of data, as well as the ability to independently verify their transactions, such as production and transport updates. Solutions built using AWS services, such as Amazon Managed Blockchain and Amazon Forecast, provide the end-to-end visibility today's supply chains need to track and trace their entire production process with unprecedented efficiency".
Supply Chain Management embraces the following components:
Planning;
Information;
Source;
Inventory;
Production;
Location;
Transportation;
Return of goods.
Amazon managed not only to efficiently put together these components in the unique Amazon supply chain model but also elaborated a proactive Amazon supply chain strategy accurately forecasting the logistic flow processes.
How Amazon Is Changing Supply Chain Management?
1. Revolutional Amazon's Distribution Strategy
More than 15 years ago, in 2005, the e-commerce giant introduced an Amazon Prime service. With this paid service, Amazon's customers were provided a guaranteed delivery of their products to the shoppers within two-day. This two-day shipment option made possible due to the efficient Amazon supply chain management allowed the marketplace to override their competitors and dominate the online retail market.
The next breakthrough was launching a free two-hour delivery with Amazon Prime Now service enabled due to the innovations in Amazon's supply chain.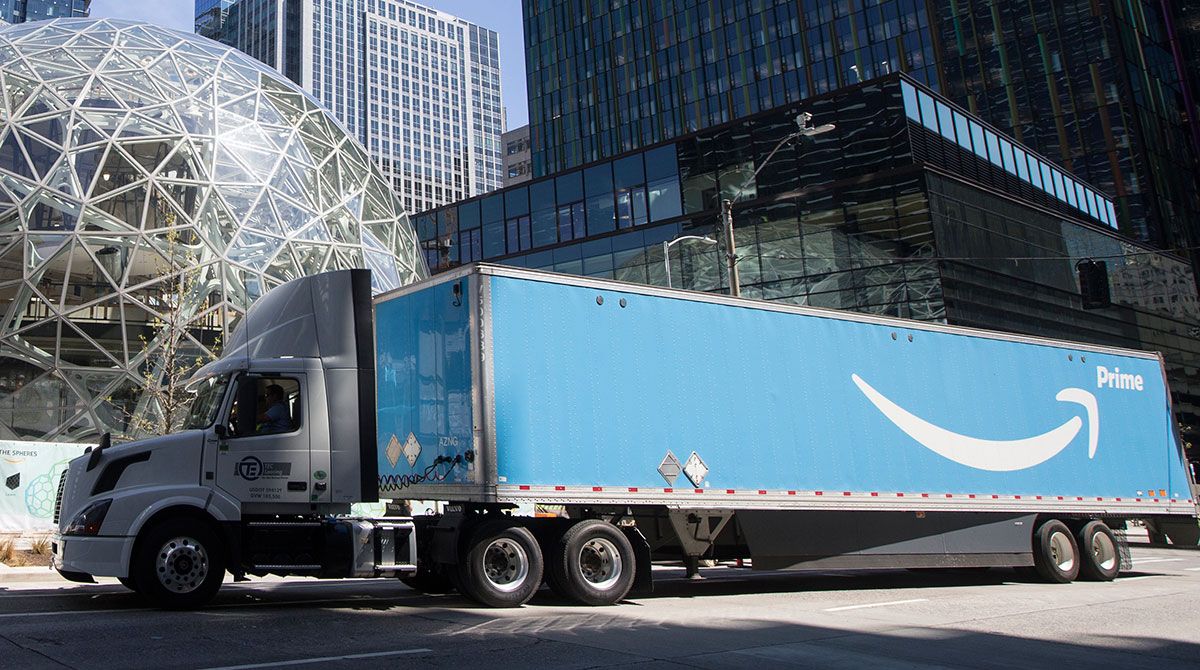 2. Efficient Supply Chain Management Practices
Amazon declares itself a customer-centric company providing the best customer experiences. For that purpose, the Amazon supply chain model is built up to ensure quick and efficient logistics. Combined advanced Hi-tech solutions, a wide warehouse network, multi-layer inventory management, and optimized transportation help Amazon reach that goal and reach millions of happy customers across the world.
Reversing the Inventory and Logistics Logics
While previously companies implemented a strategy of outsourcing logistics and insourcing inventory, Amazon radically changed that, offering many products located in the warehouses of other parties, but managing their very efficient Amazon supply chain to get those products and get them to their destinations. Amazon's two-hour or same-day delivery services is possible due to its dependence on its own logistics.
Delivery Options for Customers
Amazon offers a variety of delivery options to its customers. Among those are Prime delivery, one-day delivery, first-class delivery, and free super-saver delivery, etc.
Push-Pull Strategy and Last-Mile Logistics
Amazon's warehouses are efficiently placed close to main logistically important areas and city centers. This allows the platform to apply a pure push strategy for the products in Amazon warehouses, thus forecasting demand for that region. It is combined with a pull strategy selling the third-party seller products, applying an order-by-order fulfillment model.
Strategic warehouse logistics also ensures that the product's last-mile distance from the local receiving centers to the customer is optimized, thus minimizing shipment time.
Classes and Zones
Amazon has 110 fulfillment centers in the US with 800,000 people employed, united into the big effectively operated network.
Depending on the function, warehouses are divided into five storage areas:
Library prime storages storing books and magazines;
Pallet prime storage storing full-case products that have a very high demand;
Case flow prime storages storing high-demand products picked in less-than-case quantities;
Reserve storages storing irregularly shaped and low-demand products;
Random areas storing smaller, moderate-demand items.
Bigger Warehouses
Amazon ensures they have a sufficient number of large enough warehouses to contain as much inventory as they need to make sure they will always be able to fulfill any order at any time.
Enhanced Automation
Automation is a crucial element of shipping supply chains. The robots of Amazon Robotics are picking and packing deliveries fast, 24/7. As of 2020, Amazon installed 45,000 warehouse robots automating delivery processes.
Supply Chain Cost Minimization
Determined by big scale and high-tech economically-based supply chain strategies, Amazon managed to substantially reduce a per unit supply cost. That became their strong competitive edge and increased the sales volumes, in turn, improving the supply chain economics.
3. Continuous Fulfillment
As said, extensive high-tech strategies applied across all Amazon warehouses, including automation and robotization, allow for the smooth round-the-clock processing of the shipments delivered to each of the fulfillment centers. The same also allows for the transparent monitoring of each inventory unit's status. The system is set up to process orders immediately so that the product is picked up from the warehouse and sent down the line right away.
4. Diversified Delivery Fleet
To deliver orders at the shopper's door, Amazon bundles different transportation methods and delivery partners to keep up with the speed and demand. Amazon-branded trailer trucks deliver more than 2,000 boxes at a time to the warehouse sortation centers, where packages are distributed by location and the required delivery speed. From there, items are distributed to the most efficient transportation mode ranging from Amazon trucks and planes to partnered carriers such as UPS and the U.S. Postal Service.
To meet Amazon's two-day delivery window for Prime members, Amazon employs its airplane fleet, which takes flight from more than 20 airports around the U.S. Each plane has the capacity to carry 30 or more containers, filled with hundreds of boxes. By ground, the company utilizes a fleet of trucks, vans, bikes, and even robots for last-mile delivery.
Amazon is also introducing Amazon Prime Air, a drone-based delivery system delivering products under five pounds in locations within 10 miles of Amazon's fulfillment centers within just 30 minutes or less. This solution also includes self-driving cars. The testing and regulatory compliance updates are in progress.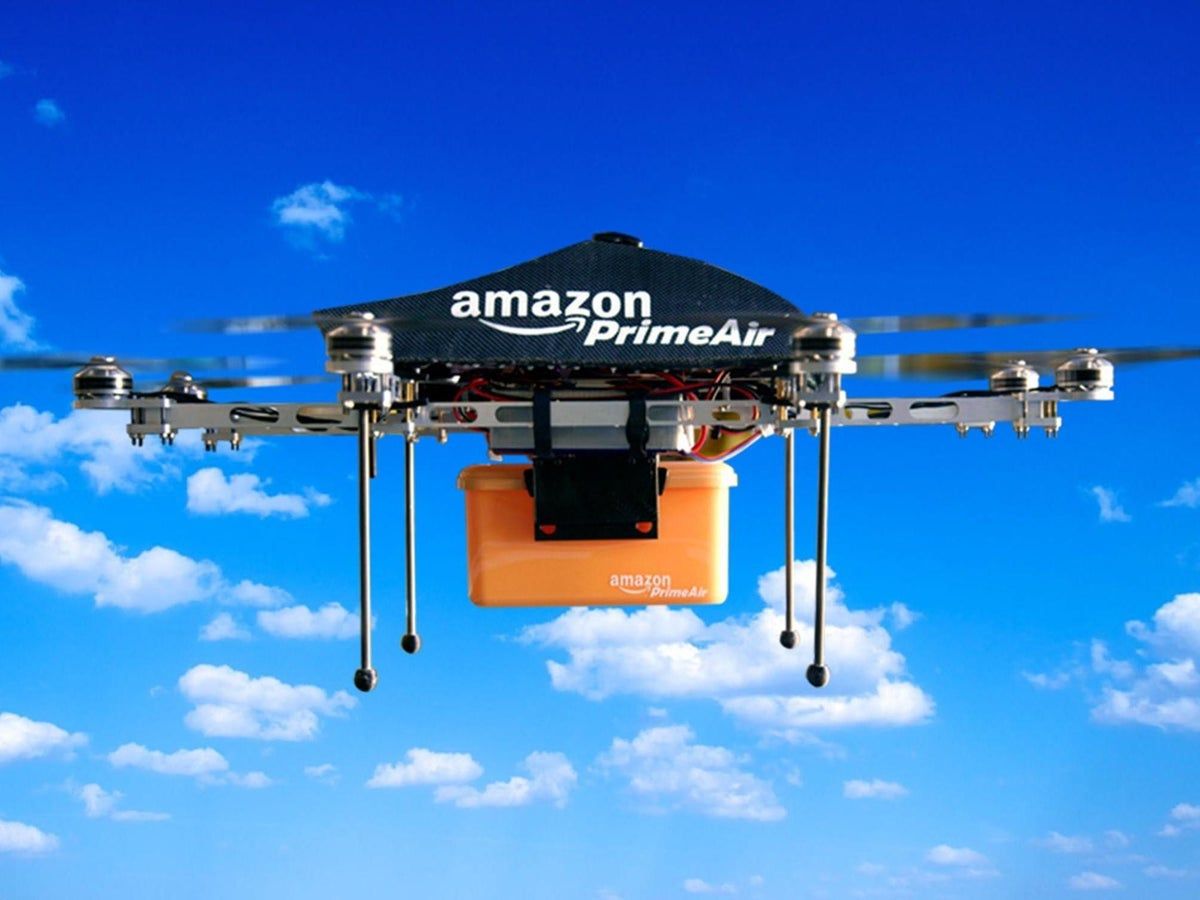 5. Advanced AI Solutions
Amazon AWS company implements advanced computer-based technologies of Big Data processing, involving artificial intelligence solutions, blockchain and cloud technologies, etc.
Amazon Managed Blockchain
The Amazon Managed Blockchain Quick Start allows customers to set up and manage a scalable blockchain network with just a few clicks and eliminates the overhead required to create the network, and automatically scales to meet the demands of thousands of applications running millions of transactions.
Improving Forecast Accuracy with Machine Learning
The Improving Forecast Accuracy with Machine Learning solution generates, tests, compares, and iterates on Amazon Forecast forecasts. It automatically produces forecasts and generates visualization dashboards, providing a quick, easy, drag-and-drop interface that displays time-series input and forecasted output.
Data Lake on AWS
Data Lake on AWS is an automated reference implementation that deploys a highly available, cost-effective data lake architecture on the AWS Cloud along with a user-friendly console for searching and requesting datasets.
6. Amazon Manufacturing
A retail giant is involved in a variety of projects, including its own production. It now produces, for instance, batteries, backpacks, Bluetooth speakers, iPhone chargers, dog poop bags, and more. Expanded to the increasing number of categories, Amazon manufacturing allows them to diversify their revenue channels, at the same time offering marketplace's customer's low-cost production.
How to Easily Manage Your Amazon Inventory?
Tracking the real-time status of your inventory in the Amazon warehouses and monitoring your storage fees is important for your product performance optimization.
SelleRise's Inventory Manager Dashboard allows the seller to track and control the stocks of goods in the Amazon fulfillment centers. Inventory Manager displays real-time inventory and stock data in one place.
With this dashboard, you can see FBA/FBM fulfilled products separately down to each SKU for your ultimate performance.
Monitoring of your inventory with the Inventory Manager Dashboard helps avoid stockouts and overcharging for storage fees.
Tracking the real-time status of your inventory shows when and how much stock you should reorder. The status of the inventory is marked as Reorder Now, Reorder Soon, Overstock, and In Stock, and the date and quantity of the inventory you should order are calculated, as well as estimated costs and profits.
With SelleRise's Inventory Manager Dashboard you can:
Monitor your inventory and stock data in one visual Inventory Manager dashboard;
The inventory manager displays real-time numbers of each product and unit in stock, its status, and condition;
See your FBA/FBM fulfilled products separately;
Easily get detailed data re. your stock status: in stock, reorder, stock out, and overstock for each SKU and select your preferred parameters;
See your data in a convenient format and easily process it by account, type, or status;
Keep track of the cost of stock and cost price of each unit and item in a convenient way;
Set the period to get your main inventory parameters: stock cost price, estimated profit, cost of sales, etc.;
Set SellerRise's alerts to reorder products, re. stock-outs etc.
Enjoy your sales and don't forget about your business analytics. Keeping track of your figures is key to your account health and maximizing your profits.
Get your easy and visual business analytics with SelleRise's dashboards. Try them now, it's free.