Return costs can (and do) kill your profits
Return costs are often ignored by Amazon sellers. There are usually two reasons for this: sellers underestimate the return costs and it is not clear how to accurately account for returns.
The bad news is: returns cost you more than you think (and sellerboard can calculate exactly how much).
Return costs include  adjustments of already booked profits (not just the processing and non-refundable costs). Let's say you sold 1 unit in January and have already booked the profit from this sale in January. If the customer returns the product in February, you should now subtract the previously recorded profit from your February results.
sellerboard helps you understand your return costs
How do you calculate returns correctly? sellerboard shows all of the components of returns and refunds: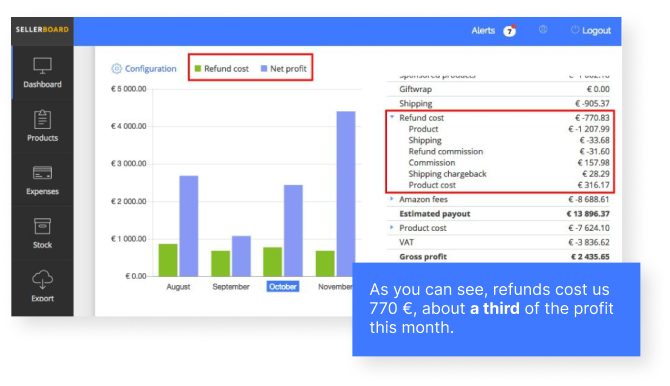 • Product (-1207.99): money refunded to customers for the purchases they returned;
• Refund commission (-31.60): Amazon fee for returns handling;
• Commission (+157.98): Amazon returns the referral fee, that they withheld upon sale;
• Shipping / Shipping chargeback: refund for the shipping to the customer and for shipping chargeback refund to the seller. The sum is approximately zero, so these chargebacks do not affect the calculation;
• Cost of goods (+316.17): if the returned item is "sellable", sellerboard will calculate the COGS with a plus sign (which "cancels out" the negative COGS applied when the product was sold). If the unit is returned in damaged condition, its COGS becomes your loss.
In this list, there is no "FBA fee" that Amazon takes when the product is purchased. This fee is not refundable, that is you pay it when the unit is sold and it is not reimbursed when returned.
3 tips on reducing your return costs
The big question is: now that you understand what the refunds cost you, what can you do about it? There are several ways to optimize your return costs, that you should consider:
1. Understand why customers are returning your products
sellerboard provides you with not only accurate numbers on return costs, but also classifies the return cases and groups the customer feedback accordingly.
Just select a date range and click the refunds quantity in the desired tab. The pop-up window will show you a complete breakdown of all refund details.
In a lot of cases, customers misunderstand the details of your products, like in the example below. Taking action to resolve these issues can save you a ton of money (and time).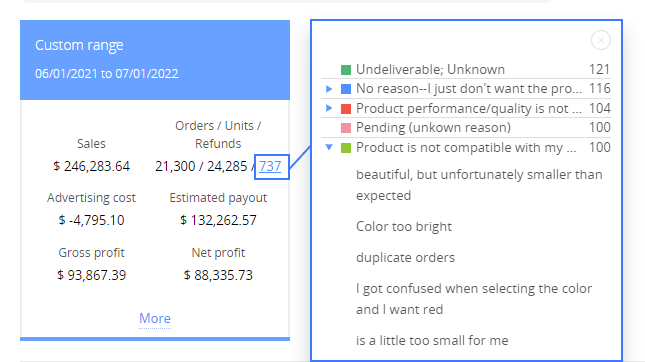 2. Optimize pictures
Add sizes and dimensions of the product. Place your product into a scene with other objects for comparison and perspective. Place a common object (ex. a coin) next to your product in the photo for size reference.
Optimize the colors of the images. Quite often your pictures may show the products in colors that differ from the real thing. Taking pictures of your products in a real environment with natural lightning, rather than using a studio set-up, might solve this problem.
Set up your products in a scene for a more realistic size and color perception.
Place size information within your product pictures (Note: not the first one - it is prohibited by Amazon).
3. Optimize texts and product descriptions
Overall, refund costs are a huge profit killer that should be monitored and taken into account. sellerboard offers you a clear view of the refund cost structure and the reasons why customers return your products.
sellerboard is an accurate profit analytics service for amazon sellers with additional tools: follow-up mail campaigns, inventory management, reimbursements for lost & damaged stock and other FBA errors, listing change alerts. All this starting at $15 a month with a free trial.
Get 2 months of free access to sellerboard using this link.