Aloha, Amazon Seller!
What is GTIN? How to get Amazon GTIN exemption? Why do you need to apply for a GTIN exemption? Follow our guide and learn more about your business!
What Is GTIN Number?
GTIN number, or Global Trade Identification Number, is a globally unique 14-digit number that is applied to identify trade items, products, or services. It is also called product ID.
The GTIN code is a product identifier in the global international products database GS1 (Global Standards 1). GS1 is a non-profit organization that develops and maintains global standards for business communication. GTIN numbers are implemented internationally in accordance with Industry Standard. Currently, GTIN is primarily used within barcodes.
On Amazon.com every product should be assigned a GTIN number unless you apply for GTIN exemption. GTIN barcode is the product ID (label) that can be found on a product cover or packaging in form of a barcode label.
For most categories on Amazon, sellers are required to provide a GTIN, to create new listings.
The specific GTIN required for product page creation and matching varies by category. The requirements of each category, including exceptions and exemptions where available, are summarized in the table on the Product ID (GTIN) requirements by category Help page.
Why Do You Need GTIN?
All products sold globally should have unique product identifiers (UPIs). These identifiers distinguish your product from the others and help find or trace it. UPIs are assigned to each and every product by the manufacturer, and if you are reselling the product, the UPIs will be the same.
Commonly applied UPIs are Global Trade Item Numbers (GTINs), Manufacturer Part Numbers (MPNs), and brand names. If your product has UPI, especially a GTIN barcode, it makes your item easier to find for the customers and adds value to your ads and listings. However, there are products without UPIs.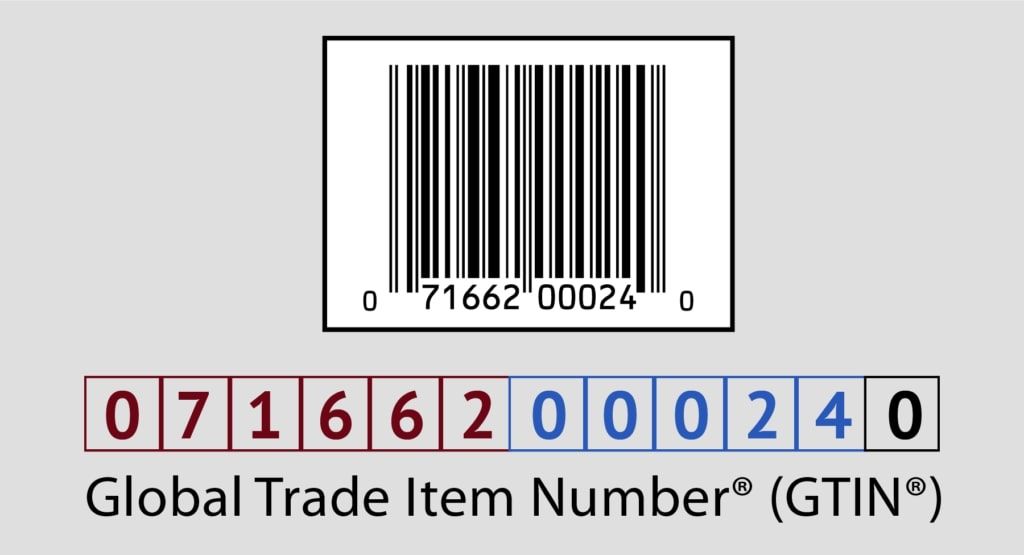 What Are the Kinds of UPIs?
Normally, in the industry three types of UPIs and several kinds of GTIN numbers are applied. UPIs are Global Trade Item Numbers (GTINs), Manufacturer Part Numbers (MPNs), and brand names.
GTINs are:
UPC – Universal Product Code (12 digits, used in the USA);
EAN – European Authentication Number (13, 14, or 8 digits, used outside the USA);
ISBN – International Standard Book Number (10 or 13 digits, used internationally);
JAN – Japanese Article Number (8 or 13 digits, used in Japan only);
GTIN-14 - Global Trade Item Number-14 (14 digits, shipping container code).
What Is a Difference Between GTIN and UPC?
Technically, GTIN and UPC do not differ, they are one and the same. UPC, EAN, and ISBN belong to GTINs.
GTIN, UPC, Barcode and FNSKU
On the Amazon selling platform, UPC is the regularly applied type of GTIN. However, not every product would have it initially, for instance, if you sell a private label or a handmade product.
In such cases, sellers may apply for a GTIN exemption, and we will tell you below when you are eligible for such exemption. GTIN exemption means, that you do not need a UPC for your item on Amazon.
In case if you don't have a GTIN exemption, it is necessary that you have a barcode registered GS1 global database. The only way you can buy a UPC to sell on Amazon is from the GS1. If you indicate a UPC you purchased from a third-party UPC retailer, Amazon would verify the registration on the GSI website. Problem is, that the GS1 website only shows the first owner of the UPC barcodes and doesn't show the owners who purchased them from a third-party UPC seller. Therefore, the third-party UPC will not match your company name in the GS1 database.
Another Amazon barcode, different from all above, is FNSKU (Fulfillment Network Stock Keeping Unit), affiliated UPC code. This one is used solely by Amazon to keep track of your item. It should be labeled on each FBA packaging.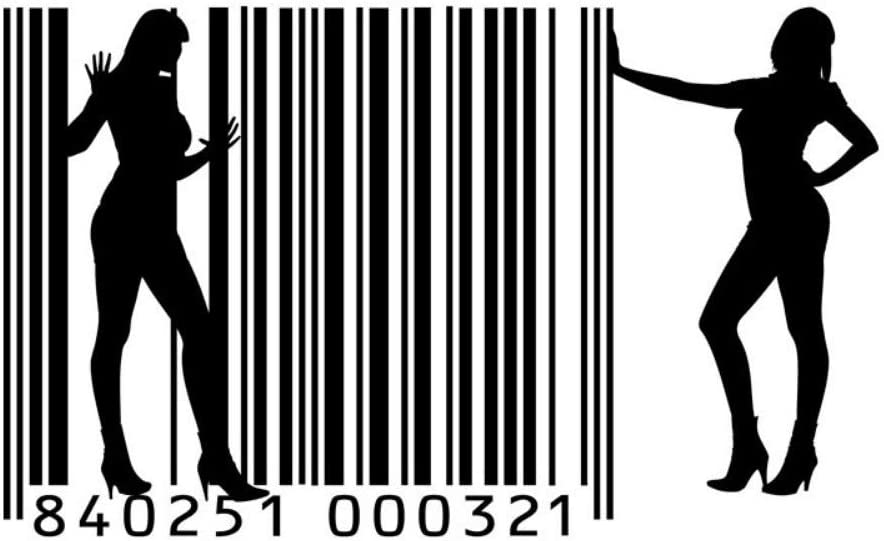 How Do You Get a GTIN Number?
There are several ways you can do it, but all of them are time-consuming.
1. You can request an authorization letter from the barcode owner named on the GS1 website. This letter should say, that your product is allowed to use the code. If you are lucky, this works, but it may not.
2. You can purchase UPCs directly from GS1, but this is quite costly, and on top of it, it's not a one-time expense. SG1 applies a license renewal fee every year. This is not good for your sales economy.
3. Make a GTIN check and see if your product has a GS1 approved barcode. If it does, you can use it to list your products.
4. You can apply for a GTIN exemption.
Said that you need to keep in mind, that there is an already existing list of brands that are required to have a GTIN. The reason behind it is that these brands apply a GS1-approved barcode, and GTIN exemptions on those it not possible. The full list you can find here.
When Can You Apply for a GTIN Exemption?
Here you can find some cases when you are eligible for a GTIN exemption Amazon:
You are going to list products with no GTIN provided by from manufacturer, like private-label or handmade products;
You are going to list products that you manufactured yourself or you are a brand owner;
You are going to list products that do not have a GTIN, like automotive parts or mobile accessories;
You are going to list a bundled pack, like shampoo and conditioner.
How to Apply for GTIN Exemption on Amazon?
Before you file your request for GTIN exemption Amazon, you need to make sure that you have an available product name and at least two images showing your product from all angles and the packaging of the product.
You need to meet the following requirements for GTIN exemption from Amazon:
Brand name entered should match to brand name available on the product you want to list;
Images should be authentic, for instance, held in hand, or placed on a table;
Branding is affixed on the packaging or product;
Products should not have GS1 approved barcodes.
If you made a GTIN Amazon check and found out that the product has a GS1 approved barcode, you can use it to list your products.
After you made your pictures, you can start requesting for Amazon GTIN exemption by following the next steps:
Go to the 'Apply for a GTIN exemption' page in your Seller Central, click the Select button, and then chose the Product category from the pop-up list;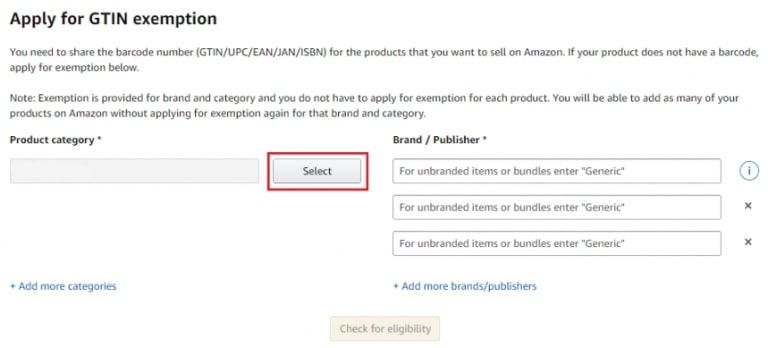 Enter the brand name in the 'Brand/Publisher' field. For unbranded SKU or bundle, input 'Generic';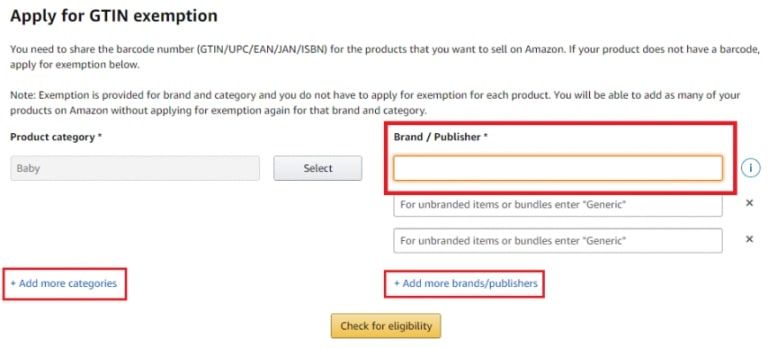 Click the 'Check for eligibility' button; you will see Eligibility summary with a checkmark in the Status column if you are eligible;

Click the 'Continue to submit proof' button;
On the 'Provide proof page', input the Product name and upload your images; if you have a support letter from the brand manufacturer, click 'yes', and if not - click 'no';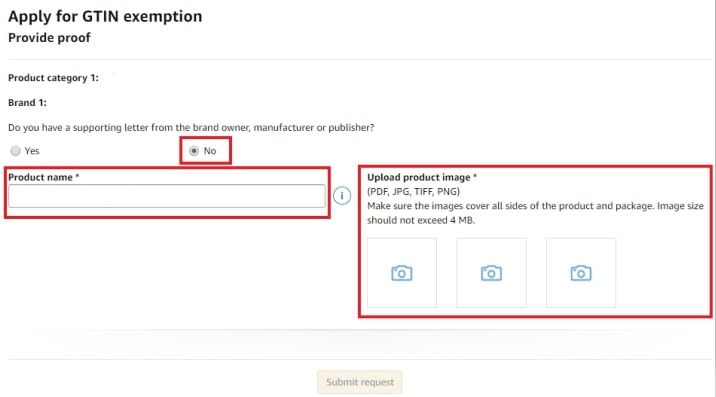 Click on 'Submit request'.
Commonly, Amazon will approve your request via email quite fast.
How to Add Products After Getting GTIN Exemption?
In order to add products after getting Amazon GTIN exemption, follow the steps below.
Methods through which you can add products in Seller Central
If you have GTIN, you don't need to type anything in the 'Product ID' and 'Product ID Type' areas in the 'Vital Info section'.
Go to your Inventory, click on 'Add a Product'. Select the option 'I am adding a product not sold on Amazon' and input product details.
If you don't have a Product ID (Barcode, UPC, EAN, JAN, or ISBN), your GTIN exemption gives you a possibility to list without it.
Make sure that you enter the product category approved for GTIN Exemption.
Add your brand name filed for GTIN Exemption.
Add all sales and marketing information you want to put on your listing, click 'Next'.
Now your GTIN-exempted products are added. You can start selling.