The rise in Amazon's popularity has resulted in more than $638 million in product sales per day. Naturally, every Amazon Seller dreams of getting a piece of that pie.
The most critical step in ensuring success as an Amazon seller is to find top-selling products with high margins and resell them for a profit.
Amazon Product Research is all about analyzing hundreds of products in order to find "winning" items to sell. For this purpose, sellers need an effective Amazon product research tool.
This is where Seller Assistant App comes into play.
What is Seller Assistant App
Seller Assistant App is a popular Product Research extension for Amazon Online Arbitrage. It combines an FBA Calculator, Advanced IP Alerts, Stock Checker, Quick View, and Restrictions Checker in one tool.
Seller Assistant App shows up on Amazon Product pages, Search pages, Seller Central Inventory and Repricer pages. It puts all important information right at your fingertips when you need it without extra clicks or scrolls.
Advanced analytics and valuable insights from Seller Assistant App enable sellers to discover high profit and low competition products to resell on Amazon
Furthermore, sellers can export analyzed data to Google Sheets in just one click. This helps to speed up the product search routine and saves precious time while allowing you to find more profitable products.
With Seller Assistant App, you can calculate ROI and Profit Margin, see Amazon Referral and FBA fees, analyze current and historical data, estimate sales and profit, spy on your competitors, add product notes, and save the results to Google Sheets. It makes both arbitrage and wholesale sourcing much easier.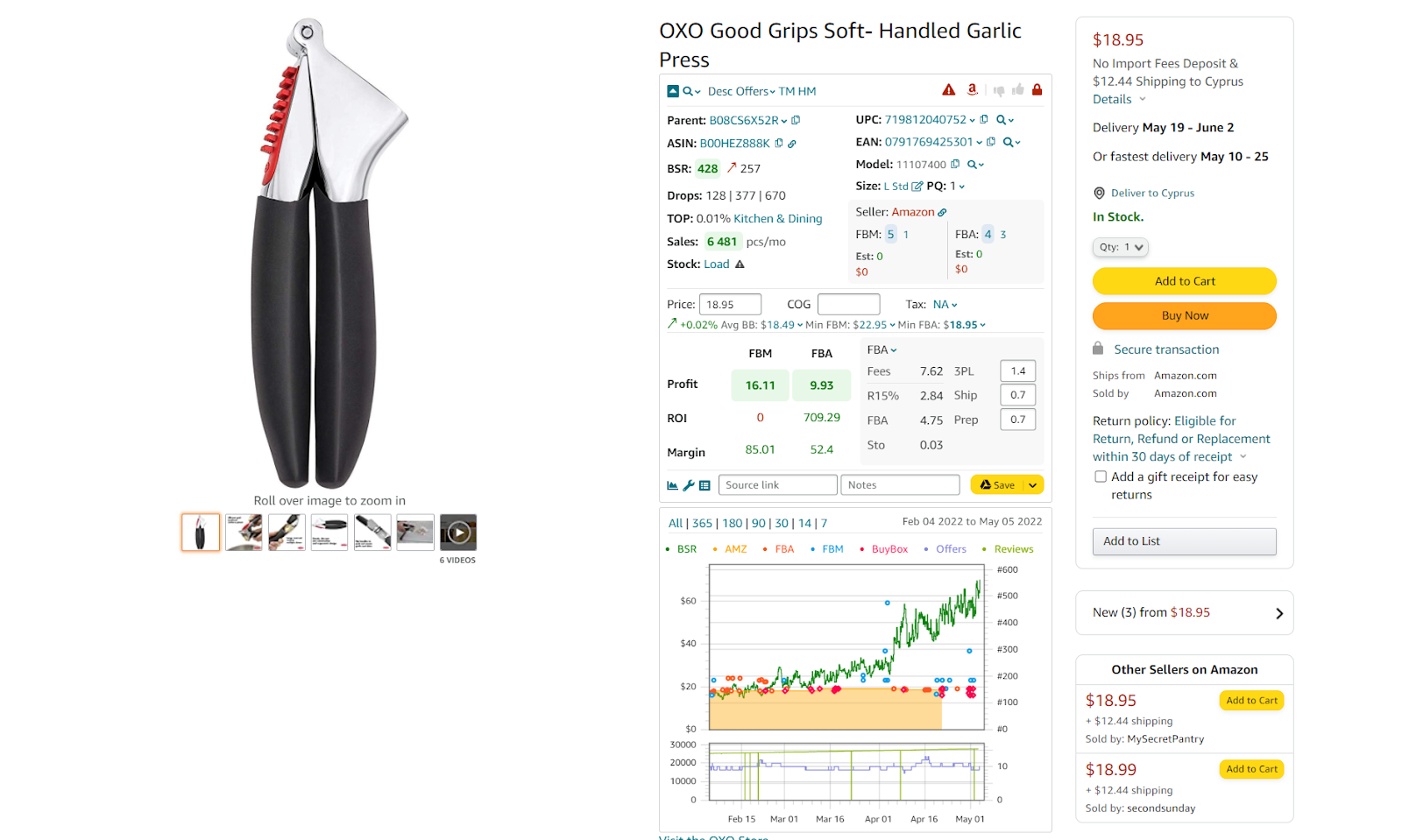 Seller Assistant App Features:
Seller Assistant App is a powerful Amazon product research tool with a rich set of features. Here are the most valuable:
On-page FBA & FBM Calculator
Having quick access to the FBA & FBM calculator is essential for Amazon sellers. The majority of plugins are only available by clicking on the plugin icon, which is not very convenient.
Seller Assistant App shows up right on the Amazon product page. No extra clicks are needed!
The Extension calculates ROI and Profit Margin, taking into account Cost of Goods, Sales Tax on Cost of Goods, Amazon Referral fee, FBA fee, VAT, Monthly Storage Cost, and 3d Party Logistics Cost (shipping costs and preparation expenses including extra costs on fragile products).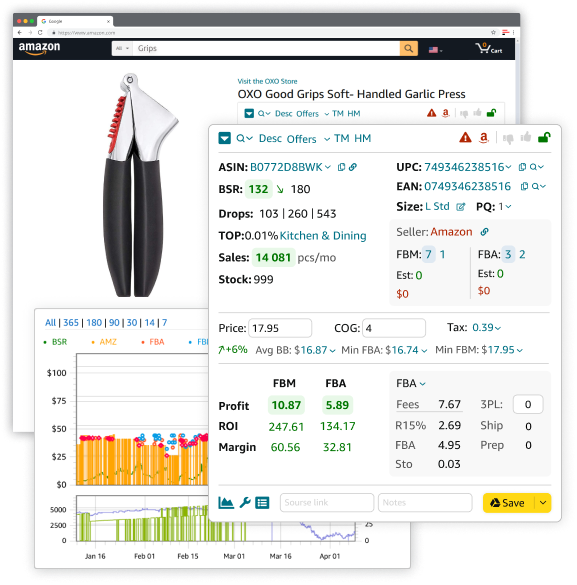 Sales and Profit Estimator
The product analysis includes a profit estimation and inventory planning for further purchasing.
Seller Assistant App estimates sales velocity and calculates potential profit based on the number of competitors, their type and price! No other extension does this. As a result, Amazon sellers not only get a profit calculator, but also a monthly profit and sales estimation.
Break-even Point and Targeted ROI
Seller Assistant App calculates a break-even point and price with 10% ROI and 20% ROI. You can export this information to Google Sheets or add it to Amazon Repricer to guarantee your profit.
Keepa Graph and Historical Data
This feature shows current and historical product-related data including BSR Drops, which means that the product has been sold. It helps you better understand price and sales dynamics and the level of competition, allowing you to more accurately estimate the potential sales for a given product and highlighting pitfalls to avoid.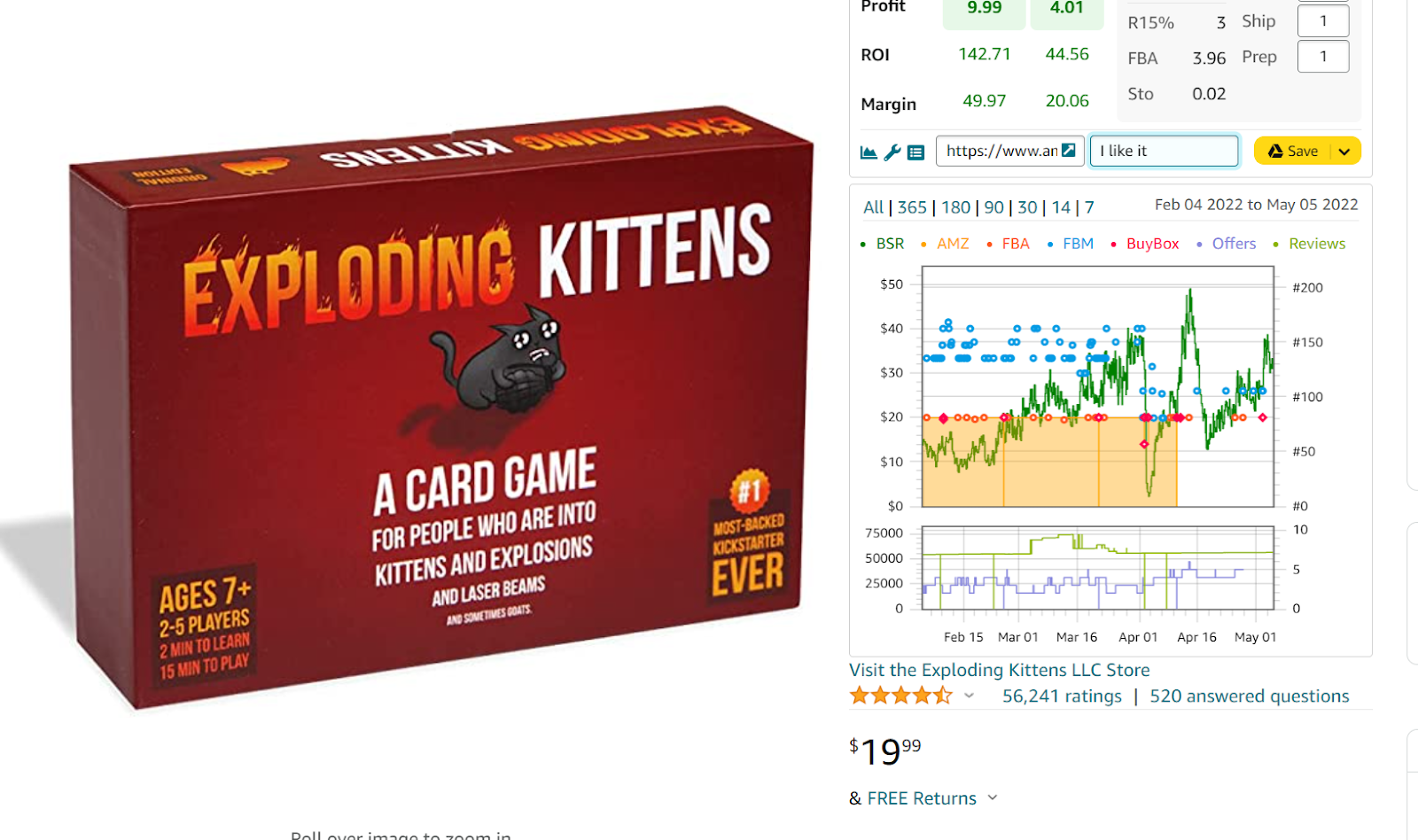 Export to Google Sheets
To stay organized, Amazon Sellers need to save found deals for future use. This daily routine kills a lot of time and causes a lot of pain. Seller Assistant App has solved this problem. Now sellers can export analyzed data to Google Sheets in just one click. Stay focused on the product analyzing process and forget about copying and pasting. More than 50 product characteristics are available for export.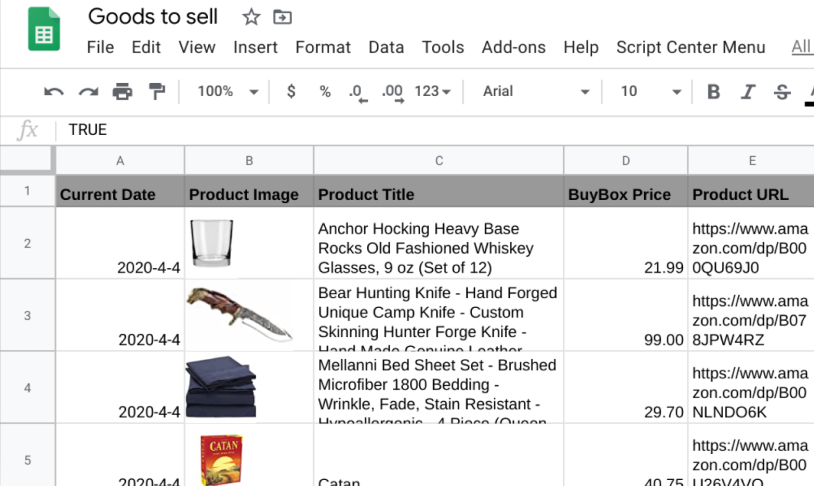 Stock Checker
Amazon is a highly competitive marketplace and to succeed you need to keep an eye on your competitors. It's important to know what goods they have remaining and how this information affects your plans for inventory replenishment and turnover.
With Stock checker, sellers can see how many products are left in competitors' stock. ‍
Seller Assistant App shows remaining goods for all sellers, as well as the total amount of goods.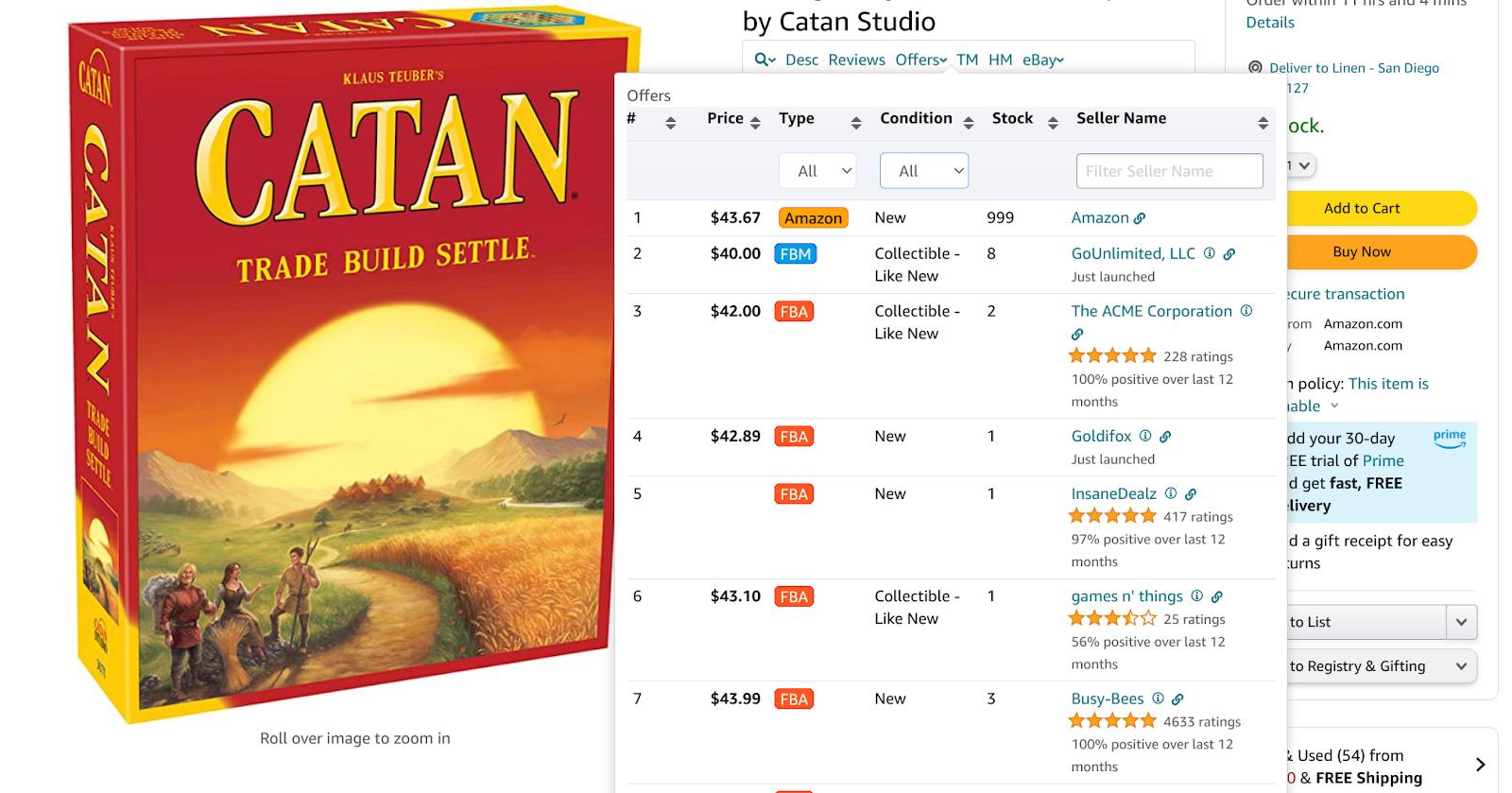 Product Notifications
Each product's requirements are unique and knowing them is essential. For example, glass products require additional packaging in bubble wrap, and oversized and hazmat products are stored in a separate warehouse.
Why is knowing these parameters important? It helps you estimate your expenses more accurately and avoid unexpected charges due to product restrictions. Seller Assistant App shows an extended list of restrictions and characteristics like Brand Gate, Set Qty, Fragile, Meltable, Hazmat, Oversize, Adult flag, Small & Light eligibility.
Advanced IP Alert
When dealing with dropshipping and online arbitrage, you sell other brands' products. Some brands want to protect themselves against fakes. Sometimes this is done too aggressively, leading to sellers getting banned on Amazon.
Seller Assistant App has developed a unique IP Alert system based on a database of past infringement claims. The extension will show a red triangle icon in case our data records show that some sellers have had account health issues related to their product or brand. Account Health Issues are collected automatically on a daily basis.You will always know the type of complaint and the date it was received. It's safer to trade with Seller Assistant App!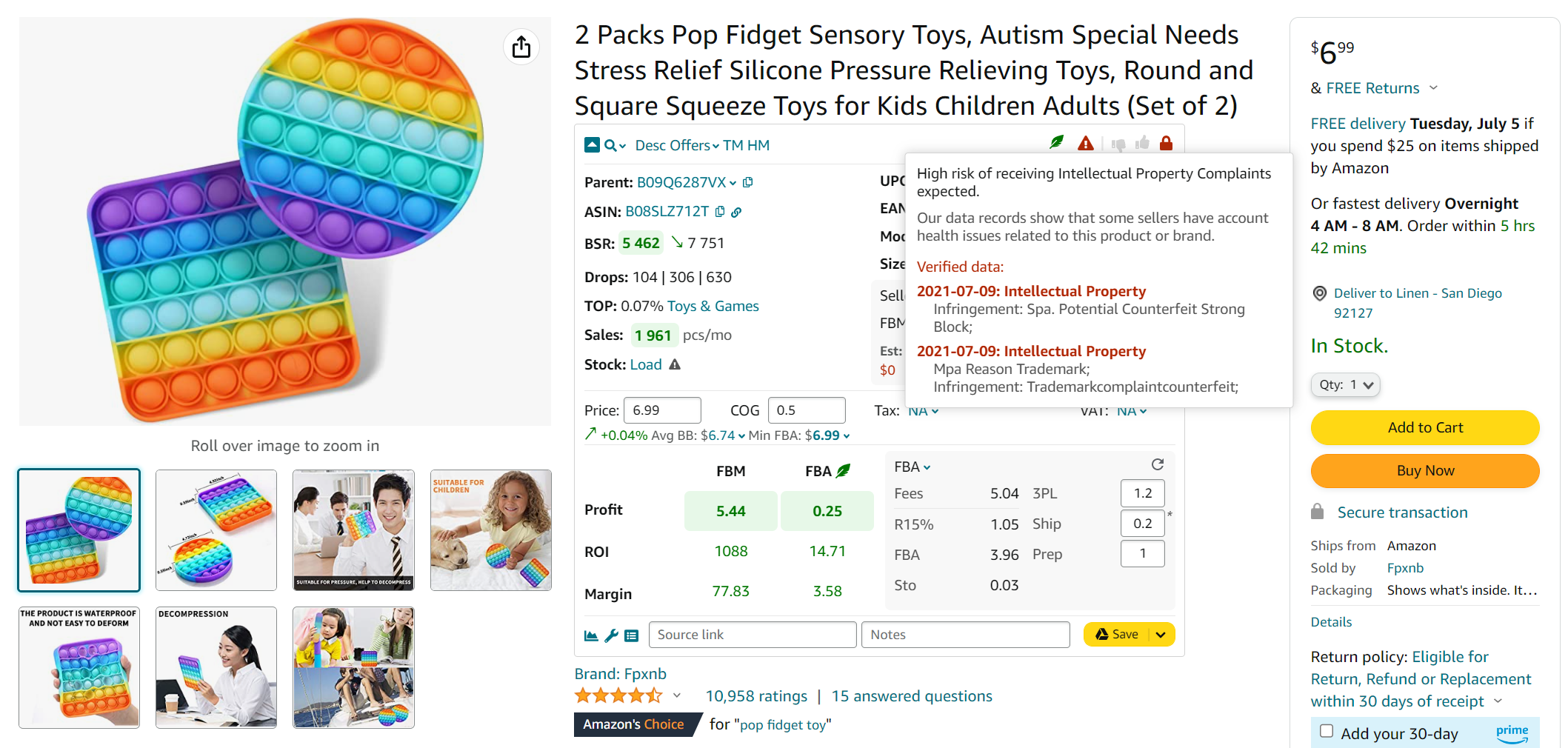 Brand Gate Checker
Seller Assistant App shows product restrictions related to your Amazon seller account. The Brand Gate checker is available on both the Amazon product and Search pages.
A Green open lock indicates you are free to sell the product.
A Red closed lock means you need approval or are not eligible to sell the product.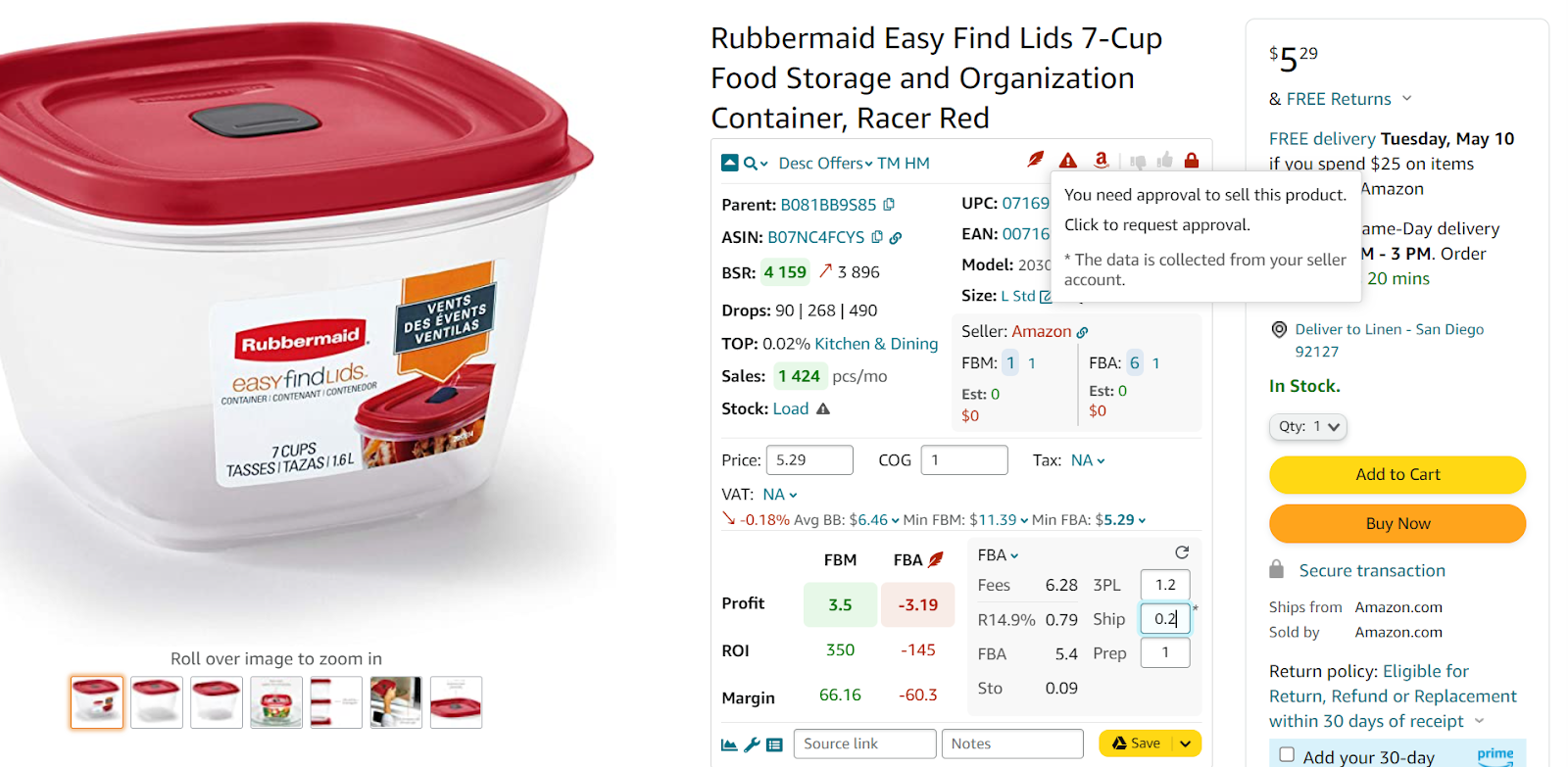 Custom Notes
Like or dislike a product?  Add a supplier link or custom notes to any product on Amazon. The notes will be available on the Amazon Search Page, Amazon Product Page, Seller Central Inventory Page, and in your Seller Assistant App account.
Leave yourself a message or note and see it every time you open the product page. You can edit notes, filter products with or without notes, and search by notes field.
You can also save note data to Google Sheets.

Product Quick View
Sellers often search for products using search requests. In these cases, it's important to see product-related parameters on the search page.
‍The Extension shows ASIN, BSR, and Category, whether Amazon is among the sellers, as well as the number of FBA & FBM sellers right on the search page. Moreover, the Seller Assistant App Quick View widget shows Brand Gate information and IP alerts for all products on Amazon search pages. Additionally you can like or dislike products, take notes, and add supplier links.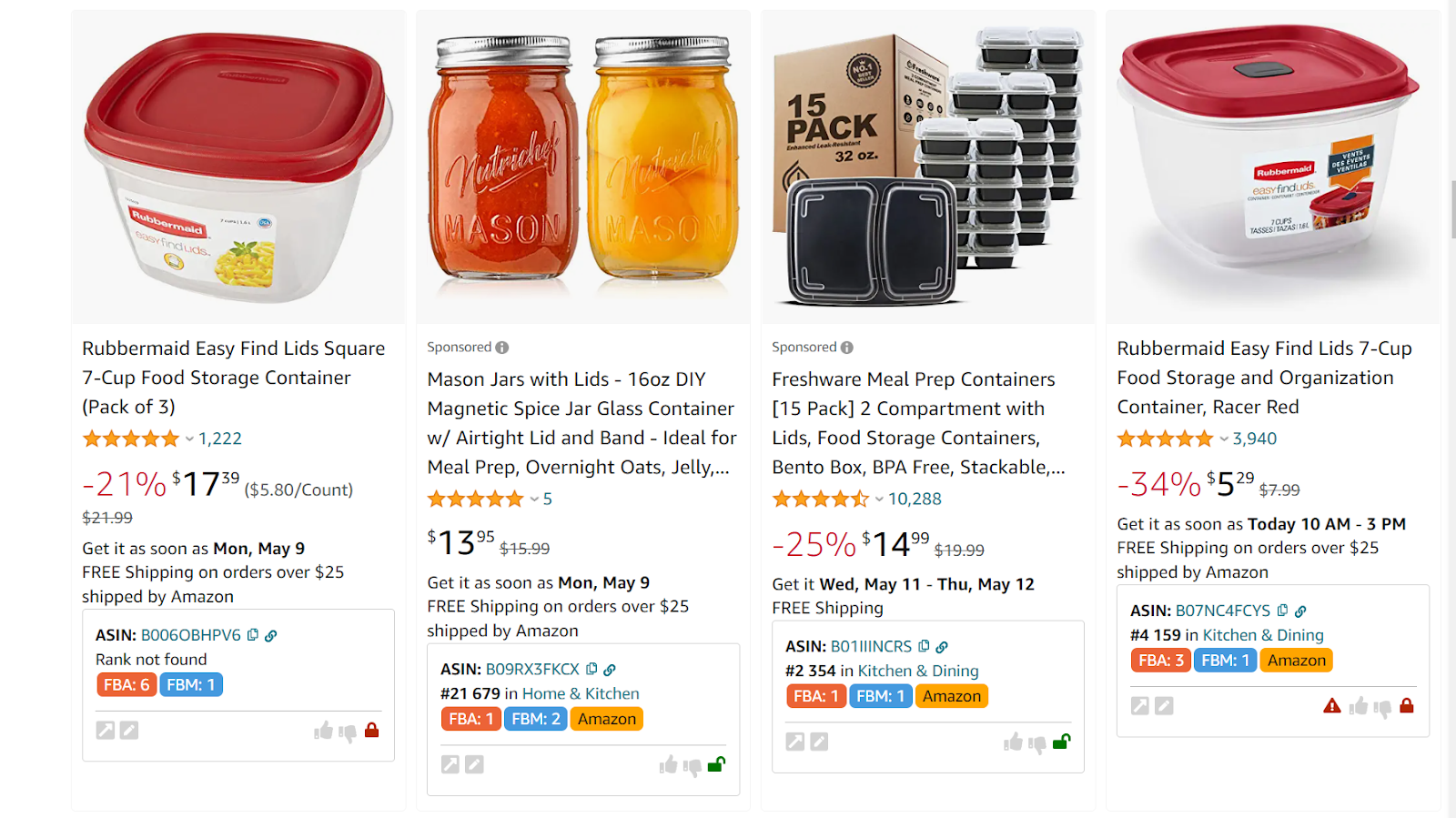 Prices for Amazon Repricer
Many Amazon sellers use Amazon Repricer to maximize their sales. Seller Assistant App allows setting a minimum price on Amazon Repricer. There are three price settings available:
Break-even point (Zero-profit price)
Price with 10% ROI
Price with 20% ROI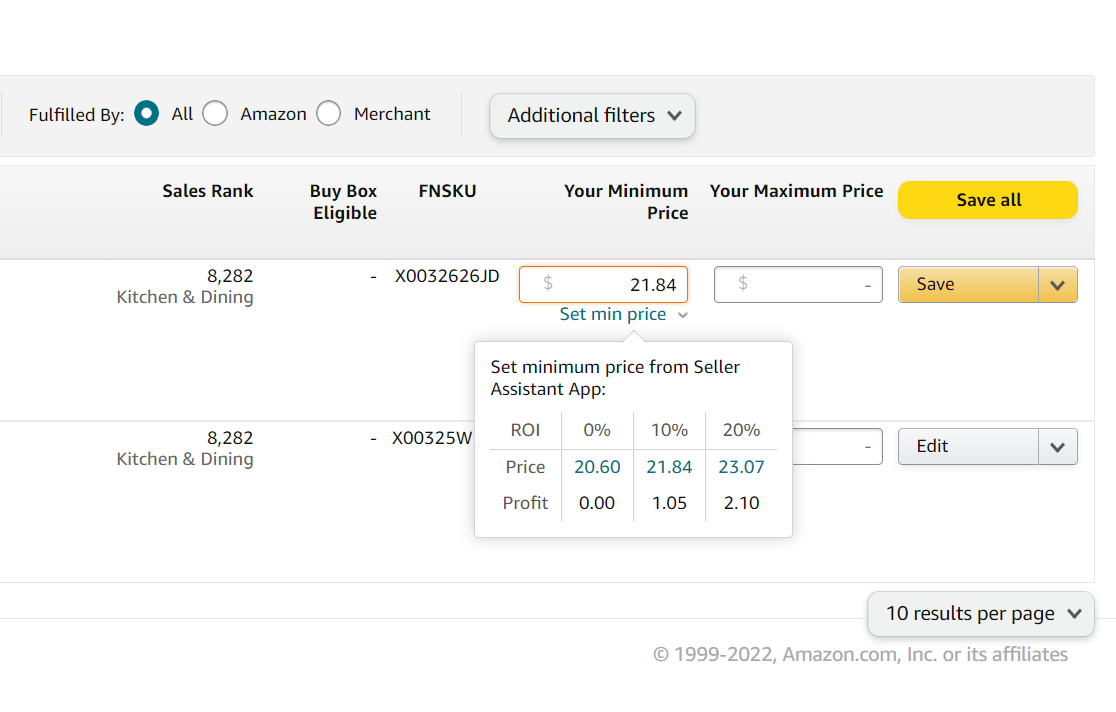 Work with no Amazon Seller Account
Some people do product research for outsourcing while they have no Professional Amazon Seller Account. In this case, they need software which does not require Amazon Seller Account integration.
With Seller Assistant App, you can do product research without an Amazon Seller Account. However, you won't have access to the Profit Estimator and Brand Gate Checker.
All Marketplaces Supported
If sellers sell on different marketplaces, it is important to have a single toolbox. Seller Assistant App supports ALL Amazon marketplaces. Keep in mind that statistical information will not be available on specific marketplaces where Keepa is not present.
Sub-accounts for your VAs
Your employees don't need a personal Amazon seller account to work on the Seller Assistant App team plan. Moreover, there is no need for a team owner to provide employees with access to their personal Amazon seller account's inventory to run a Brand Gate status check ("Lock" icon that shows product trade restrictions).
This information will automatically be transmitted from the linked team owner's Amazon account to all team members' sub-accounts. No additional settings are required. This will ensure the privacy of the team owner's Amazon seller account.
Seller Assistant App Pricing
Seller Assistant App has a flexible pricing model. The company offers a 14-Day Free Trial with no card information required.
After the trial period ends, users can choose between a monthly subscription for $15/month (bills monthly) or an annual subscription for $100/year (bills annually).
Also a free version that works in restricted mode is available. For Amazon businesses, Seller Assistant App offers team plans.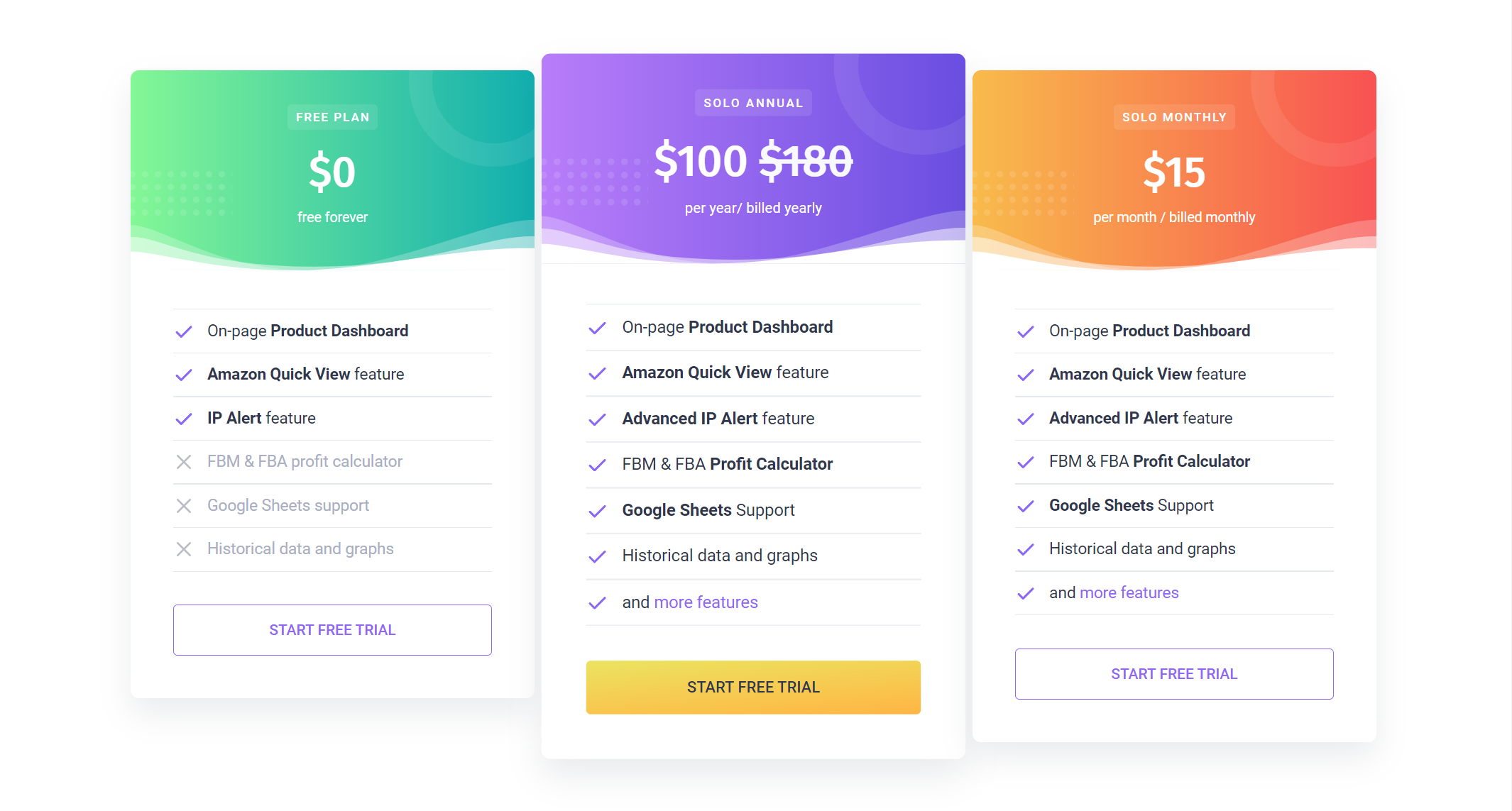 How accurate are the fee estimates
Seller Assistant App has deep integration with the Amazon Seller Central API. This means that all fee estimates, ROI, prices and stock info are generated directly from Amazon's data. Historical data and averages are provided by Keepa.
Final Thoughts
Seller Assistant App is more than just a popular FBA calculator. It's a reliable and accurate new-generation Product Research tool. The Extension offers an impressive list of useful and handy features. It gives Amazon sellers the opportunity to perform better product analytics and sales estimations. Seller Assistant App is equally useful for FBA beginners and Amazon professionals and even works without a professional selling Amazon account. Seller Assistant App as an essential Extension for Amazon product analytics.