Aloha, Amazon shoppers and sellers!
We prepared a complete guide for sellers with new ways of how they can check Amazon order history. Here you can learn how to how to find and download old orders on Amazon.
Nowadays shoppers are purchasing more and more online, from different marketplaces, with the top choice being Amazon.com. For those who buy a lot online, it is important to track their recent purchases on Amazon to understand what exactly they bought and how much they've spent on those purchases. It might also happen that something is missing.
Online businesses and organizations also have a reason to view Amazon purchase history. Checking accounts for Amazon orders history and analyzing it helps develop a personalized approach to shoppers, build customer relationship management, and customer loyalty.
Amazon used to have this very convenient programming tool, an Amazon Order History Report. Until a year ago, users were able to download order history Amazon with a couple of clicks, however, this option is now available to only Amazon Prime Business account owners.
A lot of regular Amazon Prime account owners were wondering why they cannot access the convenient tool anymore and complaining to Amazon's customer service department about it, but in the majority of the cases, they've got some sort of a canned response. According to Amazon, the tool was "deprecated" for everyone who is not an Amazon Prime Business account owner, which means that the functionality is deactivated.
However, if you are still interested to know how to find old orders on Amazon, we will show you the way to do it, a bit more complicated than it was previously, though.
What Is Amazon Order History Report?
The Order History Reports feature enables shoppers to check Amazon order history, current, and past purchases, and monitor all details related to order shipment, return, and refund. The report is generated in a CSV format, which is compatible with Microsoft Excel.
Since Amazon records order history, you can't entirely delete it, but you can apply an Amazon Household Account to hide purchases from your family. Also, you can archive orders, clear browsing history, change the delivery location, or implement an Amazon Locker to avoid unwanted access to your shopping records.
Why Does Anyone Need Amazon Order History Report?
For the individual shoppers, Order History reports may be useful to review recent purchases on Amazon or come back to the old ones as the need may be. Sometimes you might want to reorder some of the products you've ordered some time ago but may not remember the exact item name, price, seller, or shipment details.
Since the report displays your return and refund activity, Amazon download order history also allows you to monitor if some of your shipments are missing, or which items you returned due to certain reasons.
For the sellers, order history helps monitor buying trends, patterns, and seasonality. Order history analysis allows creating a personalized customer approach based on customer relationship management marketing techniques like personalized and targeted e-mail lists, cross-selling, upselling, and bundling.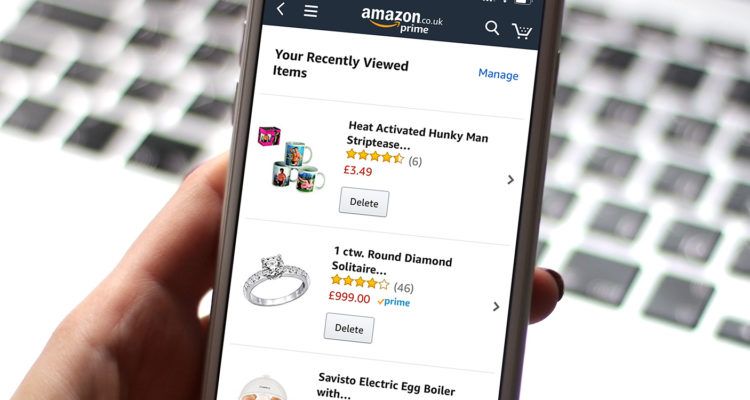 How to Generate an Order History Report for Amazon Prime Business Accounts?
As said, Amazon Prime Business Account owners can still easily access Amazon download order reports and export Amazon orders to Excel.
Order History Reports, showing also purchase order (PO) number, can be generated any time when an account owner is logged in to their business account.
How Can Amazon Prime Business Account Owners Create an Order History Report?
Step 1. Log in to your Seller Central account.
Step 2. Navigate to Order History Reports.
Step 3. Chose the report type from the drop-down menu, enter the start date, end date, and report name.
Step 4. Click Request Report. As soon as the report is ready, you'll receive a notification by e-mail.
Step 5. In order to retrieve the report, go to Order History Reports and click Download.
In the report, you can find the order's PO number, requisitioner name, order number, order status, buyer's name, etc.
How to Generate an Order History Report in a Regular Amazon Prime Account?
For more or less a year now, for regular Amazon Prime account owners Amazon has "deprecated" the Order History Report functionality which was there before.
Those shoppers who still would like to access their full order history would now need to take a longer way to get it.
They can either access their recent order history in their account or ask Amazon to send a spreadsheet with the data related to their full list of placed orders.
How Can Amazon Prime Account Owners Get an Order History Report?
Step 1. Log in to your Seller Central account.
Step 2. Click on Your Orders to view your order history. You will access a list of your recent orders.
Step 3. To get a spreadsheet with a full list of orders, submit a request to Amazon.
Step 4. Navigate to Amazon's Request My Data page.
Step 5. Click on the Request My Data in the drop-down menu and select My Orders.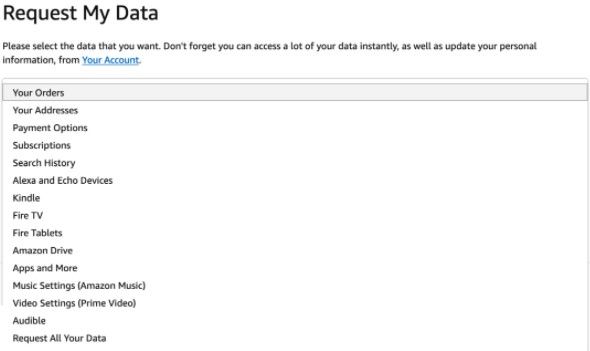 Step 6. Click submit to get a spreadsheet containing your order history.
After you've gone through the above steps, Amazon will send you a spreadsheet with the full order history.