Aloha, Amazon seller!
While your PPC Amazon FBA campaigns are working, sellers constantly monitor their ACOS, Amazon sales generated from advertisement, and sales rank.
On Amazon.com, advertising is a great tool to increase visibility, drive conversions and grow brand awareness. An efficient marketing strategy, which helps formulate an optimized approach to your PPC Amazon FBA campaigns, can facilitate essential product sales growth, added on to organic sales.
Amazon seller advertising is an extremely forceful way to attract customers, and in your Seller Central you have a lot of advanced tools to configure your ads. However, it is necessary to measure the efficiency of your advertising campaigns, optimize them, invest your advertising efforts and funds into those that are successful, and pause or switch off those that are underperforming, to increase revenue. RoAS and TACoS (or ACoS for a product) are the metrics commonly applied by sellers to estimate the return on their ad campaigns. All these metrics are calculated by formulas, and all these formulas contain the Ad spend parameter. But how can you separate ad and organic sales easily if you have hundreds of products in your store?
This post will tell you why is it important to evaluate your organic and ad sales as separate metrics, and how this can help you optimize your Amazon PPC strategy.
What Is the Difference Between Organic and Ad Sales?
Organic sales on Amazon are the sales which happen when the customers are searching for the product and your item is the best match. Organic product listings become visible naturally on the Amazon search engine results page and are considered by Amazon's search A10 algorithm the most relevant to the shopper's query, mainly based on SEO optimization.
Amazon Ad Sales happen as a result of Amazon paid search, called Sponsored Product Ads. It's one of the four advertising products sellers implement on the marketplace to promote their products. Amazon PPC applies ad campaigns to attract shoppers to your product: you bid on the keywords that are the most relevant to your product item's listing.
Why Is It Important to Know Your Organic and Ad Sales Separately?
There is a separation between Amazon SEO and Amazon paid search, and SEO-based and PPC-based strategies are radically different.
Amazon SEO is targeted at increasing organic sales through product visibility. For this purpose, you need to concentrate on listing optimization. You need to add the most relevant researched keywords, including backend keywords, as well as add high-quality images, videos, bullets, clear descriptions, and other things that create a perfect Amazon listing content. Amazon SEO improves organic ranking with time, and its main advantage is that it costs nothing.
Amazon PPC via ad campaigns (Sponsored Products, Sponsored Brands, and Product Display Ads) increase visibility of your product and drive customers to your listing. In case of Sponsored Products, you bid on your researched keywords, and when a shopper uses any of those or related keywords, when they search the product, they want to buy, your ad will appear and highlight in the search results or product page. Since Amazon PPC is not only SEO-triggered, it boosts visibility and ranking much more and almost immediately, however, you need to allocate budget for it.
You should also mind, that PPC campaigns influence your organic sales as well, therefore you need to see your organic sales and PPC sales as separate figures. TACoS  (total ACoS), or RoAS off-Amazon, allows sellers to measure the effect of their advertising on the long-term growth of their sales. Tracking your TACoS over time can show how your ad spend boosts your organic sales.
Amazon ACoS (Advertising Cost of Sale) is an essential metric showing how many cents per each dollar of revenue Amazon seller advertising earns. It is calculated in percentage so that the seller can estimate the efficiency of his PPC campaign. ACoS is used on Amazon to show the profitability of an ad campaign in a very simple and straightforward way. On the other hand, ACoS is infrequently used off-Amazon, and if you'd like to use your ad spend profitability in standard marketing calculations, you would need to use RoAS.
The RoAS and ACoS formula is inverted. RoAS shows how much revenue you earned from your ad spend, whereas ACoS demonstrates the percentage of how much the ad spend contributed to the generated revenue.
The main question is how to see your organic sales and PPC sales separately?
How to Find Out Your Organic Sales and Ad Sales Figures Separately?
In your Amazon Seller Central there is no special tool to calculate organic sales, ad sales, and ACoS. On the Seller Central forum, you may find a lot of discussion topics with this question. Unfortunately, there is no report in Amazon Seller Central, which could show separately your Amazon sales generated from advertisement and generated organically.
However, third Party Software provides such analytics. At SelleRise, we show these details in our Sales&Profit Dashboard and PPC Dashboard.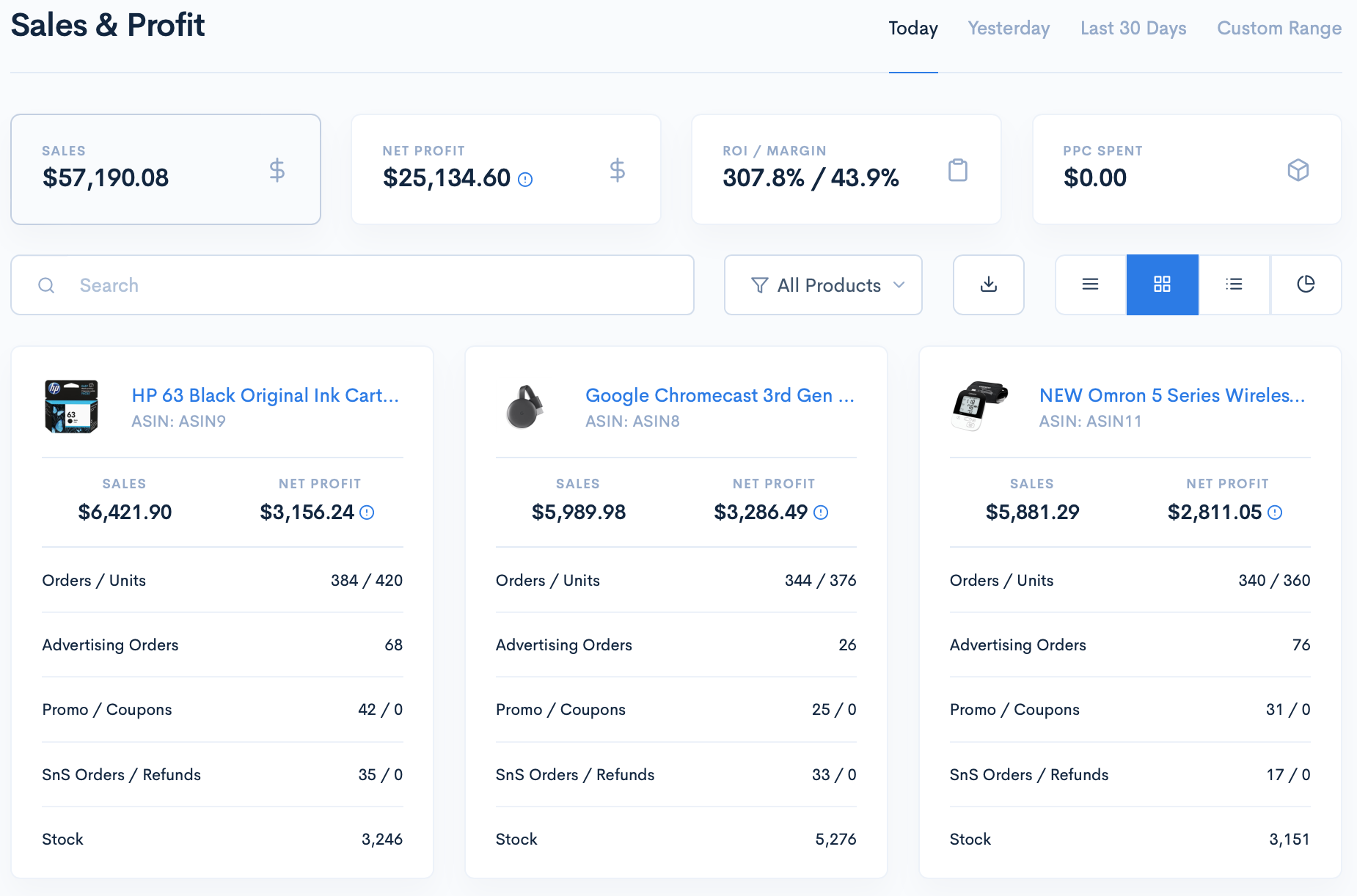 First, you need to sign up with SelleRise and connect your Seller Account.
Then, to see your advertising orders, navigate to Sales&Profit block.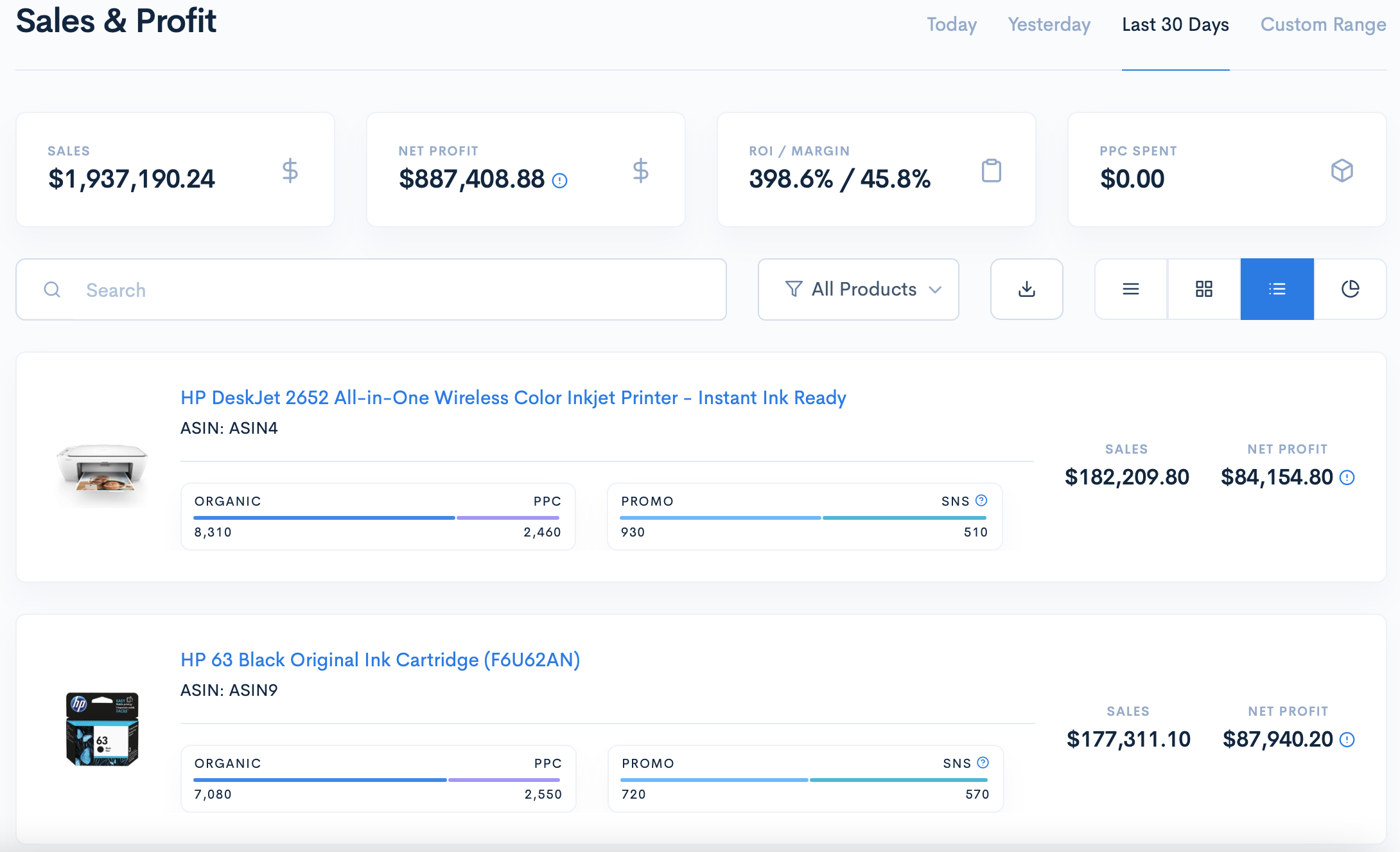 Here you can see separately for each of your SKU Ad Orders and Organic Orders.
You may choose any period you are interested in, to see exact details.
Research this for different days to find how your Amazon seller advertising impacts your organic sales.
It looks so easy, isn't it? 🔥
SelleRise is free during 7 days trial period! It's a pretty good time to make sure it's the simplest service.
If you are interested to track all details of your sales, and research performance of each of your products it's high time to SelleRise.
FAQ
1. How to improve organic search on Amazon?
When a shopper performs a product search on Amazon, the Amazon search engine first picks out the most relevant results, and after that ranks them in the order of relevancy. The A10 Algorithm keeps an emphasis on product search relevancy, impressions seller authority, sales history, CTR, CVR, organic sales, PPC FBA sales, and attracting external traffic to Amazon.
To improve organic search, you need to grow your ranking and improve conversion rates. To rank higher with Amazon a10 Search Algorithm, you need to:
Optimize your product listing;
Grow your seller authority;
Boost your impressions;
Improve your Click-Through Rate (CTR);
Increase your conversion rates;
Create consistent sales history;
Grow your organic sales;
Consider internal sales;
Drive off-site sales to your Amazon listing'
Grow PPC sales.
To increase conversions, you need to:
Focus on your SEO;
Create a perfect optimized listing;
Get positive reviews and remove negative ones;
Add A+ Content.
2. How much should I spend on Amazon PPC?
PPC ads are purchased on a cost-per-click basis and the seller pays only when the shopper clicks on the ad. The highest bidder, who has won the auction for the keyword, pays for the ad $0.01 more than the second-highest bid. The average cost per click (CPC) on Amazon is around $0.02- $3, however, it greatly depends on the product category, marketplace, as well as ad type. When it comes to the outcome, Amazon PPC sales typically generate 10 to 30% of total sales.
When you start PPC campaigns, don't spend too much from the start on Amazon seller ads, see how they work, and adjust them.
3. Where can I see Amazon sales report?
When you log in to your Amazon Seller Central account, in the Sales Dashboard under the "Reports" section, there is a "Business Reports" subsection. It contains data that report a seller Amazon his sales, traffic, and performance. There are also Payments, Fulfillment, Advertising, and Returns reports. However, there are a lot of metrics missing in these reports. For instance, you can't see your organic sales and PPC sales figures separately, which is important to calculate TACoS (ACoS) and RoAS to measure the efficiency of your ad campaigns.
You also can't track all your Amazon fees and monitor how and when Amazon changes them. Keeping track of your figures is a key to maximizing your profits. You can get your Amazon sales report, monitor the efficiency of all your product business metrics, and all your product KPIs with SelleRise dashboards. Get your easy and visual business analytics with SelleRise dashboards. Try them now, it's free.