Aloha, Amazon Seller!
Follow our guide and discover how to get your product on the first page of Amazon? What is Amazon SEO? And how does it work?
Start with putting yourself in your buyer's shoes and figure out, how your customer buys what he wants to buy. He would do either Google or Bing search, or, if he is a frequent buyer on Amazon, he will do a search on Amazon.
Well, there are tons of different products sold on E-commerce platforms and on Amazon.com itself, so how do you make your product visible to customer's search?
As always, you need to understand, how things work. There is a special Amazon search engine which helps customer to make their purchase decision, which drives them to Amazon. It is called Amazon SEO (Search Engine Optimization).
As in the case of any other SEO, if you fail to do it correctly, you will end up in poor sales because customers will be unable to find the item you are going to sell.
What Is Amazon SEO?
When you think of SEO, you would rather imagine it refers to your website ranking and attracting traffic. For the same reason it is used by Amazon: they want to attract relevant traffic which will convert to sales.
Amazon is a customer-centric company, and to make their customers happy and ensure that buyers find exactly what they want, Amazon implemented their own Amazon search algorithm, which works differently from Google or Bing's algorithm.
SEO for Amazon sellers is the method of optimizing product listings in accordance with Amazon's ranking algorithm, A10. Such Amazon SEO optimization range from the implementation of keywords or search terms in a product's title and description and using A+ content, to tailoring your PPC campaigns in accordance with your marketing strategies.
Unlike Amazon A9, a previous Amazon's ranking algorithm, A10 weighs buyer searches more strongly and concentrates on search relevance factors. We will discuss the search criteria of the A10 Algorithm below.
Why is Amazon Amazon Search Algorithm Important?
When a buyer searches for a product on Amazon, he enters keywords and sees the Amazon page with a list of products, ranked by Amazon in a specific order. Depending on the page layout, customers can see either 15 to 16 products on the page in the List view, or 24 to 25 products on the page in the Gallery view. Search results are displayed by pages and ranked according to the criteria set by the platform.
If your product is ranked low and appears on page 5 of its category, most likely buyers would not reach it. They would stay on page 1 and consider the products displayed on page 1. At least, three-quarters of them.
Okay, how do you climb to page 1? And how does Amazon select the products which appear on page 1? What are Amazon SEO tips to rank high? Amazon has its own Search Algorithm, which selects among millions of products listed on the platform and displays the results in the ranking order, considering the product metrics Amazon views as most relevant to the customer search.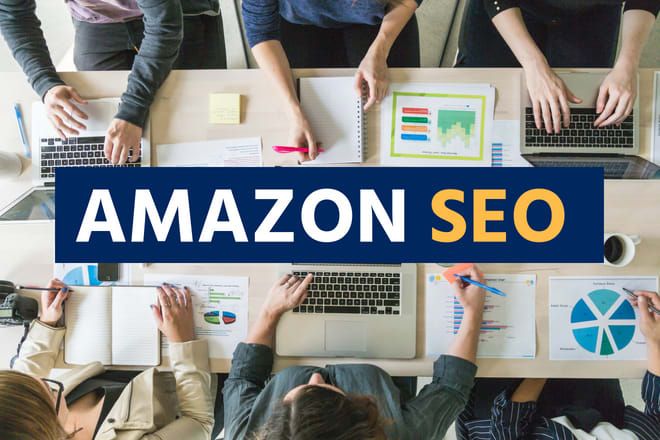 How Does Amazon Search Algorithm Work?
To increase customer satisfaction on the one hand, and to maximize revenue per customer, on the other hand, Amazon implemented its own Search Algorithm – an A10 Algorithm. It has recently replaced Amazon A9 Algorithm to enhance search relevance, and to improve customer experience. It is somewhat different from Amazon A9 Algorithm; therefore, you need to consider this, and if you've built your SEO strategy on Amazon A9 Algorithm, it's high time to review it.
When a shopper performs a product search on Amazon, the Amazon search engine first picks out the most relevant results, and after that ranks them in the order of relevancy.
The A10 Algorithm keeps an emphasis on product search relevancy, seller authority, and attracting external traffic to Amazon. The PPC advertising, though still valid, is attached with less weight. Accurate findings become more important than profitability, which means, that efficient Amazon product SEO strategy becomes even more important for sellers.
What Аre the Search Criteria of the A10 Algorithm?
As Amazon SEO A10 is a proprietary algorithm, they haven't made public exact metrics accounted for by this search engine. However, we can outline vital criteria that matter. Basically, they are relevance-related and performance-related ranking factors.
Relevance-Related Amazon Ranking Factors
Relevance-related ranking Amazon SEO factors are determined by the relevance of your content to the customer search queries. In other words, if your listing has a clear title and structure, and includes optimized high-ranking keywords, your listing will be highly ranked by A10.
Optimized selection of Amazon keywords is vital to make your product visible to buyers. It is an essential part of your marketing strategy targeted at bringing your product to page 1 of Amazon search. Doing your keyword research, always keep in mind that Search engine optimization (SEO) on Amazon.com is a crucial element of boosting your ranking and sales.
However, if you try and include too many keywords in your listing, this would negatively affect your listing's readability and clarity, and shoppers would not properly understand the information related to your ASIN, which may result in a lot of negative reviews and low ranking as Amazon search engine considers reviews. Therefore, it is important to know how to use Amazon keywords and efficiently apply Amazon keyword optimization.
Frontend and Backend Keywords
Search terms Amazon are aimed at helping buyers find your item among millions of products on the platform. On the Amazon marketplace, two types of keywords are applied.
The first type is primary keywords, which you include on your listing and which are visible to the shoppers. They are called Frontend Amazon seller keywords and the Amazon A10 algorithm considers them for the indexation.
Amazon's frontend keywords are located on product listings within product titles, bullet points, product descriptions, and other product details. Amazon has guidelines and best practices for using frontend keywords, directed at them being precise, relevant, and having high Amazon keyword search volume.
Amazon Search Terms Guidelines:
Stay under length limit;
Include synonyms;
Include spelling variations, no need for misspelling;
Include abbreviations and alternate names;
You can use all lower case;
You don't need punctuation, such as: ";", ":", "-";
Separate words with spaces;
Don't repeat words within the Search Terms field;
Don't include your brand or other brand names in Search Terms;
Don't include ASINs in Search Terms.
No need for stop words such as "a," "an," "and," "by," "for," "of," "the," "with," and so on;
Use singular or plural, no need for both;
No temporary statements such as "new," or "on sale now";
Don't use subjective claims, such as "best," "cheapest," "amazing," and so on;
Don't add abusive or offensive terms.
The second type, Amazon backend keywords, is playing in the background of the stage of your Amazon search terms optimization to boost your product visibility being invisible themselves. Shoppers cannot see these keywords Amazon, though they are indexed.
Adding backend keywords Amazon to your listing gives you the possibility to include to your listing the keywords you were not able to include in the visible page of your listing. For instance, you can add abbreviations, commonly misspelled versions of your product name, and additional Amazon FBA keywords you couldn't fit in the listing.
Backend Amazon seller search terms help you keep your content clean and engaging, at the same time boosting your product's search rank. Being invisible to the shoppers, they direct them to your listing and add to its Amazon search engine optimization.
Let's take an example of how backend keywords work. Imagine, you're selling a pullover. It's a knitted garment put on over the head and covering the top half of the body, which you normally wear in winter to keep yourself warm. However, when people search for it, they can call it in different ways: cardigan, jersey, jumper, maillot, raglan, shrug, slipover, sweatshirt.
To cover this, you can use the primary keyword — pullover— in the product title. Then you add all of the above words people name pullover into your backend keywords. This way you grow your chances to show up in the Amazon search results because your backend keywords will match all search queries.
Performance-Related Ranking Factors:
Seller authority;
Impressions;
Sales History;
Click-Through Rate (CTR);
Conversion rate (CVR);
Organic Sales;
Internal Sales;
Off-Site Sales;
PPC sales.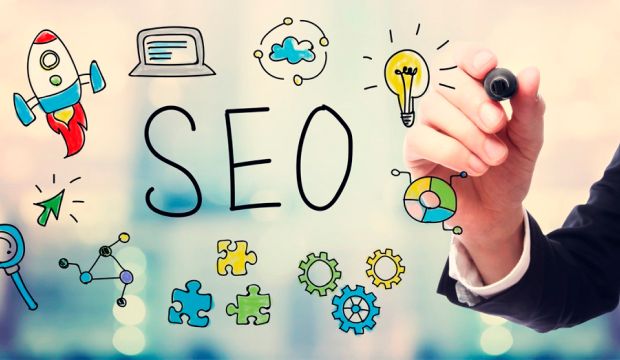 How to Rank Higher with Amazon A10 Search Algorithm?
It is very important to know how to get your product on page 1 of the Amazon search. Stats show that majority of shoppers would not go beyond. SEO Amazon is your perfect assistant in this goal. Let's analyze how you can optimize your product and help you rank it to the top of the search.
Optimize Your Product Listing
This is the most important thing to do. Whenever you think of improving your sales on Amazon, you need to start with reviewing your listing. Of course, you need to have a clear and relevant product description, bullet points, comparison with competitors some content convincing your customers that they need to buy from you and not from your competitor. You need to have professional pictures and videos.
What you also need to consider is Amazon keyword optimization. As your customers search the product by keywords, the product should be assigned a relevant category and the listing should contain proper Amazon seller keywords set.
You need to review your Amazon keyword research. You may consider Amazon autocomplete as a tip for keyword update, as it hints at the most frequently searched terms. And as always, consider your competitors' listings and customer reviews as sources of keyword ideas. And keep in mind, that the keywords should as closely as possible match customer search terms as A10 would select your items by relevance.
Also, don't forget to optimize your listing title in accordance with Amazon Style Guides and Amazon title character limit. The title should be eye-catching and have all the important information. As the mobile version should not exceed 70 visible characters, you need to keep it short.
Grow Your Seller Authority
An important factor influencing SEO for Amazon is a Seller Authority. It involves a low number of negative reviews, low return rate, variety of the product portfolio, Buy Box. If your product fits into a lot of categories, this is also considered a product portfolio extension.
Boost Your Impressions
This metric describes the number of times a product is seen on Amazon and partner websites, and also matters for the SEO for Amazon. If you want to improve your ranking and visibility for A10, the more of them you have, the better. Properly selected and wisely applied keywords would affect the metric, as well as an appropriate product category.
Improve Your Click-Through Rate
CTR shows how often do shoppers click on your item after viewing your listing or ad. It actually shows how efficient is your advertisement. A high CTR level indicates that there is a lot of incoming traffic to your listing. And the better listing you have, the more traffic is generated. However, this is not all. You need to convert traffic to sales.
Increase Your Conversion Rate
This metric indicates the ratio of the number of buyers visiting your product page to the shoppers who make a purchase. It is calculated by the formula:
Total Number of Orders : Total Number of Product Listing Sessions = Conversion Rate
A high conversion rate helps improve product ranking.
Create Consistent Sales History
For Amazon, it matters that you sell big volumes of good products. The sales volume affects organic ranking on the search engine result page (SERP). This is also one of the important factors accounted for by A10.
Grow Your Organic Sales
Organic Sales are generated when no marketing is involved in the trade. This kind of sales is majorly driven by perfect product listing, proper keyword set, and proper category selection.
Consider Internal Sales
Sales generated within the Amazon marketplace, like from the 'frequently bought together', 'recommended,' or 'similar products' section. This metric has more weight in the A10 Algorithm than it was previously.
Drive Off-Site Sales to Your Amazon Listing
Attracting external traffic to your Amazon helps increase ranking and reviews. This is a win-win game as Amazon would appreciate this as well and it capitalizes on A10. You can include links to your Amazon listings on your Facebook Ads, blog, or website. Get reviews from micro-influencers or popular bloggers and link them to your Amazon listing.
PPC Sales Still Matters
Though PPC campaigns are attached less importance by Amazon now, they shouldn't be ignored. This is still a good tool to increase sales and get rid of the 'sitters' – the products selling slowly.