Commonly, online feedback is among the main factors Amazon customers consider before purchasing a product. Many market studies and surveys have stated that over 80% of shoppers check online reviews while shopping on e-commerce platforms. Such a staggering number alone shows the vital role of feedback in creating a winning business online.
At the same time, there are not that many clients willing to leave reviews while shopping online. For every 100 sales, AMZ merchants get nearly three testimonials – five, if they're lucky. Thus, it is hard for any eCommerce business to generate feedback in the marketplace.
As a merchant, it's a good idea to use the Amazon feedback service that automatically sends requests to shoppers after buying products. It allows to save time and increases the share of received reviews. However, which service to opt for?
To help you out, we have compiled a quick review of SageMailer, one of the best Amazon reviews software, preferred by the platform's merchants.
In June, the company introduced its new, more trendy, and user-friendly layout. So, let's take a quick look.
SageMailer: Quick Overview of Amazon Feedback Service

SageMailer has done a great job when it comes to developing a powerful seller feedback Amazon tool that is popular among AMZ merchants. With its incredible range of features, it's one of the best feedback request solutions in the market. It allows sellers to send feedback requests, track product reviews for an unlimited number of their ASINs, and generate VAT invoices on the EU AMZ marketplaces, all in a single plan!
SageMailer focuses on simplicity, from its intuitive, easy-to-navigate interface to clear yet effective features. So collecting customer feedback – and growing your business – couldn't be easier.
Features
Right off the bat, users can personalize their seller feedback and product review requests using pre-created Amazon-compliant templates or create their own custom templates. For example, they can add company logos, images, and other content with dynamic tags in the emails.
Furthermore, sellers can conduct A/B testing with up to nine variations to see which templates work best. SageMailer also provides seamless integration with Amazon's Buyer-Seller Messaging system, so you can conveniently manage all buyer messages on a single platform. You can even reply to queries with different customized templates.
Pricing
SageMailer offers pretty clear pricing options. There are three standard plans – FREE, BASIC, and PREMIUM that differ depending on:
the number of requests,
the number of connected Amazon marketplaces,
and the availability of some extra functions.
Besides, recently, Sagemailer has presented a convenient way to create a personalized subscription plan! Users can decide on the number of email requests they need so they won't overpay for unused requests. So as you scale up, just switch to a plan with a bigger email limit to make sure that you reach out to all of your customers.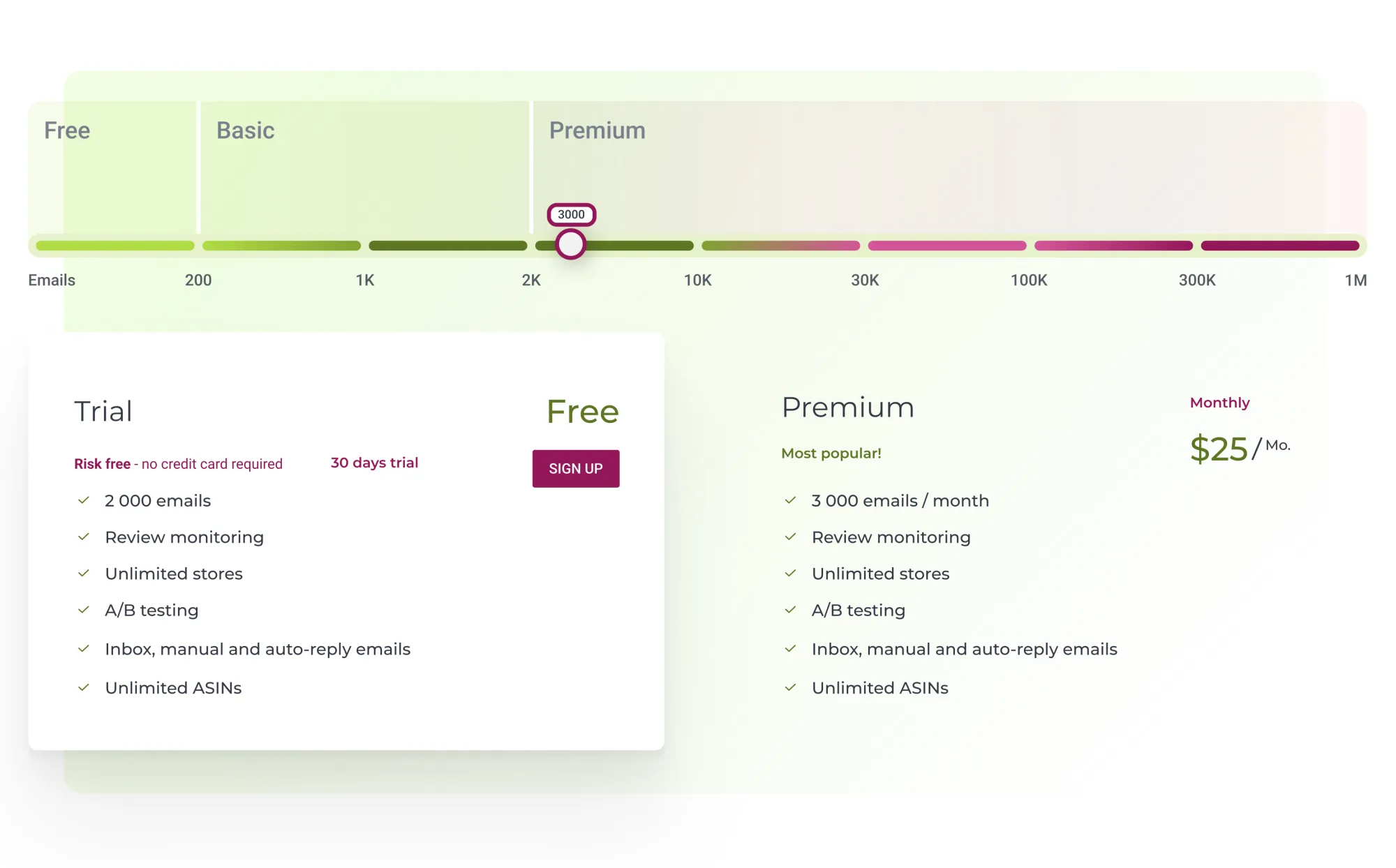 SageMailer is comparatively cheaper than other popular platforms. However, it's much more efficient than its competitors.
This Amazon mailer is a good choice for many online business owners, especially since it offers a 30-day free trial to check out all its features.
What Does SageMailer Offer?
Want to know what makes SageMailer your best bet? Go ahead and read more about its features.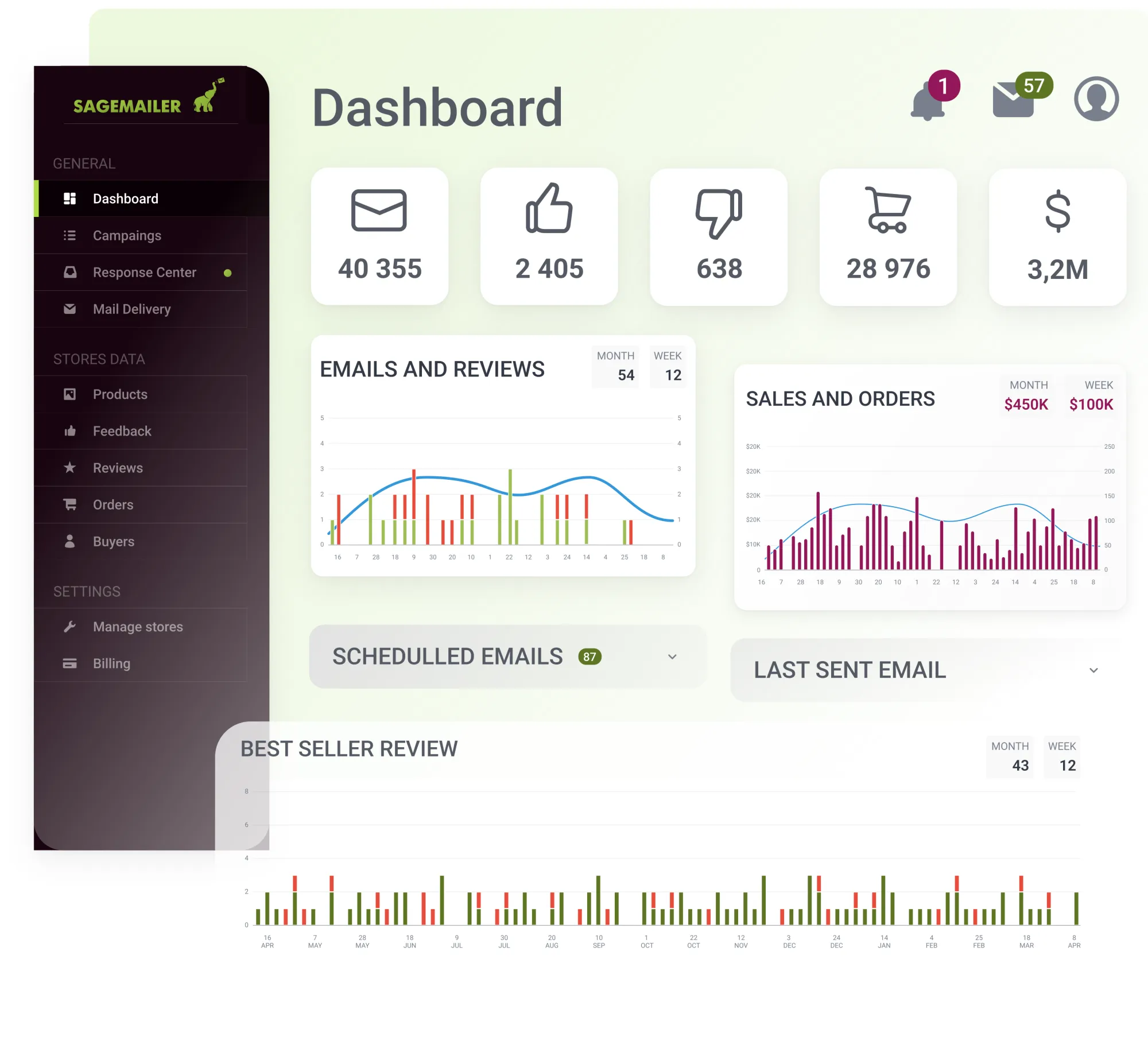 Request a Review button automation
SageMailer helps automate seller feedback and product review requests with the official Amazon's "Request a Review" button in your Seller Central profile. Here's what makes it the best Amazon customer service feedback solution:
There is no need to grant Seller Central access details as with other Amazon feedback software.
Messages are 100% compliant with Amazon rules and guidelines.
Amazon automatically translates emails into the customer's preferred language on all its marketplaces.
Messages won't be sent to buyers who have already left a review, feedback, or refunded an order.
Flexible delivery settings depend on time, weekday, order status, sales channel, or specific ASIN.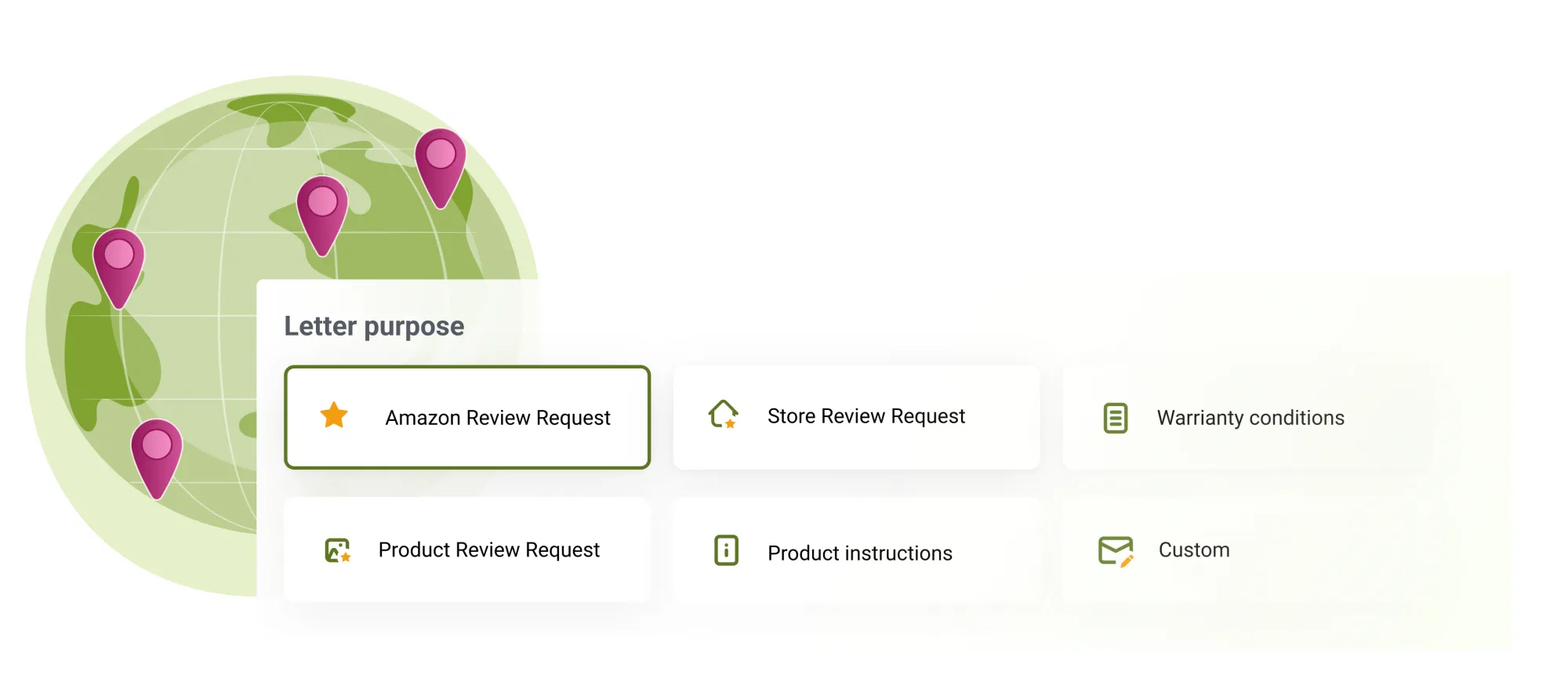 Review monitoring
SageMailer helps to monitor your AMZ feedback for unlimited product ASINs and get email notifications whenever you get negative feedback to reply to them quickly and maintain a perfect BSR for your best-selling products.
All this allows sellers to monitor client satisfaction and spot opportunities for product development.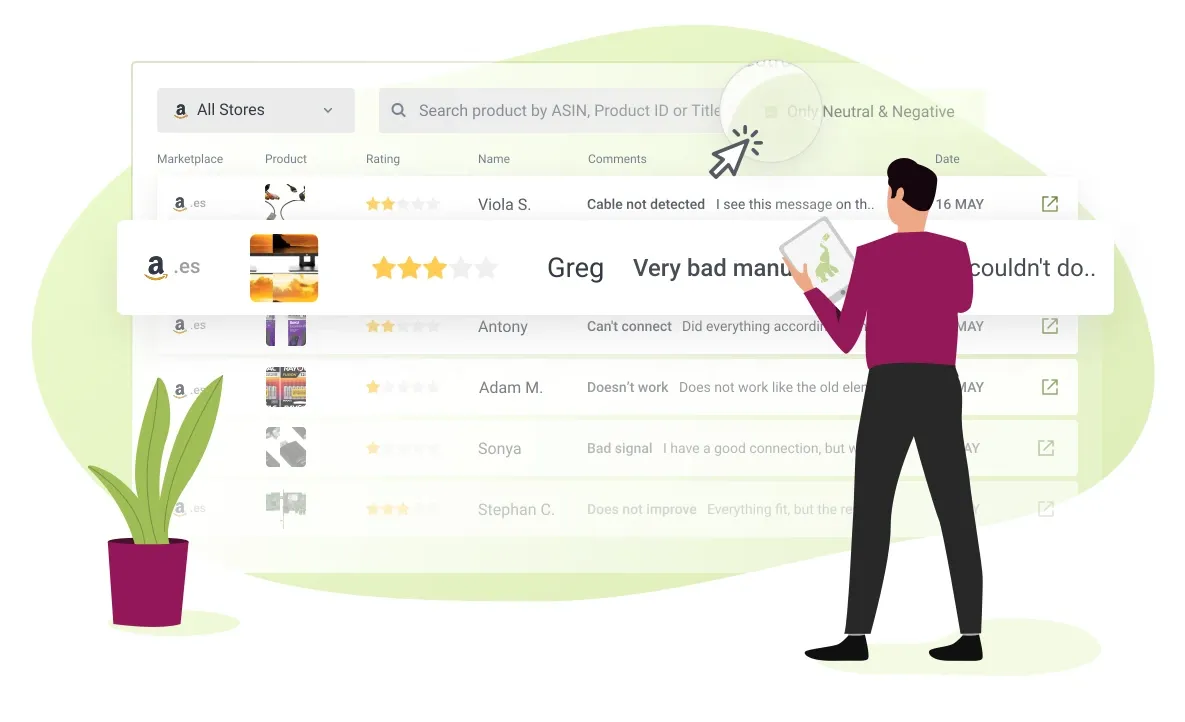 Buyer messages management
SageMailer makes it very simple to read and reply to all your Amazon buyer messages directly via its dashboard. In addition, the platform's Response Center gives access to the message's inbox, and all the customer info sellers might need.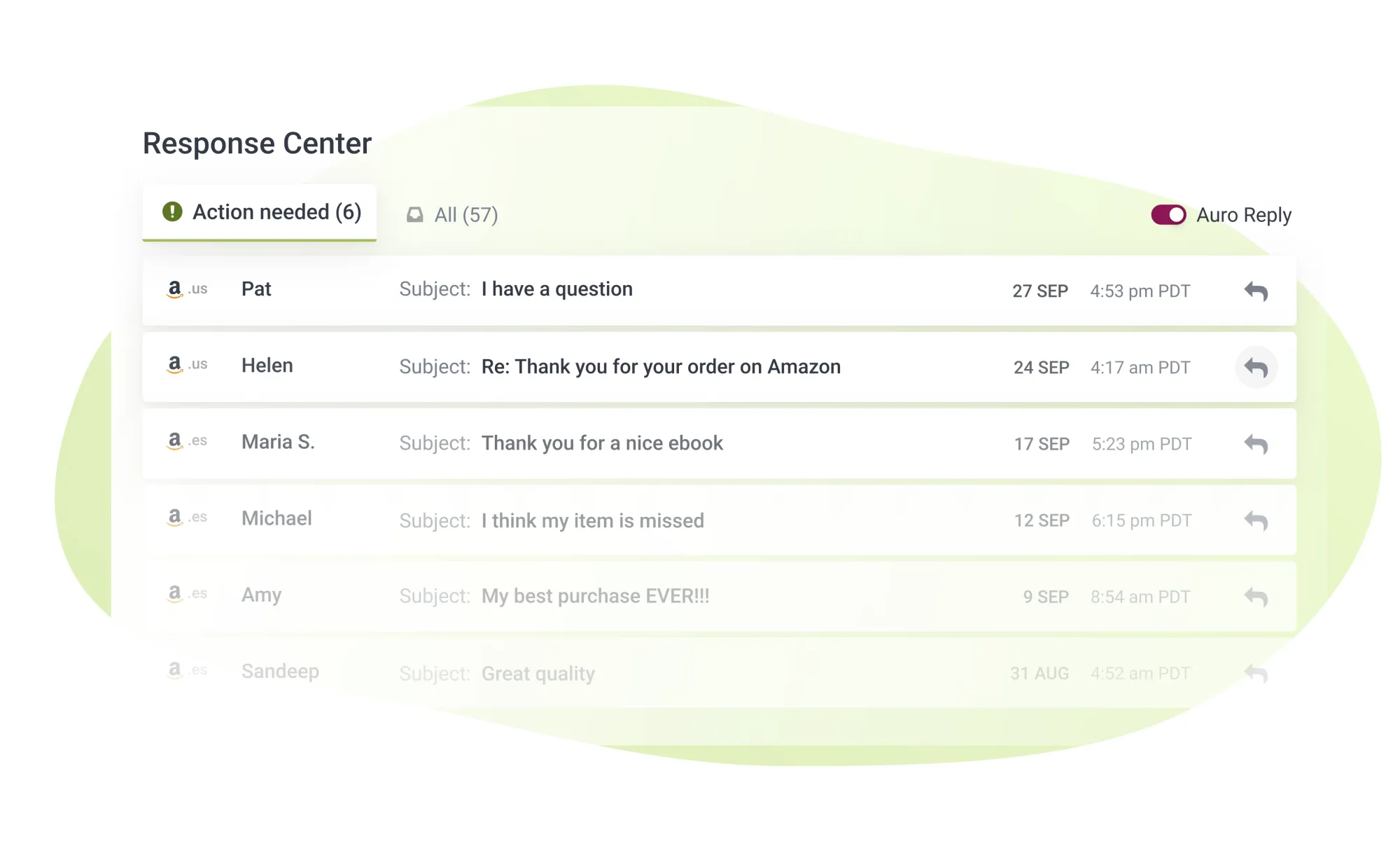 A/B testing
Wondering which of your emails can generate the most AMZ feedback? SageMailer's A/B automated testing takes the guesswork out of your decision-making. This seller tool helps to improve review requests' conversion by testing different versions of an email to find out which option maximizes your success.
Users just need to set the delivery preferences for testing, and the system will automatically make up to 9 variations. Then, the only thing left for you is to check the performance of all variations and make data-driven decisions about what actually works.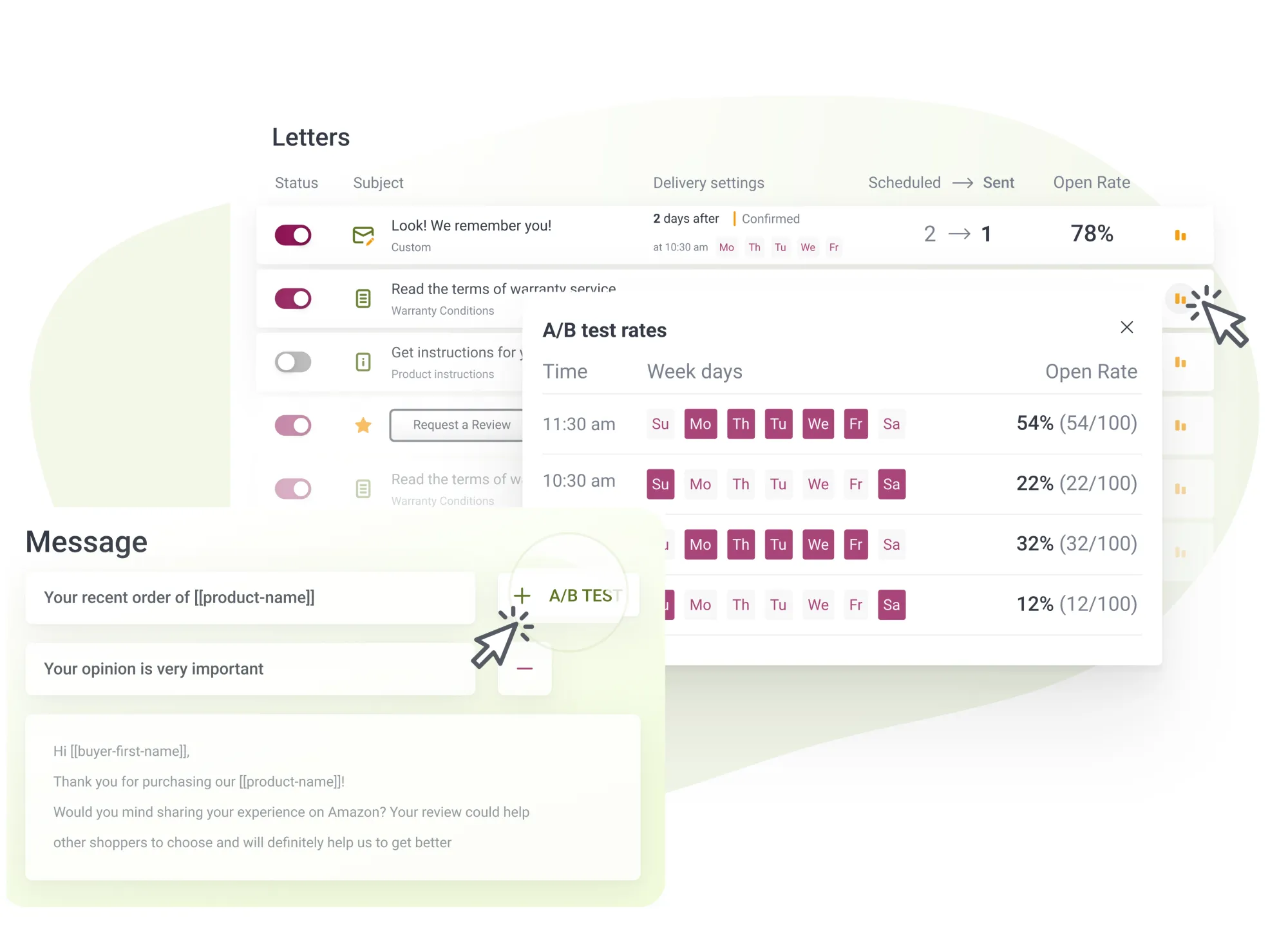 Invoice generation
With Sagemailer, there is no longer a need to utilize tangled and expensive VAT invoicing software. Instead, just fill in a few fields, and the invoice generator of this seller software tool will automatically estimate the VAT rates for your orders in Europe and create invoices. Then you can attach such invoices either to all emails or particular ASINs.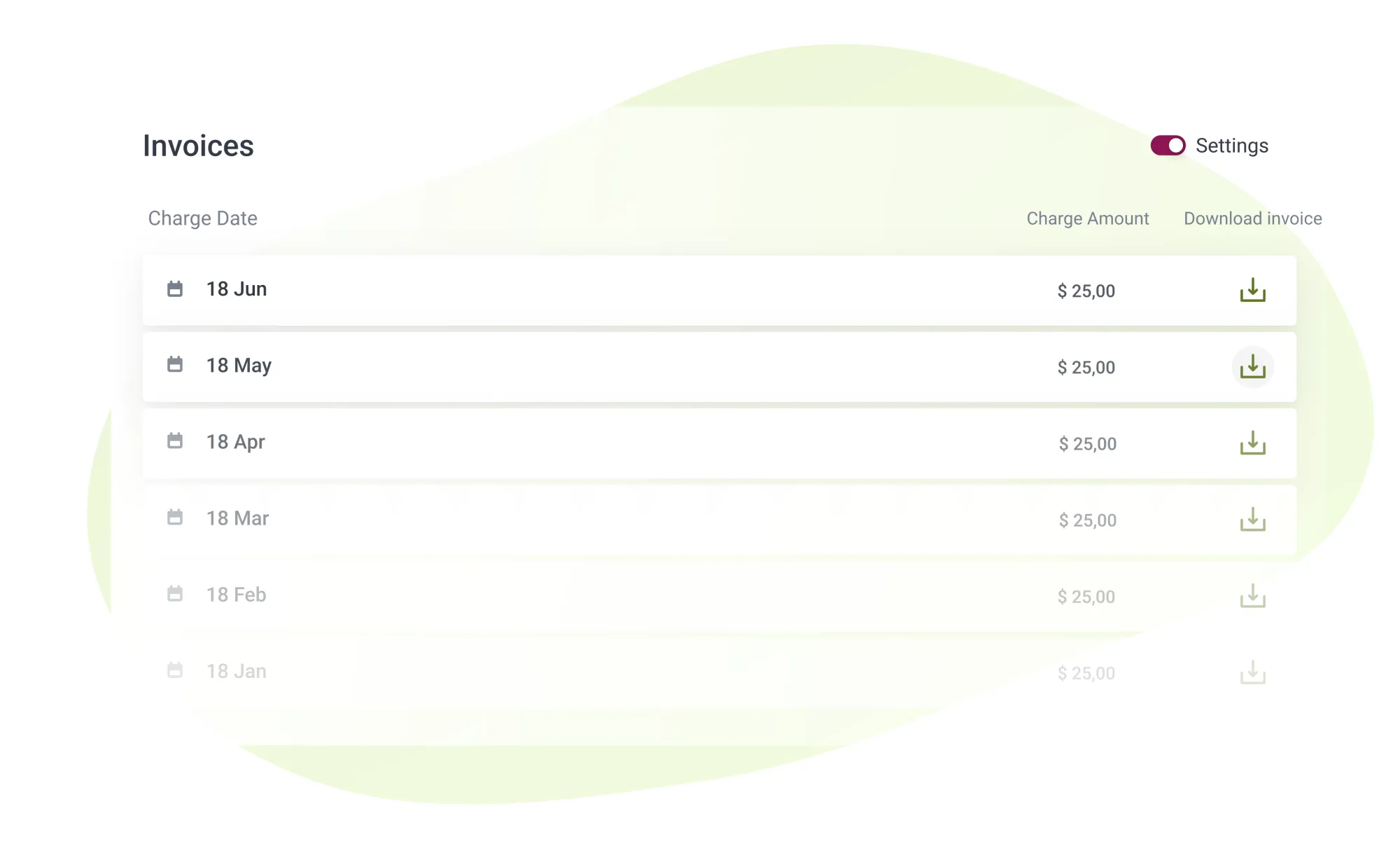 Conclusion – Should You Get SageMailer?
Phew, are you still with us? One thousand words and we are starving for more!
We hope we have covered most features you were curious about, and we hope you are pumped about collecting reviews and boosting your FBA business.
We just want to drive this point home:
Amazon offers unprecedented opportunities now. More and more customers are purchasing from Bezos's venture every day. Do not listen to haters; you can easily grow your AMZ business! You just have to offer a decent product and generate client reviews the right way!
SageMailer is one of the best Amazon feedback management tools out there. Automated email campaigns, review monitoring, buyer/seller messaging, analytics, and reporting - all within one dashboard. If you are serious about growing your AMZ biz, it's 100% worth the money.