Aloha, Amazon seller!
In July 2020, the Sales Summary disappeared from Seller Central. As you know, it was a dashboard that showed Today, 7 days, 15 days, 30 days for the sales of ordered products and units.
In this post, we will tell you where you can still easily find it.
What Do Amazon Sales Reports Show?
Amazon FBA reports related to sales include the following data:
Amazon Fulfilled Shipment show information about completed customer orders per each product, including purchase price, quantity, tracking, and shipping information;
All Orders display data on FBA and FBM orders, their status, fulfillment and sales channel, and product info;
Customer Shipment Sales show shipped FBA customer orders, their price, quantity, and destination;
Promotions summarize all promotions related to sales;
Sales Tax includes destination info, tax jurisdiction, and the figures of sales tax collected by revenue type;
Your FBA Sales Lift compares your FBA sales with other fulfillment channels.

Where Can You Find Sales Summary?
A lot of sellers were disappointed since they couldn't see Amazon seller statistics in the format they were used to seeing. Merchants were complaining, that not only Amazon summary report, but the whole dashboard was looking like "a complete mess with lots of useless boxes", and they couldn't get access to the information they need.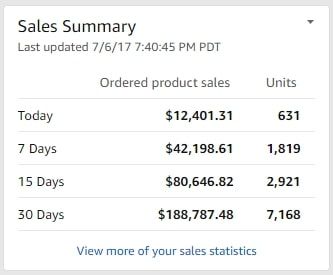 According to the sellers, the old format was much handier and it would have been helpful if Amazon had returned the sales summary. However, this didn't happen.
Try SelleRise now and get 14-days free trial benefits!
It's a pretty good time to make sure it's the simplest service.