Aloha, Amazon Seller!
From now on you can easily monitor your seller profit on Amazon. Finding an appropriate Amazon analytics tools can be a tough thing, but we can help.
Successful Amazon sellers know well that tremendous and yet booming e-commerce business is putting tough requirements on sellers. The reason for this is a variety of products and competition on the market. There are not so many cases when you would "magically" get your bestseller.
In the normal case, your sales figures would go up and down, as well as the generated profit. And whatever key performance indicators you would put in front of yourself, if you don't understand the reasons affecting your Amazon profit, you would most likely become a loser at the far end.
Your Amazon Business Analytics is as Important as Sales Success
The first thing you think about when you organize your sales on Amazon is 'How do I create a great listing?'. Successful trade depends on the right keywords you use for your ASIN or SKU, positive reviews, correct price and ad policy, right season, proper application of your Amazon Search Engine Optimization (SEO), product picture or video design, and a lot of other things. All these things generate sales, but the money you earned can be immediately burned down if you don't track your expenses and other business metrics.
This is the reason why you actually have Amazon analytics. Amazon analytics for sellers helps you not only know your sales numbers, but also your real profit figures, and a lot of other data, that can increase or reduce it. Accurate profit analytics will show you all details about your Amazon transactions, each SKU, ad and organic sales, and other vital business metrics.
Keeping track of all this is not easy, but fortunately, you have Amazon analysis tools for this purpose. This is an efficient and easy way to maximizing your profits.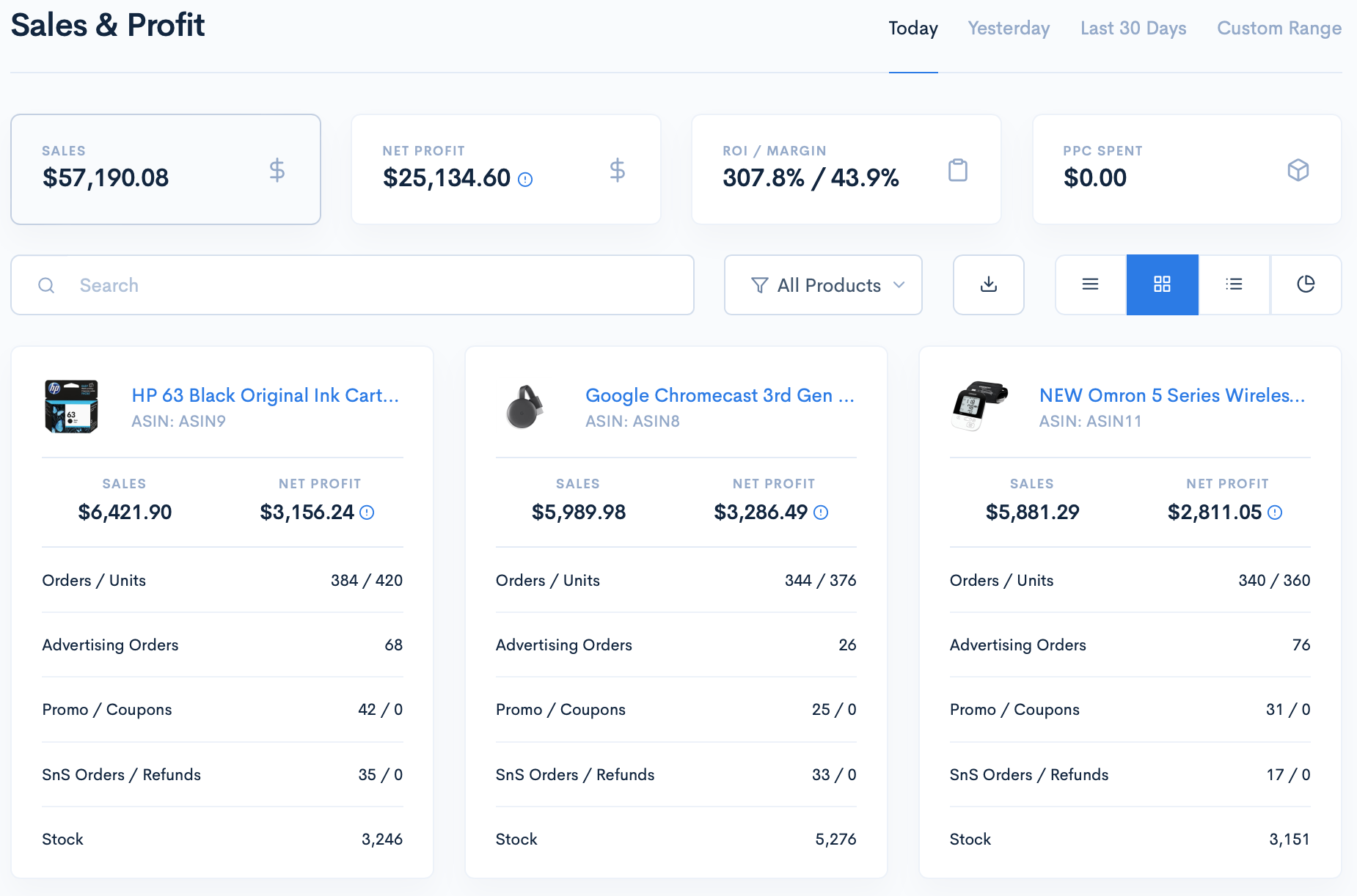 How Do I Know What Influences My Amazon Profit?
In your Amazon Seller Central you have tons of Amazon seller data, while the main thing driving sales is your profit. In the Seller Central you have the possibility to sort the products by ASIN and export the information to Excel. But this does not allow you to easily analyze the data. This is why to be a high-performing seller you need to have your Amazon business analytics in place, of which profit analytics is one of the most important sciences.
No matter if you sell FBA or FBM on Amazon, you still have Amazon Fees, shipment expenses, taxes, and a lot of other payouts you need to monitor and optimize.
How Do I calculate My Amazon Profit?
Profit is calculated as total revenue minus total expenses. Total revenue includes sales on Amazon, and total expenses include costs associated with the sale of goods and costs related to the seller's activities on Amazon (for example, sales fees for multiple marketplaces, etc.).
What are the Basic Amazon Profit Metrics I Need to Know?
There are a number of business metrics you need to take into account to get maximum profit.
Sales and Profit Analytics Metrics:
Sales, including total revenue from organic and advertising Amazon sales;
Number of Orders (organic and advertising orders);
Number of Units (organic and advertising units);
Total Ad Spend on Amazon;
ACoS;
Net profit;
Amazon margins;
Product costs;
Amazon Fees;
Estimated payout;
Sales Period.
Also, you need to take into account the Amazon marketplace if you sell internationally.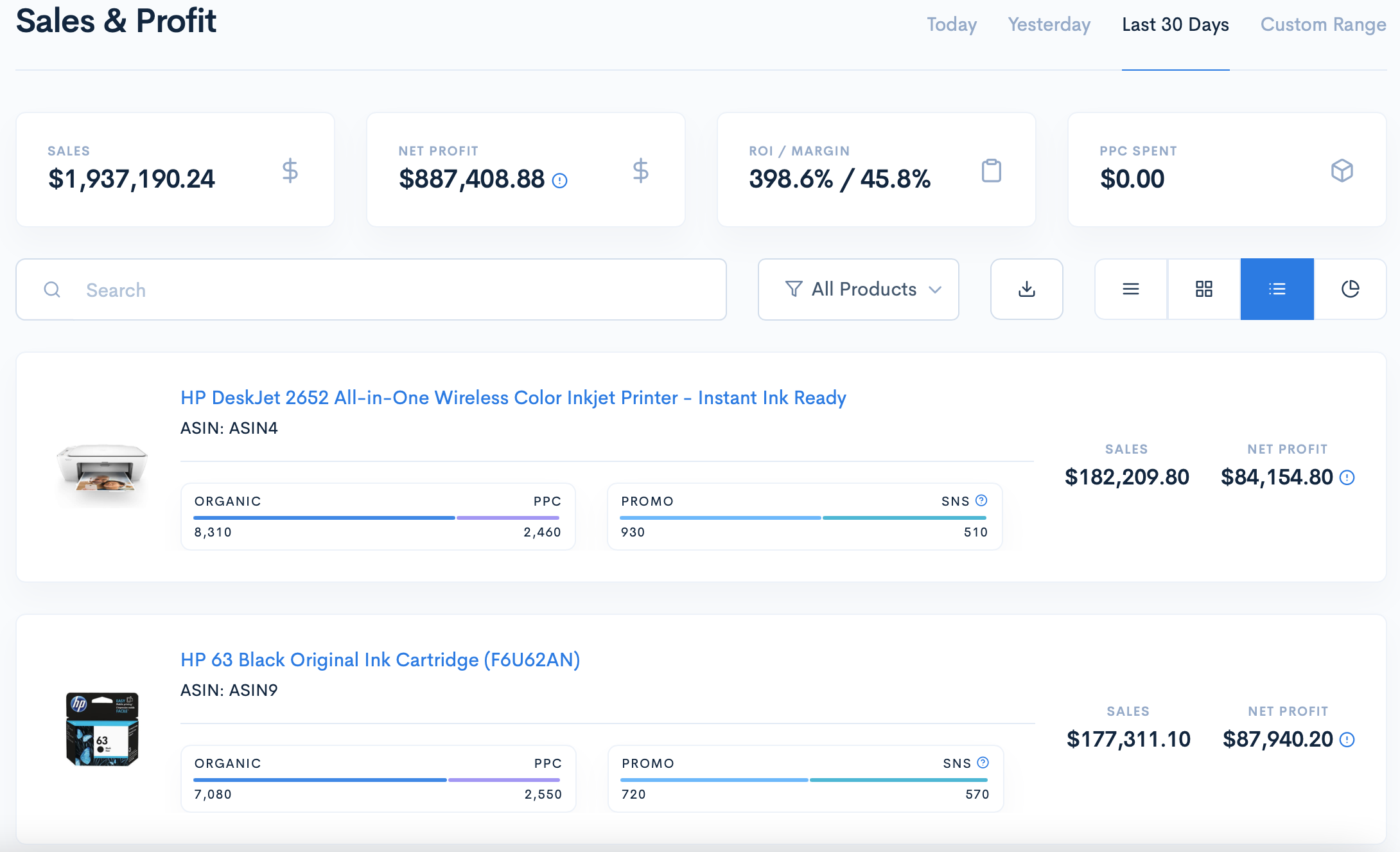 Product Profit Metrics
Metrics that detail the profit for the product are:
· Sales, including organic and advertising sales;
· Expenses on item, including advertising costs and the cost of products;
· Amazon Fees;
· Order Fees including fees, charges, and taxes paid in connection with the sale, storage, packaging, and delivery of the item;
· Refund and reimbursement details;
· Ad expenses and ACoS.
Based on the analysis of all these business metrics you can keep track of your sales, costs, and profits and see where you need to optimize them. Also, you need to see sales and profit dynamics showing you how healthy is your business.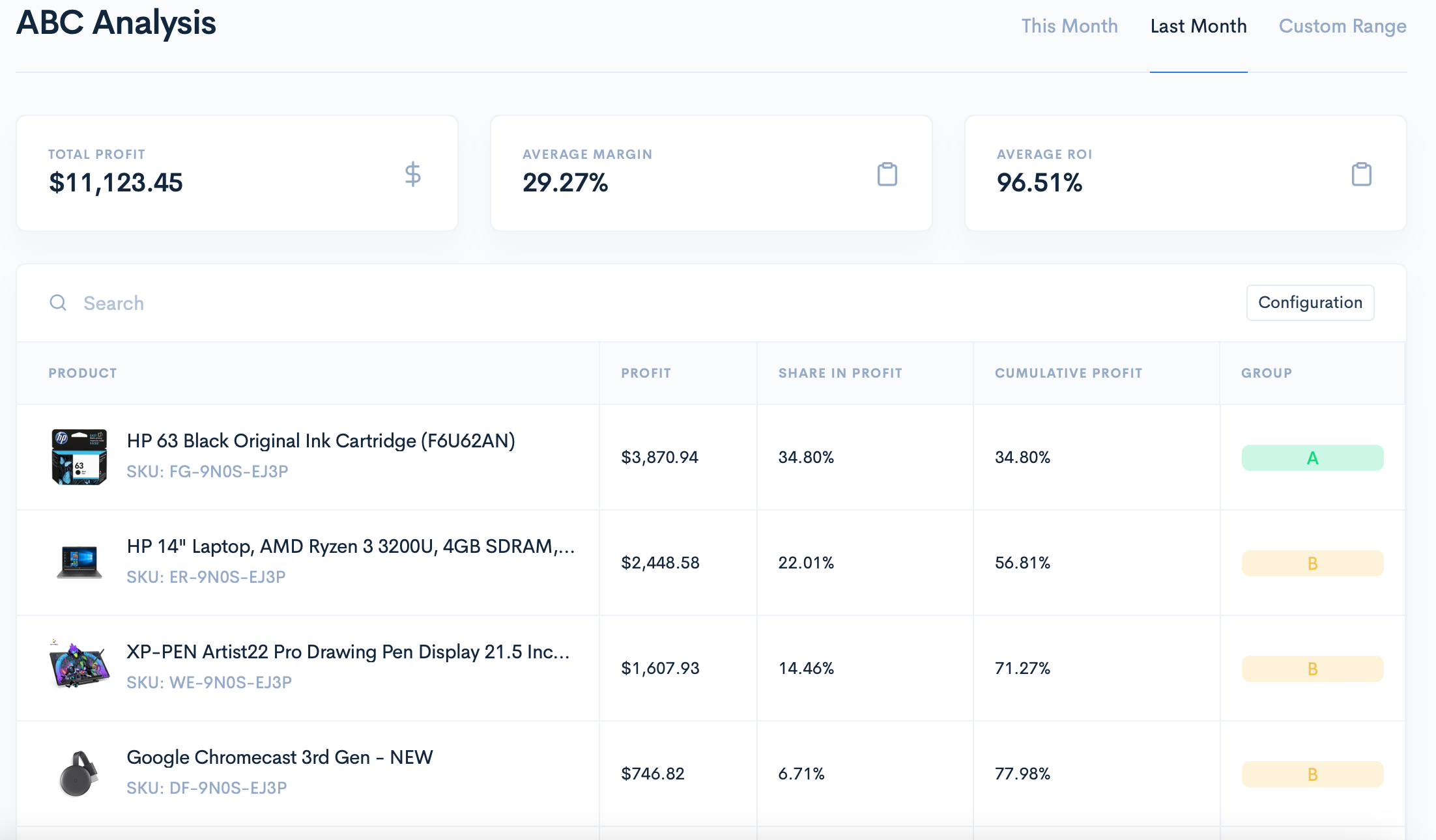 How Can I Easlily Get My Profit Analytics?
Now when you know that it's quite a lot of data you need to consider, you would, of course, say: sure, somebody has already created an Amazon analysis tool to put this all together, process it in a couple of clicks, and make it visual for me to see what's going on with my sales and profit. And you will be right.
You can get your Amazon analytics for sellers if you join SelleRise.
What is SelleRise dashboard?
SelleRise dashboard is a profit saver for Amazon sellers. It is all-in-one profit analytics Amazon sales software. With these Amazon analytics tools you get to know what burns your profit and grow your business. You can get your Amazon sales analytics easily.
With SelleRise software for Amazon sellers you monitor your profitability KPIs. With our Amazon product research software you can also discover your Amazon lost profit figures and maximize your profits.
Profits dashboard tracks basic information helping you monitor the financial aspects of your Amazon business. SelleRise gathers, organizes, and displays important financial data from your Amazon Seller Account and integrates it into one tool for easy viewing and monitoring.
Profits dashboard allows the seller to view data in the context of the marketplace and the selected period.
How Can SelleRise Dashboard Help You?
Accurate profit analytics for each ASIN and SKU;
No more complicated and boring tables. Live Dashboard displays all your profit numbers;
Find out what burns your Amazon profit;
Find out a detailed layout of your Amazon Fees: order fees, refund fees, adjustment fees, account fees, etc.;
See current Organic Sales and Ad Sales separately;
Monitor the structure of Organic Orders, Ad Orders, Organic Units, and Ad Units;
Easily keep track of all hidden and bulk financial transactions on your seller account;
Get your Amazon FBA and FBM profit figures separately.
SelleRise dashboard will help you track major financial metrics of your Amazon business. SelleRise processes, analyzes, and shows data of your Amazon Seller Account in visual and simple dashboards. With SelleRise you can easily view your data summary on the auto-generated graphs and charts in the context of the marketplace and the selected period.
It's a pretty good time to make sure it's the simplest service.