Introduction
Unsure about your next major step in your Amazon business? Keep on reading!
Sellers are always on the lookout for fresh and exciting opportunities to reach potential buyers and increase conversion rates. If you think you've maximized all opportunities in Amazon advertising, think again. Amazon's vast e-commerce platform offers so much room to grow. But there's one side of Amazon Advertising not many sellers utilize or even know about.
In this article, we'll talk about everything you need to know about Amazon's Demand-Side Platform and why it's a HUGE opportunity to scale your business!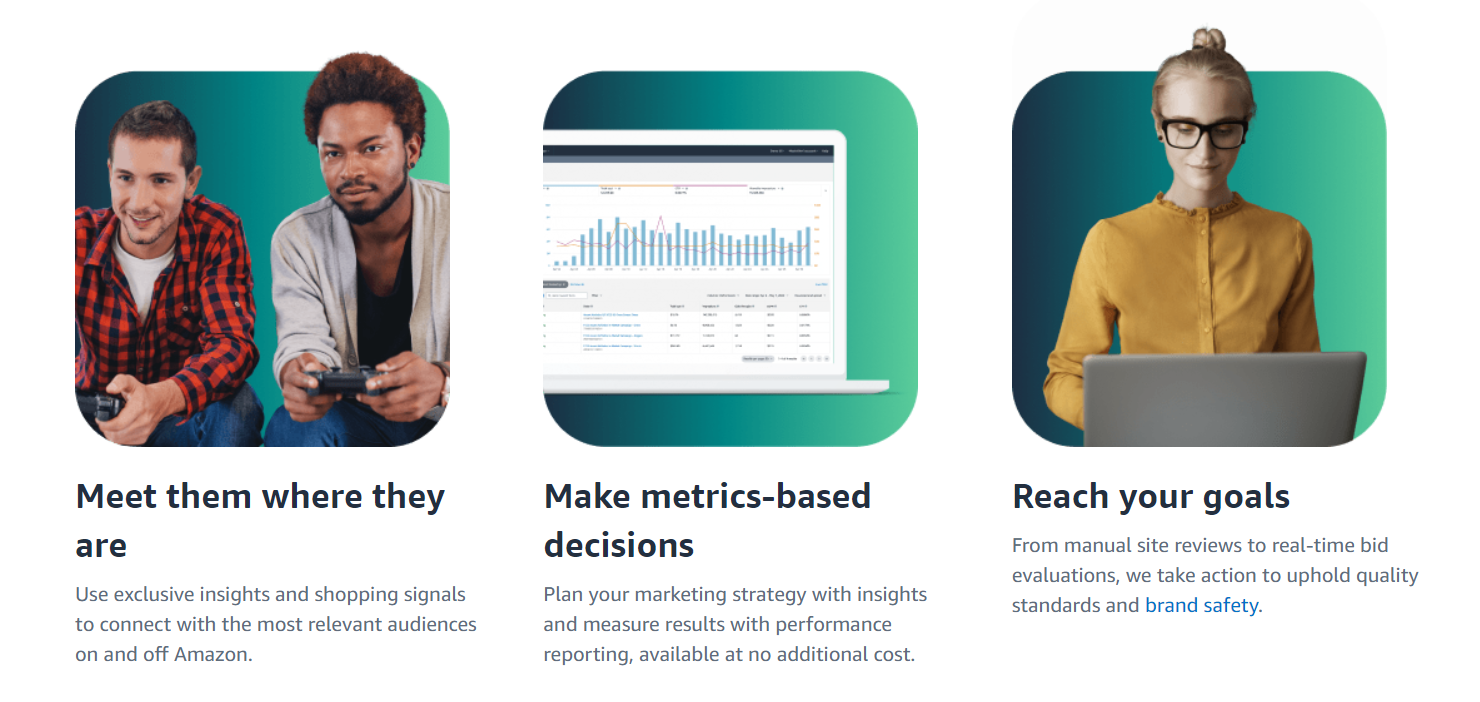 What is Amazon's Demand-Side Platform?
Amazon's Demand-Side Platform or DSP enables advertisers to promote their ads outside of Amazon as an impression-based display marketing platform. Amazon created its Demand-Side Platform to help sellers display great-quality product and video ads and introduce their products to a bigger audience. With DSP, advertisers get exclusive audiences across Amazon-owned sites, like IMDB and other sites outside Amazon.
In essence, Amazon DSP is a platform that allows sellers to programmatically buy ads to connect with new and existing audiences on and off Amazon, allowing them to promote products, services, or brands essentially all over the internet.
Amazing Marketing Co. CEO Riley Bennet gives an overview of Amazon DSP
What is the difference between Amazon Display Ads and DSP?
Kowing and understanding the different types of Amazon ads gives you an upper hand in improving your advertising strategies.
Some might say Amazon DSP is just Sponsored Display Ads with more steps. But they certainly have significant differences.
Aside from the difference in cost, targeting is another key distinction between Sponsored Ads and DSP.
If you're looking for an easy-to-manage low-budget solution to retargeting ads, then Sponsored Display Advertising may be for you. While Sponsored Display Ads help promote brand awareness as ads may appear outside the Amazon marketplace, all traffic will still take audiences back to your Amazon listings

Like Sponsored Ads, DSP is a platform where advertisers can boost brand awareness in and outside of Amazon. However, with DSP, advertisers have more control over product targeting. Even if you have products you don't sell on Amazon, you can use DSP to reach a larger audience. Unlike Sponsored ads, advertising on the Demand-Side Platform provides the option of where you can send traffic to either your Amazon product listing or to out-of-Amazon websites. Moreover, Sponsored Display Ads have limited placements compared to Amazon DSP.
Why should I invest in Amazon DSP?
One of the best things about the Demand-Side Platform is that you don't necessarily need to be an Amazon seller to use it. When properly utilized, Amazon DSP ads can be a powerful tool in scaling brands on or off Amazon.
Let's say you've already been selling and advertising your product on Amazon. Even if sales have been doing relatively well, scaling your business to greater heights should be your next priority. With DSP, it makes sense to do so.
DSP Case Studies
Let's take a look at two AMAZON DSP ADS AGENCY case studies.
Amazing Marketing Co. took on these two clients and worked with them to launch and manage their successful DSP programs. Here's how their DSP journey went:
Amazon DSP Case Study 1
4.28 ROAS for the first 90 days on DSP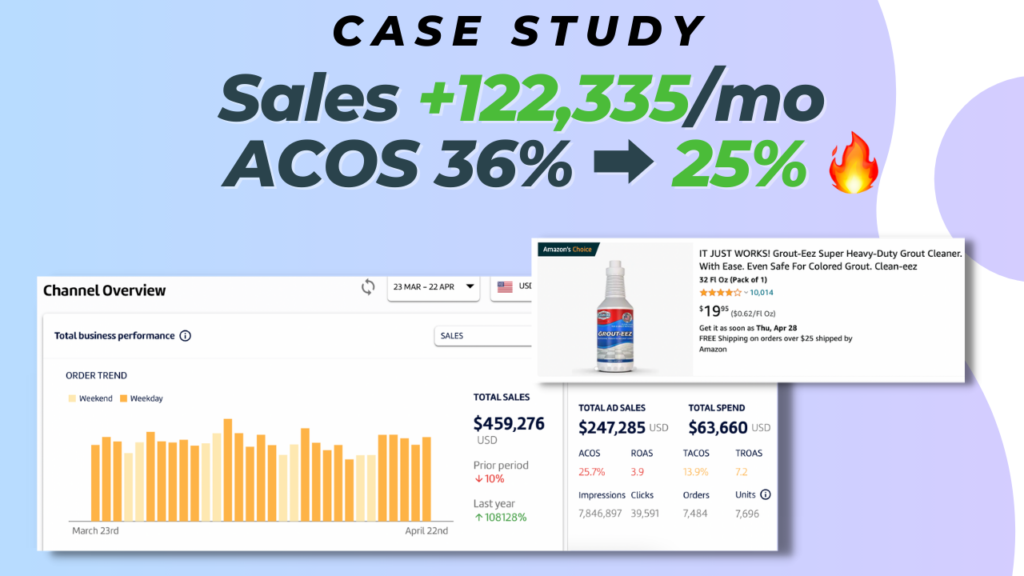 The Situation
Already with an Amazon's Choice badge, Company A has been running Amazon ads in-house and has been selling great. Seeing a huge potential to scale their business further, I reached out via email, offering our services. At first, the owner was hesitant because they were already ranked high for their main keywords. And on top of that, PPC performance wasn't bad. Finally, he decided to outsource to us, an AMAZON DSP AGENCY, to save time and see if a professional could do better. He signed up for our core service Amazon Growth Management: PPC & more.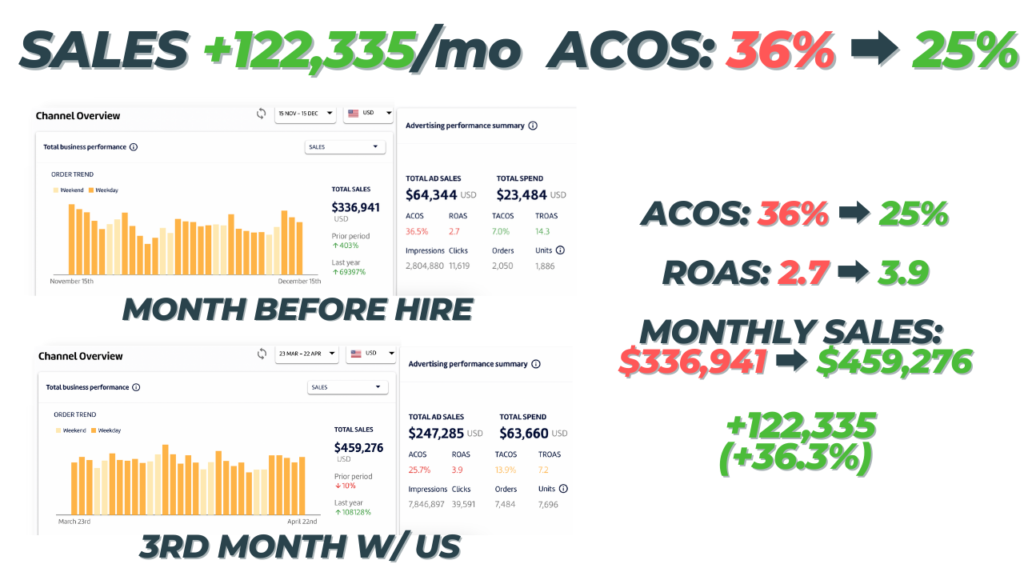 The Result
After just three months, we were able to boost sales by offering $100,000 a month while improving ACOS from 36% to 25%. This fantastic turnout was due to improving Sponsored Products & Sponsored Brands campaigns. And more notably, because we expanded their reach OFF-Amazon with Amazon DSP ads.
Amazon DSP Case Study 2
4.3 ROAS, added +$30,000/mo in sales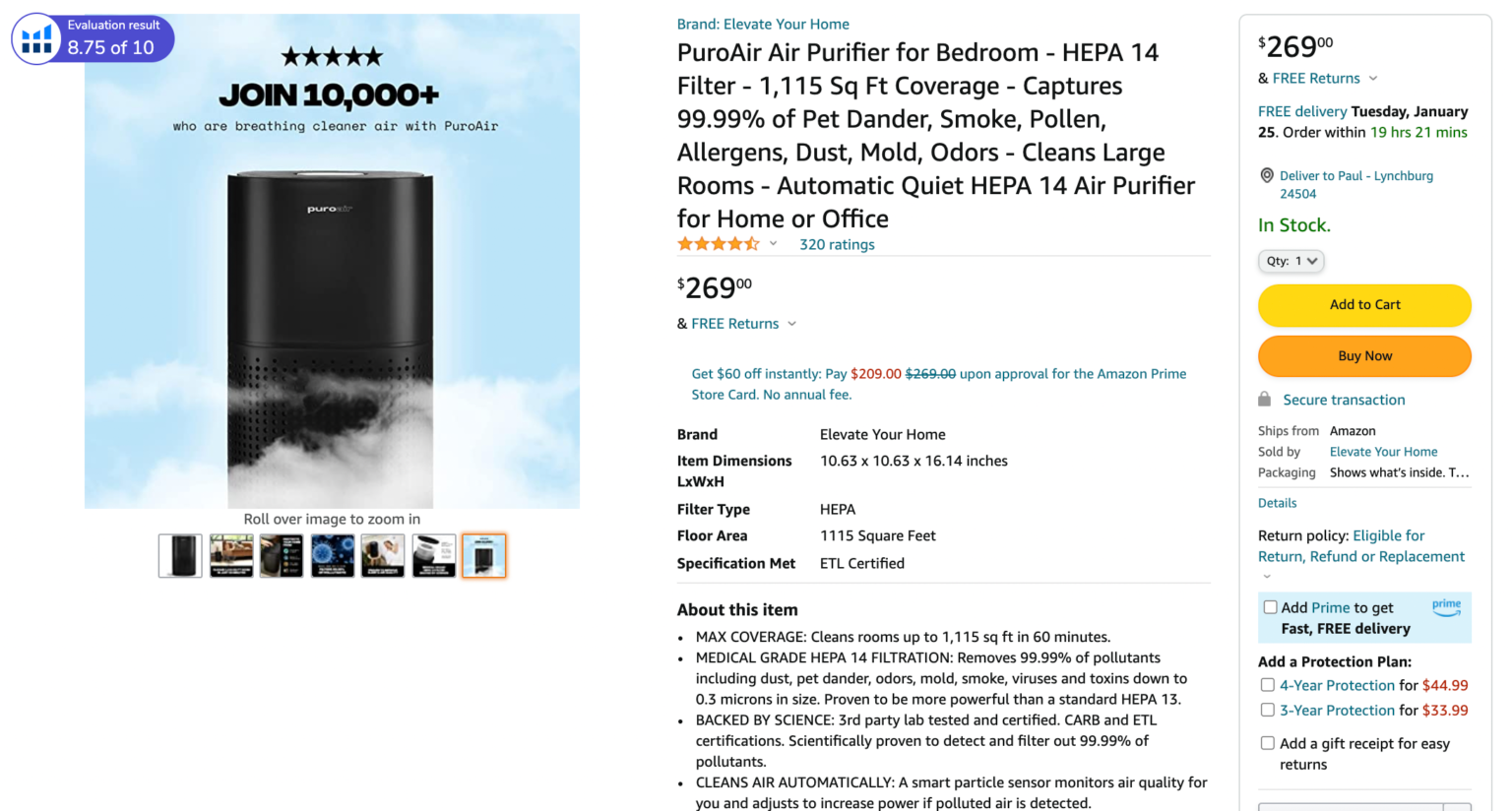 The Situation
Company B hired us to help them launch their air purifier on Amazon. Prior to this, the company owner had already launched another product by himself, and it was doing OK! He was ready to launch his next product, but this time decided to invest in an Amazon Launch Expert to see if they could do better.
It turned out to be an excellent investment for him. Not only did we launch it to become one of the best-selling air purifiers of its kind and reach $100,000+ in monthly cash flow managed by our amazon marketing agency, but we also tripled sales and improved ROAS for his existing product.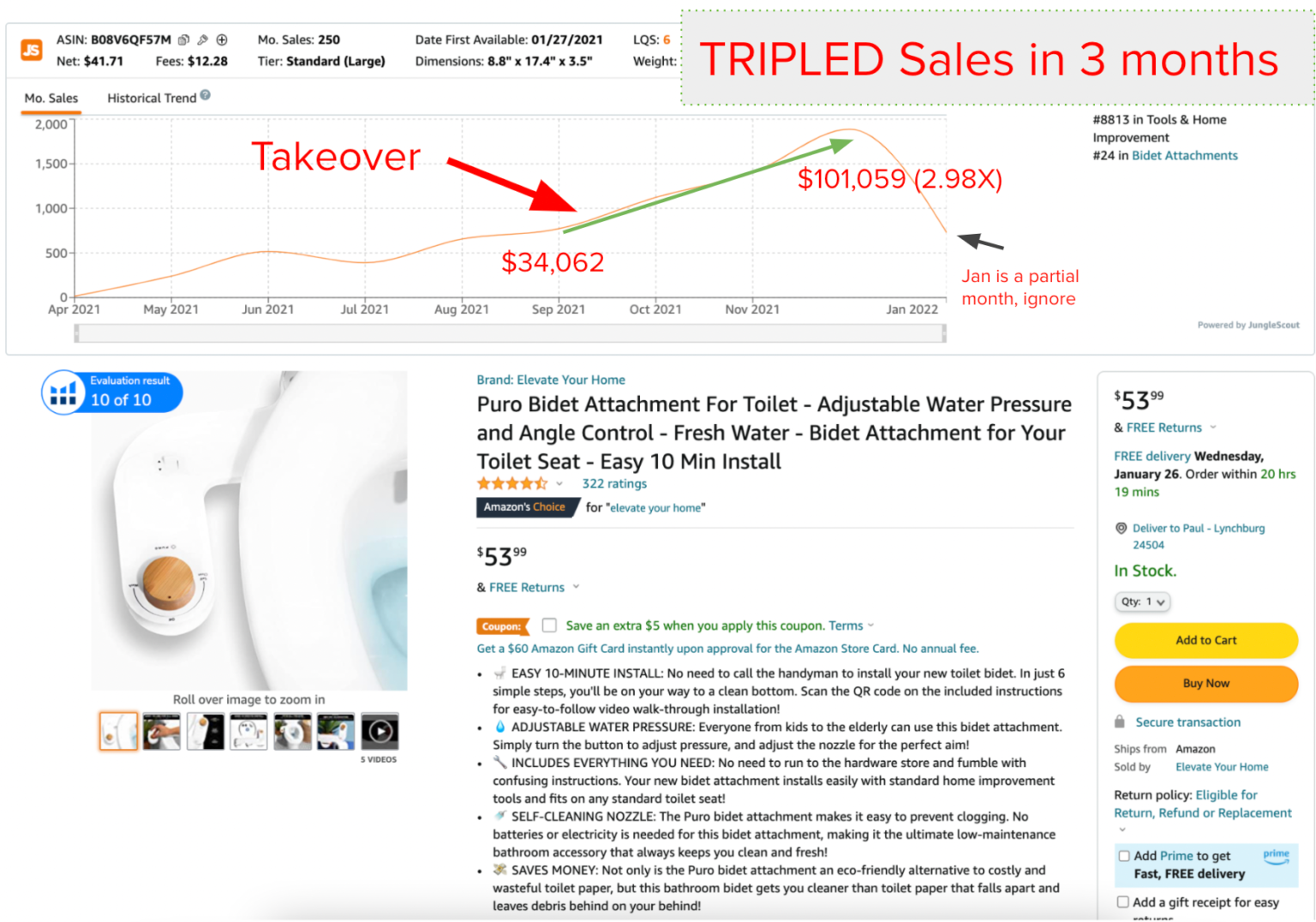 After a successful launch and page 1 ranking position, we started their Amazon DSP Advertising campaigns to take sales to the next level.
The Result
The company reached a 4.3 ROAS average over the first two months since we started, adding $30,000+ in monthly sales. They were averaging $7,500 in monthly spending for the DSP Ads (equivalent to around 25% ACOS).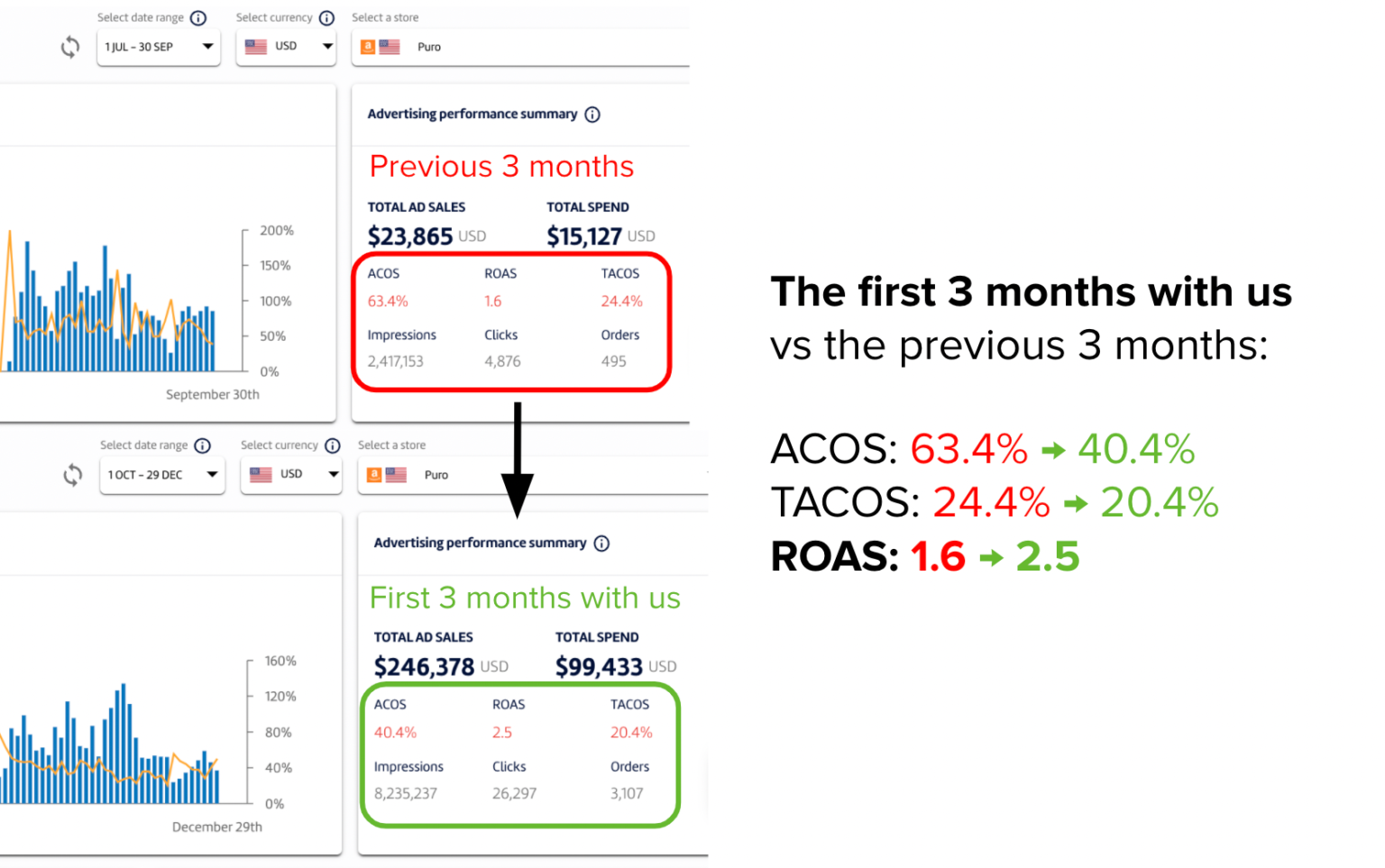 How do I know if DSP is the right move for my business?
Amazon DSP is for you if you want to:
a. Increase brand discoverability
Advertising is all about boosting discoverability and accelerating growth. With DSP's in-depth customization for ads, you can reach new potential customers on and off Amazon who are actively browsing related products and have the intent to purchase. This platform gives you better control over where ads are shown with a more targeted approach through audience layering.

b. Connect with your target audience in-depth
You can hyper-target and categorize big potential customers through relevant dynamic creative ads based on factors such as purchase intent, recency, and consideration period. Since DSP allows you to reach buyers virtually anywhere, you can reach a more extensive and relevant audience, increasing your brand recognition and demonstrating a higher ROI.

c. Reach the right audiences across different sites
Amazon DSP is the way to go if your goal is to widen your market reach significantly. Some Amazon sellers make a mistake when advertising their products because they are not targeting the right audience. When you run display ads on and off Amazon, you can reach buyers who are in the process of shopping and target relevant websites where you can gain audiences who have a high chance of buying your products or services.

d. Say goodbye to wasted ad impressions
If you've already been advertising on Amazon and want to scale your business to greater heights, DSP is your next BIG step. Learn about your brand's target demographic using Amazon's Audience insights to gain in-depth insights about your audience and use that information to improve your strategies and overall plan. This data will help you in your bid revisions and raise the chances of landing your targeted ad placements and audience segments.
Am I eligible to join DSP?
DSP may be a great way to scale your growing business, but it's not as simple as it sounds. Amazon's DSP program is only available through a service provider like our managed services team or directly through Amazon's own managed service.
Advertisers have two options for running Amazon DSP automation:
Run and managed by an advertising agency like Amazing Marketing Co. that has access to this platform. This self-service option is controlled by you and the agency you hire. However, the ad buying process is programmatic.
Once launched, the marketing agency will provide the day-to-day monitoring, reporting, and optimization of your campaigns. To optimize your ads, the agency will have to perform tests on creative (both copy & visuals) sites where your ads are served and the audience of demographics you're targeting.
Amazon's managed services team fully controls it. This option is Amazon managed-service and is solely automated. While less work is required from your side, this option requires a minimum ad spend of $35,000 – $50,000 to get started.
The great news is although it's an Amazon-owned platform, it's not exclusively for Amazon sellers. So, no matter where you're selling products, you can still take advantage of Amazon DSP.
Check out Amazing Marketing Co. head advertiser Ryan Logan's deep-dive video on Amazon DSP:
Get started with Amazon DSP Advertising now!
The largest B2C platform today, Amazon offers exciting opportunities to brand owners, big or small. But the promise of e-commerce success also comes with enormous challenges. As a seller, it's necessary to maximize marketing and advertising strategies to help you flourish through the Amazon algorithm and conquer the competition.
Ready to join DSP? Get in touch with us!
Amazing Marketing Co. is a full-service Amazon Agency and DSP ads. We are a team of experts with years of experience in the Amazon game.. We live and breath Amazon every day!