In this article we'll be talking about:
A brief overview of international shipping for Amazon FBA sellers
How freight forwarders and logistics providers move your goods
What you should know about freight forwarding and Fulfillment by Amazon (FBA)
How Freightos.com can help you find the best freight for your international shipping needs
What is Freight Forwarding?
Freight forwarding is how most importers and exporters, including Amazon FBA sellers, get their goods transported from where they are produced to where they are sold.
Forwarders are licensed experts that understand how the complex international shipping process works and can get it done on your behalf. Think of them as travel agents for freight.
Some specialize as ocean or as air forwarders. Smaller forwarders may only operate in a few popular countries. At the other end of the scale, larger freight forwarders offer international shipping services - but may be less accessible to smaller businesses.
Freight International Forwarding Services
When Amazon sellers ship goods - either for FBA or FBM - freight forwarders can provide a range of services to ensure supply chain success:
Prepare paperwork, place bookings, and arrange payments.
Act on your behalf with any other logistics providers involved in the shipment.
Provide customs brokerage services (given they are both a clearing and forwarding agent).
Troubleshoot any issues with the shipment.
When it comes to hiring a freight forwarder, there are a few things to keep in mind:
When first making a booking, freight forwarders should explain what key freight documents you will need to provide and details on how the shipment will progress.
Freight forwarders can discuss a range of freight shipping options and advise on which one is best based on your needs.
As the shipment progresses, you should be kept informed, especially if the shipment faces a risk of delay at any point in time.
Other information includes an explanation of any additional  fees and charges you may incur, the contractual agreement (aka Incoterms) which determines who is responsible for the various stages of a shipment, and any customs duties you'll need to pay.
Finding an Amazon FBA Freight Forwarder
A freight forwarder arranges your shipments.
A good freight forwarder books space for your goods with reliable air and ocean carriers, tracks the movement of your goods, and coordinates the many required documents.
When it comes to Amazon FBA's unique delivery requirements, it's a good idea to hire a FBA forwarder that has experience getting goods to Amazon warehouses.
Amazon has numerous rules to facilitate the import of goods sold on the marketplace, and does not:
Act as an importer of record or ultimate consignee
Accept responsibility for any duties, taxes, or other associated fee
Accept delivery if specific palletizing, labeling, or receiving requirements are not met
Because of the complex requirements involved in international shipping to Amazon FBA warehouses, it's recommended to research experienced Amazon FBA freight forwarders first - particularly checking online reviews.
Depending on the product, freight can account for a full 10% of the total landed cost of the goods you are selling. But, while product costs and Amazon fees are relatively transparent, freight costs can fluctuate and take a long time to receive quotes from logistics providers. This can make it hard for e-commerce sellers to find transparent and accurate cost estimates.
Comparing freight forwarders and quotes one by one can be a hassle, but using a freight marketplace makes this process quick and simple.
Over 10,000 small businesses use Freightos.com to compare, book, and manage freight, many of which are e-commerce sellers shipping directly to Fulfilled By Amazon (FBA) fulfillment centers.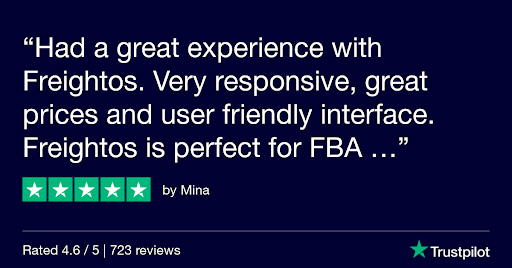 Freightos.com: Smooth FBA International Shipping in 10 Easy Steps
When shipping internationally as an Amazon FBA seller, you can save a lot of time by using Freightos.com to compare instant freight quotes from 30+ forwarders and carriers.
Plus, you can find real customer reviews to help you select the best freight forwarding service for your needs. Once you book, you'll get expert support every step of the way.
Before we dive into booking international shipping for Amazon FBA sellers, remember that Amazon:
Will not serve as the importer of record on any of your imported freight, and will only act as ultimate consignee if the name of the location is followed by "in care of FBA."
Must be contacted by your customs broker before shipping to get the EIN or Tax ID number required for customs clearance.
Does not accept delivery with duties, taxes or other charges owing. You must arrange prepaid delivery to Amazon's fulfillment center.
arehouses only accept shipments that conform to their palletizing and labeling requirements (as covered in the following sections).
In addition,non-US based businesses may encounter additional requirements.
All things considered, shipping to an Amazon FBA warehouse can be complicated - but Freightos.com makes sure all of the requirements are covered in your shipment.
Here's how you can get started:
1. Go to Freightos.com
2. Start by telling us where the shipment is coming from and going to. The origin address is usually the factory overseas.
3. The destination address will be the Amazon FBA warehouse Amazon provides you with in "Seller Central." If you're not sure which warehouse to choose, here's some more information about what to look for.
4. Choose whether you're shipping boxes/pallets or a full container, and enter the size, dimensions, and weight.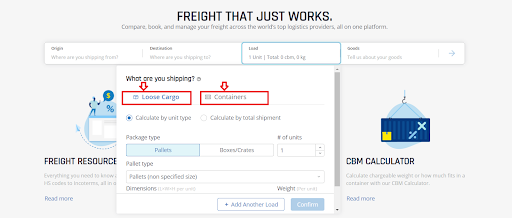 5. Tell us the production value of your goods (for insurance purposes) and when they'll be ready to be shipped.
After you've filled in this information, you'll be taken to the Recommended Services page.
6. Along with adding optional services like customs brokerage, a customs bond, and insurance to your shipment, you'll need to choose how you want your shipment labeled and palletized.

We recommend getting your supplier to handle labeling and palletization to avoid extra charges from your forwarder.
7. Once you click "Search & Book", you'll see Quotes from multiple freight forwarders. To find the one that works best for your shipment, you can sort and filter to narrow down the options according to price, transit time, forwarder, and more.
8. Review your booking summary and if you're happy with your Quote, press "Confirm & Book Shipment."
9. You'll be taken to your Shipment page where you can pay for your shipment and provide full details about the consignor (sender of goods) and consignee (receiver of goods), as well as upload relevant documents such as your commercial invoice.
Note: Even though Amazon cannot serve as the consignee, you can use their address as the consignee address.
10. Keep on top of your shipment and in touch with your logistics providers via the Freightos.com dashboard - and feel free to ask any questions using the chat icon at the bottom right of your screen.
Ready to get freight quotes on your next international FBA shipment? Compare, book, and manage your FBA freight forwarding at Freightos.com.
You can also reach out with any questions: