Aloha, Amazon Seller!
Follow our guide and learn how to do business with Amazon. What is B2B Amazon? Find powerful tactics to thrive on Amazon Business.
On Amazon.com, sellers have a lot of different opportunities to grow their sales and profits. Regardless of your current business scale, being a vendor, manufacturer, or small business entrepreneur, you have a variety of programs and tools, offered by Amazon to increase your sales volumes and efficiency as a seller. Amazon is interested in facilitating your growth because it grows with you.
One of Amazon business opportunities to increase your sales is selling B2B (Business-to-business) on Amazon through the Amazon Business program. With an Amazon Business Account, you can not only sell big volumes to millions of already existing Amazon customers operating and buying on the market but also get access to a lot of Amazon business features, like business pricing, quantity discounts, Amazon analytics, etc.
What is the Amazon Business Seller program?
Amazon Business is a platform created to facilitate the online sales and purchasing of all types of business customers. It involves both big sellers doing volumes, manufacturers, and distributors, with their distribution and supply chains, and those companies who want to buy goods for their business at a fair price, and connects them.
B2B Amazon on Amazon Business platform has, therefore, two programs:
Amazon Business Sellers Program, which is a program for sellers;
Amazon Business Buyers Program, which is a program for buyers.

With the Amazon Business Seller program, sellers can offer products available only to business customers, their inventory has better visibility, they have special wholesale pricing and payment terms, those participating in the Amazon Tax-Exemption program can automate tax exemption on qualified purchases from sellers, etc. The program is one of the ways how to do business with Amazon.
Already existing Seller Central Sellers can add Amazon Business Account Features through their Seller Central Account.

Who Can Become an Amazon B2B Seller?
Any company, institution, or organization, registered within the U.S. or U.S. Territories, and having a Tax Identification Number (TIN), can become an Amazon B2B seller.
The program is tailored for distributors, retailers, manufacturers, suppliers, wholesalers, brand owners, and dealers who aim at selling big volume consignments to Amazon B2B customers with bulk orders.
To join the Amazon Business Sellers Program, you need to be registered on Amazon under the Professional Seller plan. If you are an existing seller on Amazon, your sales performance and other account metrics matter. The wholesalers and other 'big sharks', who are new to Amazon and want to start their Amazon seller business, would need to sign up under a Professional Seller plan.
What is the difference between Amazon Business Seller and Amazon Seller?
As said, being an Amazon Business Seller, you have access to a number of benefits and features, that a B2C seller doesn't have, including business pricing, optimized business-to-business transactions, Amazon business information for sellers, etc. (we will discuss it below).
However, the status of the Amazon seller business implies not only rights but also obligations. While the Amazon seller is required to have an Order Defect Rate of 1%, the Amazon Business Seller needs to have it at the level of 0.5%. A Pre-Shipment Cancellation Rate in the standard case is 2.5%, the Amazon B2B shall keep it at a level of less than 1%, as well as Late Shipment Rate is 4.5% vs. 2%. Also, Amazon business B2B seller is required to have a low number of chargebacks, A-Z Guarantee Claims, and Negative Feedback, and you have to add a tracking number, packing slip, and purchase order number to every order.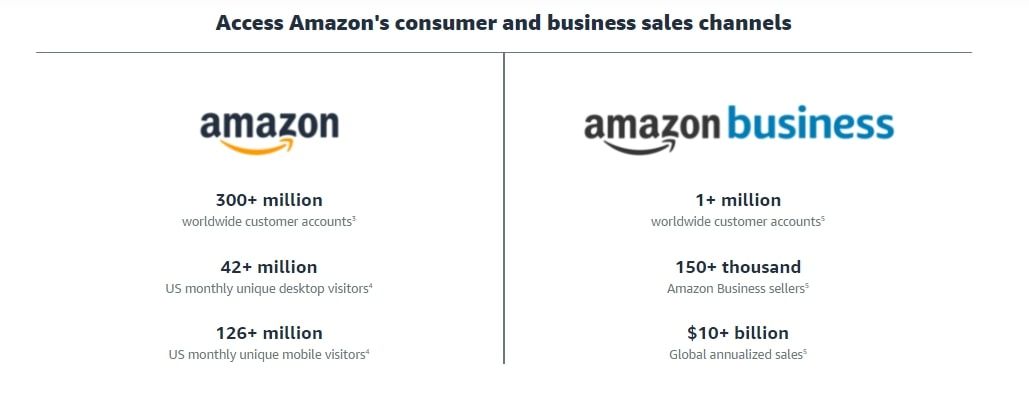 What Are the Benefits of Amazon Business Sellers?
'Doing Business with Amazon'
As an Amazon Business Seller, you will get access to the privileges of a Professional Selling Account. You are getting get access to the multimillion business customer base who are buying all possible product categories. A lot of businesses from different industries, who are looking for the best prices on Amazon, will become your potential clients.
Exclusive Amazon Business Listings
When you create your business listings, they can be seen by business buyers only, this is the option of restricting purchases of your products solely to business customers. The products of Amazon Business sellers remain visible to all Amazon consumers, while only registered Amazon Business customers can see the business pricing. Other Amazon consumers see the consumer price.
Tax Exemption
Sellers, who are members of the Amazon Tax-Exemption program can automate tax exemption on qualified purchases.
Access to Amazon Business Features
Business Pricing & Quantity Discounts
Business pricing is a special pricing customization tool only visible to business customers. It is combined with tiered quantity discounts, making the prices very attractive to business buyers. This encourages the Amazon business buyers to make large quantity purchases, as the pricing on the Amazon B2B marketplace is considerably lower than the retail prices on Amazon.
Amazon Dashboards
Amazon offers it's business sellers access to a number of dashboards.
Sales Snapshot: allows you to view the growth of your B2B sales from registered business customers (B2B) in contrast with that of non-business customers (non-B2B), and to compare your Year-over-Year (YoY) growth among both customer segments;
B2B Performance by Industry: shows you the breakdown of your B2B sales by the industry and sub-industry segments of your customers. We use both internal and external data sources for segmentation data on business customers;
Top Products: displays your top five products selling to registered business customers on Amazon;
Business Action Center: displays tasks that are relevant to your B2B business.
Business Profile
This feature allows you to tell everything about your company and brand. You can add your business type, logo, your company's story, and tell everyone about your B2B customers. The information is seen when the consumers click on your company's name in the Buy Box, in the 'Ships from and Sold by line' on a product detail page, or on the product's 'More Buying Choices' and 'Offer Listings' pages. When your customers know more about your company, this creates additional customer confidence and brand awareness.
Enhanced Product Content
An essential added value is the possibility to upload a lot of detailed information to your product pages. You can add different reference documents, like manufacturer specifications, to user guides, CAD files, safety information, application guides, comparison charts, installation manuals, etc.
Such kind of content helps clarify specific and technical matters, helping shoppers make informed buying decisions.
Allow Requests for Quotes
Business customers can place a quote for the number of units that they want to buy. The business seller can respond to such a quote with a discounted offer.
Claiming Quality and Credentials
Participants to Amazon B2B program can claim quality, diversity, and ownership credentials to distinguish their business-to-business customers. They can set credentials such as ISO 9001­ certified, small business, women­, minority­ and veteran-­owned business which are displayed to business customers.

How Much Does It Cost to Become a Business Seller?
After analyzing the pros and cons of becoming a Business seller for your business case, you would naturally wonder how much it would cost.
Setting aside a lot of other Amazon Fees, which are quite numerous, the fees to sell as a Business Seller include the Professional selling account fees and Referral Fees:
• Monthly Subscription Fee ($39.99 for Professional Sellers);
• Referral Fees, depending on the category.
A detailed list of the Referral Fees you can find here.
Also mind, that selling some product categories requires approval from Amazon, like Jewelry, Music & DVD, Fine Art, etc.
You can find information about restricted and non-restricted product categories here.
How to Join Amazon B2B Program
As said, to become a member of the Amazon Business Sellers program, you need to have a Professional Selling Account on Amazon. If you don't have one, you need to register.
Step 1: Registration on Amazon
To create a Professional Selling Account, go to amazon.com and register it, following the directions from Amazon. Existing sellers are able to add Amazon Business features through their Seller Central.
Step 2: Business Profile
Your Business Profile is the 'face' of your company. You can tell your company story, logo, type of business, your customers, add your quality certifications and diversity credentials for discerning business customers. To do that, use a Profile Editor.
Step 3: Setting up Products
After you've created your Business Profile, you need to add your catalog using Amazon listing tools and the Enhanced Content feature to make the variety of your product visible to your customers.
Step 4: Starting to Sell
Now you are ready to start selling on Amazon. Your customers are waiting for you.