Aloha, Amazon Seller!
Backend keywords on Amazon play a crucial role in bringing in relevant traffic. Follow our guide and gain 5 tips for choosing the best Amazon backend keywords for your business.
Optimized selection of Amazon keywords is vital to make your product visible to buyers. It is an essential part of your marketing strategy targeted at bringing your product to page 1 of Amazon search. Doing your keyword research, always keep in mind that Search engine optimization (SEO) on Amazon.com is a crucial element of boosting your ranking and sales.
However, if you try and include too many keywords in your listing, this would negatively affect your listing's readability and clarity, and shoppers would not properly understand the information related to your ASIN, which may result in a lot of negative reviews and low ranking as Amazon search engine considers reviews. Therefore, it is important to know how to use Amazon keywords and efficiently apply Amazon keyword optimization.
Is there a way to include more keywords to increase search relevancy? Especially when it comes to the products with spelling variations? You cannot include spelling variations or colloquial words on your visible listing, this would not look professional. Is there a solution to this? Amazon offers you the possibility to do it with Amazon backend keywords.
What are Amazon Backend Keywords?
Search terms Amazon are aimed at helping buyers find your item among millions of products on the platform. On the Amazon marketplace, two types of keywords are applied.
The first type is primary keywords, which you include on your listing and which are visible to the shoppers. They are called Frontend Amazon seller keywords and the Amazon A10 algorithm considers them for the indexation.
The second type, Amazon backend keywords, is playing in the background of the stage of your Amazon search terms optimization to boost your product visibility being invisible themselves. Shoppers cannot see these keywords Amazon, though they are indexed.
Adding backend keywords Amazon to your listing gives you the possibility to include to your listing the keywords you were not able to include in the visible page of your listing. For instance, you can add abbreviations, commonly misspelled versions of your product name, and additional Amazon FBA keywords you couldn't fit in the listing.
Backend Amazon seller search terms help you keep your content clean and engaging, at the same time boosting your product's search rank. Being invisible to the shoppers, they direct them to your listing and add to its Amazon search engine optimization.
Let's take an example of how backend keywords work. Imagine, you're selling a pullover. It's a knitted garment put on over the head and covering the top half of the body, which you normally wear in winter to keep yourself warm. However, when people search for it, they can call it in different ways: cardigan, jersey, jumper, maillot, raglan, shrug, slipover, sweatshirt.
To cover this, you can use the primary keyword — pullover— in the product title. Then you add all of the above words people name pullover into your backend keywords. This way you grow your chances to show up in the Amazon search results because your backend keywords will match all search queries.
How Does A10 Algorithm on Amazon Rank Your Listing?
As the Amazon A10 algorithm applies certain criteria for your product ranking, it is essential to consider these criteria when doing your Amazon keyword optimization. When a shopper performs a product search on Amazon, the Amazon search engine first picks out the most relevant results, and after that ranks them in the order of relevancy.
As A10 is an Amazon proprietary algorithm, they haven't made public exact metrics accounted for by this search engine. However, we can outline vital criteria that matter:
Seller authority;
Impressions;
Sales History;
Click-Through Rate (CTR);
Conversion rate (CVR);
Organic Sales;
Internal Sales;
Off-Site Sales;
PPC sales.
Said that you understand that sales velocity is crucial for the ranking that brings your product to page 1, which is the most visited by the shoppers in your product category. Therefore, you need to understand how to add keywords to Amazon listing and improve the quality of the keywords you apply.
How Do Backend Keywords Help in Listing Optimization?
The backend keywords Amazon is serving to increase discoverability of your item by the shoppers on the one hand, and maintain listing page readability, on the other. They add value to your listing by improving its quality in terms of search visibility.
As said, you can include in the page background not only more high-demand keywords but also those you are unable to use in the frontend page: spelling variations or colloquial terms. You can also add commonly used abbreviations, synonyms, or names of similar products. Efficient utilization of the keywords in the listing backend helps improve Best Seller Rank (BSR).
Let's see how you can do it practically. If your buyers are looking for a 'manicure set', you can include in the backend 'nail care set', 'nail care kit', 'manicure kit', capitalization 'Manicure set', etc.
Here's a good example of Amazon keywords tips of search terms shown by Amazon itself. Here the combination of keywords is used without punctuation and within the character limit.

What are Amazon Guidelines for the Best Backend Keywords?
First of all, you need to understand Amazon's rules for using backend search terms, and how many keywords does Amazon allow. Amazon has a lot of regulations, and this case is not an exception.
First of all, in order to use search terms effectively, you need to be aware that Amazon would not allow you to apply an unlimited number of backend keywords, there is an Amazon keyword limit for backend search terms. The limit is byte-based, not character-based.
Amazon limits backend search terms to 250 bytes, not to 250 characters. This makes difference because some characters are equal to several bytes. For example, regular letters and numbers are one byte, through symbols like "ü" are two bytes, and "€" is 3 bytes. Everything that exceeds the limit, wouldn't be indexed.
Amazon Backend Search Terms Guidelines
Stay under length limit;
Include synonyms;
Include spelling variations, no need for misspelling;
Include abbreviations and alternate names;
You can use all lower case;
You don't need punctuation, such as: ";", ":", "-";
Separate words with spaces;
Don't repeat words within the Search Terms field;
Don't include your brand or other brand names in Search Terms;
Don't include ASINs in Search Terms.
No need for stop words such as "a," "an," "and," "by," "for," "of," "the," "with," and so on;
Use singular or plural, no need for both;
No temporary statements such as "new," or "on sale now";
Don't use subjective claims, such as "best," "cheapest," "amazing," and so on;
Don't add abusive or offensive terms.
How to Find Best Keywords on Amazon for Backend Optimization?
If you apply PPC campaigns, a good way of Amazon search terms optimization is to download your Search Term report from Amazon Advertising. This report would show the keywords you could add to your page backend. The report contains accurate data about your keywords and their efficiency. Select the most high-performing keywords with the high Click-Through-Rate (CTR).
One more tool you can use here is Amazon Brand Analytics. However, this programming tool is available to Brand Registered sellers only. Brand Analytics shows items' search terms, their clicks, and conversions.
Alternatively, you can use one of the Amazon Seller tools.
How to Download Amazon Search Term Report?
Login to your Seller Central and navigate to the Reports tab. You will see a drop-down menu. Click on the Advertising Reports option. In the "All Campaigns" section set a reporting period you want and press the "Create report button". Click on "Download".

How to Add Best Keywords on Amazon for Backend Optimization?
Let's figure out step-by-step how to add your Amazon backend keywords.
First, go to your Seller Central account and move to your "Manage Inventory" page Select the item and press the "edit" button to get access to backend keywords.
Select the Keywords tab to see your backend keywords. You will see five sections where you can enter your information.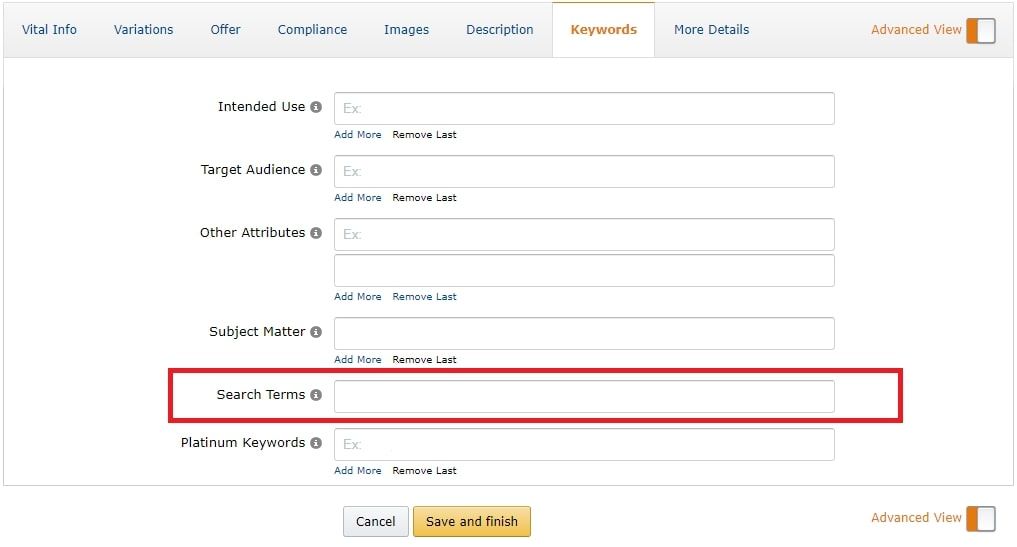 Search Terms
Here you can input your backend keywords. Don't forget about the character limit and Amazon recommendations.
Intended Use
In this section, you need to show the purpose for which your product is used.
Subject Matter
Here you can add more or less the same words as your search terms or keywords.
Target Audience
You describe who will use your product.
Other Attributes
Any additional data you might think useful for the Amazon A10 algorithm to identify your item.
Platinum Keywords
These keywords will be indexed only if you are a platinum merchant.
What Are Amazon Platinum Keywords?
Amazon Platinum Keywords option is available for indexation only to platinum merchants, sellers who have lasting and proven sales history, and generate million-dollar sales per year.
5 Tips for Choosing Valuable Amazon Backend Keywords
Apart from Amazon rules of backend keyword usage, including byte-limit, removing duplicates with the frontend keyword content of the listing, deleting repeated search terms, avoiding competitor ASINs, here are several tips to choose valuable Amazon backend keywords to provide perfect search.
Add most efficient keywords;
Use only relevant keywords directly related to the item;
Constantly monitor keyword performance;
Add search terms in the logical order;
Do not use brand identifiers.
How to Check the Keyword Indexation?
Finally, you would need to do a checkup if your keywords are indexed by Amazon A10 Algorithm. To do so, input your keyword and ASIN in the search bar. The indexed keyword will be prompted. If you cannot see your product, then the keyword is not indexed.