Aloha, Amazon Seller!
How to sell globally on Amazon? Which option should you use to expand internationally? Follow this guide step by step and you can reach a lot of new customers.
Selling internationally sounds challenging and tempting at the same time. Having experience of Amazon sales, you start thinking about new options to grow your business, which implies diversification and expansion. In other words, you will start to think, how to sell globally on Amazon.
However, selling internationally on Amazon is, in some aspects, different from selling internally in the US. In reality, it is not so much difficult as many people think, you just need to develop a strategy as to how to sell globally on Amazon.
If you have created a perfect brand, which you've done, if you consider selling internationally on Amazon, then you already know that there are certain rules of the game you need to follow in your amazon sales. one of those is the Amazon Global Selling program.
What is Amazon Global Selling?
Amazon Global Selling is a program for global Amazon trade, enabling sellers to reach international customers and list their selected items on Amazon worldwide. Amazon Global Selling is a good solution when you think over which option should you use to expand internationally.
The program is specifically designed to assist international Amazon sellers in their trade. All your FBA products Amazon will ship internationally, taking care of this complicated part.
What is Amazon Global Marketplace?
Amazon global marketplace is a platform for Amazon international shopping. With Amazon Global Selling, you can list and sell your products in both Americas, Asia, Middle East, and Europe. Amazon in other countries currently has 20 marketplaces, giving sellers perfect chances for their business expansion.
Amazon International – Americas
Amazon.com
Amazon.ca
Amazon.com.mx
Amazon.com.br
Amazon International – Europe
Amazon.co.uk
Amazon.de
Amazon.fr
Amazon.it
Amazon.es
Amazon.nl
Amazon International – Asia-Pacific
Amazon.co.jp
Amazon.in
Amazon.com.au
Amazon.sg
Amazon International – Middle East
How to Start Selling Internationally on Amazon?
Before diving into the global sales waters, you would like to understand how to sell internationally on Amazon. To sum up, it looks like this:
Take a decision about the product and marketplace where you sell
Register and list the items you decided to sell
Advertise
Deliver your product to the customer.
Basically, the procedure is the same as any e-commerce sales process. But it is still different, and it is important to know what these differences are.
1. Create International Listings
"Build International listings" is an option Amazon offers sellers within the Global Selling feature. However, you need to thoroughly check the translation, as Amazon uses machine translation. Use reverse translation to check the content.
2. How to Select a Product to Fit a Marketplace?
The first thing you would need to do is to check if you are allowed to sell your product category in the target country, as the regulations could differ substantially. Also, check the standards they use.
For the rest, as always, you will need to do product research. The product you are intending to sell should fit well for the marketplace, and be in demand. Also, you should very carefully analyze the price, expenses, and profit margin. You will need to add on taxes and international shipment costs, among others.
3. Marketplaces and Registration Requirements
North America Marketplace (USA, Canada, Mexico, Brazil)
Requirements: tax information, bank account, credit card details, phone number.
Europe Marketplace (Germany, United Kingdom, France, Italy, Spain, Netherlands, Sweden, Poland)
Requirements: tax information, bank account, credit card details, phone number.
Asia-Pacific Marketplace
Japan
Requirements: tax information, bank account, credit card details, phone number, and one of the following: passport, driver's license, or a resident registration. Also, a bill issued within 180 days is needed. Japanese shoppers use a points-based loyalty system.
Australia
Requirements: tax information, bank account, credit card details, phone number, and in some cases scanned copies of national ID, passport, bank account statement.
Singapore
Requirements: same as for Australia
India
At the moment Amazon.in is only open to sellers with a locally owned business in India.
Middle East Marketplace (United Arab Emirates, Turkey)
Requirements: tax information, bank account, credit card details, phone number, scanned copies of a passport, national ID, bank account statement.
4. Taxes and Customs
You need to keep in mind, that each country has its own tax, customs, and other laws and regulations. Don't forget to check intellectual property rights, especially IP law restrictions on the parallel import, export controls, product compliance.
5. Delivery to the Customer
As always, there is an option from Amazon to fulfill your products. You need to select what fulfillment method you prefer: FBA or FBM. In case if you decide to use Amazon services, check Amazon FBA International Shipping Rates. If you decide to do it yourself, think about reliable carriers in advance and check the prices.
6. How to Register with Amazon Global Selling?
To join the Amazon Global Selling program, you need to register accounts in the marketplaces where you decided to sell.
Let's take the example of Canada and Mexico, and see how to sell in these countries with Amazon FBA if you don't have the products in these countries yet. We will go through all steps needed to start trading with the Sell Globally program.
Copy your listings from the primary market to target markets.
In the "Inventory" tab, select "Sell Globally";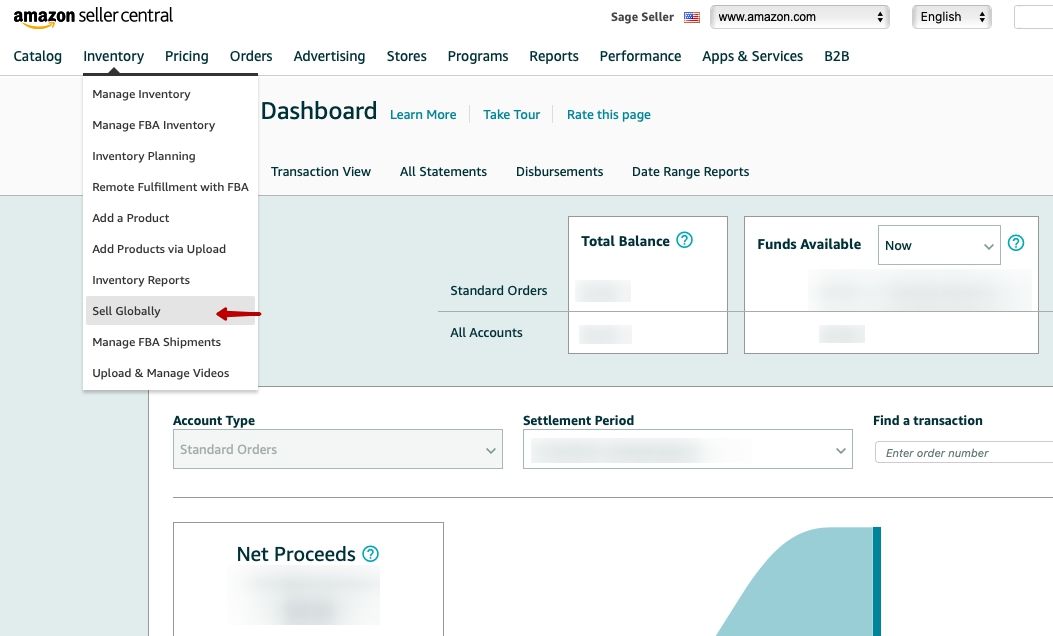 Step 2
Select "Build International Listings"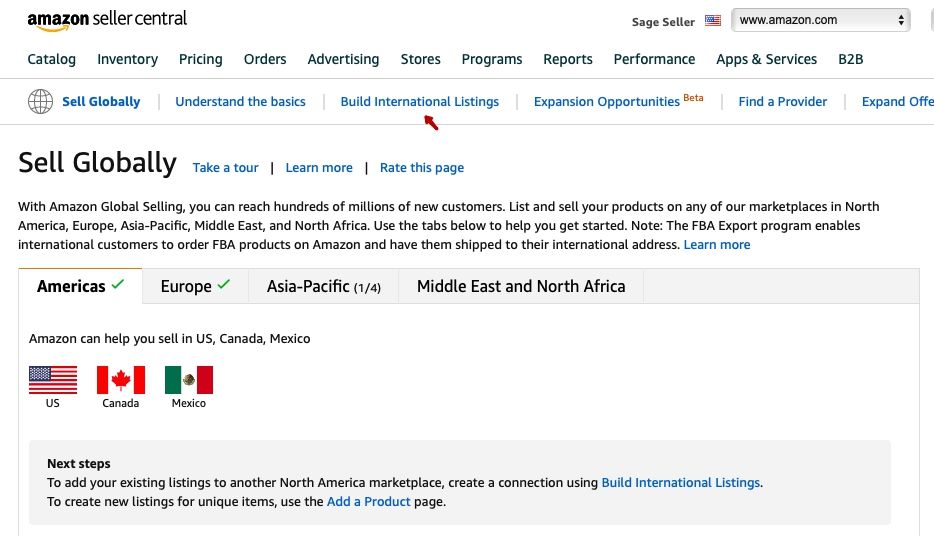 Step 3
Go down and click "Edit in Connection Settings". If you don't see this page, move to the next step.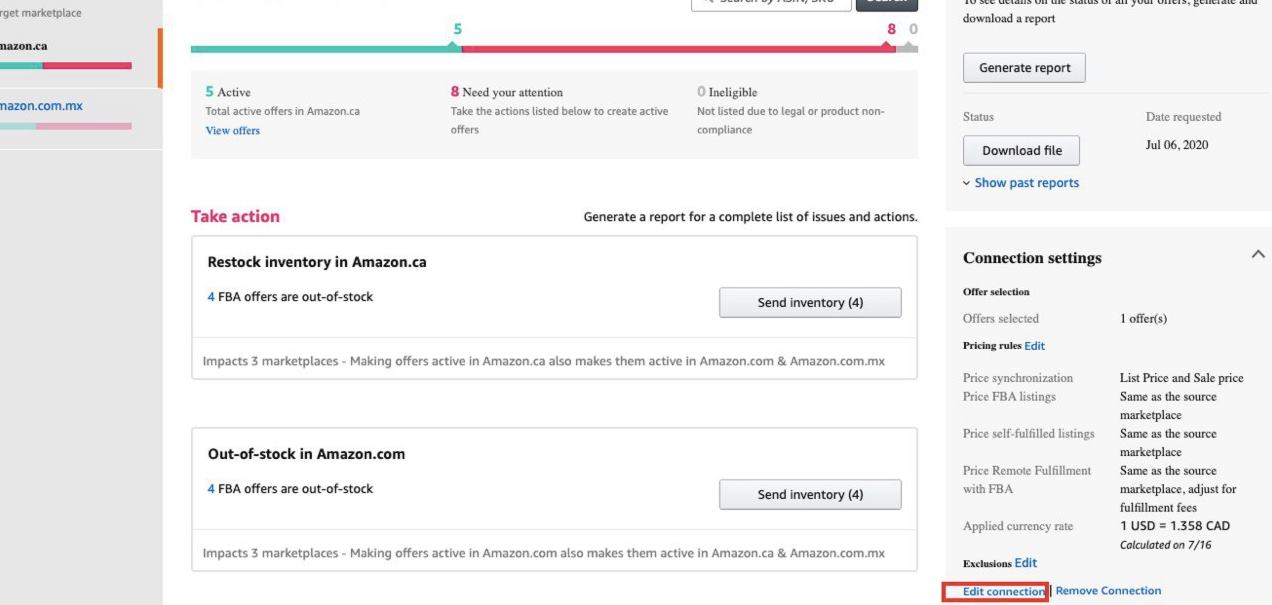 Step 4
If you see the checklist, go down and click "Get Started"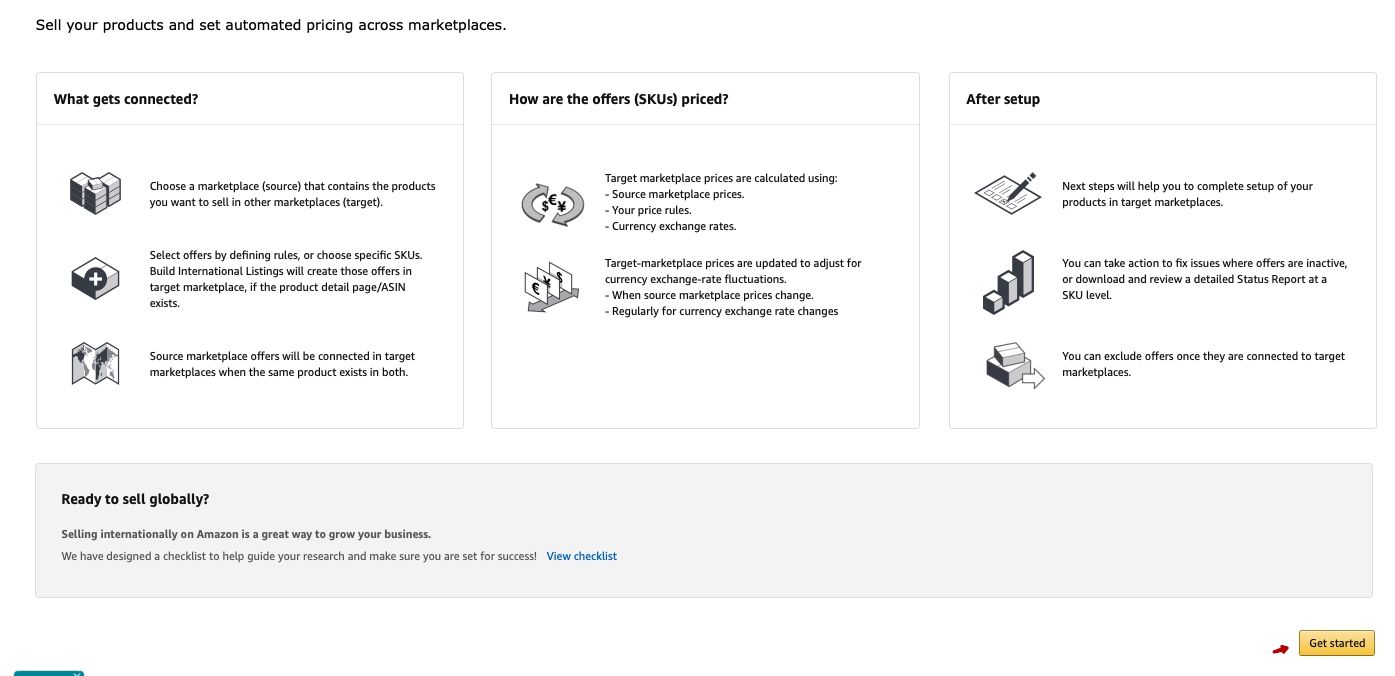 Step 5
Go through 4 steps Amazon offers you.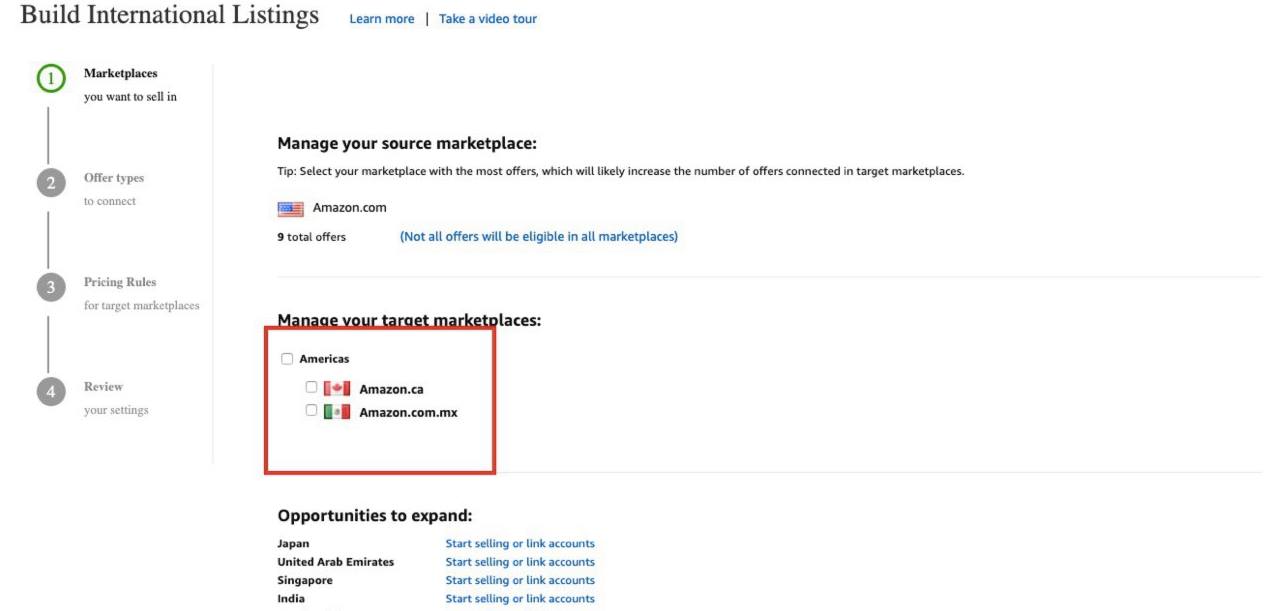 Step 6
In the "Select offer to replicate in the target marketplaces" tab, click at "Select specific offers", fill in the SKU of the listings you want to transfer to Canada and Mexico, before selecting Source and Target Market.
Step 7
Next, select "Save and continue" to the step where you are offered "Agree and create offers" (except for the cases when you need to choose separate delivery methods).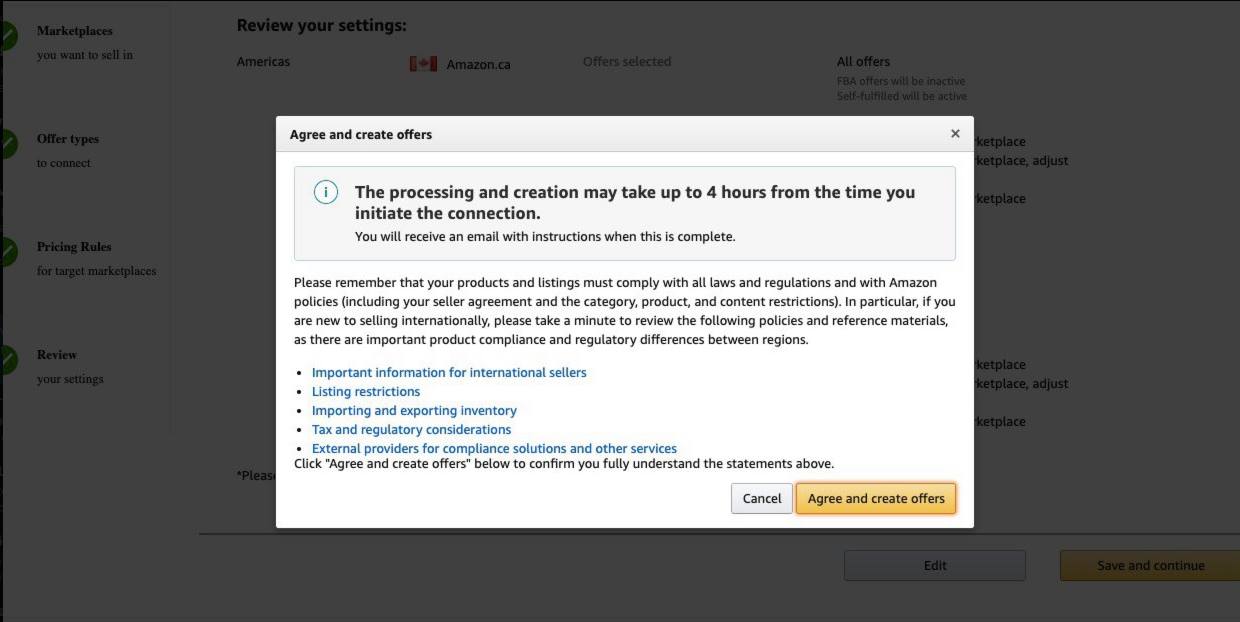 Step 8
Next, click "Manage connections" and wait for the download to end (usually up to 1 hour).
Step 9
After the download is complete, check in Manage inventory on target marketplaces to see if listings have been created.
Step 10
Copy the available product to the targeted markets and make the listings active
Step 11
In Manage Inventory, select "Remote Fulfillment with FBA" and generate a report. Then download and open it via Excel.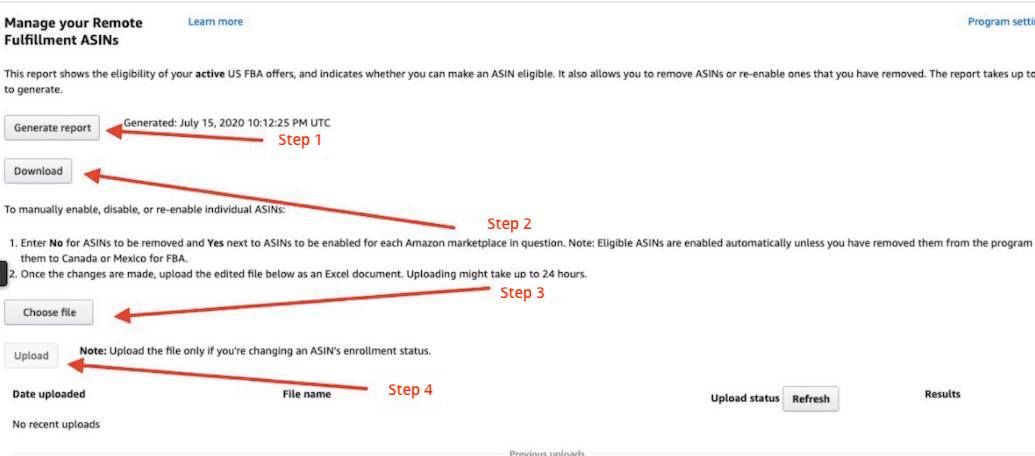 Step 12
Fill in the report in the "Enable / disable Canada (Yes / No)" tabs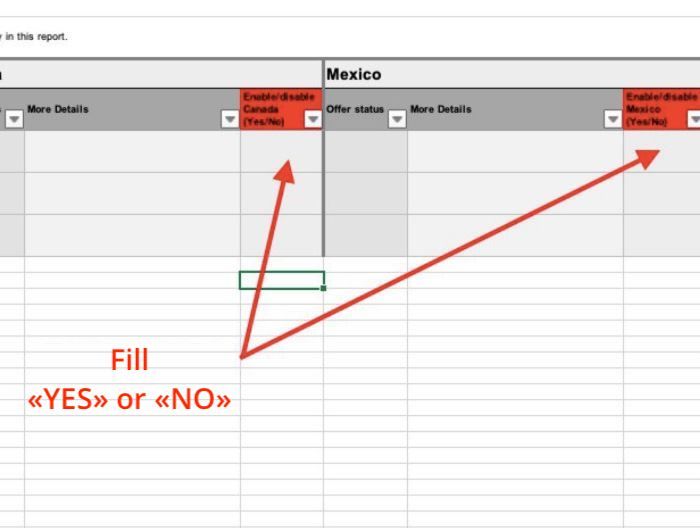 Step 13
Download on the same tab via the "Download" button;
Step 14
Wait for 20 minutes and check the stock on the targeted markets;
Step 15
Don't forget to check the report for the errors.
Now you are ready to sell internationally.