Aloha, Amazon Seller!
If you would like to increase your profit, Amazon-Shopify integration will be a good option for your business. Follow our guide and learn how Shopify works with Amazon and how to perform Shopify Amazon integration.
As you grow your business with Amazon.com, sooner or later you would start to think about the expansion of your business. There are various reasons for this. First of all, if you see growth potential in your product on the E-commerce market, which you should if your sales on Amazon are profitable, then you'd like all customers in the world to see it, increasing visibility and customer service. Secondly, the pandemic showed that using Amazon only as a sales channel might be challenging, as during 2020 some sellers have witnessed delivery delays and out-of-stock notices.
A viable solution to this is diversification of your business channels, or, in other words, multi-channel selling strategies. This is now becoming popular with a lot of sellers, considering that online sales boosted in recent years.
Selling on multiple platforms simultaneously and creating your own website stores on eBay, Walmart, Shopify, WooCommerce, Overstock, Jet, Etsy, or any other marketplace not only increases reach and brand awareness but also reduces risks. You may use any of these platforms as a service to access much more customers than if you sell on Amazon only.
However, doing so requires certain efforts, considering also, that not all selling strategies would work across all platforms. That's why you need to pre-estimate the business case before you enter any of these platforms.
What Is Shopify?
As said, Shopify is a platform that gives you software tools to set up your own store and sell your products. Basically, it's a store builder, allowing sellers to quickly launch their business and start selling to the shoppers.
Existing Amazon sellers can sell Amazon products on Shopify. Establishing Shopify Amazon FBA sales is easy due to the Shopify App Store and Shopify APIs. You can also sell on Amazon with Shopify.
What Is the Difference Between Shopify and Amazon?
If you'll start comparing the advantages and disadvantages of selling on Shopify vs Amazon FBA, this will not be exactly right, since Shopify is a specialized e-commerce platform, while Amazon is an online marketplace. Shopify provides you with the instruments to build your unique online store. Amazon, in turn, gives you the possibility to sell your products through its marketplace to one of the biggest world's customer bases, however competing with a lot of other online merchants.
Due to this difference, Shopify Amazon integration can be a good option for sellers who want to both have access to billions of Amazon shoppers and make use of advanced marketing and reporting tools offered by Amazon, and create their unique store allowing them to display their personality touch and individual style.
Pros and Cons of Sales on Shopify and Amazon
Shopify or Amazon FBA is different because they are built up as different services. Amazon is an e-commerce sales platform with vast marketing and delivery options, while Shopify is a software platform providing sellers the possibility to build up a store to sell their products.
Shopify: Pros
Easy and cheap way to build your online store;
Variety of tools and apps;
Friendly and flexible design;
You own and control your store;
Free 90-day trial.
Shopify: Cons
You'll do all marketing yourself;
Monthly fees are applied for additional apps;
No access to reports;
Transaction payments apply if you use a third-party payment provider.
Amazon: Pros
Global reach to multimillion shoppers;
Setup and start selling immediately;
Built-in customer service;
Refunds and returns tools;
Access to sales reporting;
FBA service;
Free 30-day trial with a Professional account.
Amazon: Cons
Hight competition;
Amazon Fees (15% – 40% for every sale);
Strict Amazon's rules and extensive policies;
No control over the store;
Not so many design tools.
Said that you understand, that apart from marketing edge and reporting tools, one of the substantial advantages of Amazon sales vs. Shopify is Amazon FBA. Therefore, when doing sales on Shopify, it would be a good idea to use a combination of Shopify with Amazon and do a Shopify FBA integration.
What Are the Advantages of Shopify Fulfillment by Amazon?
Shopify Amazon fulfillment gives the seller a number of advantages:
Amazon stores your products;
Amazon picks, packs, and ships your orders;
Amazon offers affordable shipping;
No recurring monthly costs, just a fulfillment fee per order;
Fast and reliable delivery;
Return and refund policy.
Pricing on Amazon and Shopify
As you know, Amazon offers two options to sellers: Individual and Professional. Under Individual Plan there are no monthly fees, but you do have to pay $0.99 for every item you sell plus a variable referral fee. The referral fees range from 10-15% of the sale amount. On top of this come shipping and FBA fees.
Shopify is a subscription-based service. There are five subscription plans available on Shopify:
Shopify Lite — $9 per month
Basic Shopify — $29 per month
Shopify — $79 per month
Advanced Shopify — $299 per month
Shopify Plus — negotiable, but usually costs around $2000 per month.
Basic Shopify allows you to sell an unlimited number of products. This is the cheapest available solution when you have a vast product range. Shopify doesn't limit the number of products or file storage.
How to Connect Shopify to Amazon Seller Account?
First, you need to have your accounts both on Amazon and on Shopify. Then you can connect them with the help of MWS keys.
Below you can find a step-by-step guide on how to connect Amazon and Shopify accounts for Amazon Shopify integration.
#1
Use the Shopify link to sign in to your Amazon Seller Central account. Perform your Shopify FBA integration.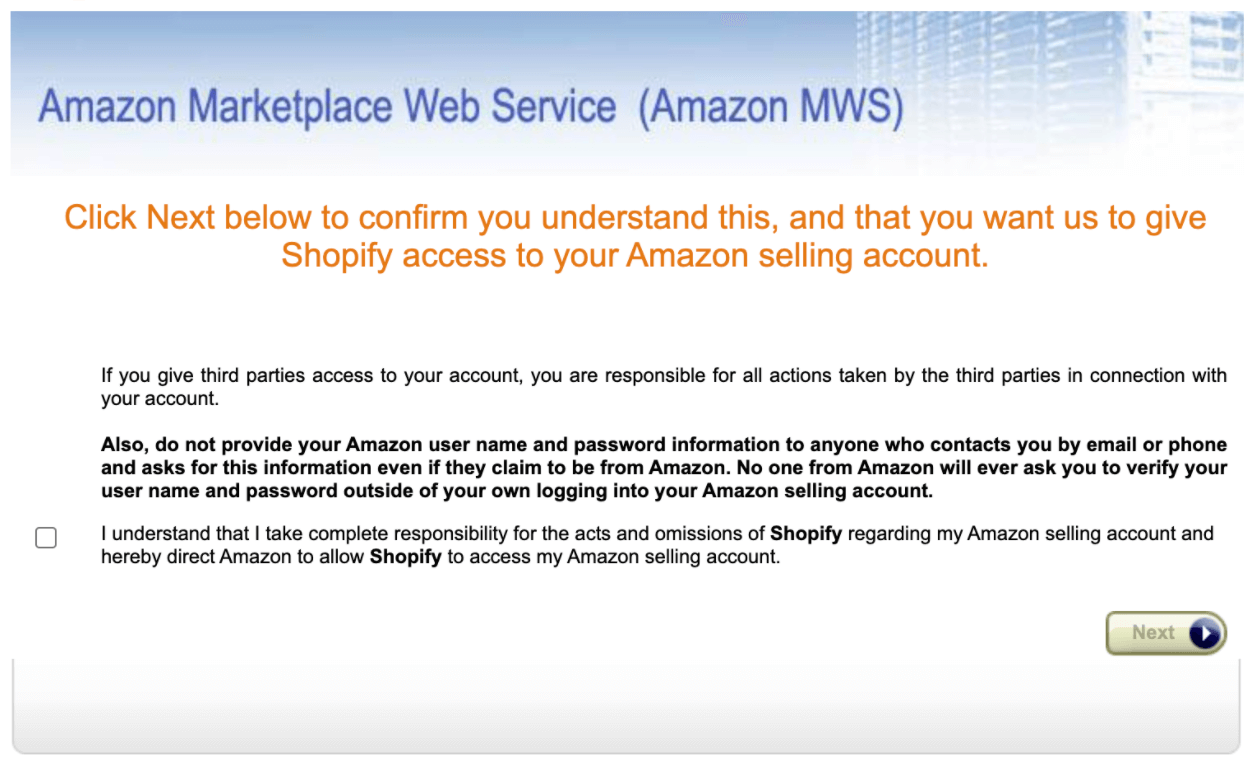 #2
Go through the terms and conditions, tick the box, and click "Next", and after the message of Amazon MWS click "Continue".

#3
You will get back to Shopify where you will need to change your shipping settings so that they match Amazon's shipping settings for the purposes of fulfillment.
Navigate to the "Shipping" section in the Shopify shipping settings, and click on "Manage Rates."
You need to input the shipping rates in accordance with those you have on Amazon, one of the following: Standard Shipping; Two-Day Shipping, or One-Day Shipping, and add the rates according to Amazon's Fulfillment fees for Multi-Channel Fulfillment orders. Navigate to the bottom of the page and click "Save."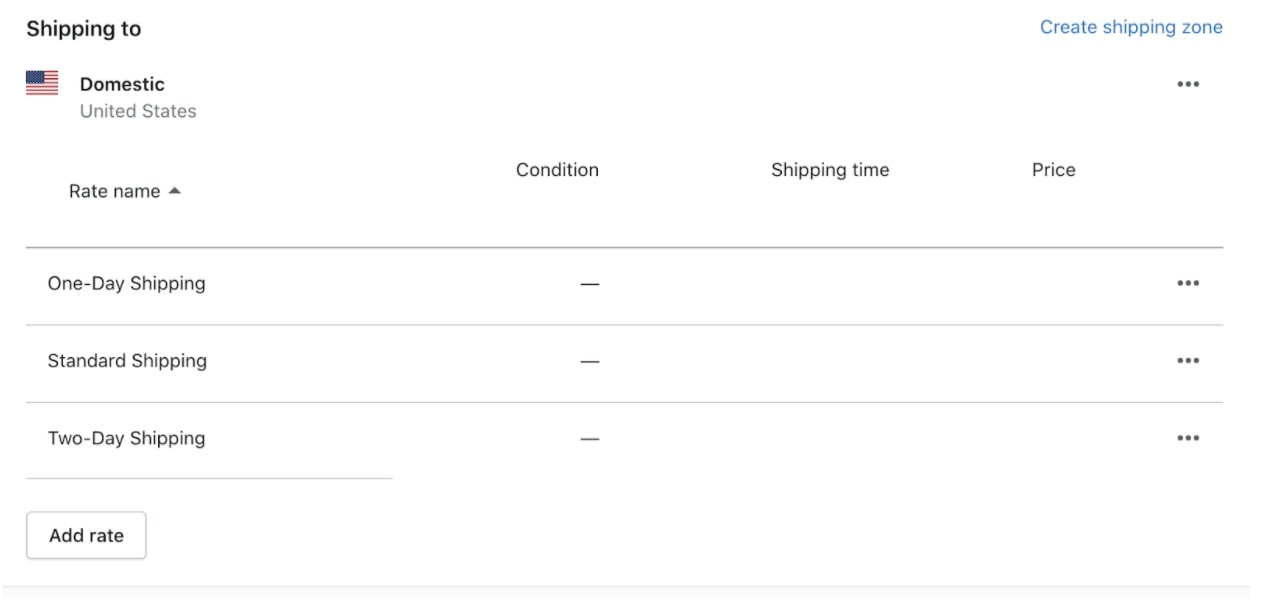 #4
Set up your Shopify FBA products for Amazon Fulfillment. To enter a product in Shopify, navigate the "Inventory" section on the "Add a Product" page. In a drop-down menu go to "Inventory managed by" and select "Amazon Marketplace Web."
You need to ensure that the product SKU in Shopify matches the product SKU on Amazon.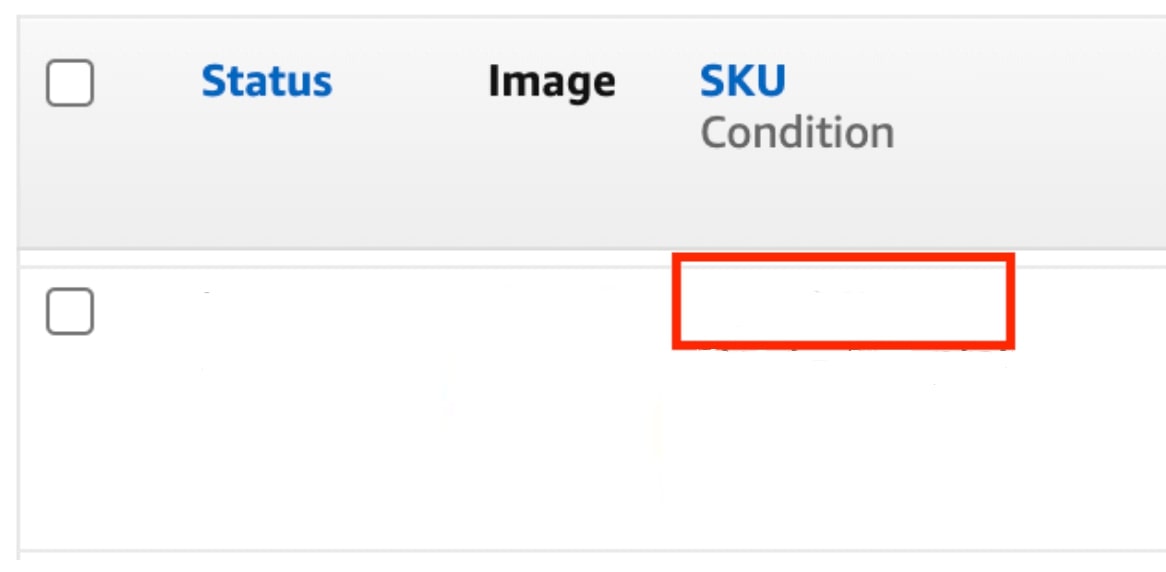 In Seller Central, go to the "Inventory" tab > "Manage Inventory" And copy the 10-digit number in the SKU section. Paste the into Shopify "Inventory" section under "SKU (Stock Keeping Unit)."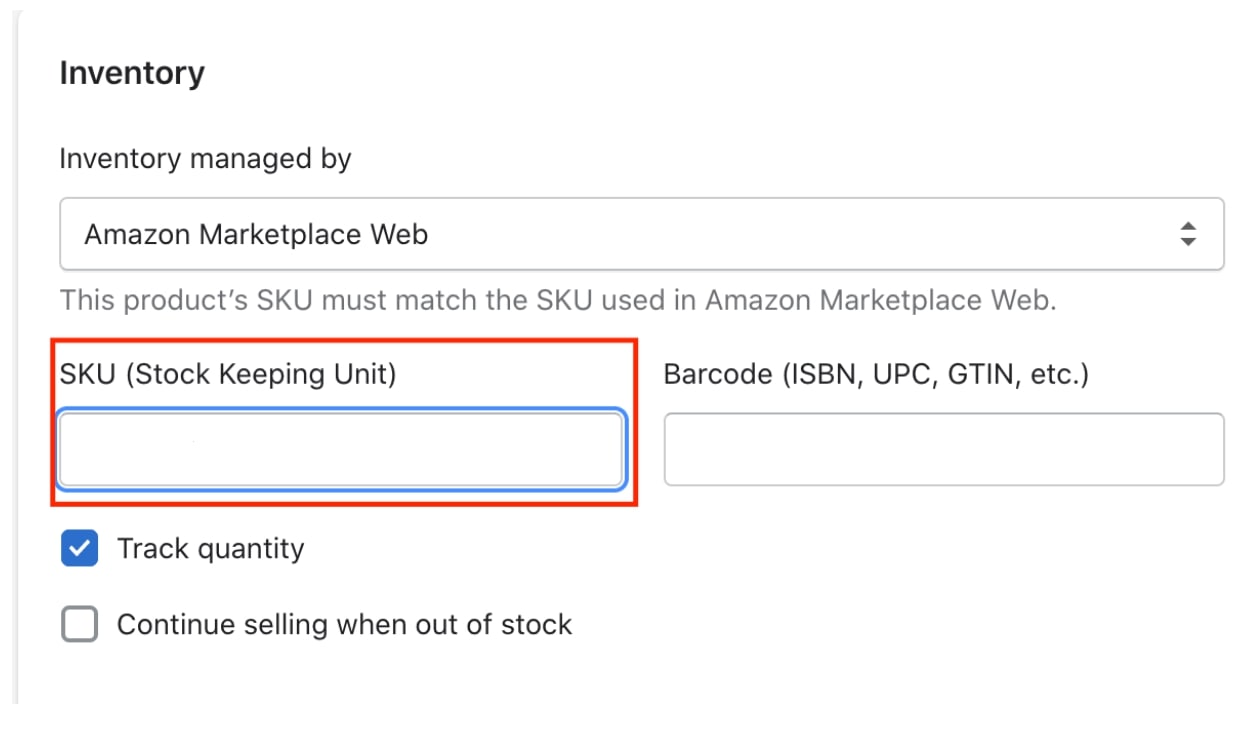 Once done, add the weight of your Amazon product into Shopify. At the bottom of the page click "Save".
#5
Configure Shopify FBA products for Fulfillment by Amazon
From your Shopify menu, go to Products > All products;
Click the name of the product for fulfillment;
In the Shipping section, select "Amazon Marketplace Web" from the "Fulfillment service" drop-down menu;
In the "Inventory" section, chose "Amazon Marketplace Web tracks this variant's inventory" from the "Inventory policy" drop-down menu;
Check the weight and SKU figures;
Click "Save."
How to Fulfill Orders in Shopify?
After you've entered shipping settings and set up the configuration of your Shopify products, you need to request in Shopify that Amazon fulfill your orders.
Here's how you do it.
#1: From your Shopify menu, navigate to "Orders".
#2: From the "Orders" page, click the order number.
#3: In the "Order Details" section, click "Start fulfilling" to open the order's Fulfillment page.
#4: You'll see the shipping speed the customer chose. Enter their selected shipping method (standard, expedited, priority.)
#5: Select "Mark as fulfilled".
#6: Click "Fulfill items" to mark the order as fulfilled.
Once done, you can check the order status in the "Orders" section. First, it is marked as "Pending Fulfillment", and when Amazon accepts it, the status will change to "Fulfilled".