Millions of products are sold on Amazon, and all sellers use ads to make their products stand out. Some do it successfully, while others spend money on ads that don't grow their sales much. Why does that happen?
Majorly the reason behind this is not the ad itself. The ads just promote products on Amazon for money. Period. If the ad doesn't grow your sales, that means it is not created, structured, or targeted right. In other words, you've applied the wrong ad strategy.
Amazon offers sellers advanced marketing and advertising tools. If used properly, they help create brand loyalty, target shoppers in specific niches, grow conversions and retarget and retain customers.
Amazon ads are built on PPC (Pay-Per-Click) principle. That means you pay when your shoppers click an ad. The trick is to deliver the right ads to the right buyers and match them. However, proper targeting is not enough for a good ad. It should be profitable as well. If you bid on highly relevant and expensive keywords to reach a few customers, most likely, you'll lose money.
To create targeted ads, you need to choose the right type of PPC campaign and bid on the keywords you researched. This is because you bid on keywords in certain types of Amazon ads.
You need to develop the right Amazon advertising strategy to create profitable ads. It should set goals you want to achieve with your PPC campaigns and tell you how much money it will cost you for an efficient result.
A PPC strategy is something you must create individually. There's no one-size-fits-all advertising strategy. Moreover, specific products may require individual strategies. You can't just go out and copy and paste your competitor's PPC strategies for a similar product. This is because you don't know what they want to achieve with it.
A good strategy should answer two questions - "why did you launch a PPC campaign" and 'is it worth the money invested?' In other words, it should be tailor-made for each case. In addition, you need to modify ad campaigns over time if they don't perform as you expected. That's what you do with PPC management.
This post will tell you how to create a PPC strategy, give you ad campaign tips, and explain how you can set up a profitable campaign with PPC management.
What is Amazon PPC Strategy?
A PPC strategy is a turnkey solution for running PPC campaigns on Amazon. It should include defining specific goals, methods to achieve them, profitability calculation, roadmap, and result measurement.
PPC strategy components
campaign goal;
target KPIs;
campaign structure;
budget and profitability calculation;
campaign benchmarks;
reporting points and optimization methods.
How Does Advertising on Amazon Work?
Amazon uses a PPC (pay-per-click) method for most of its ads. Amazon PPC advertising platform helps grow sales by showcasing products in related searches. Sellers will pay a fee (bid) each time a potential buyer clicks an ad and views the product. This way, the advertiser only purchases the ads that reach the shopper.
These ads apply different targeting methods. The approach depends on what triggers the ad – keywords, product, or audience interests.
Keyword-targeted ads
Keyword-targeted Amazon campaigns use an auction-like principle. The advertiser who wants to place the ad bids on keywords relevant to their product. The one with the highest bid wins a given keyword.
That means their ad will showcase when a shopper searches for an item on Amazon and enters a search query that matches the keyword or keyword phrase the advertiser has won as a result of the bidding. In other words, these ads are keyword-triggered.
Product-targeted ads
Product-targeted ads creatives are shown to the shoppers when they navigate to a specific product page. These ads help target the items that complement your products, e.g., toothbrush and toothpaste. It's also one of the ways to target your competitor listings. These ads are product-triggered.
Interest-targeted ads
Interest-targeted ads showcase when buyers visit product pages offering products related to yours. If you sell a gaming keyboard, it may appear when a shopper searches for a mouse. These ads are interest-triggered.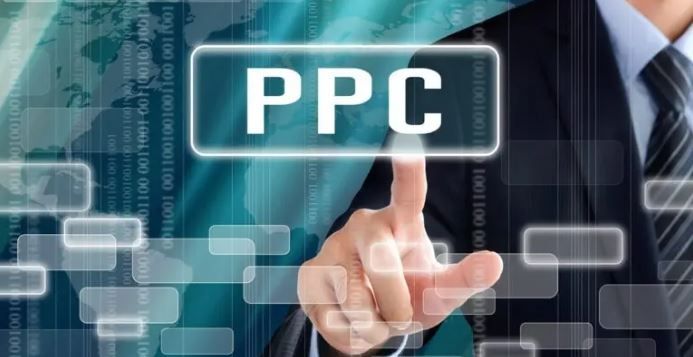 Amazon Ad Types
Amazon offers many advertising options that allow advertising goods on and off the platform. You should apply those that match your targets and strategy.
Amazon ad types
Sponsored Product ads;
Sponsored Brand ads;
Sponsored Display ads;
Video ads:
Audio ads;
Amazon stores;
Amazon native ads.
How to Create a PPC Strategy for Amazon?
When you create a strategy for your PPC campaign, start with understanding your goals. Ad strategy should help you reach your targets. At the same time, you should be savvy and not overspend on ads. You should also understand what type of customers you target.
For example, if your target is to promote a brand or a product bundle, use Sponsored Brand ads. On the other hand, if you resell an existing popular product as a wholesale seller, you don't need to spend much on advertisements because someone has already invested in product marketing before you. Thus you don't need a big advertising budget.
Creating your Amazon PPC strategy step by step

Step 1. Outline your campaign targets
Typical ad campaign targets
awareness;
consideration;
purchase;
loyalty.
Step 2. Choose the exact items you want to advertise
Typical products to promote
high-margin products;
products that don't compete with Amazon as a seller;
items with good selling potential.
Step 3. Select from the type of ads you want to run
Sponsored Products:
 - Automatic targeting - keyword match types: close match, loose match,          substitutes, complements;
 - Manual targeting – target manually selected keywords;
Sponsored Brands;
Product Display Ads;
Video ads;
Amazon store;
Amazon native ads.
Step 4. Calculate your target ACoS and bid
Calculate your ASoS. ACoS is Advertising Cost of Sales. It shows the profitability of your ads.
ACoS formula:

Set a target ACoS to keep your ad spend at a profitable level.
Once done, calculate the default bid amount you're going to spend on keywords.
Default bid formula:
Set your daily ad budget.
Daily ad budget formula:

Step 5. Set up your campaign
Campaign parameters:
Ad campaign name;
Daily budget;
Campaign time frame;
Targeting type: automatic or manual.
For a manual campaign, set:
 - ad name, products, and bid;
 - choose keywords and keyword groups.

Step 6. Launch your ad campaign
start running the ad campaign;
monitor your campaign metrics and optimize bids.
Tips for Creating PPC Strategy

do keyword research before launching a PPC campaign;
A/B test all types of ads, with automatic and manual keyword targeting, and select the most profitable;
don't spend too much money from the start; let it run for some time to see the result;
run each campaign for two weeks before modifying (it'll give you sufficient data for analysis);
wait until each keyword gets at least 10 clicks before changing a bid;
use running reports to analyze and modify keywords;
optimize your product listing before launching ad campaigns;
use separate ad groups for each keyword match type in ad campaigns (broad match, phrase match, exact match, broad match modified);
exclude irrelevant matches of negative search terms;
regularly monitor ads profitability and ACoS;
delete wasteful bids.
PPC Strategy and PPC Management
PPC management optimizes, adjusts, and handles your PPC strategy. Its goal is to increase your ads' return on Investment (ROI). PPC management helps evaluate, analyze, and make the most of your PPC ad spend. That involves creating and adjusting PPC strategies to make your ad spend work most efficiently.
You can either do it yourself or ask a professional Amazon advertising agency to do it.
What does PPC management do?
With PPC management, you can either create a profitable ad strategy tailor-made for your product or make audit of your existing PPC strategy and improve its profitability.
PPC management involves:
PPC strategy creation or audit;
keyword analysis;
channel strategy development;
constant campaign monitoring;
competitor analysis.
A/B testing.
How to Handle PPC Management?
There are two ways to do it – your marketing team or yourself can do it, or you can outsource the service. Asking professionals to do it for you may be a good idea because they have knowledge and experience you may not have.
How Can Outsourced PPC Management Help with Your Ad Strategy?
PPC management agencies offer various PPC services. They can set up, manage and optimize your amazon PPC campaigns.
How can IGppc help you with PPC management?
When you've decided to grow your business, you need to do it right now and not after a few months of research. IGpps is one of the best amazon advertising agencies that will not keep telling you it "takes time" to see results. For that reason, their happy customers rate them very high.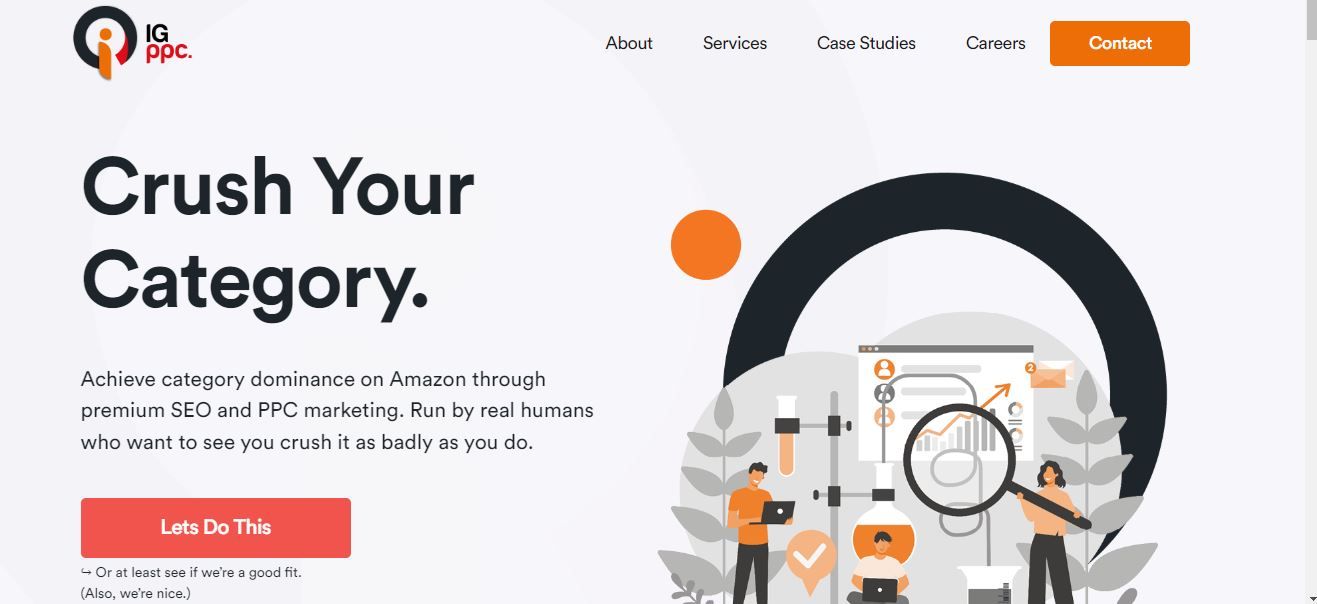 What will IGppc do for you?

intense research -  evaluation of your brand or products market, specific competitors, and, most importantly, Amazon keywords;
custom crafting your strategy and ad campaigns to meet your needs and KPIs;
campaign setup and management - your personal expert account manager will manually set up your campaigns with the greatest care and attention to detail to ensure maximum ROI and increased conversions;
growth tracking — professionals will manually optimize your account weekly to eliminate wasted expenditures, drive more sales, and decrease ad spend;
reporting – you'll get a complete picture of all results and metrics in monthly, in-depth reports, including the progression and effectiveness of your Amazon PPC campaigns.
If you want to grow your business with cost-effective and profitable ads, IGppc is here for you. Outpace the competition with IGppc asap.
Contact IG PPC now for the best PPC management, and you'll get a free PPC audit right now!