Over the past years, the population of third-party merchants has grown exponentially. Amazon now has almost 2 million selling partners worldwide from a couple of thousand sellers when it first opened its platform for online sellers.
As the number of Amazon sellers increases, marketplace competition likewise intensifies. To outperform the competition, Amazon sellers focus on improving their pricing strategy with the help of an Amazon repricer, like Seller Snap.
What is an Amazon Repricer?
If you are new to Amazon, an Amazon repricer or repricing software is a tool that helps sellers adjust their listing prices. When it comes to automated repricing, Seller Snap is the go-to Amazon repricer by Amazon sellers.
Seller Snap is known in the eCommerce industry for its advanced algorithmic repricing. It is not your ordinary repricing software, for it offers a more sophisticated approach to repricing through its AI-powered Game Theory repricing solution.
Unlike conventional repricers focusing on achieving the lowest price for a listing, Seller Snap considers various factors. As an AI Game Theory repricer, it takes a cooperative approach to win the Amazon Buy Box at the highest possible price.
Achieve a Competitive Advantage With These Seller Snap Features
Seller Snap has been well-received by Amazon sellers worldwide. With its advanced features, Seller Snap continues to help online sellers optimize their listing prices for better sales and revenue.
Here are some of the main features Seller Snap offers to Amazon sellers that help them take their Amazon business to new heights.
AI-Powered Repricer
Seller Snap stands out among its competitors because of its AI repricing technology based on Game Theory principles.
Seller Snap's AI-Game Theory repricing is a powerful repricing tool that seeks the optimal pricing strategy for each Amazon listing. The AI repricer collects pricing and competition data directly from Amazon.
The repricing software analyzes price notifications, competitor price changes, and overall market conditions to predict each relevant competitor's pricing behavior.  After data evaluation, Seller Snap's AI-Game Theory repricing will automatically apply the best strategy for each situation.
You just need to activate the AI Setting, and the software will automatically apply the optimal strategy for maximum profit. You can check the video presentation below to better understand how Seller Snap's AI Game Theory Repricing works.
Custom Repricing Strategies
Apart from AI repricing, Seller Snap also offers custom repricing strategies. It is an outstanding feature for sellers who want to take control of their repricing strategies. Some of the pre-built pricing strategies on Seller Snap include:
Win Buy Box
AI Repricer
Fixed price
Follow Buy Box
Follow Competitor
Follow Lowest Competitor
The software also provides customizable repricing conditions besides the predefined custom strategies. These repricing conditions can further enhance your custom repricing approach.
Some of the conditions available on Seller Snap for creating a custom repricing strategy include the following:
If Competitor Exists: This condition can be used to have the repricer change strategy if a specific competitor is on a listing.
No Purchase: This condition applies if there has been no purchase in the last X hours. The software will set the price to the previous purchase price.
If Fulfillable Quantity: This custom repricing preset changes the repricing settings if inventory falls below a certain level to raise margins and keep the item in stock.
Seller Analytics
Seller Snap also features Seller Analytics which helps sellers improve their decision-making by providing important metrics based on real-time data. Some of the information the Seller Snap Analytics dashboard provides includes:
Buy Box Share
Current Buy Box Price
Revenue, Profit, Sales Velocity
FBA, FBM & SFP competitors
Inventory Level Data
Advertising Data
Integrations & Compatibility
Seller Snap recognizes the fact that utilizing multiple Amazon seller tools can help develop a successful business. With that in mind, Seller Snap offers integration with other Amazon seller tools.
The AI repricing software is compatible with other leading seller tools in the market, including InventoryLab, SkuVault, Sellercloud, and EZ Cloud. Such integration and compatibility allow users to streamline their business processes for increased competitive advantage.
Here's Why You Should Use Seller Snap Today
Repricing Made Easy
The number one benefit of using Seller Snap is that repricing is made much easier and more convenient through its advanced and reliable features.  The AI algorithmic repricer based on Game Theory principles provides the best strategy for each listing, which helps maximize your profit.
Precise Repricing
Amazon allows third-party software for 30 repricing feeds every hour, and Seller Snap can reprice as fast as every two minutes. However, price adjustments are still based on strategic price decisions and may vary depending on the situation for each listing. Thus, obtaining the most competitive price for a particular scenario.
Technology Advancements
Seller Snap's product and development team consistently find ways to improve software performance. Updates are regularly introduced to maintain software efficiency and quickly address seller concerns regarding software interface and features.
Dependable Customer Support
Seller Snap has its own customer support team that is well-trained and capable of handling your repricing software-related inquiries. Seller Snap's in-house customer success team can assist you with any of your software or business-related concerns.
Multiple Integrations
Not only does Seller Snap update its software to stay relevant and efficient, but it also allows software integration. The company's progressive outlook allows software compatibility with other trusted Amazon seller tools to help Amazon sellers streamline their business processes.
Reasonable Price Point
With Seller Snap offering advanced repricing technology coupled with sophisticated features such as seller analytics, custom repricing strategies & conditions, and software integration capability, one would assume that the software is expensive.
In reality, Seller Snap is reasonably priced, with its Accelerator Program starting at $250 per month. Besides the Accelerator Program, Amazon sellers can also select other monthly plans such as Standard, Premium, or Unlimited.
Each monthly plan offered by Seller Snap is tailored to cater to business owners of different levels. Whether you are still growing your business or already managing more than 30,000 listings, you can utilize Seller Snap to fit your business goals.
Why Use Seller Snap for Amazon Repricing? | First-Hand  User Experience
Seller Snap scans the competitive environment to understand competitors' behavior. Instead of simply undercutting the competitor until a listing reaches the lowest price point, the AI repricer analyzes multiple factors when implementing price changes.
Seller Snap takes into consideration not just the Buy Box share but also your profit margin. The repricer helps you avoid unnecessary price wars on Amazon to keep your profit margin healthy.
There have been case studies and user reviews about Seller Snap. Some of the highlights of these testimonies were Seller Snap's capability to provide Amazon sellers peace of mind regarding their price management strategy, the time they save, and expert customer support.
As one of the users expressed, using Seller Snap means "set it and forget it." The software will automate the repricing process for you. There is no need to constantly check the repricer, especially with its AI Repricer setting activated.
As commented by another user, Seller Snap is not just a "...machine that follows commands… it is a "repricer with a brain." The AI repricing solution Seller Snap offers will make your Amazon venture more manageable than ever.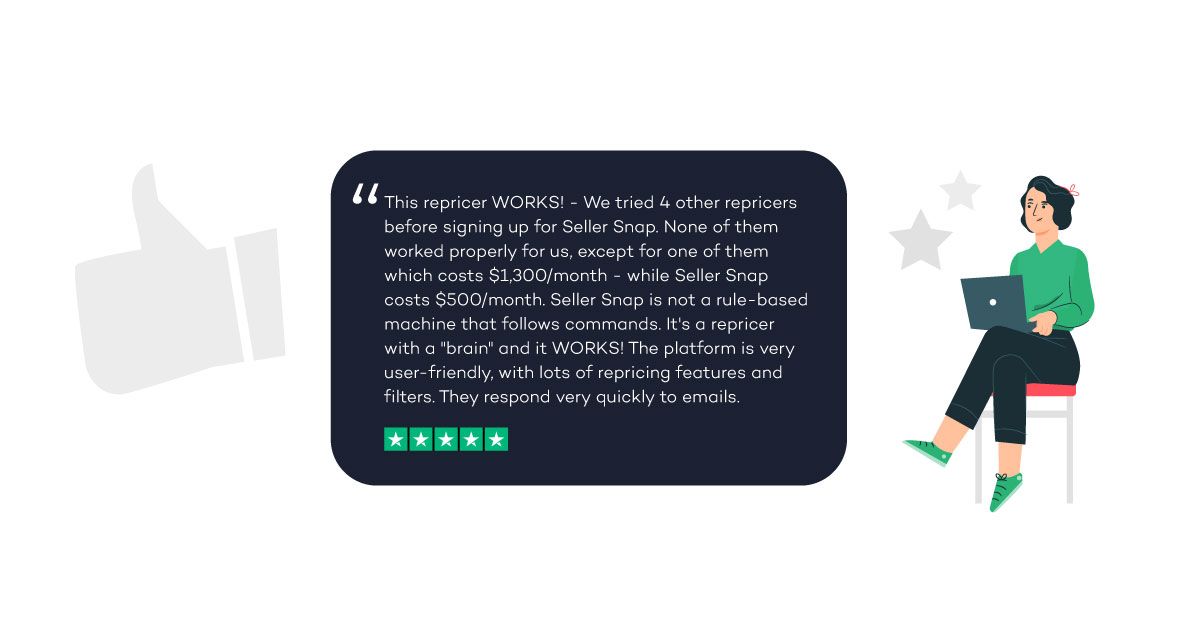 Seller Snap will not only help you make your work easier, but it can also help you make intelligent decisions and develop effective pricing strategies to maximize your Amazon business' profitability.
Get ahead of your Amazon competitions today, and enjoy a 15-Day Free Trial of this advanced repricing software. Contact Seller Snap Today!