Aloha, Amazon Seller!
Sellers have many choices as to where they can sell their products online. But how to choose the best? Learn the main differences between eBay and Amazon and choose one.
For today's online retail business, there are a lot of options to set up sales of their product. The popularity of e-commerce grows tremendously, and apart from the oldest players of the online trade market, eBay and Amazon, you have a lot of other platforms, like Walmart, Shopify, AliExpress, Etsy, etc., each of them having its own loyal shoppers.
Depending on a type of product and their sales strategy, merchants can either select to sell on one of the platforms or diversify their trade, which can be a business's added value if the sales volumes are substantial.
Historically, Amazon.com and eBay are the two oldest, biggest, and most reputable e-commerce marketplaces. And though the nature of their business is the same – both platforms give shoppers the opportunity to search for and buy listed products online, there are a lot of differences between them in terms of business models, pricing, and services offered.
The key differences between the platforms relate to their business models - Amazon applies fixed prices for the goods sold whereas eBay allows for an auction principle. On top of that, eBay hosts only third-party sellers' products, while Amazon combines its own retail sales with that of the third parties. Therefore, Amazon is rather a buyer-orientated platform, and eBay is more focused on sellers.
In this blog, we're going to discuss which is better - Amazon or eBay, and the difference between eBay and Amazon.
What Are Amazon and eBay?
Amazon eBay U.S.A. are both e-commerce companies offering services to online shoppers and sellers. Shoppers can buy, and merchants can sell products on the marketplaces.
Amazon and eBay were both established in the mid-1990s. Amazon (Amazon.com, Inc.) is the largest, in terms of revenue and market capitalization, e-commerce platform headquartered in Seattle. It was founded by Jeff Bezos in 1994 as an online bookstore, and over time evolved into a huge international platform with 20 marketplaces.
eBay (eBay Inc.) is an American company providing services of (mainly) online auctions and online stores. It was founded in 1995. eBay.com website and its localized versions in several countries were owned by eBay Enterprise but afterward were sold in 2015 to Sterling Partners and Premiera Funds.
What Are the Differences Between eBay and Amazon?
The most essential differences between eBay vs Amazon lie in their business models, pricing strategies, fulfillment methods, and range of services offered.
Difference in Business Models
eBay
eBay's peculiarity is that it provides an auction-type online marketplace for third-party sellers and shoppers to trade products listed on there. Shoppers search products on eBay's website and then bid on these products through individual auctions. eBay also applies fixed pricing for products.
In an auction model, eBay's customer who wants to buy certain product listed on eBay, auctions for an item for three, five, seven, or 10-days, and the shopper who places the highest bid wins the product when the period expires. Some products listed on eBay have a "buy it now" option – with this option buyers can acquire a product immediately.
Amazon
Unlike eBay, Amazon is a direct supplier of products that shoppers, making a search on Amazon's website, buy from the inventory available in Amazon's warehouses. On the marketplace, buyers can shop both Amazon's products or those from third-party sellers, which are making around half of Amazon sales.
Amazon's business model is based on retail sales at fixed prices on all products. To sell a product that doesn't exist on Amazon, sellers need to create a new listing. Otherwise, if a product already exists on Amazon, sellers can list identical products under the same listing with different price options.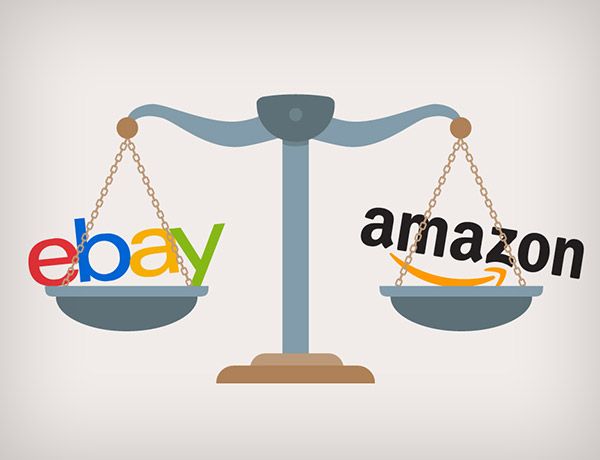 The difference in Pricing Strategies
Since eBay's business model is based on attracting third-party sellers who generate profit for the platform, eBay is a seller-oriented service, while Amazon is more focused on generating sales volumes and targets buyers. Amazon positions itself as a customer-centric service.
When you compare eBay and Amazon prices for sellers, generally speaking, Amazon charges are lower.
Fees Charged to eBay's Sellers
eBay charges sellers two types of fees: an insertion fee and a final value fee.
Insertion fee
Sellers are granted up to 200 free listings every month. eBay store owners may be granted more. When a seller lists more than 200 products, they are charged an insertion fee per listing in each category. These fees aren't refundable in case if the product doesn't sell. The account owner receives one fee credit for every auction-type listing for which they've paid an insertion fee on if the product is sold.
Final value fee
If the product is purchased, eBay charges merchants a final value fee. The value of the fee is paid on a per-item basis and depends on the total sales price. The total sale amount includes shipping and other additional fees.
Additional charges
eBay can also charge advanced listing upgrade fees if a seller adds advanced listing upgrades – those not included in basic listing or insertion fees.
Supplemental service fees can be anything ranging from eBay's site shipping labels to refund reimbursements to eBay.
Fees Charged to Amazon Sellers
Amazon offers two types of account fees depending on your choice – Individual and Professional Account subscription plans.
Amazon Professional Account
This plan is good for you if you sell more than 40 items each month. Under this plan, a subscription fee is $39.99 per month. Also, Amazon charges referral fees. This plan allows getting access to a lot of tools and programs, like Amazon Sponsored Products ads, Amazon reporting tools, etc.
If you select Amazon's Fulfillment by Amazon (FBA) method, whereby Amazon picks, packs, and ships your orders, extra FBA fees apply.
Amazon Individual Account
This plan is good for those who sell less than 40 items each month. Under this plan, you don't need to pay a subscription fee. Also, Amazon charges referral fees. If you select an FBA fulfillment, extra FBA fees apply.
Fulfillment methods on eBay vs Amazon
eBay
When it comes to fulfillment, there's not so much choice you have on eBay. This platform doesn't pack and ship orders, therefore you need to do it yourself or hire a 3PL - third-party logistics company.
Amazon
Amazon offers several fulfillment options, the most popular of them being Fulfillment by Merchant (FBM), in which sellers fulfill orders themselves, and Fulfillment by Amazon (FBA), in which Amazon takes care of picking, packing, and shipping of sellers' orders. In this respect, Amazon is much more advanced. However, FBA services come with a fee.
Additional Services Amazon eBay U.S.A.
Selling on Amazon vs eBay has one more essential advantage. Amazon offers a variety of additional services both for buyers and for sellers. Amazon Prime has a lot of benefits, however, comes with an annual fee. With its membership program, Amazon offers fast and free service to buyers, access to digital media, unlimited photo storage, advanced refund and return policy, etc.
To the sellers, it offers advanced marketing, advertisement, and reporting tools available in their Seller Central account under a professional subscription plan.
eBay or Amazon - How to Make a Choice?
There are several criteria when you select Amazon or eBay to sell. You need to look at which platform customers trust more, at Amazon vs eBay - which is safer, at the list of restricted items, and where it's easier to sell.
You can also sell on both platforms to diversify your channels.

What Do Shoppers Trust More - Amazon or eBay?
Both platforms are in the market since the mid-1990s and have massive international operations. Both have loyal customers. However, when it comes to consumer trust, Amazon seems to win the game. According to stats, 71% of consumers shopped on Amazon in 2021.
There are a lot of reasons behind this, one of them being Amazon's advanced refund and return policy and A-Z Guarantee. eBay's policy is far more complicated, and if a shopper doesn't like a product, they are often left with no recourse despite they tick eBay's 'No Returns' box.
Also, Amazon has an extensive system of ratings, reviews, and badges prompting shoppers what product is the best choice, like Amazon's Best Seller, Amazon's Choice, etc.
Restricted Category Products on eBay and Amazon
When it comes to categories restricted on Amazon and eBay, eBay has fewer restrictions compared to Amazon. Amazon has 40 categories, of which 23 are unrestricted, and 12 require approval to sell. Five more categories have certain restrictions depending on the type of item. Some categories are season-restricted. On eBay, there are lists of restricted products, which are not as vast as Amazon's.
Where Is It Easier to Sell - on Amazon or eBay?
On eBay, listing products is much quicker and easier than on Amazon. Also, the payment procedure is much more straightforward, since on eBay money paid by the buyer is transferred directly into the seller's PayPal account.
A listing process on Amazon is more complicated and time-consuming. When it comes to payments, Amazon collects payments for sellers and can hold them for 14 days or more, before transferring to the merchant's bank account.
Where Is It Safer to Buy – Amazon or eBay?
As said, shoppers trust Amazon more. Also, on eBay unique, or unusual items are sold alongside used and cheap products. On Amazon, there are a lot of quality popular items, however, shoppers can find used items there as well.
Pros and Cons of Amazon and eBay
Amazon
Рrоs
Lower Fees;
More buyers' trust;
Private Label focus;
More fulfillment options.
Cons
More restricted categories;
80+ FBA Fees;
More complicated listing process;
Higher competition.
eBay
Рrоs
Lower competition;
Fewer category restrictions;
Easier listing process;
Straightforward payment system.
Cons
Narrower customer base;
Less buyer trust;
No fulfillment services;
Higher fees.
When choosing a platform to sell on, look at the pros and cons, and select the one matching your product best.
Enjoy your sales and don't forget about your product's profitability and KPIs, it's very important to keep track of them as they show your account health. To do the analysis easily, you can use Business Analytics Seller tools, like SelleRise. With this tool, you can keep track of your sales, costs, and profits and see where you can optimize them. Also, you can see sales and profit dynamics showing you how healthy is your business.