Running high converting, low ACOS ad campaigns is a nagging issue for every seller utilizing Amazon PPC. Amazon is becoming excessively pay-to-play and aggressive bidding is now mandatory to stay in the competition, especially in the uber-competitive categories.
Amidst the cutthroat competition, how can you maintain your campaign profitability? How can you achieve a lean ACOS without compromising your ad positioning and visibility?
Amazon PPC experts at eStore Factory have outlined some useful tips and proven techniques that will help you reduce your advertising ACOS.
What is Amazon ACOS?
Amazon ACOS (Advertising Cost of Sale) shows how much money you spend on advertising versus sales you received for a given product.
Your ACOS is a principal metric in determining the profitability of your ad campaigns.
ACOS = total ad spend / total ad sales x 100
Determining ACOS goals

Before you learn ACOS optimization, it is essential to establish your ACOS goals. It's almost impossible to fixate on a magic ACOS number that works for all brands. Your ideal ACOS depends on your campaign goal, product type and the niche you are selling in. Sellers strive for a low ACOS unless they are working on a specific launch, awareness, or sell-out campaign strategy.
Your ads can be profitable when your advertising spend is lower than your profit margin. Profit margin is the amount left after deducting FBA fees, production expenses, employee salaries, etc. Knowing about your profit margin can help you make an informed decision about how much you can afford to spend on advertising while still maintaining a decent profit.
To determine your ACOS benchmark, you will first have to calculate your profit margin and then work backward to get your ideal ACOS.
It is important to note that your ideal ACOS should not sacrifice your campaign visibility. Let's say your ACOS is 2%. It means you've just spent $2 for $100 worth of sales. While it looks desirable, what if you spent $2 for the whole month? Your ads might be profitable but you are missing out on a lot of visibility and sales.
Ideal ACOS for most brands selling on Amazon is between 15-25% but remember that it changes with your advertising goals, the product you are selling and the category you are selling in.
How to reduce Amazon ACOS?
#1: Begin with comprehensive keyword research
If you are thorough with the groundwork, it'll be easier to reach your advertising goals. It's tempting to assume that your campaign is brimming with all the relevant keywords and converting search terms but this assumption can limit your campaign's potential.
Before creating campaigns, conduct in-depth keyword research from popular keyword tools like Merchant Words and Helium10 to ensure better performance.  
#2: Use the correct match type
Split your keywords in broad, phrase and exact match types to attract the right traffic and maximize the ROI of your campaigns.
To avoid missing out on potential sales and expand their reach, advertisers use broad match type. While it opens the floodgate to traffic, it does not always bring qualified visitors to your listing. Excessive use of broad match type can increase wasted spend.
A good strategy can be to use all three match types and fine-tune bids using the Search Term report.
#3: Explore what works the best for your products
Utilize all available campaign types, targeting options and placement choices. You need to find a placement, untapped keyword, or targeting option where competitor bids are lower and conversions higher.
#4: Fix your Sponsored Display targeting techniques
If you have high ACOS, Sponsored Display campaigns try fixing your product targeting options. Target competitors with a price higher than you and reviews lower than you.
#5: Add negative keywords diligently
Negative keywords will help reduce unwanted impressions and clicks that probably won't result in sales.
#6: Avoid keyword dumping
Keyword dumping refers to adding hundreds and thousands of keywords into a campaign in an attempt to increase visibility.
Filling your ad campaigns with irrelevant keywords brings unqualified traffic to your listing, increases your detail page's bounce rate and drains your advertising budget.
Instead, add a few high-volume yet relevant keywords that drive quality traffic that actually converts to sales.
#7: Ensure retail readiness of your listing
Before bringing in any paid traffic to your listing, make sure your listing is ready for that traffic. Your copy, images, reviews and everything a customer can see and interact with should be thoroughly optimized for conversion.
You don't want them to helm over to a competitor's listing just because your bullets were too vague or your images low resolution.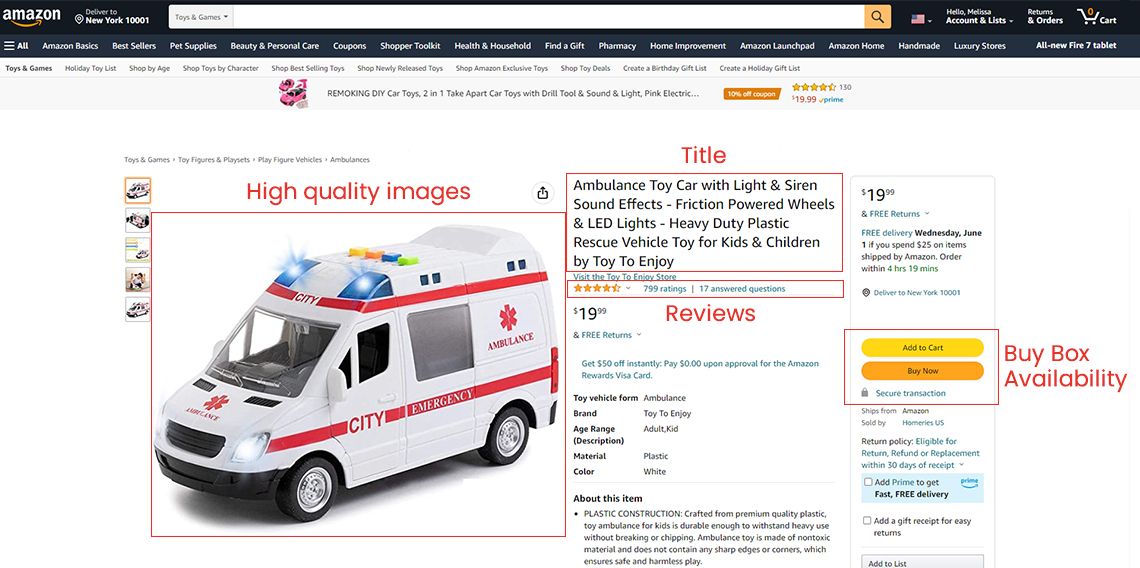 A retail-ready product detail page has:
Clear and accurate title, bullets and description
At least 15 reviews with 3.5+ star rating
Buy box availability
Amazon prime eligibility
Stock availability
#8: Prioritize your bestsellers
Advertise on the top 20% products that make up most of your revenue. The profitable sales made by your top-selling ASINs will compensate for high ACOS in campaigns with poor-performing and newly launched products.
#9: Gauge the effectiveness of keywords in your campaign
Leverage the Search Terms report to assess the profitability of a keyword and identify why your campaign isn't meeting your predefined ACOS goals. Revisit the Search Terms report three times a week to continuously harvest negative keywords, isolate profitable terms and adjust bids.
Pause keywords that aren't converting: One of the most effective ways to reduce your ACOS is to cut down on wasted spend. Quickly scan through keywords in your campaign and pause the pricey keywords that are eating your profits.
Double down on profitable keywords
Increase bids on keywords with low impressions and test their effectiveness for two weeks.
#10: Organize your campaigns effectively
We recommend creating automatic campaigns to uncover profitable and non-profitable search terms, research campaigns to test out new broad/phrase keywords and profitable campaigns with converting search terms that'll help you maximize control over your product's main keywords.
#11: Create branded campaigns
A branded campaign contains keywords and search terms that include your company's name or other brand elements.
While it may look useless to spend money on branded campaigns considering that you already are going to rank for these terms organically, a branded PPC campaign will always have low ACOS and a high conversion rate.
Apart from helping you reduce your total ACOS, campaigns with brand-specific keywords can fend off competitors who are trying to steal your potential customers.
#12: Hire an Amazon advertising agency

If you are overwhelmed with maintaining the profitability of your advertising campaigns, let Amazon marketing consultants at eStore Factory take the burden off your shoulders.
By letting them handle your PPC campaigns you'll be able to have the bandwidth to scale your Amazon business.
A high ACOS is not always a bad thing
Below are some of the situations in which a high ACOS campaign is acceptable:
Situation 1: Product launch
If your campaign is in the launch phase, it's all about getting the orders, not improving profitability. It is advisable to put ACOS on the back burner and concentrate on hitting the revenue targets.
Situation 2: Increasing brand/product awareness or dominating a niche
Sometimes you want your products to be seen and your brand to be known. It makes complete sense to run campaigns at high ACOS because all you care about is impressions. For brand awareness campaigns like this, it is okay to have a 50% or higher ACOS.
Situation 3: Liquidating inventory
Not every product is a winner. While trying to shift deadstock, running high ACOS campaigns can be more profitable than paying for long-term FBA fees or inventory removal fees.
Situation 4: Selling seasonal items
A brand selling Halloween costumes will only sell well in October but you still won't stop running PPC campaigns during the slowdown months. The low ACOS for October and the months leading to October will compensate for the high ACOS during November-September.
A low ACOS does not always signal success
ACOS should always be paired with other metrics such as TACOS to get a holistic view of your campaign's overall performance. TACOS takes into account the sales you make through PPC and your organic sales to reflect on how your advertising affects the long-term growth of your brand.
Similar to ACOS, the lower your TACOS, the better. A higher TACOS means advertising sales are influencing your total sales and your organic sales are declining.
There are instances when viewing ACOS in isolation can be misleading. A low ACOS for example is desirable but not when clubbed with high TACOS. A low ACOS and higher TACOS means your advertising sales are contributing a larger portion of your total revenue and you are shifting away from your long-term goal of increasing organic sales and brand awareness.

Be sure to monitor your ACOS alongside other key metrics such as TACOS and ROAS to measure the overarching success of your Amazon business.
Optimize your ACOS today!
Following these 12 ACOS-reducing best practices will help you keep your ACOS in check and run profitable PPC campaigns.
If you find yourself too busy for everyday Amazon PPC management and optimization tasks, offload your advertising campaign management to Amazon specialists at eStore Factory. Schedule a meeting now!
Why choose eStore Factory?
eStore Factory is an award-winning eCommerce agency listed on Amazon's SPN network, top-rated on Upwork, Clutch, and Trustpilot, and named one of the "Top 10 Amazon Consultants in the World" by Times Business News.
Since 2015, we have been helping brands of all sizes navigate the complex and cumbersome Amazon marketplace. From humble beginnings, we've grown to a remote team of 60+ problem-solving Amazon consultants with diverse experience and a broad skill set. Our team will work with you at every stage of your Amazon business, be it inception, maintenance or troubleshooting. Our soups to nuts services include seller consulting, day-to-day account management, advertising optimization, imagery creation, A+ Content, and storefront design and listing optimization.