Aloha, Amazon Seller!
If you want to get started selling on Amazon and not spend a lot of time or money, the best way is dropshipping on Amazon. Learn more, about how to dropship on Amazon.
On Amazon.com, dropshipping is quite a popular business model allowing you to organize sales of your product pretty easily and a lot of sellers use it to get started on the marketplace. The model itself sounds very straightforward: you find a product, sell it to the customer, then order it from the manufacturer or the wholesaler who provides distribution, and ask them to do shipping to the buyer.
However, though dropshipping on Amazon is generally not forbidden, there are certain limitations to it, which means that you cannot completely avoid dealing with the inventory in terms of responsibility for the delivery.
Amazon dropshipping business, considering huge supply and demand, gives you a lot of opportunities, but the flip side of the coin is a thin profit margin due to extremely high competition. Therefore, you need to carefully consider the pros and cons of this model before getting engaged in the game.
In our blog, you will find answers to the questions of what is dropshipping on Amazon and how to start a dropshipping business on Amazon, and a detailed Amazon dropshipping guide.
What Is Amazon Dropshipping?
Dropshipping Amazon is a sales model when the seller (the dropshipper) lists an item on his website, gets an order from the seller, and asks the manufacturer to send it to the buyer directly. Amazon dropship profit margin comes from the difference between the wholesale price of the manufacturer and your retail e-commerce price.
The sellers prefer this model because it doesn't imply big overhead costs, and Amazon dropship allows you not to deal with inventory management, which takes a lot of time and effort. Apart from having a huge audience, Amazon allows you integration with your Shopify store, which is a perfect add-on to your Amazon dropshipping business.
How to Dropship on Amazon?
Though dropship on Amazon may sound easy, you need to know the rules of the game, which are plenty on Amazon. The marketplace is quite strict when it comes to the TOS violation, therefore you need to carefully consider the rules.
Amazon Dropshipping Policy
Here are certain regulations as to how to dropship on Amazon, and they substantially differ from the regular dropshipping scheme.
"If you fulfill orders using a third party, a practice known as drop shipping, you must follow all Amazon policies in order to ensure a consistent customer experience that easily identifies only you as the seller of record", is written in the Amazon dropship program guidelines.
Amazon warns, that violations of the Drop Shipping Policy negatively impact your account health and your seller credentials.
You may not purchase products from another retailer and have that retailer ship directly to customers if the shipment does not identify you as the seller of record or anyone other than you appears on packing slips, invoices, or external packaging (no information about the manufacturer or retailer is allowed on the order);
You may not ship orders with packing slips, invoices, external packaging, or other information indicating a seller's name or contact information other than your own.
The requirements to dropshipping with Amazon
You must always be identified as the seller of your products;
You have to remove any information identifying the third-party drop shipper before shipping;
You have to bear responsibility for accepting and processing customer returns;
You should comply with all Amazon Terms of Service.
How Does Dropshipping on Amazon Work?
Here's a step-by-step explanation, of how the dropshipping with Amazon process works.
Step 1. The dropshipper selects a product that will sell well and lists it on Amazon.
Step 2. An Amazon shopper buys the product from the dropshipper.
Step 3. The dropshipper receives money from the shopper.
Step 4. The dropshipper buys the product from the manufacturer or supplier and gives them the shopper's information details.
Step 5. The supplier ships the product to the shopper.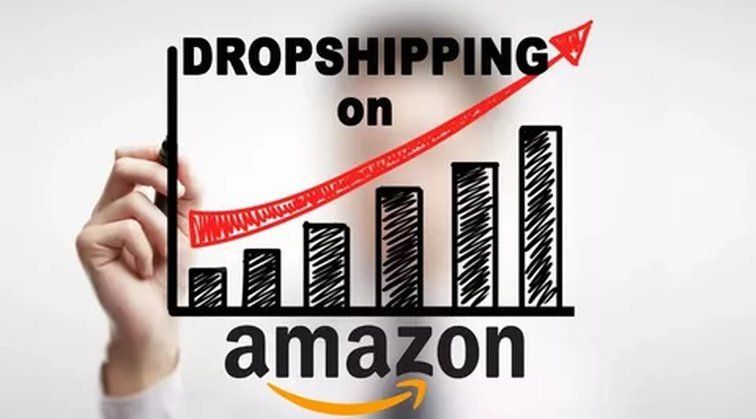 Dropshipping vs other Sales Models on Amazon
There is a number of sales models you can use in your Amazon business. Among them, the most popular are retail arbitrage, private labeling, wholesaling.
Retail arbitrage is purchasing products for cheap from a retailer and reselling them with a profit margin.
Private labeling is buying products from the manufacturer and selling them under your own brand.
Wholesaling is buying products in bulk from the distributors or manufacturers for cheap and reselling them with the profit margin to another retailer. When you think of how to make money dropshipping on Amazon, you need to understand its advantages and disadvantages over other models.
Advantages of Dropshipping
Initial investment
Dropshipping requires the least funds of all methods. Private labeling involves inventory management expenses, while private labeling requires long-term investment, and a lot of money is spent on marketing and promotion. Wholesaling requires a lot of investment by definition – you need to buy big consignments.
Ease of setting up
Dropshipping is the easiest way of all, while private labeling is the most complicated because you need to have a marketing strategy in place, and it's a long-term business. Secondly, you can try and look at products having a high sales rank, which means that these products are popular on Amazon and will sell quite fast. Thirdly, you can select a product from one of the most profitable product categories, where you don't have too much competition, The top categories for dropshipping are Arts Crafts & Sewing, Automotive, Baby, Beauty & Personal Care, Cell Phone & Accessories, Clothing Shoes & Jewelry, Computer Accessories, Electronics, Handmade Products, Health & Household, Home& Kitchen, Industrial & Scientific, Kitchen & Dining. Also, look into the products that have a cashback potential.
Ease of finding the product
Dropshipping is the easiest way of all, while wholesaling and private labeling are the most complicated.
Disadvantages of Dropshipping
Sustainability
Dropshipping is the least sustainable of all, as it fully depends on the supplier, and there are a lot of risks related to uncontrolled shipment, delivery delays, etc. In addition, you cannot control the quality of the items sent to the shopper.
Competition
Since dropshipping is the easiest sales model to implement, both moneywise and in terms of setting up, there are a lot of people who are engaged in this type of business hence extremely high competition. Not mentioning the high level of competition on Amazon itself.
Delivery terms
With dropshipping, you do not control any of the delivery stages. You cannot influence the delivery time, delays, missing quantities, etc.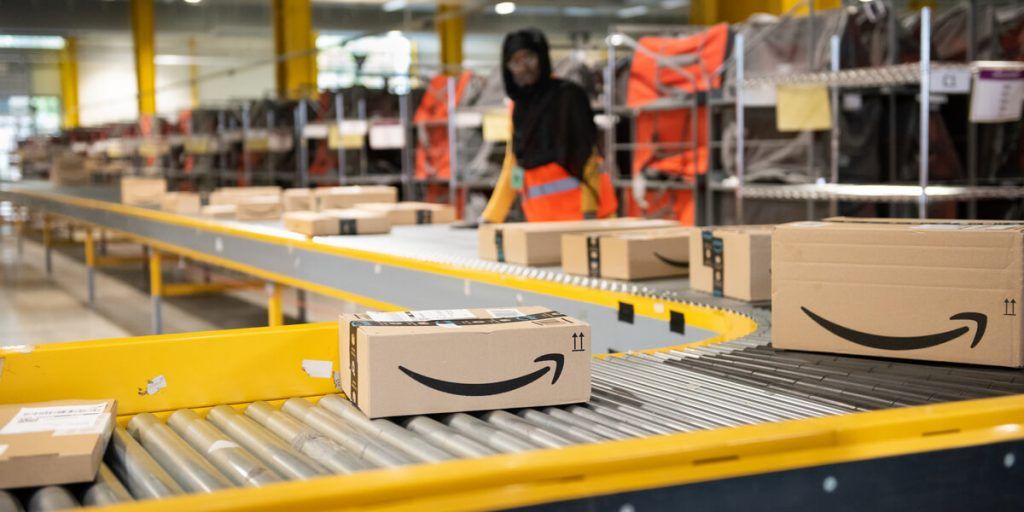 How to Start Dropshipping on Amazon?
If you've read all the above to this point and made up your mind to start a dropshipping business, it's a good idea to have a guide on how to start it. Find below what you need to do to become a perfect dropshipper.
#1. Create an Amazon seller account
If you don't have one, you need to register. Go to sellercentral.amazon.com and select the individual or professional type of account. Follow Amazon instructions and provide your personal information, billing info, and tax info.
The full instruction on how to register a Seller Central Account you can find here.
#2. Find a profitable product
When you start your product research, keep in mind that the item should be in either a high-demand or low-competition category.
Here's what you should look at:
Avoid items with high competition;
Avoid oversized, bulk, fragile, or too-heavy items;
Avoid seasonal items;
Avoid complex-to-manufacture, difficult-to-assemble, licensed, or restricted category products;
Select a product with sufficient margin;
Analyze the marketplace and market niche;
Ask yourself: 'Why should I buy this Item'?
Tip. To quickly and effectively source profitable products, merchants use product research tools. Seller Assistant Аpp is one such tool that can reliably help you with this task. This all-in-one extension incorporates all features vital for product research. Seller Assistant App shows you the product's profit, margin, and ROI. It also helps you immediately see if a product has any sales restrictions or has triggered problems with account health in the past. It combines an FBM&FBA profit calculator, Quick View, Stock Checker, and Restrictions Checker in one tool.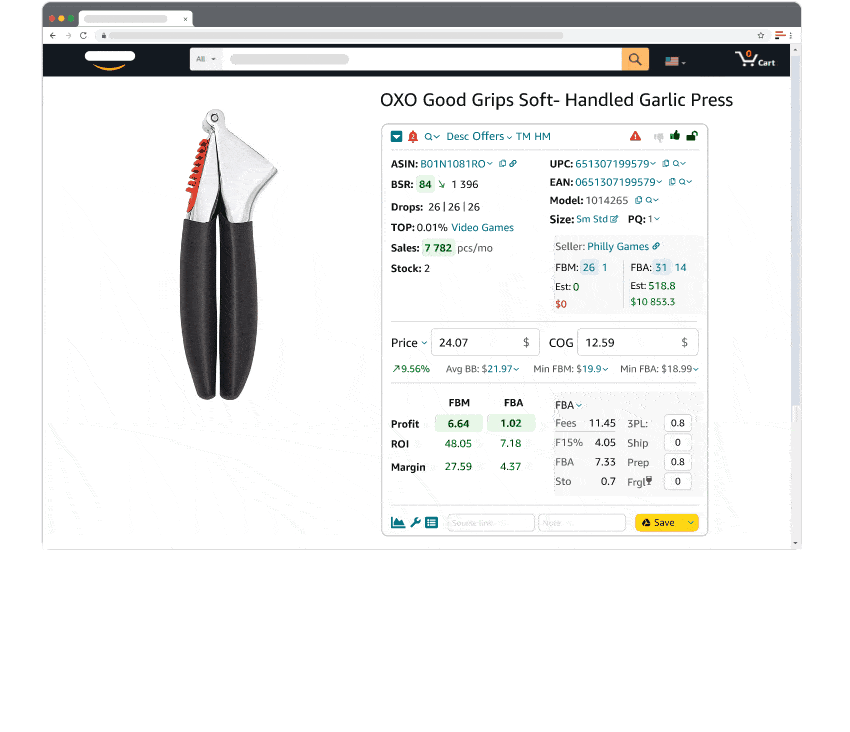 A guide on how to launch a new product on Amazon you can find here.
#3. Find your supplier
There are many sources of supplier ideas. You can do a Google search, pay for the dropship directories, or check a site like AliExpress.
#4. List your product on Amazon
If your product doesn't exist on Amazon, create a listing
If a product you selected for dropshipping from Amazon, doesn't exist on the platform, you'll need to create an Amazon product listing.
Product Listing is the 'face' of your product, but not only that. You need to include on your listing all the most important product details, helping customers make a purchase decision. The information should be correct, structured, clearly formulated. It's good to use bullets. You can also include some of the unique selling points.
Remember that listing helps customers to search for your product. Include on the listing the keywords you researched for your item.
It is very important to include an eye-catching title and high-quality images and videos in your listing. Your buyers would very often make a purchase decision based on the picture. Include as many SKUs to each ASIN as you have.
Make sure you've attached all descriptions, manuals, etc. The more information you give the customer – the less is the chance for return on a bad review.
If your product exists on Amazon, match it against the existing listing
If a product you'd like to sell already exists on Amazon, you can sell it against an existing listing. You'll need to match your product to an existing listing to avoid creating duplicate listing which can be removed by Amazon.

In your Seller Central Account, perform a search for an existing listing by product name, UPC, EAN, ISBN, or ASIN, choose the identical item on the search results, add your product's details and price, and submit your offer. Create variations to an existing Amazon listing.
#5. Start selling.
Enjoy your sales and don't forget about your business analytics. Keeping track of your figures is key to your account health and maximizing your profits.