If you're running Amazon ads, you're probably looking for ways to optimize your performance. And if you want to be successful, using Amazon advertising benchmarks is a tried-and-tested approach that gives you a solid foundation for your PPC optimization.
But which benchmarks should you use? Anyone can Google 'what's a good Amazon ACOS?' but how do you know if the answers you find are relevant for you? You don't. Which is why I recommend using Amazon category benchmark reports that are specific to the products you're selling.
One free tool that provides Amazon advertising data for your exact product categories is the Perpetua Benchmarker (formerly Sellics Benchmarker). In this article, I'll be running through some Amazon PPC optimization tips and reviewing the Perpetua Benchmarker by testing how well its category reports support my approach. Here goes.
Pick a Source for Your Amazon Advertising Data—and Stick With It
A fundamental of any approach to PPC optimization is using consistent data. This means working with Amazon advertising benchmarks from a single source. It's no good hopping from one dashboard to another, with each giving you different information, as this leads to subconsciously cherry-picking the numbers you like best, and to erratic decision-making.
With the Perpetua Benchmarker, you have a single source. And as it provides a new report for your Amazon account every month, you can view month-over-month performance improvements, knowing that the underlying data is consistent. This means you can work with your new benchmark report each month, making it possible to grow your account iteratively and move step-by-step towards your goals.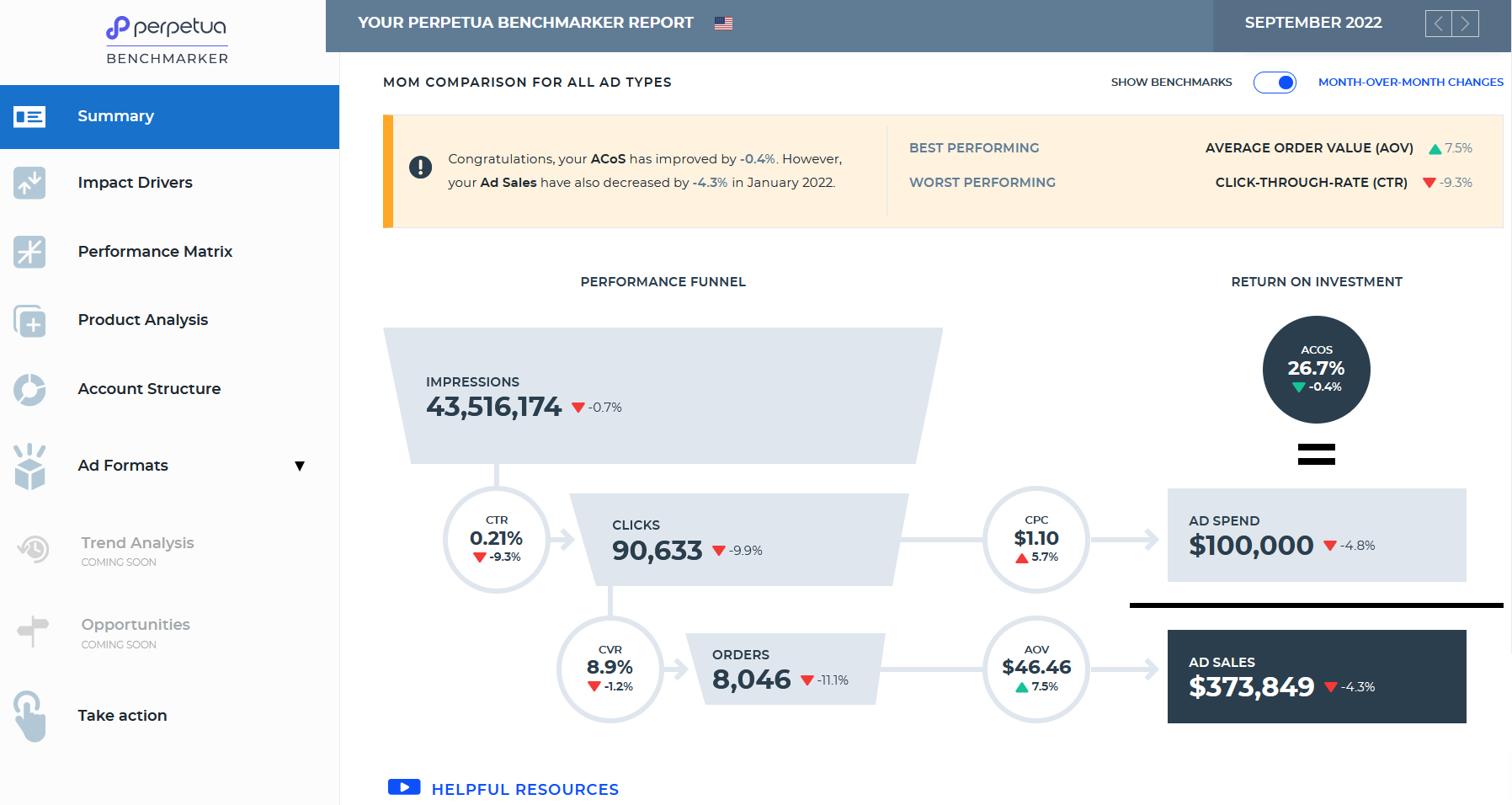 Background: From Sellics Benchmarker to Perpetua Benchmarker
Some readers may be familiar with the Sellics Benchmarker and be wondering if the Perpetua Benchmarker is the same tool, and whether its data is consistent. Here's a quick history lesson. Sellics and Perpetua joined forces in Spring 2022, following which the Sellics Benchmarker was rebranded as the Perpetua Benchmarker. However, this did not mean any change in how the benchmark reports for Amazon categories are calculated, ensuring data consistency for all users before, during and following the rebranding.
Avoid Generic Amazon Advertising Benchmarks—Find What Matters
One feature of Amazon advertising is its diversity. Even within an ad format like Sponsored Products, the average values for key performance indicators like CPC, ACoS or conversion rate can vary tremendously depending on the category, making it difficult to base business decisions on generic Amazon advertising benchmarks. The way this is tackled by the Perpetua Benchmarker is one of its major strengths.
Insight: What are the Amazon category benchmark reports based on?
The reports in the Perpetua Benchmarker are based on data representing $2.5B in Amazon ad revenue across 170,000 products and 20,000 product categories. This means when you're looking at a benchmark report for your Amazon category, you know there is extensive breadth and depth to the data behind it.
The tool automatically identifies the category each of your top products is in and analyzes the competitor products in that space. It is the performance of these competitor products that provides the basis for the category benchmarks in your report. And because the Perpetua Benchmarker analyzes categories down to the third subcategory level (e.g., Electronics | Camera & Photo | Accessories), you know you're getting the most relevant benchmark possible for each product.
Create Concrete Goals from Your Amazon Category Benchmark Report
It's one thing to look at charts and tables full of Amazon advertising statistics, and turn these into detailed performance reports for your manager, but how do you use these reports to generate goals for your business? The Perpetua Benchmarker has a ready-made answer.
For each KPI in within the Perpetua Benchmarker, a traffic light system provides clear guidance as to how that product is performing:
Green: you're in the top 40% of products in that category
Amber: you're in the middle 20%
Red: you're in the bottom 40%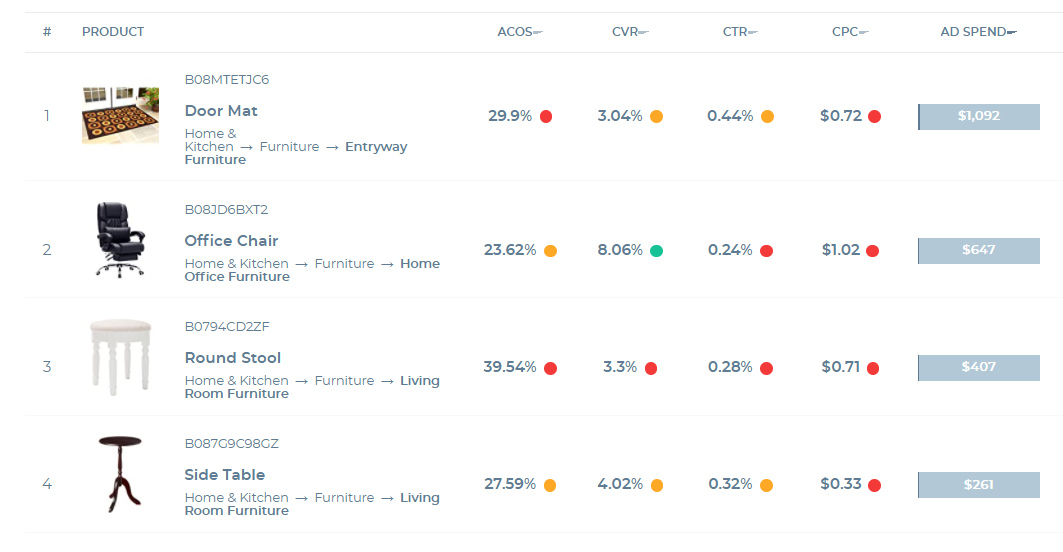 This additional context beyond the simple category average is perfect for goal-setting. If you have products in the lower (red) performance region, you can aim to get them into the middle (amber) zone, or you can choose mid-performing (amber) products, and aim to turn them green.
By establishing concrete goals according to these percentile-based Amazon advertising benchmarks, you have clear targets to work towards each month, and the traffic-light system gives you a quick overview of where your PPC optimization measures have been successful and where they still need improvement.
From ASIN-level goals to account level goals
Each traffic-light indicator is for one specific KPI for one product. Another feature of the Perpetua Benchmarker is an overall performance badge, based on all the available data from your Amazon advertising account. There are four badges that are awarded:
platinum: top 10% of peers
gold: top 20% of peers
silver: top 50% of peers
bronze: bottom 50% of peers.
Your account is assessed each month, meaning that, as well as setting goals for the performance of individual ASINs, you can also set a more wide-reaching goal of improving your overall performance.
Set A Cadence for Reviewing Your Amazon Advertising Benchmarks
As an Amazon seller, you have a hundred and one things to do, and optimizing your PPC is just one of them—albeit a very important one. To make sure that you're dedicating enough of your time and resources to PPC optimization, I recommend setting a fixed cadence for reviewing your Amazon advertising benchmarks.
There is a danger given the wealth of Amazon advertising data available that you become fixated on every minute change in click-through rate, CPC, or ACoS. Whilst you do want to react to any changes, it's important to be aware of normal day-to-day (or even hour-to-hour) volatility and not try to chase your tail by making changes based on every single click or conversion.
For me, the monthly cadence provided by the Perpetua Benchmarker is perfect. Particularly if you are still managing your campaigns manually, a month is both a sufficient period for the generation of reliable data, and enough time to set goals, implement changes, and observe the results the following month.
Know Where to Begin—Focus on the Big Levers First
Knowing where to start can be a significant challenge when working with large amounts of data—and Amazon advertising benchmarks are no different. Fortunately, the Perpetua Benchmarker includes a number of features to help you identify and focus on the most important information first.
Start at the top with the performance funnel
The performance funnel gives you an overview of all your account-level metrics in one place, and shows how they influence your different KPIs. This shows you, for example, whether it's a fall in conversion rate, an increase in CPC, or a combination of both that has pushed your ACoS up in the last month.
Find the products with the biggest impact
Once you've identified a metric (let's say a fall in conversion rate) that you'd like to understand more closely, you can scroll down to the Impact Driver Analysis section, where you'll see which products have contributed most to this change.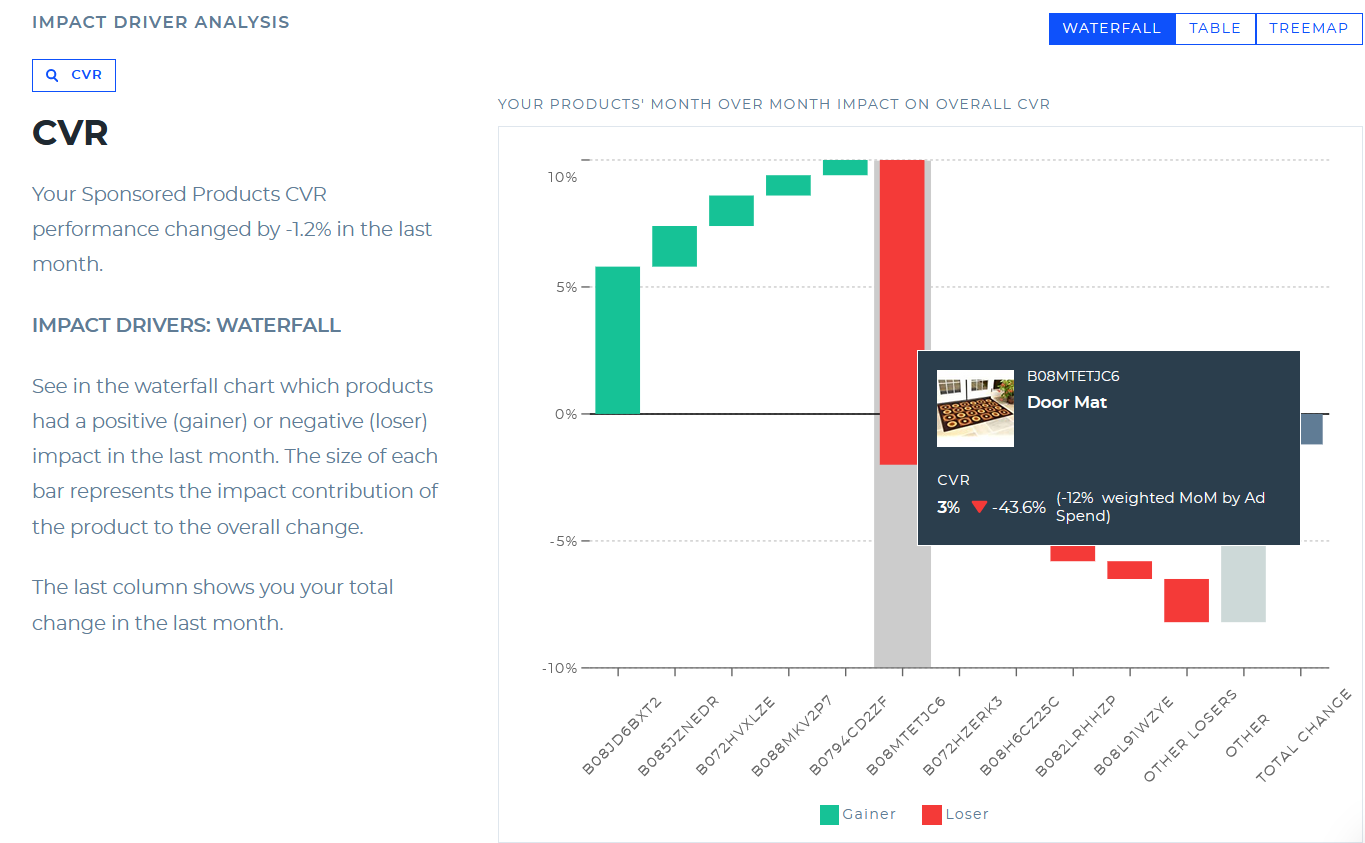 Straight away, you can see in the example above that the product 'Door Mat' has had the biggest impact, due to its 43.6% drop in conversion rate. This provides a clear opportunity for optimization. If you can address the issues with this product, you can make a big difference to the overall conversion rate of your account.
Particularly if you are reporting to a manager, you want some quick positive results to demonstrate that you're on the right track. When you can prove the business case for your approach to working with Amazon advertising benchmarks, you can get management backing and, critically, more resources to invest in more sophisticated PPC optimization solutions.
Understand your bottom line by analyzing your ACoS
Even with Amazon category benchmark reports and a view of which products have had the most impact on your KPIs, you still need to join the dots to understand what's ultimately most important: your bottom line.
One of the traps it's easy to fall into when working with Amazon advertising benchmarks is to sort your spreadsheet by ACoS or conversion rate and work your way down the column. By doing this, you might be:
focusing on products that are less relevant for your overall performance
failing to understand what is driving the change in metrics
overlooking opportunities where small changes could bring large benefits.
The Perpetua Benchmarker addresses this with its Performance Matrix feature, which provides an overview of your top 10 ASINs by ad spend. These are the products where you have the highest costs and which are therefore most important for your bottom line.
The Performance Matrix helps you dig deep into each of these ASINs, by showing how ad spend and ad sales have changed in the last month, and providing further details on all other important metrics, revealing what has caused ad spend and ad sales to rise or fall.
By working with the Performance Matrix, you can be sure that you are:
focusing on products that are most relevant for your overall performance
able to understand what is driving the change in metrics
discovering opportunities where small changes could bring large benefits.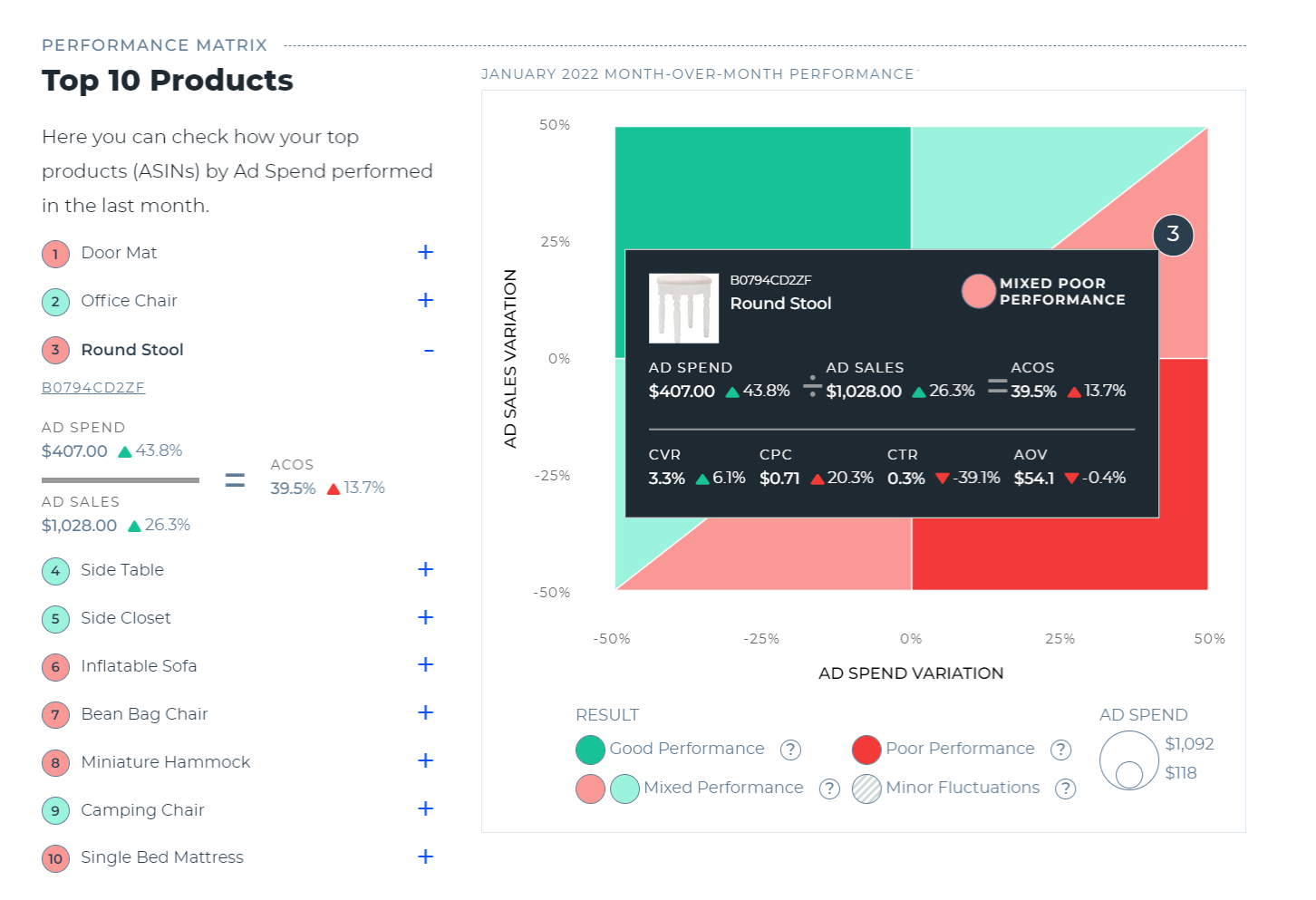 Don't Get Lost in Amazon Advertising Statistics—Take Action
Whenever you're analyzing data from your Amazon advertising account, you mustn't lose sight of the ultimate reason you're doing it: to improve your advertising performance. Understanding the metrics is useless without doing something to make them better. So how does the Perpetua Benchmarker fare when it comes to taking action on these insights?
The Perpetua Benchmarker is a free tool, so it doesn't offer all the capabilities of Perpetua's fully-fledged optimization and intelligence software. However, the Benchmarker—even though it's free—does include a range of video tutorials, long-form guides and PPC courses, all directly accessible from your report.
These materials walk you through how to take action on your report, from improved keyword targeting to optimized product listings and advanced bidding strategies. In this way, the Perpetua Benchmarker becomes not just a comprehensive Amazon category benchmark report, but an invaluable asset in your advertising toolbox, guiding the ongoing optimization of your Amazon PPC.
Conclusion: You'll Keep Coming Back to the Perpetua Benchmarker
You can spot anything that provides genuine value by the fact that you use it more than once. Free reports or tools might often give you an interesting one-off snapshot, but little more.
The Perpetua Benchmarker stands out not just with its wide range of features, but by giving you a report each month with all the data from the last 30 days. This means you keep coming back to find out how you've performed, to monitor the success of your latest optimizations and to see if you've hit your goals for the latest month.
This opportunity to constantly fine-tune and improve is why you should make working with the Perpetua Benchmarker a regular part of your Amazon PPC optimization routine. If you'd like to get your first Perpetua Benchmarker report and start using it to optimize your Amazon advertising campaigns, you can sign up for free today.