Aloha, Amazon Seller!
Amazon conference is an essential way for vendors to stay up to date on the latest trends on the market. Check out our list with the top Amazon seller conferences.
Every seller on Amazon should keep up with the latest developments in the e-commerce industry to increase sales and stay on top of the competition. If you are not fond of scrolling and shoveling tones of information online, then the Amazon sellers conference is a place for you.
Amazon FBA seminar gives a possibility to familiarize yourself with the success stories of the 6- and 7-digit business owners on Amazon, establish connections, get to know useful tips and tricks of online sales, and a lot more.
This is the reason why you shouldn't miss your favorite conferences to stay in line with the most advanced e-commerce updates, Amazon.com tendencies, and trends. Don't miss your chance to visit retail learning conferences, network with experts in the Amazon business and your industry, find out secret ways to boost your product sales, and pin the dates in your schedule.
The beginning of the year is a good time to update the important Amazon dates in your FBA calendar and see if you can attend a selected Amazon seller convention and get tuned with the changing online trade world. It is growing very fast and becomes more and more sophisticated, therefore new approaches and techniques matter.
What is Amazon Conference?
Amazon seller conference is a perfect way to stay up-to-date with every change in the e-commerce market and get to know about the latest changes on Amazon itself, which are very frequently happening as well. Networking with other sellers and experts gives you a lot of possibilities to get practical knowledge and exchange experience. Amazon FBA seminar is a useful event both for the big and experienced Amazon dealers and for the newbies in this business.
Amazon conferences, Amazon seller summits, or Amazon selling workshops have basically the same target – they help you learn modern approaches to sales. While listening to online webinars or podcasts can give you a lot of information, it is sometimes confusing and controversial, leave alone the amount. Attending the Amazon seller summit allows you to 'dive' in the deep waters of Amazon sales, obtaining a lot of information at once.
Besides, targeted seller conferences are an option to see demos where vendors show you their portfolios, and collect information from big dealers about the latest technology to boost your sales, marketing strategies, strengthen your account health, and practical advice to grow your profit and ROI.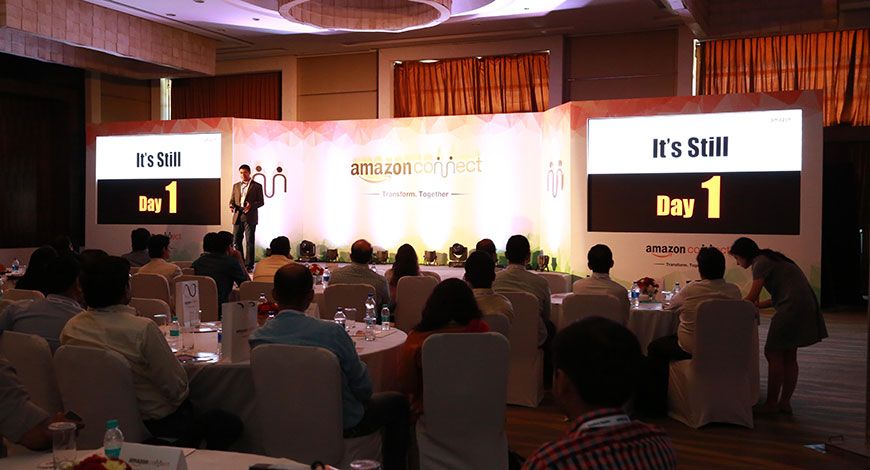 How to Select an Amazon Seller Conference and Prepare for It?
While Amazon seminar or Amazon convention gives you an excellent opportunity to network with the world's largest Amazon retailers, you need to allocate your time to carefully select the event that reflects your interests and will help you answer the questions you have.
Here are 5 tips to prepare for Amazon seminars
Search and Analyze
There are very many seller events and, of course, you can't attend all of those, you don't need to. Read the conference agenda and go through the list of speakers, Select the most relevant to your business interests. Also, see to it that the convention deals with the sales on the marketplace where you do the majority of your business.
Always Get Prepared
Think in advance about the questions you might have, structure them and write them down. This will help you communicate what you want to find out to the experts. Look through the topics you are interested in to understand the background and terminology.
Communicate
Networking is the purpose of Amazon seminars. As always, you will be tempted to communicate in the first place with the big-box merchants, however, if you are a small business, not all of their experiences and techniques can fit into your strategy. Therefore, you need to communicate with different scales of sellers. And don't forget to share your own ideas. People around may be interested in them.
Create a Professional Network
Find professionals, with whom you can further maintain contacts and ask for advice. Create your own professional network.
Register in Advance
It's better if you register for the event in advance, you can get discounts, better hotel accommodations, as during the events the place can be quite crowded, discounted tickets, etc. Also, you can plan your schedule and make meeting arrangements, if any.
E-commerce Conferences and Expos 2022
SageSeller prepared for you a list of 15 popular e-commerce conferences that are worth attending.
Conferences to attend in 2022:
NRF NXT (Canada) - January 16-18, 2022, Terranea Resort, Rancho Palos Verdes, CA
Midwest eCommerce Conference (USA, virtual) - March 1, 2022, University of St. Thomas, Minneapolis, Minnesota
ASD Market Week (USA) - February 27 – March 2, 2022, Las Vegas, Nevada
eTail Palm Springs (USA) - February 28 – March 2, 2022, Palm Springs, CA, USA
The Prosper Show (USA) - March 14-16, 2022, Las Vegas, Nevada
Seller's Summit 2022 (USA) - May 4-6, 2022, Fort Lauderdale, FL, USAE-commerce Berlin Expo (Germany) - May 5, 2022, STATION Berlin, Luckenwalder Str. 4-6
SellerCon (USA) - May 5-6, 2022, Fort Lauderdale, Florida
Billion Dollar Summit (Live Conference) - May 5-6, 2022, Virtual
The Internet Retailer Conference and Exhibition (IRCE) - May 11 – 12, 2022, McCormick Place, Chicago, Illinois, USA
White Label World Expo 2022 (USA) - May 25-26, 2022, Las Vegas, Nevada, USA
E-wolucja (Poland) - September 9, Wroclaw, Poland
eCommerce Expo (UK) - September 28-29, 2022, Virtual
White Label World Expo New York (USA) - 29 – 30 September 2022, Jacob K. Javits Convention Center, New York, USA
Chicago eCommerce Summit (USA) - 13 Sep 2022, Hyatt Regency McCormick Place, Chicago, USA
5 Top Seller Conferences in Detail
This year, as always, there are a lot of big seller conferences coming, including the Proven Conference, the Prosper Show, seller Amazon event Las Vegas, and more.
Find below details of the biggest Amazon seller summits.
5 Top E-commerce seller conferences details
1. Sellers Summit
When: May 4 – 6, 2022
Where: Ft Lauderdale, Florida
Website: https://sellerssummit.com/
The Sellers Summit offers its attendees an e-commerce learning experience by getting the knowledge required to run a successful business. The participants can learn practical, up-to-date, and actionable e-commerce strategies from the experts, meet successful online merchants and learn creative sales techniques.

2. The Prosper Show
When: March 14-16, 2022
Where: Las Vegas, NV
Website: https://prospershow.com/
The Prosper Show is a 3-day live event for sellers who strive to enhance their Amazon business. Also, it can be very useful for those who want to build up a solid brand and protect it. The conference offers a good level of education. It will be attended by 40+ speakers, including ex-Amazon leaders, influencers, and CEOs from leading marketplace solution providers. Also, it's one of the few seller conferences exclusive to Amazon vendors.

3. Midwest E-Com Conference (virtual)
When: March 1, 2022
Where: University of St. Thomas, Minneapolis, Minnesota
Website: http://www.midwestecom.com/
This year the popular Midwest E-Com Conference will be held in a virtual format. The emphasis is on learning the latest e-commerce updates There will be opportunities to discover the latest strategies and pitfalls to avoid. And you'll also have opportunities to listen to vendors that can offer insights and tips to boost your success.

4. Internet Retailer Conference and Exhibition (IRCE)
When: May 11-12, 2022
Where: McCormick Place, Chicago, Illinois
Website: https://retailx.com/onsite/overview/
Internet Retailer Conference and Exhibition (IRCE) comprises comprehensive learning: the event has more than a hundred sessions covering the most important topics and trends in e-commerce. Top vendors will be present and offer you technology and services to help boost your online sales this year and beyond.
IRCE is one of the largest events of its kind, hosting platforms, attracting thousands of industry experts, exhibitors, and vendors. IRCE also offers introductory tutorials to the newbies on Amazon.

5. White Label World Expo 2022
When: May 25-26, 2022
Where: Las Vegas, Nevada
Website: https://www.whitelabelexpo.com/
If you sell on Amazon, eBay, Etsy, or Shopify, then you'll want to consider attending the White Label World Expo. The event focuses on providing the latest strategies on the most popular e-commerce platforms. You also have several organized opportunities for networking and meeting with suppliers from all over the world. Tickets are free this year.