Aloha, Amazon Seller!
Amazon suppressed listings always come up as an unpleasant surprise to online retailers. If you don't know what suppressed Amazon listing is and how you can fix it, read our article.
Every merchant doing sales on Amazon.com knows how many rules this online shopping marketplace imposes on sellers. The customer service quality standards on Amazon are very high to meet the customer expectations since a lot of shoppers are making their purchases on Amazon due to the platform's reputation.
Amazon's policy with regard to listings quality and updates is very strict, and the rules are very often changed. They require sellers to review and optimize the listing on Amazon on a constant basis to meet all requirements.
If the seller fails to comply with the regulations, Amazon may suppress, deactivate, or deny your listing, and in the worst case, suspend or even ban your account. Of all the above, when you find your Amazon listing suppressed, this means that you need to make certain changes to fix the problem detected by Amazon.
What Does Suppressed Mean on Amazon?
According to Amazon, a listing has been suppressed when they think that it's not compliant with the marketplace standards. In that case, your listing will not be visible in the search results on Amazon.
This is how Amazon describes the process of suppression: "Our research shows an improved shopping experience when listings have complete product information, with images, category (item-type), titles (parent titles), and price per unit (PPU) along with less than 80 characters for apparel, shoes, and luggage categories and 130 characters for all other categories. This makes it easier for customers to find, evaluate, and purchase products. As a result, we will hide (or suppress) from search and browse non-media listings that do not meet certain standards. This means that a customer will not be able to find a listing in search if that listing is suppressed".
For a seller, this means, that shoppers will not be able to find the suppressed Amazon listing and he will not be able to sell it until he has fixed the problem with his listing.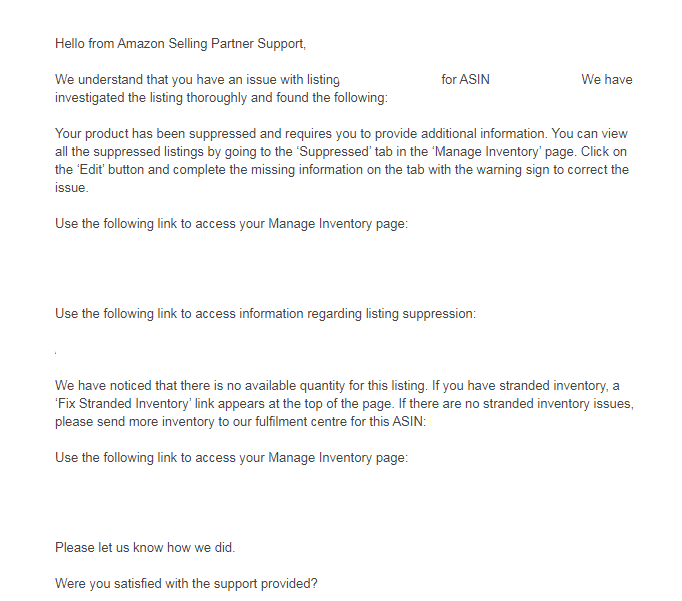 Why Is My Amazon Listing Suppressed?
As said, the major reason why Amazon listing was suppressed is incompliance with Amazon regulations as to how the listing should look like, for instance, some information is missing or the picture is not up to standards.
Here are the typical reasons for Amazon status suppressed:
A listing doesn't have the main image;
A listing lacks a detailed product description (excluding categories like apparel, books, or shoes);
A listing with any invalid product information;
A listing with a product title with more than 200 characters ;
A listing of clothing or accessories items with a title longer than 80 characters;
A listing lacking product category;
A listing of a product that is prohibited from sale on Amazon;
When Amazon suspects that your product is a counterfeit product;
When Amazon received safety complaints about the product;
When Amazon thinks that the used product is being sold as new;
When Amazon thinks that you are the rightful owner of the product.
In case of your dissent with Amazon's decision-making, contact Amazon's Technical support.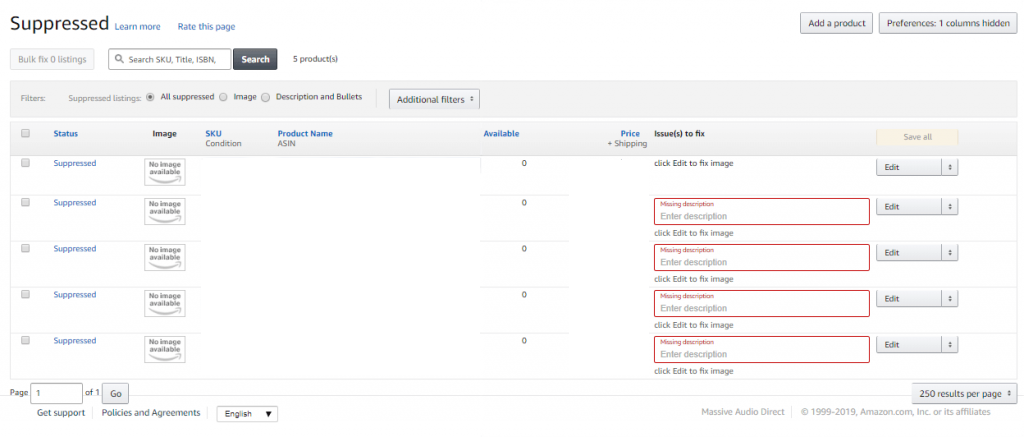 How to Fix Suppressed Listings?
In order to detect and fix Amazon suppressed listing, you need to follow the steps described below.
To find your suppressed listings:
Step 1. Log in to your seller account, click the Inventory tab, and select Manage inventory.
Step 2. Select Suppressed from the horizontal menu.
Step 3. View your suppressed listings on the Fix your products page, or click on Attribute to filter by issue.
To fix your Amazon suppressed listings:
Follow one of the three ways.
Option A:
Step 1. Fix suppressed listings in the Issue(s) to fix column by entering the missing values in the editable cells or selecting missing values from the drop-down list
Step 2. Click Save.
Option B:
Step 1. Fix suppressed listings that are not fixable in the editable grid (Option A) by clicking Edit and going to the Edit product info page.
Step 2. In Edit product info, the missing product details will be highlighted and you will see informational messages that further detail the issue.
Step 3. For non-image issues, enter the missing value and click Save and Finish.
Step 4. For image issues, follow the guidelines on the Product image requirements page and then upload valid product images.
Option C
You can fix suppressed listings in bulk using an Excel file.
Here's how to do it.
Step 1. Navigate to Inventory > Inventory reports.
Step 2. From the Select report type drop-down menu, select Listing quality and suppressed listing report.
Step 3. Select report format as Excel (new).
Step 4. Click Request report to download a report. The download request is listed under Check report status & download.
Step 5. Click Download once the Listing quality and suppressed listing report are complete.
Step 6. Open the report and update Corrected values under the Enhancement opportunities tab and check Accepted values in the Data definition tab. To look for Suppressed Listings, filter the column Alert name as Suppressed.
Step 7. Save the report with changes.
Step 8. Navigate to Inventory, and then Add products via upload.
Step 9. Click the Check and upload your inventory file tab and file.
Step 10. Select File type: Listing quality and suppressed listing file.
Step 11. Click Choose file and browse to your saved Listing quality and suppressed listing report.
Step 12. Click Upload.
How to Avoid Your Listing Suppression?
To prevent suppression, ensure that your listing:
Contains the main image and the image is compliant;
Contains detailed product description (UPC, bullet points, description, and brand information);
All listing information is valid;
The listing title has less than 200 characters;
Listing title is not promotional;
Contains product category;
A product is not prohibited from sale on Amazon.
It is very important to ensure that your listing is Amazon compliant. However, it is equally important to monitor and maintain your account health and track your business metrics. This is step one to prevent your account suspension. Keeping track of your figures is a key to maximizing your profits. Get your easy and visual business analytics with SelleRise's dashboards. Try them now, it's free.