As Amazon becomes increasingly crowded, creative tools like A+ Content can prove to be an indispensable asset in your quest to set your product apart from the competitors.
In this article, we'll learn:
What is A+ Content?
What are the eligibility criteria for creating A+ Content?
How much does Amazon A+ Content cost?
What's the difference between A+ Content, Enhanced Brand Content and A++ Content?
Amazon A+ Content FAQs
Why should every brand invest in A+ Content?
What makes a good A+ Content?
Amazon A+ Content examples
Common Amazon A+ Content violations
Is A+ Content for me?
What is A+ Content?
First launched in late 2016, Amazon Enhanced Brand Content, now called A+ Content, helps sellers customize their product description section with imagery, formatted bullet points, crisp text placements, cross-selling comparison charts and more.
When made correctly, A+ Content does the following:
Leads to stronger conversion rates
Provides relevant details for an informed purchase decision
Reinforces customer loyalty
Fosters brand awareness
Allows you to capture more real estate on the detail page
Breaks up key product features and benefits into easy-to-read sections
What are the eligibility criteria for creating A+ Content?
A+ Content is available to all professional sellers with Amazon Brand Registry. Sellers with brand registry can add A+ Content to all ASINs that are a part of their approved brand catalog.
Brand Registry is not open for media, video, digital, or book categories.
Contact our Amazon consultants to get your brand registered hassle-free.
How much does Amazon A+ Content cost?
Amazon does not charge any fee for adding the Standard Enhanced Product Description (Basic A+) and A+ Brand Story content features.
What's the difference between A+ Content, Enhanced Brand Content and A++ Content?
It's easy to get confused between all three because the names have been used interchangeably. Let's clear this up today.
When Amazon launched the enhanced description feature in late 2016, it was called Enhanced Brand Content, commonly known as EBC. EBC was exclusively available to sellers (third-party sellers). A+ Content, also called A+ Page by some sellers, was exclusive to vendors (first-party sellers) only.
In 2019, Amazon combined EBC and A+ Content into one. They now have identical modules and the same features.
A++ Content, also called Premium A+ Content, was until now an invite-only option available only to an elite group of select brands. It contains more interactive modules, including hotspot module, video module, carousel module, expandable FAQ module and more.
Related post: Amazon Premium A+ Content – Everything You Need To Know
Last week, Amazon announced that A++ Content will be available to all eligible brands who have published A+ brand story across their ASIN catalog and have had at least 15 A+ content projects approved in the past 12 months for each Amazon store.
Read the full story here: New Premium A+ Content Open to All Brands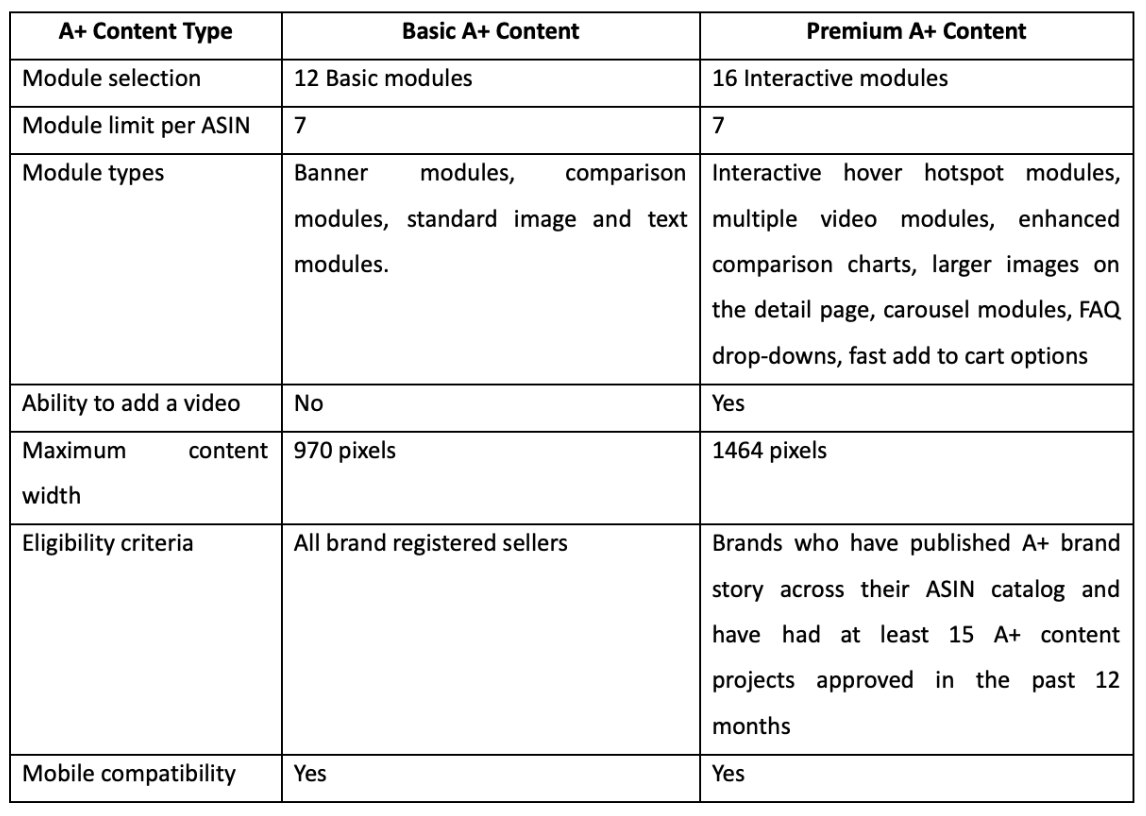 Amazon A+ Content FAQs
Q: Is A+ Content indexed?
A: The keywords you add while uploading your A+ Content and the text that's not embedded into images will be indexed by Google and other search engines. Amazon, however, does not index A+ Content. Instead, it indexes your existing text description, so do not skimp on creating a keyword-rich text description even if you have an A+ Content live.
Q: Where is A+ Content placed on the detail page?
A+ Content submitted by sellers is shown in the "Product description" section of the detail page. A+ Content submitted by vendors will appear in the "From the manufacturer" section of the detail page. A+ Content usually overrides the seller's existing plain-text product description, but when a vendor uploads A+ Content, it is shown in a different section and their existing description is still visible on the detail page.
Q: What happens if I upload images that are not in accordance with Amazon's suggested specs?
A: If you upload images that are larger or smaller than Amazon's suggested image specifications, Amazon will automatically resize the image to fit the space. Amazon can also reject the images if the size is too big or small.
Q: Is it mandatory to fill every image and text slot?
A: No, you don't have to fill in every image or text field. However, there are some modules where you are supposed to fill every available field. In the comparison chart, you'll need to add a minimum of two products and one differentiating metric; in standard three/four image and text module, it is necessary to fill all the available image and text fields, but in standard image and text overlay module or standard image header with text module, you can skip the text field.
Q: Does A+ Content look the same on all screens?
Amazon will automatically adjust your A+ Content layout to fit smaller screens. While uploading your A+ Content, make sure to check the "Mobile view" to ensure that your A+ Content reads just as well on smaller screens.
Q: What is alt text?
A: While uploading your A+ Content, it is mandatory to add image keywords (100-character limit) that describe the image. Image keywords are a great opportunity to add keywords that remain unutilized in your title, bullet points and description. Don't stuff your alt text with keywords; make sure to describe the image as well.
Q: Pre-set modules or text-embedded images; what's better?
Most of the modules available on Amazon are pre-set modules where you can separately upload images and text. With pre-set modules, brands cannot customize how their A+ Content looks – they cannot alter the font size or fill in the white space. But using modules with text embedded in the image can hurt your searchability on Google.
Q: So, which one's right for you?
We would recommend using a combination of both. Use at least 4-5 text-embedded banners along with 2-3 Amazon's pre-set modules to create a perfect balance.
Q: Is A+ Content right for me?
A: Being a free feature, adding Amazon A+ Content to your listing seems to be a no-brainer. You've nothing to lose – your page can only be more informative and appealing (considering you've done everything correctly!).
Here's why every brand should invest in A+ Content

#1: Grabs shopper's attention
According to the Contentsquare 2021 Digital Experience Benchmarks report, the average time a shopper spends on a page is 62 seconds. Brands have only a few seconds to impress a shopper that lands on their detail page.
One of the sure-fire ways to grab a shopper's attention is through visuals. High-resolution hero images, fun-to-look-at infographics and a great layout can work together to improve the overall aesthetics of your detail page, making it look professional and branded.
If done strategically, A+ Content enabled detail pages to leave an imprint on a shopper's mind, which compels them to either click on the "Add to Cart" button or reminds them to come back when the time's right.
#2: Far better than your existing text description
The only HTML tag allowed in Amazon product descriptions is the </br>, which means that brands don't have the flexibility to make their text description attractive.
A+ Content allows you to refurbish your existing text description, test various header placements, add beautiful lifestyle imagery, describe your product's unique value proposition in a visual way, cross-sell other ASINs from your catalog and try something creative.
#3: Answers common customer questions and reduces returns
A+ Content offers customers a better understanding of your product and provides them with all the information they need to make a confident purchase decision. Because there is no uncertainty or surprises, customers are less likely to write a review saying that it "didn't fit" or "color's not as shown."
A+ Content is especially useful for scrutinizing shoppers who want to know as much about your brand and product before arriving at a decision. Informed purchases lead to happier customers leaving positive reviews.
#4: Positively impacts the conversion ratio
A+ Content is capable of pushing conversion rates and overall revenue to new heights.
The data reinforces this claim. According to Amazon, A+ Content has the ability to improve conversion rates by 3 to 10 percent. In 2018, Amazon analyzed the performance of 173,000 USA ASINs for three months. The results showed that ASINs with professional-looking A+ Content saw an average 5% increase in sales.
Considering the benefits of adding A+ Content to your listing, it is safe to say that the cost of professionally creating A+ Content will pay for itself in the coming years.
What makes a good A+ Content?
#1: A scroll-stopping hero image
When shoppers land on your detail page, they will go through the images first, look at the price, skim through the bullets and scroll past a series of Sponsored Product ads blocks to take a closer look at the reviews.
When they are scrolling eagerly to read reviews, which are strategically positioned at the bottom of the page, you want them to stop and look at your A+ Content. A great way to do this is by adding a larger-than-life hero image with a stunning lifestyle, big, bold fonts and bright colors.
#2: Lifestyle images to liven up your A+ Content design
Lifestyle imagery helps shoppers imagine your product in their lives. You cannot take a shopper to a freezing camping spot to show how effective your sleeping bag is, but when done correctly, your lifestyle images can help you convey this to your shoppers.
Lifestyle images with our target audience make your product relatable - you are letting your audience know that this is how our product will make your life easier.
#3: Comparison banner to cross-sell existing catalog
Use the comparison banner to educate customers about the other products you are selling. Using the metrics, you can quickly differentiate between the product's features and highlight product-specific information.
You can add up to 6 products in a comparison chart and clicking on the product image in the comparison chart will redirect shoppers to the respective detail page.
#4: A clean layout that's easy on the eyes
It's tempting to dump all the information about the product in your A+ Content, but it's not advisable. Instead of creating a layout that's jam-packed with text and facts, let your A+ Content breathe, let there be white space, and let there be visuals to make the layout easy on the eye.
Although the information is pertinent for any A+ Content, we would recommend adding clever taglines, succinct text and compelling statistics to make the information easy to digest.
#5: A story that connects with the shoppers
In a marketplace that's as saturated as Amazon, it is difficult to differentiate your products from hundreds of other similarly priced items. A+ Content is a great way to set your listing apart from competitors' offerings.
By including your unique brand story, ethics, values and mission statement in your A+ Content, shoppers visiting your detail page will be able to emotionally connect with your brand. Compelling storytelling gives shoppers a solid reason to choose your product over a product sold by an anonymous brand.
Amazon A+ Content examples by eStore Factory

#1: Gadget Store

#2: Dodjivi - Cofee Mix store


#3: Three Dads - Food store

#4: Everyday Stacks - Sports Store

#5: Acorn Solution - Home Ligtings store

#6: Calm A Mama - SkinCare store

#7: Orga - Home and Garden store

#8: Fashion Boomy - Fashion store

#8: Bella Terra - Cosmetics store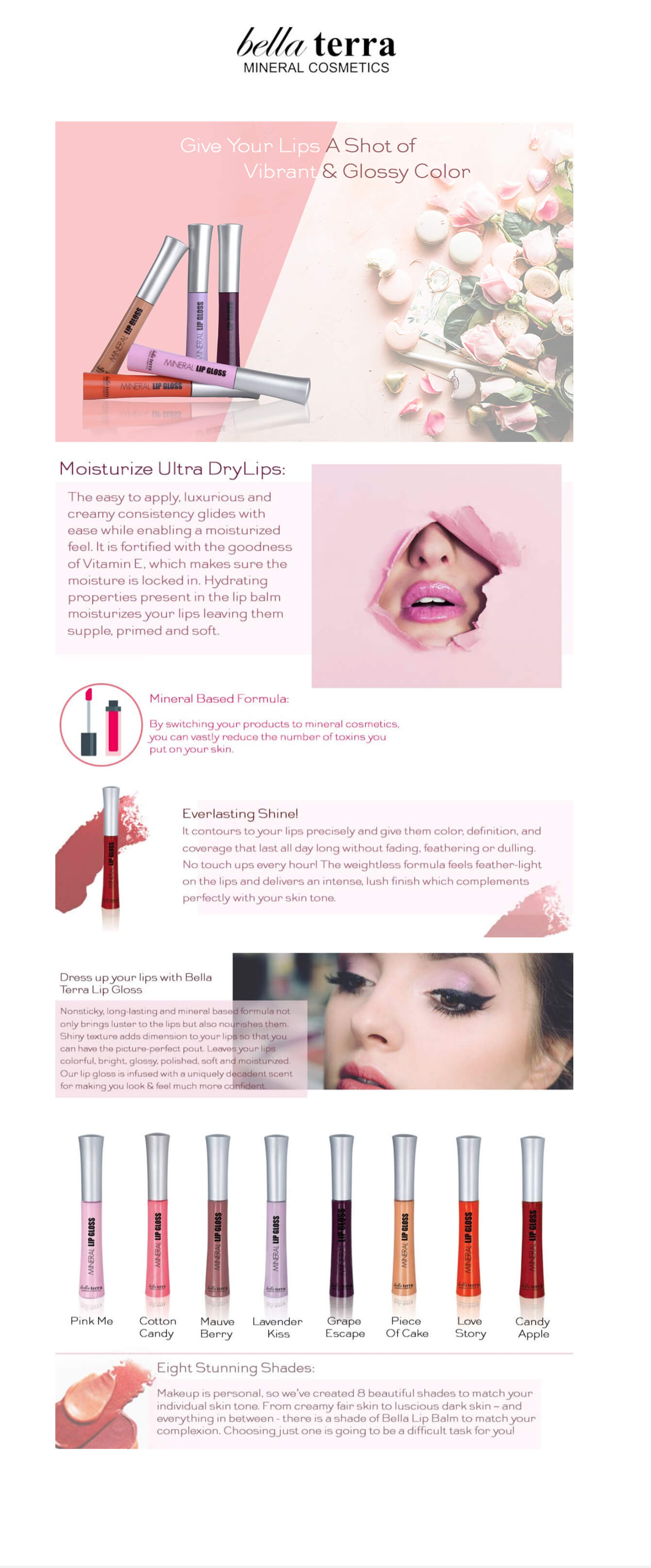 #10: Abwage - Sport and Health store

Common Amazon A+ Content violations
All A+ Contents must be submitted for approval. Amazon can take up to seven business days to approve or reject your submissions. Adding anything that violates A+ Content guidelines can lead to rejection. Amazon has a long list of specific terms and policies that are now allowed. Here's a comprehensive list:
Any warranty, guarantee, refunds, or customer satisfaction claims.
Pricing or promotion references such as "affordable", "bonus", "price", "cheap", "free", and language that directs customers to purchase such as, "buy now", "add to cart", "shop now", or "get yours now".
Shipping details such as "free shipping" claims or timelines.
Boastful comments such as "top-selling product," "hottest product," or "#1 selling product".
Image containing watermark or unreadable texts.
Images that are already used in your listing image section.
Grammatical errors, punctuation errors, misspellings, strings of all-caps text, typos and duplicate text.
Any mention of products being used for criminal activity.
Unverified claims: safety claims; environment-friendly claims, energy-saving claims; claims regarding drugs, beverages, food and health products. Health and dietary supplement products must have an FDA disclaimer present.
Customer reviews from your website or Amazon.
Trademark and copyright symbols (TM, ®, © ).
Hyperlinks, external web links, or language attempting to redirect to other sites.
Images or text that attempt to mimic Amazon logos.
Competitive call-out and comparisons.
Awards received more than two years ago. When referencing awards or endorsements, brands must include a note stating the date when the award was received and the organization that granted the award.
Certification claims and all the words such as recommended by, certified, tested, approved, proven and validated.
Environmental claims with words like "eco-friendly," "biodegradable," and "compostable," including their symbols.

Don't DIY
Although Amazon advertises A+ Content as a self-service solution, it is not. The value, benefits and convenience that come with working with an agency make all the difference.
An expert Amazon consulting agency understands how Amazon works, so the copy, layout and creatives are all tailored to Amazon's audience. Most website designers or your in-house graphic designers don't know how to navigate Seller Central or the rules for creating A+ Content.
Hiring an expert Amazon agency will help you avoid resubmissions, frustrations and hassles of working with an average graphic designer.
At eStore Factory, we have a team of Amazon graphic designers and copywriters working exclusively on creating A+ Content since 2017. We have created 3000+ EBCs for thousands of clients. Visit our pricing page and place an order for A+ Content today!