If you are involved in online sales, then you know how important it is to be able to seize every opportunity. That's not an easy task when you know that only on eBay you are competing against 19 million sellers.
That's why many people use different marketplaces to sell their products. However, sellers encounter one problem — it's tough and time-consuming to cross list from and to marketplaces, especially at scale. That's where cross listing apps such as Crosslist come to the rescue.
However, with so many cross listing apps, you might have second thoughts about which one to choose. In this article, we decided to check Crosslist - a web application that allows sellers to list quickly on the world's largest online marketplaces.
We like it. Find out why below.
If you are wondering whether Crosslist is worth your time and effort, below you can find five things that set it apart from other cross listing apps.
1. Crosslist supports every data field on each of the nine different marketplaces
The first thing that makes Crosslist different than other cross listing apps is its support for nine different marketplaces, including:
eBay
Poshmark
Vinted
Facebook
Depop
Mercari
Grailed
Kidizen
Tradesy.
Unlike some competitors, Crosslist supports every field of each marketplace at even the cheapest price point. This includes fields like category, size, and brand.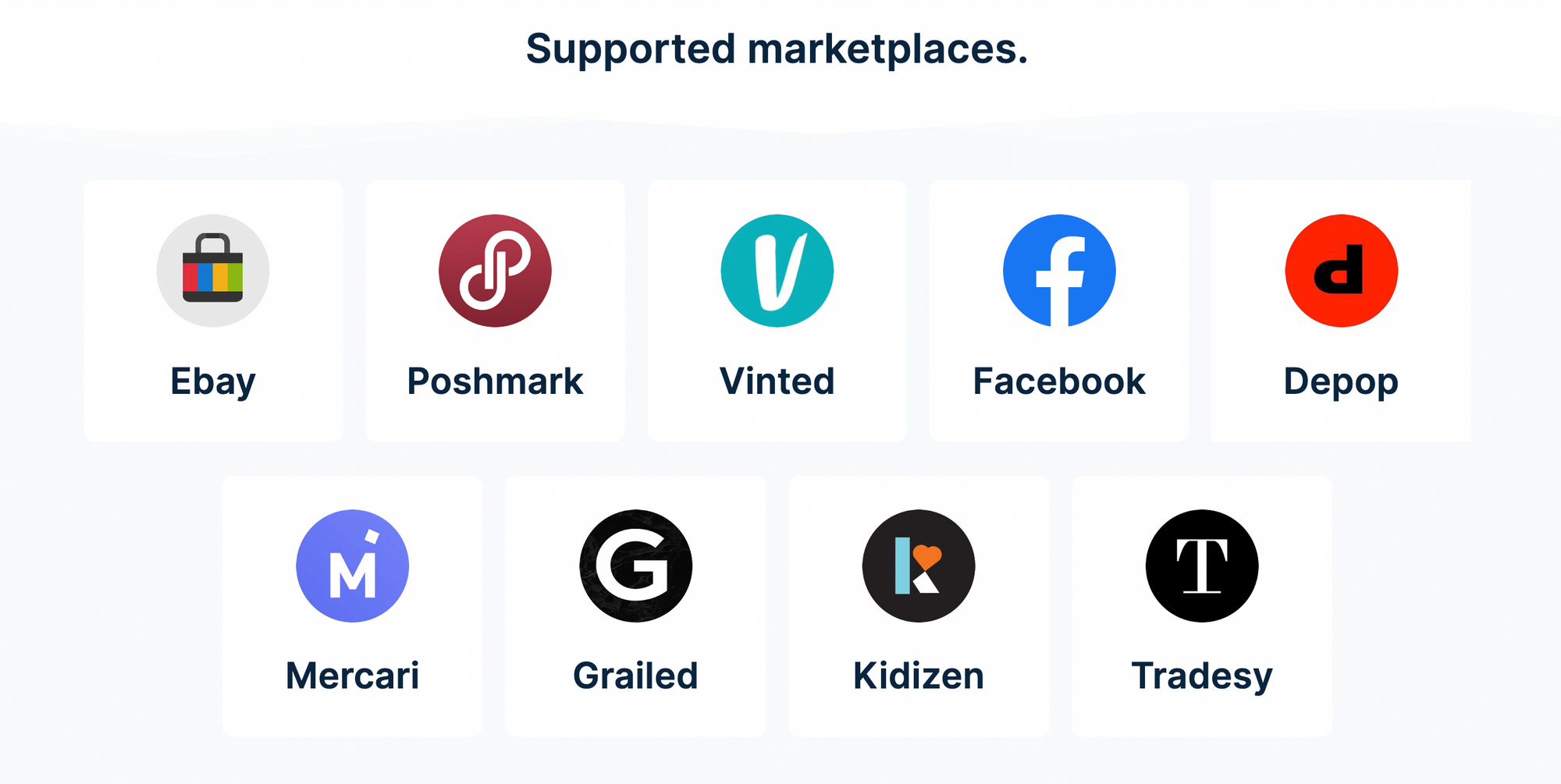 Listing your inventory on different marketplaces such as Depop, Poshmark, and Vinted can take hours of your precious time. You can even waste more time completing fields that are not relevant to your target marketplace, getting entangled in solving problems instead of making money.
Finding a tool with support for most top marketplaces and full cross listing support is paramount if you want to focus more on sales and less on management.
To make cross listing even easier, Crosslist comes with dynamic fields.
Unlike other cross listing apps, which show all the fields at any point when cross listing items, Crosslist shows only the fields relevant to the marketplaces you select, thus saving you precious time and effort.
Plus, it comes with a feature for import/direct cross listing from Facebook, which is rarely found in other similar apps.
Each of the available marketplaces has some unique perks. Leveraging those advantages can help you make your products more attractive. Crosslist has a wide range of add-ons to help make your listings more attractive across nine marketplaces, even if you specialize in selling on Facebook marketplace.
2. Crosslist saves time with quick cross listing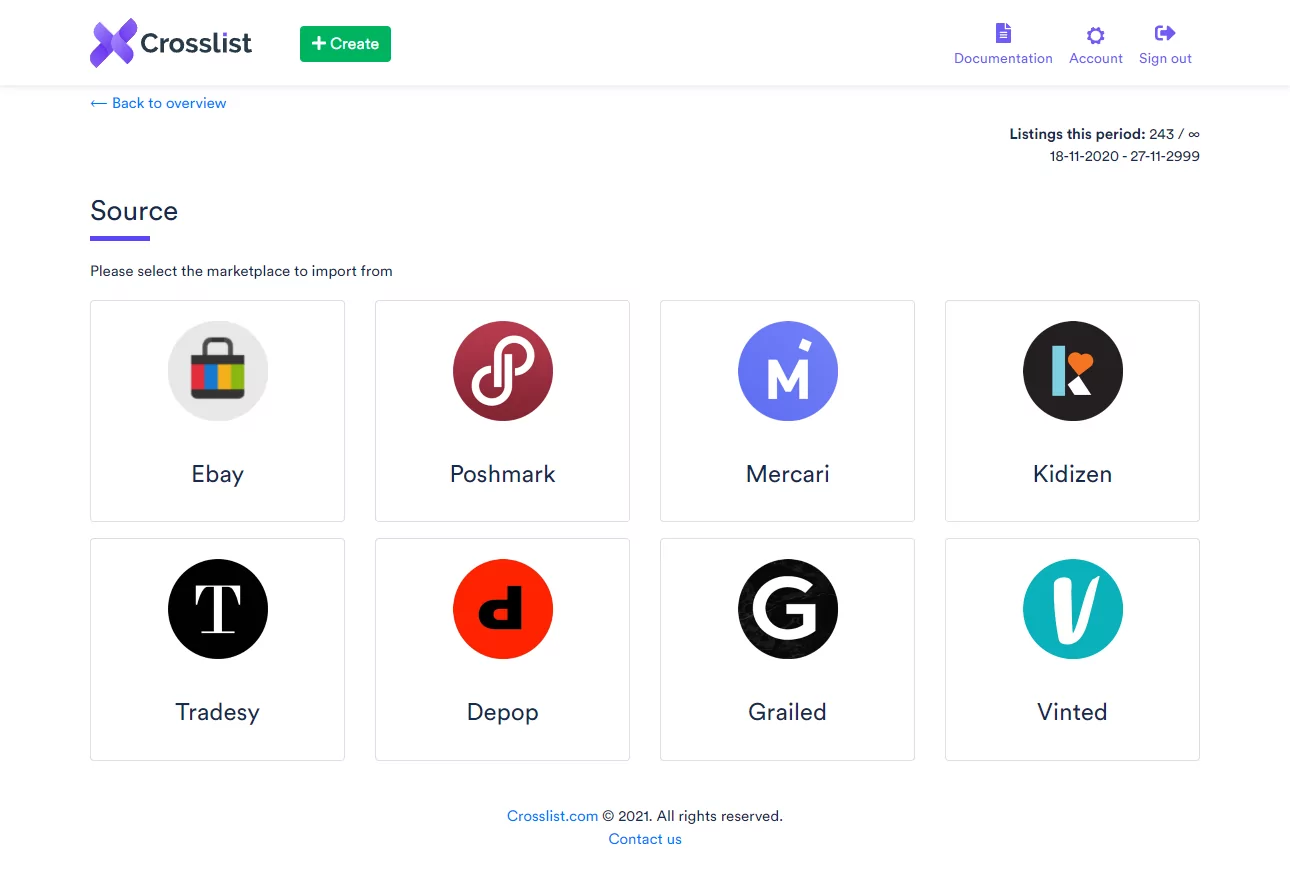 Another thing distinguishing Crosslist from the competition is how versatile and practical the app is. Crosslist allows you to import listings one-by-one or in bulk.
Bulk import lets you import up to 20 listings at once in just a few seconds! Alternatively, you can also cross list directly from one marketplace to another.
The import feature is excellent as it allows you to change your listing before cross listing. However, this feature is common in cross listing apps.What makes Crosslist different is the direct cross listing feature which enables you to move inventory from one marketplace to others directly, without even having to use the app. Furthermore, Crosslist makes cross listing straightforward, even if you want to sell items on multiple sites simultaneously. This is what it looks like (note the buttons in the top left):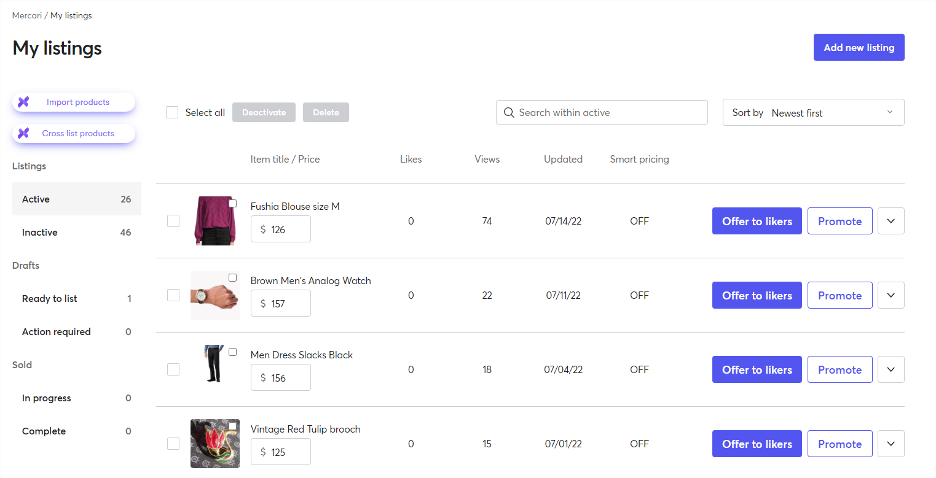 Crosslist offers access to the listing templates library. These professionally designed, custom templates will enable you to prepare and cross list your inventory more efficiently.
Additionally, your listings will appear more attractive while providing all the essential information to facilitate customer purchasing decisions.
3. Crosslist has quite attractive pricing plans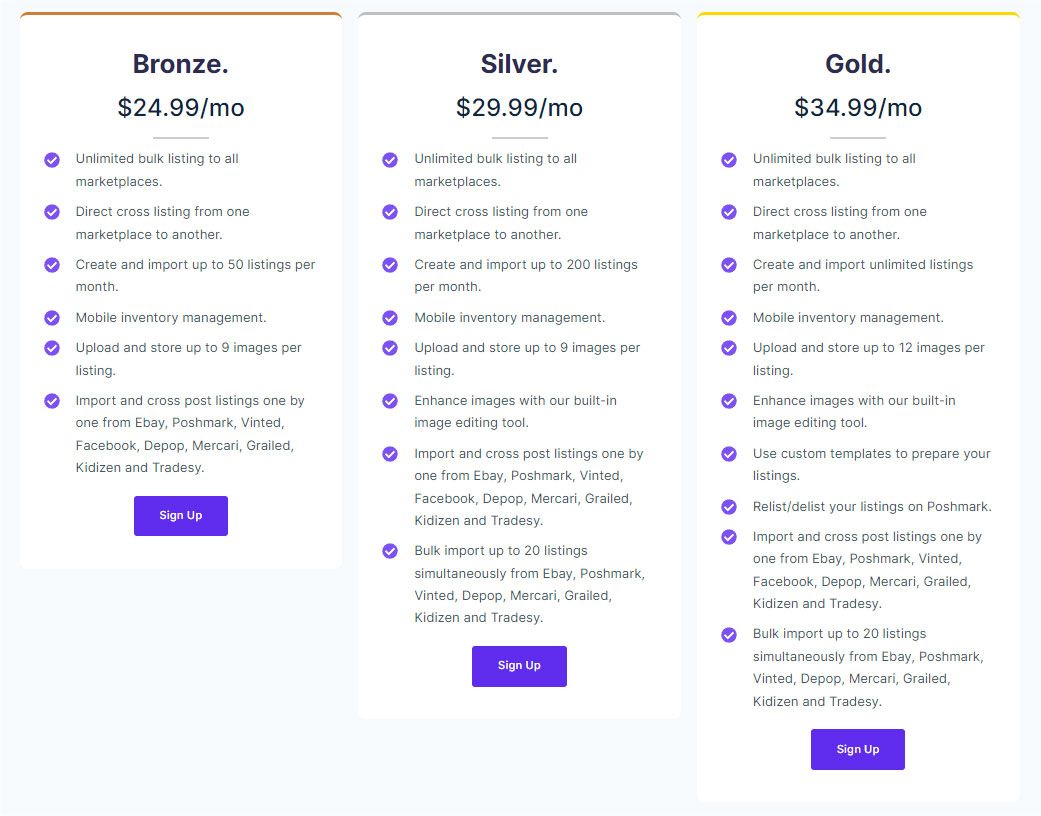 The ultimate goal for the majority of online sellers is to maximize profits. One of the best ways to do it is to reduce operational costs. Unfortunately, not all cross listing apps are cheap.
Compared to top options, Crosslist offers quite attractive pricing plans. With extra money in your budget, you can pursue other strategies to increase your sales and improve marketing.
Crosslist offers three pricing plans:
Bronze at $24.99 per month
Silver at $29.99 per month
and Gold at $34.99 per month.
The Gold plan comes with virtually every feature you'll need to streamline your cross listing efforts, including custom listing templates, bulk import of up to 20 listings, mobile support, cross post listings, and unlimited listing to all marketplaces.If you compare List Perfectly and Vendoo, Vendoo's most expensive plan costs $144.99 per month, and it still has a cross listing limit set at 4,000 items.
On the other hand, List Perfectly's most expensive plan comes with unlimited listing to supported marketplaces but costs $69 per month, which is two times more than Crosslist's unlimited plan.
The attractive pricing plans are not the only thing that makes Crosslist a valuable option. All the Crosslist pricing plans include unlimited listing to all marketplaces.
The app also offers a 30% discount to users who decide to pay for plans annually. The discount alone can save sellers up to $120 per year.
4. Crosslist has a built-in image editing tool
Crosslist also ships out with a built-in image editing tool. Instead of wasting time editing images in another tool and importing them back into a cross listing app, you will be able to edit and enhance your product images using one tool.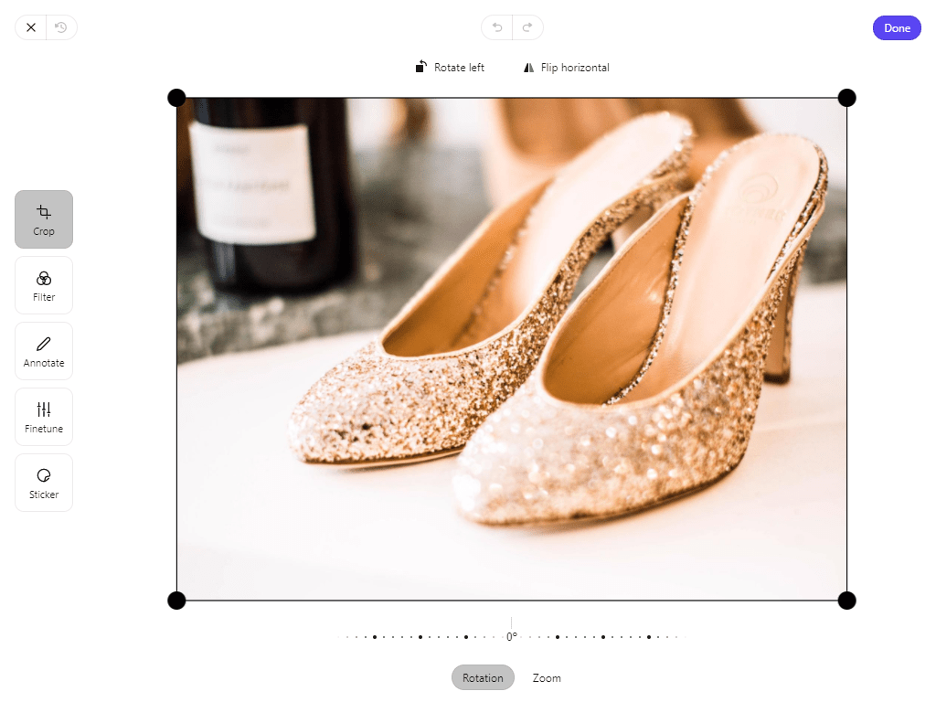 You can also upload and store up to 12 images per listing to easily choose specific images for every marketplace on which you want to list your items.
There is also a helpful add-on for the Poshmark marketplace. It enables you to relist or delist your Poshmark listings with one click of a button. We contacted Crosslist support and they informed us that soon more marketplaces will also receive this feature.
5. The Crosslist app has a great mobile support
Finally, Crosslist has excellent mobile support. You can use it to create listings and manage your inventory on the go.
The app allows you to use your smartphone to take hi-res pictures of your products and use them in your listings. If you want to post, cross list, or import listings, you will have to use your desktop or laptop computer, though. Mobile bulk import currently only works for eBay.
One more thing important to note is that the app offers support for the US, Canada, the UK, and Australia.
The app supports the .com top-level domains for all marketplaces. In Canada, the .ca domain support includes eBay, Poshmark, and Vinted. Finally, in Australia, support for the .com.au includes eBay and Poshmark, while in the UK, support for the.co.uk domains includes eBay and Vinted.
Conclusion
Dealing with a bulk of items to list and manage can quickly become overwhelming. Once you decide to step up your "selling on different online marketplaces" game, you will need to use a cross listing app. Crosslist offers a full suite of tools and comes with out-of-the-box features you can use immediately to start selling across marketplaces.
With attractive pricing plans, various add-ons, powerful cross listing tools, and support for four countries and nine different marketplaces, Crosslist stands apart from other cross listing apps.
If this is not enough you can always try the app for free. There is a 3-day money-back guarantee to safeguard your decision.
Once you log into your account, you can either create new listings or import your existing listings from supported marketplaces. Then you can simply select the target marketplaces and get your inventory cross listed.