Aloha, Amazon Seller!
Amazon business lending is a great idea to grow your online business. Read more about credit for Amazon sellers in our article and choose it for your business if applicable.
All sellers on Amazon.com dream of building a 7-figure business. But reaching this cherished goal is impossible without funding. And even when and if you've reached that goal, you still need working capital to run a business on a day-to-day basis to cover your operating expenses, not mentioning inventory reorder, delivery, and marketing costs, that is quite a bit if you aim at staying on top of competition on Amazon marketplace. To ensure seamless supply and demand for your store, you need to always have spare funding at hand to make things moving.
In e-commerce sales timing is sometimes crucial, and a sign 'out of stock' on your landing page not only means, that you're losing profits, it also means that competitors are taking away your customers, thus ruining your brand awareness and shoppers' trust.
But what if you don't have tons of cash hidden around your home, which you probably don't? It might seem to be an obvious solution to take a loan. In a way, this is right. If your business is healthy and you've accounted for all figures correctly, then it's no harm to get seller funding through a loan.
However, if you aren't a 7-figure business, traditional banks may have problems providing you with an Amazon loan. There are a couple of reasons behind this. The first one is that they are not familiar with e-commerce sales and would prefer to deal with conservative brick-and-mortar businesses having physical assets. The second one is that they prioritize bigger loans since they are more profitable.
And while you're not a 7-figure business yet, you might need a small loan with moderate interest rates. Are there Amazon finance options for SMBs? Luckily, they are available, created by sellers for sellers to help grow their businesses.
In this post, we will discuss what is Amazon lending and the available Amazon seller funding options.
What Is Amazon Seller Loan?
Amazon business loans are loans that you can apply for and receive in a bank or a lender company having expertise in the Amazon business. Usually, you enter your information through a secure form, add necessary documents, and get your Amazon business financing.
Typically, Amazon merchants take loans for the purposes of inventory expansion, especially before big sales events like Prime Day or Black Friday; for marketing campaigns; for branding and photography: and for product development.
Amazon also has its Amazon Lending program; however, it is only available to eligible small and medium-sized businesses selected by Amazon. We will discuss the program below.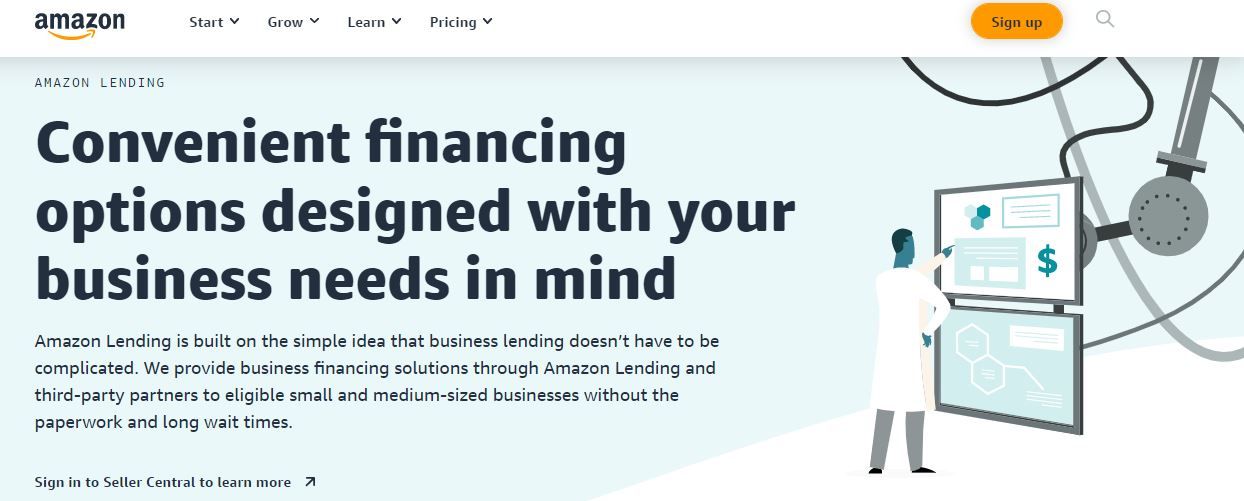 Benefits of Amazon Seller Loans
On Amazon, sellers face a lot of challenges, and overcoming them without an influx of Amazon funding may be tough. To beat the competition, you need to direct your funds at inventory management optimization; marketing, and promotions to increase visibility and conversions, not mentioning discounts; reducing lead times; store and brand development. Alongside, you want to grow your business, which requires additional funds.
The right credit solution can help you:
Increase inventory before holidays or seller-specific events;
Diversify product categories;
Help promote a brand at multiple marketplaces;
Build up marketing campaigns;
Develop your brand;
Scale your business;
Optimize your operations.
Pros & Cons of Amazon Lending Program
Does Amazon lend money to sellers? Yes, it does, under the Amazon lending program. Under this program, qualified sellers can obtain short-term business loans for additional inventory to sell on the Amazon marketplace. Amazon loans are invitation-only.
The amounts you can get under Amazon lending range from $1,000 to $750,000, and the interest rates are typically less than those of a credit card. It doesn't require extensive paperwork since Amazon is aware of your account health. You can get funds relatively quickly.
However, Amazon Lending is an invitation-only program, which means, that Amazon selects the sellers to be enrolled in the program, by its own discretion. Typically, they engage in the program sellers with a successful track record of Amazon sales, and those, who they think are the best fit for a loan. Therefore, you cannot enroll in the program on your own initiative. Also, selling on the platform, especially if you are an FBA merchant, and borrowing money in the same place, makes you overly dependent on Amazon. On top of that, you can use money only to buy Amazon inventory.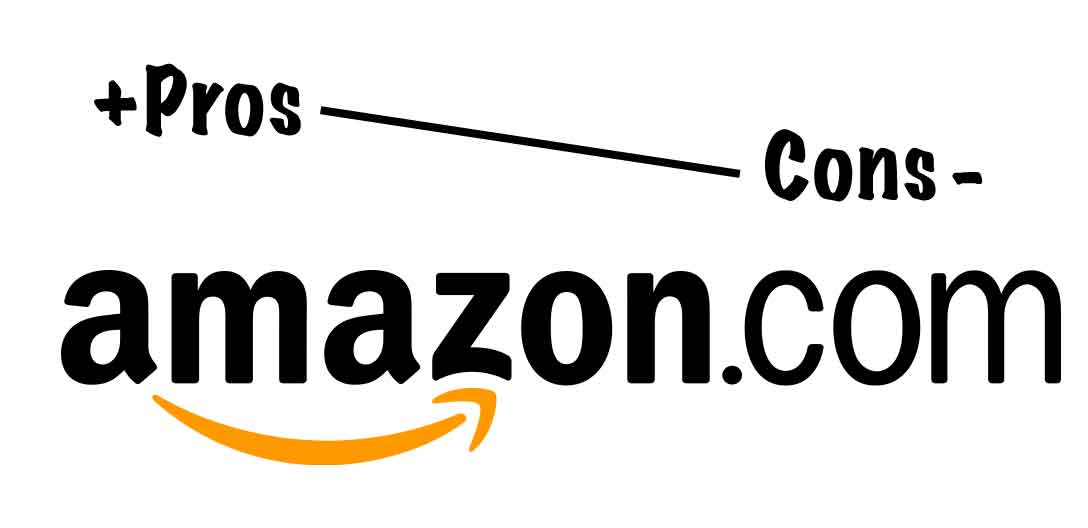 Are there any other options for Amazon business loans? Yes, and we will discuss them below.
9 Amazon Lending Options for Sellers
Option 1. Small Business Administration (SBA) Microloan
This loan is a good option for small businesses with limited credit, launching and expanding their operations. The loans are provided by SBA-approved lenders. The loan amounts range from $500 up to $50,000. The term of microloan is a maximum of six years, with the annual rate of payment (APR) 8 -13%. To qualify, you need to be a for-profit business with no bankruptcies within the last two years. You will be requested to submit a business plan, financial statements, and licenses and permits, if applicable.
Option 2. Business Term Loan
Business term loans are provided by traditional or any alternative lenders. They provide a working capital paid to a seller up front, and it's then repaid with regular installments at a fixed interest rate. The requirements to applicants are usually stricter than with alternative loan providers. This type of loan typically amounts to $5,000 to $5 million, given for 5- 20 years.
Option 3. Merchant Cash Advances (MCA)
MCA is a cash advance received based on the sale of your future credit card income. No regular fixed payments are applied - the lender collects a preset percentage of your daily credit card sales. Depending on the case, this may be quite a costly option.
Option 4. Peer-to-Peer Financing (P2P)
P2P is placing the loan amount on a peer-to-peer lending site and specifying an interest you're going to pay. Interested lenders bid on your loan.
Option 5. Factoring
Factoring means selling your accounts receivables to raise funds. The rates under this option are even higher than with traditional bank loans, but they are much easier to obtain.
Option 6. Credit Cards
Given high-interest rates, credit cards are ok to use majorly for short-term expenses.
Option 7. Amazon Lending Program
This option we've already discussed above, with all its pros and cons.
Option 8. Amazon Line of Credit
One more lending option from Amazon introduced recently, is a joint partnership program of Amazon partnering and Goldman Sachs. It's tailored for Amazon businesses having steady growth in sales. Under this program, sellers can qualify for a revolving credit of up to $1 million, paid off as needed. The APR is 6.99%-20.99%. No annual fee applied. Same as Amazon Lending, the program is by invitation only.
Option 9. Amazon Seller Fintech Lenders
Fintech lending is a form of funding based on the newest financial technologies applied to streamline the lending process. Fintech lenders typically provide loans to e-commerce businesses and Amazon stores with healthy accounts. Fintech lenders have expert knowledge in the Amazon business and are aware of all valuation criteria, therefore applicants need to provide minimum information and receive approval very fast.
Why Borrowing from Amazon Seller Fintech Lender?
As said, traditional banks, where you will typically apply for any type of credit, are overly conservative. They are used to dealing with brick-and-mortar businesses and don't know much about how online sales work. They are reluctant to issue a loan without collateral and will ask you for evidence of a successful track record of Amazon sales for several years. They will also require you to provide a lot of documentation, and the decision time may be too long to wait for. On top of that, banks are not always ready to provide loans under $100,000, or the interest may be higher. Other funding options, discussed above, are not exactly tailored for Amazon business, though can be applied depending on your business needs, with the exception of Amazon Lending, which is an invitation-only program.
To be on the safe side when applying for business funding, it's a good idea to carefully review your finances to estimate the size of a loan to ask for, clearly set the goal of a loan – purchase inventory for Black Friday, etc., and figure out the payback. With that in mind, borrowing from a seller funding company can be the right decision.
Advantages of Borrowing from a Fintech Lender:
They know Amazon business and its valuation metrics;
Quick and easy procedure;
Scalability of loan amounts;
Customized credit solutions;
Online application;
Flexible terms;
Collateral free.
How Can SageSeller Help You Get Hassle-Free Loans on Good Terms?
SageSeller, together with its partners, offers a funding solution to Amazon sellers who are looking for сashflow funding. This solution is a perfect match since it helps you not only get funds but also professional advice and support regarding how to grow your business and improve your business metrics. It's built for sellers by sellers.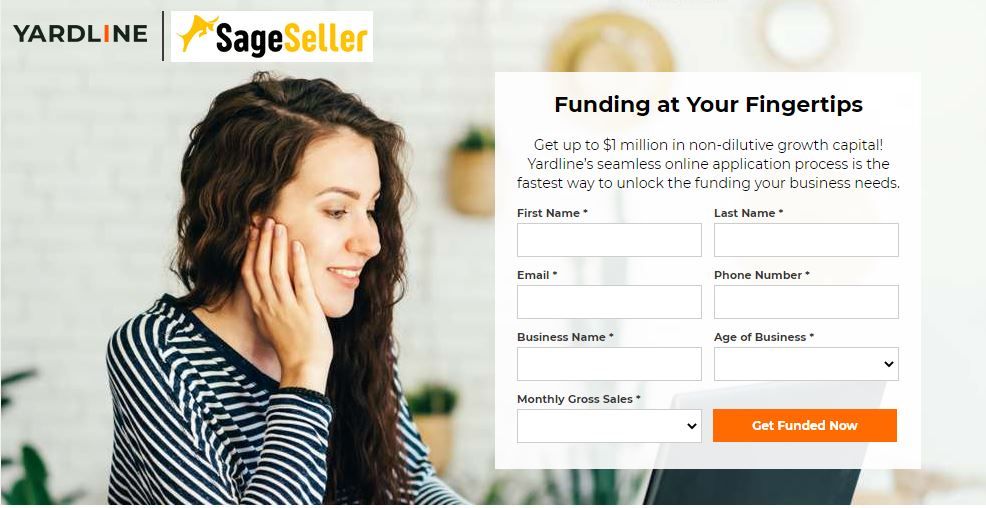 With this solution you can:
Get up to $1 million in non-dilutive growth capital;
Get funding hassle-free;
3-minute application;
Decision within 24 hours;
Use the funds where makes sense for your business.;
Get expert guidance to help your business grow.
If you want to grow your business, get a hassle-free Amazon loan for sellers on good terms now.
Enjoy your sales and don't forget about your product's profitability and KPIs, it's very important to keep track of them as they show your account health. To do the analysis easily, you can use Business Analytics Seller tools, like SelleRise. With this tool, you can keep track of your sales, costs, and profits and see where you can optimize them. Also, you can see sales and profit dynamics showing you how healthy is your business.