Aloha, Amazon Seller!
Amazon UPC is a unique code assigned to each and every product on the Amazon marketplace. Learn how to get a UPC code for Amazon in this article.
Every item sold internationally must have a unique product identifier - UPI. UPIs are assigned to products you sell to be able to differentiate between the products, find, and track them.
The world's economic growth and increasing consumption bring up the expansion of product development, manufacturing, and turnover. Inventory management and logistics become more and more sophisticated and involve the latest technological solutions to provide fast shipping.
Every e-commerce company, that wants to reach success and be an expert in its business should facilitate fast and reliable delivery of its goods to the customer. Nowadays, fast and free shipping is an integral part of every day's customer experience and one of the pillars of online shopping marketing strategy.
To ensure fast and free shipping as per customer expectation, you need to be able to track your product at every stage of the sales process, starting from its production by the manufacturer or purchase from a distributor, and ending up by delivery to the customer's door. To help you do this, your product needs to have a UPI.
UPIs can be of several kinds - Global Trade Item Numbers (GTINs), Manufacturer Part Numbers (MPNs), and brand names. UPC is also a GTIN, applied in the US.
In this blog, we're going to discuss what is UPC code for Amazon, how to get a UPC code for Amazon, and how to create UPC codes for Amazon.
What Are UPC Codes?
UPC stands for Universal Product Code. This is a US barcode standard designed to track goods in stores. The UPC was developed in 1973 by George Joseph Laurer, an engineer at IBM Corporation.
On Amazon, each and every product should be assigned an Amazon UPC. It is a barcode assigned as the product ID and is typically located on a product's cover or the product's packaging in the form of a barcode label.
UPC is one of the GTINs. The types of GTINs are as follows:
UPC – Universal Product Code (12 digits, used in the USA);
EAN – European Authentication Number (13, 14, or 8 digits, used outside the USA);
ISBN – International Standard Book Number (10 or 13 digits, used internationally);
JAN – Japanese Article Number (8 or 13 digits, used in Japan only);
GTIN-14 - Global Trade Item Number-14 (14 digits, shipping container code).
GTINs are product IDs in the international products database GS1 (Global Standards 1). GS1 is a non-profit organization developing and maintaining international standards for business communication. These codes are applied in line with Industry Standard.
Why Do You Need UPC Codes for Amazon?
Having a UPC is a precondition of product sales on Amazon. The platform requires every seller to have a unique product ID, UPCs being these identifiers. When you are creating a new listing, you will need to enter UPC for Amazon in the 'Product ID' section. UPC is one of the widespread codes, first and foremost in the U.S.A. Without a UPC code, Amazon will not let you sell an item on their marketplace.
UPC codes for Amazon help:
Identify a product and register it;
Track inventory status and shipping process;
Locate items in Amazon's warehouses.
According to Amazon's policy on UPC codes, they are now checking each product's UPC against the GS1's database to identify whether the code assigned to the product is an authentic one. If they find out that a UPC code isn't valid, they will remove the product.
Are UPC Codes for Amazon Always Needed?
Though all items sold on Amazon must have Amazon UPC codes, there is a case when a private label seller creates their own brand and registers it in Amazon's Brand Registry. In such a case, a merchant can apply for a GTIN exemption, and when it's granted, can list a product without a UPC code.
You can find out how to apply for a GTIN exemption here.
If you are purchasing your item from a wholesaler or retailer, as the case may be, it may already have a scannable UPC barcode registered with Amazon's system. In such a case, you won't need to buy a UPC yourself. In such cases, you already have free UPC codes for Amazon.
If you don't use a Fulfillment by Amazon (FBA) method and fulfill your product yourself, for the products that don't have a UPC code for Amazon you'll need to buy it to list a product, but there's no need to label each product with it.
When Do You Need to Buy UPC Сodes for Amazon?
If a product doesn't have a UPC code, you will need to purchase it. This will happen when you've created a private label product and haven't registered it in Amazon's Brand Registry.
How to Generate an Amazon UPC Code?
Before buying UPC codes, it's good to know how they are generated, because you can't just auto-generate it yourself. UPC code needs to be purchased from the GS1 organization we mentioned above. GS1 comprises over 100 regional organizations; in the US it's GS1 US.
In order to be able to generate a UPC code, you need to create a GTIN, since UPC is a type of GTIN. If your business is registered in the US, address GS1 US and become a member of this organization. If your business is registered in another country, contact your respective GS1.
How to Buy UPC Codes?
GS1 outlines several basic steps to buying a UPC code for Amazon.
Step 1: Decide whether to purchase a single GTIN or apply for a GS1 company prefix
GS1 US has two options for businesses of different sizes. Small businesses selling a few unique items, can purchase single GTINs. In this setup, a UPC will cost $30 with no annual renewal fee applied. However, for businesses that are going to steadily grow their portfolio, applying for the Company Prefix is a better option.
A company prefix is a unique ID of the product's manufacturer. Since each product's code is issued by a manufacturer, a company prefix will be included in each product's code and will remain the same for all codes. Typically, it's the first six to nine digits of your barcode. Each of your products will be assigned a barcode that consists of your company prefix and a combination of digits following it, being unique for that product.
In order to ensure that a GTIN or company prefix can be tracked by Amazon, purchase any of those directly from GS1. To buy UPC codes from GS1, fill out an application form on their website.
Step 2: Determine the number of barcodes
Then you'll need to decide how many barcodes you'll need. If a product differs in size, color, weight, or other parameters, each of these variations will need a separate barcode.
Step 3: Select a pricing plan
As the next step, choose GS1's pricing plan that suits you best.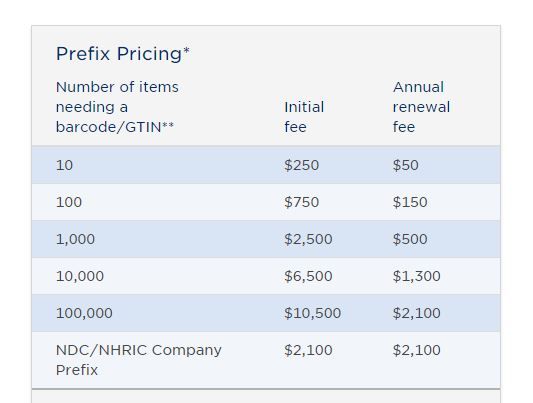 Step 4: Assign a GTIN to each product.
After you've selected GS1's pricing plan, generate GTINs for your products. A GTIN includes your company prefix, a product number assigned, and a "check digit" to help verify that GTIN is generated correctly. Amazon UPC barcodes are GTIN-12 – they are comprised of 12 digits. They include 11 digits, and a "check digit" calculated by GS1 depending on the first 11 digits of your code.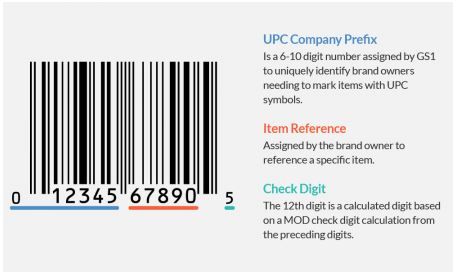 To auto-generate a code, you can use one of the Amazon UPC code generators available on the market.
Step 5: Select a barcode type
The barcode type is selected based on where you are going to use it. If you are going to sell a product at a brick-and-mortar store, the type of the barcode differs from scanned in a warehouse. For brick-and-mortar and online sales, one and the same GTIN applies.
In order to fulfill Amazon orders using the FBA method, you'll need FNSKU barcodes to track inventory in Amazon warehouses.
Step 6: Label barcode on your item
GS1 can provide you with a digital barcode to be placed on the packaging and on your product upon your request. When labeling a code, keep in mind that it should be placed so that it can be easily scanned. It's better not to place it on the edge of the package and print it clearly.
Now when you know how to get your Amazon GTIN and UPC codes, enjoy your sales, and don't forget about your product's profitability and KPIs. It's very important to keep track of them as they show your account health. To do the analysis easily, you can use Business Analytics Seller tools, like SelleRise. With this tool, you can keep track of your sales, costs, and profits and see where you can optimize them. Also, you can see sales and profit dynamics showing you how healthy is your business.