Aloha, Amazon Seller!
One of the frequently asked questions is – does USPS deliver on Sunday, Saturday (or weekends)? We are ready to give you more detailed information about USPS delivery days.
In the e-commerce business, fast and free shipping is one of the key pillars of ensuring customer service best practices. In the past ten years, it has become a common customer expectation to get a one- or two-day delivery on their orders. Online retail sellers strive to offer one-, or even same-day shipping services to the shoppers to improve shopping standards and override competition.
Fast and free shipping is still one of the secrets of Amazon's success. With its Amazon Prime program introduced back in 2005, offering free, two-day shipping, the e-commerce giant made a breakthrough in online shopping logistics. The majority of online buyers shop on Amazon because of fast, free shipping. This is as much as (79.8%).
This was made possible due to 3rd-party logistics (3PL) partners network and partnering with reputable service providers in the delivery service industry, like United States Postal Service (USPS). Every US citizen knows that over the years USPS has earned a reputation of being one of the most reliable and easy-to-use providers of post and delivery services. Famous for its consistent shipping, it delivers tremendous quantities of retail orders.
USPS is one of the best options for sellers who would like to ship to the customer a fragile package or a lightweight order. On top of that, sellers rely on USPS if they would like to ship large quantities. USPS offers flat rate shipping suitable for large volumes of shipments. It also delivers orders on weekends.
In this blog, we will discuss why USPS is a delivery option for sellers, we will give answers to the question 'Does USPS deliver on weekends' and whether USPS delivers on Saturday. We will also tell how USPS Saturday delivery and USPS Sunday delivery work.
What Is USPS?
USPS, the United States Postal Service is an independent branch of the federal government responsible for providing Postal Service across the United States. It provides for the delivery of mail and packages to every address in the country. It reaches 160 million residences, businesses, and Post Office Boxes, and 34,000 retail locations. USPS ships over 71 mln pieces of mail per day with a delivery success rate of over 99%.
USPS states that express and standard mail services allow its customers to choose delivery options that fit their needs. They can choose the fastest shipping service or most affordable shipping price depending on what items they are sending and when they want them delivered.
Does USPS Deliver on Weekends?
Yes, there is a possibility of USPS weekend delivery. However, it depends on the service or mail class you choose. On Saturday it ships Priority Mail  and Priority Mail Express, while on Sunday it processes only Amazon Packages and Priority Mail Packages.
Does USPS Deliver Packages on Saturday?
Yes, USPS delivers on Saturday. If you want your package to be delivered on Saturday, you need to select the relevant mail class, since not all types of packages are subject to USPS Saturday delivery. For it to be delivered, you will need to choose Priority Mail or Priority Mail Express.
The shipping of first-class mail, media mail items, and standard post aren't specified.
Saturday is considered a regular business day for USPS. Unlike on Sunday, there are a number of USPS delivery services allowing Saturday shipping.
Saturday USPS shipping services are as follows:
First Class Mail;
USPS Retail Ground;
First-Class Package;
Priority Mail Express.
Priority Mail and Priority Mail are very likely to arrive on Saturday. With Priority Mail, Saturday is guaranteed delivery date. For all other services, delivery on Saturday depends on the estimated delivery lead time and the location of the warehouse.
The Priority Mail packages are shipped for 1 to 3 business days for a price of $6.65 and up. You can ship your package both at the Post Office and online if you order free pickup at your office or home. The insurance coverage is $50.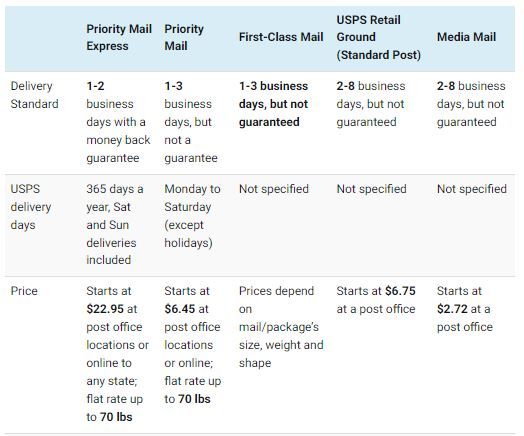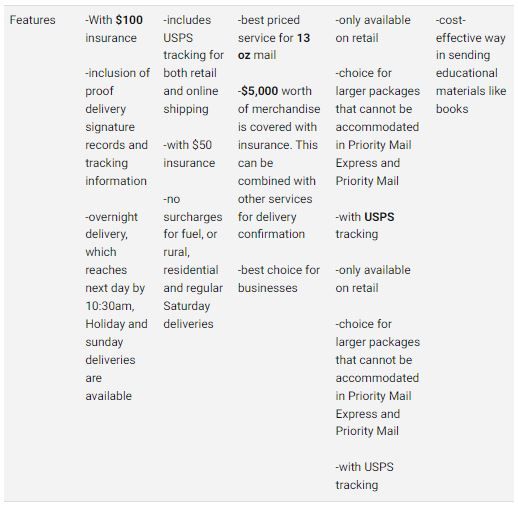 Does USPS Ship on Sunday?
Yes, USPS delivers on Sunday. However, the delivery is limited to Amazon Packages and Priority Mail packages. Since 2013, when Amazon and USPS reached a service provision agreement, USPS delivers Amazon packages on Sunday.
Due to increased package volume, USPS expands the types of packages to be delivered on Sundays.
What Are USPS Delivery Hours on Saturday and Sunday?
USPS Saturday and USPS Sunday delivery hours depend on the warehouse location and volume of the mail.
USPS delivery hours and time of delivery depend on:
The location of the USPS warehouse;
The location where the mail is stored for delivering to the address assigned;
The volume of the mail.
USPS Delivery Hours Saturday
The majority of USPS packages are delivered by 2:00 pm on Saturdays, however, they can be delivered as late as 6:30 during peak seasons. For mail sent with delivery guaranteed service like Priority Mail Express, the package must arrive by 10:30 am. USPS Overnight must arrive between 10:30 or 3 pm. Priority Mail Express comes with a money-back guarantee.
The advantage of this service is an affordable price - the price starts at $23.75. Compared to other shipping services, it's far cheaper.
USPS Delivery Hours Sunday
Priority Mail Express items under the overnight scheduled delivery should arrive by 10:30.
Amazon Prime members can order Sunday deliveries, they can place an order on Fridays, and can receive delivery by Sunday.
USPS Weekend Delivery Cost
The payment for weekend delivery with USPS depends on the type of service you've chosen. As far as Saturday is a normal business day at USPS, there are no extra charges for Saturday delivery.
For Saturday, the fees are:
First Class Mail: starting at $4 for parcels;
USPS Retail Ground: starting at $7.70;
First-Class Package: starting at $4;
Priority Mail Express: starting at $26.75.
The total amount of fees depends on the delivery destination and package weight.
For Sunday, Priority Mail Express service's prices start at $26.60. Priority Mail Express Flat Rate lets you ship packages up to 70 lbs to any state at the same price.

7 Tips on USPS Delivery on Saturday and Sunday
#1. There are no Saturday fees: USPS charges no extra fees for Saturday shipping.
#2. Tracking included: USPS weekends deliveries come with tracking.
#3. Insurance is optional: USPS weekend deliveries come with $50-100 of insurance. You can buy extra insurance if needed.
#4. Cut off times: If you have certain time constraints and want your parcel to be out of the post office in time, ensure that it gets out the same evening. Call your post office and confirm their cut-off time.
#5. Bring the package to the retail counter: if a package weighs more than 13 ounces, bring it to the retail counter of the Post Office; label postage stamps.
#6. When scheduling a pickup, submit a request online: have your items ready by the time the carrier arrives.
#7. Check the address: check if you've entered the correct package details and address.
How to Use USPS Saturday and Sunday Delivery Services
Here is a step-by-step guide on how to use USPS weekend delivery:
Step 1. Create a USPS account on https://www.usps.com.
Step 2. Follow the instructions on the website, enter shipment details, check shipping costs and delivery dates.
Step 3. Select Priority Mail or Priority Mail Express.
Step 4. Pay for the delivery.
Step 5. Arrange for the pickup (this comes at no extra cost).
Step 6. Put the shipping labels on your order.
USPS Flat Cost Shipping
Flat rate shipping refers to the cost of shipping that is not tied to the product's shape, weight, or dimension, which is why it's called "flat rate." It's determined by how much you can fit into the USPS-issued boxes. Online retailers ship their goods at a fixed cost using these methods.
It is a popular shipping option for various reasons that are based on how shipping costs are normally determined.
Amazon's Two-Day Shipping and USPS
If you'd like to enroll in Amazon's Two-Day Shipping, you must have a valid tracking rate from Amazon-approved companies, one of them being USPS.
Requirements for Two-Day Shipping
The sellers eligible for Two-Day Shipping should:
sell on Amazon for at least 90 days;
ship ten or more orders in the past 30 days;
have a valid tracking rate: it should exceed or be equal to 94%. For the United States, this includes tracking IDs from UPS, USPS, FedEx, or OnTrac;
have a high on-time delivery rate: it should exceed or be equal to 92%;
have a low seller-initiated cancellation rate: it should be lower than 1.5%.
Enjoy your sales and don't forget about your product's profitability and KPIs, it's very important to keep track of them as they show your account health. To do the analysis easily, you can use Business Analytics Seller tools, like SelleRise. With this tool, you can keep track of your sales, costs, and profits and see where you can optimize them. Also, you can see sales and profit dynamics showing you how healthy is your business.