Aloha, Amazon Seller!
Wonder how to get more reviews on Amazon? We are going to provide you with the Amazon customer reviews guideline. Check the Sageseller's article and get more 5-Star reviews on your products.
On Amazon.com, seller image and reputation are extremely important as they influence your ranking. The positive sales history of your brand or product matters as Amazon ranks them higher as well. Reviews and customer feedback are showing the level of customer care and quality of the services you provide as a seller. If you've received negative feedback, then it indicates that you have a problem, and you will need to fix it.
It is also true, that people trust other people's opinions much more than ads. 79% of consumers trust Amazon 5-star reviews as much as personal recommendations; 85% of consumers say that they read online reviews for local businesses, and 73% of consumers say positive customer reviews make them trust a business more.
Given the importance of positive reviews on Amazon and their high specific gravity in products ranking, it's no wonder that sellers are looking for different ways as to how to get product reviews on Amazon, and even consider buying reviews on Amazon. However, you should bear in mind, that Amazon is also very well aware of the review manipulation problem. For instance, Amazon has deleted 20,000 UK reviews after evidence of profits for posts.
In this post, we're going to discuss how to get more reviews on Amazon, how to get Amazon reviews legally, and the best way to get Amazon reviews.
What Are Amazon Product Reviews?
Amazon product review relates to the specific order the shopper has bought from you. This distinguishes the review from Amazon seller feedback, which is all about a seller. Customers can submit reviews for items listed on Amazon in a form of a star rating ranked from 1 to 5. Amazon review stars, therefore, show how much the shopper has appreciated your product and service. If your product has over 3 starts, the feedback is considered positive.
Amazon encourages buyers to share their opinions, both favorable and unfavorable. According to the marketplace, reviews help customers to learn more about the product and decide whether it is the right product for them. Customer Reviews should give customers genuine product feedback from shoppers.
The product review accounts for:
Product quality;
Listing quality;
Pricing;
Warranty.

Amazon Customer Review Guidelines
Amazon has outlined an extensive policy on what should and shouldn't be included in the Amazon review, and they will delete it if they think it's not TOS-compliant. Amazon specifically states that they have a zero-tolerance policy for any review designed to mislead or manipulate customers.
Reviews not allowed by Amazon:
A review as a form of promotion;
A review by someone who has a direct or indirect financial interest in the product;
A review by someone perceived to have a close personal relationship with the product's owner, author, or artist;
A review by the product manufacturer, posing as an unbiased shopper;
Multiple negative reviews for the same product from one customer;
A review in exchange for monetary reward;
A review of a game in exchange for bonus in-game credits;
A negative review from a seller on a competitor's product;
A positive review from an artist on a peer's album in exchange for receiving a positive review from them.
How Does Product Review Amazon Work?
Buyers can share their thoughts with other customers by submitting a customer review on a product detail page for the item. They can submit product feedback by selecting a star rating. They can also add text, photos, or videos.
Why Is Getting Reviews on Amazon Important?
People trust other people's opinions about your item;
Reviews drive sales to your listing;
Reviews Increase Conversion Rates;
Reviews influence product search ranking on Amazon;
Reviews show you the problem with your product you haven't been aware of;
Engaging new customers: shoppers search Amazon reviews.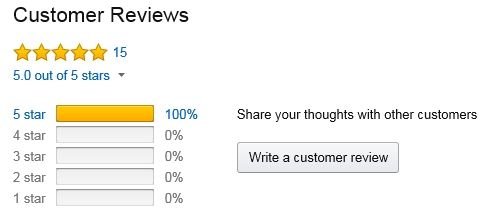 5 Tips How to Get More Reviews on Amazon
1. Get Amazon reviews with customer service excellence
Getting Amazon reviews via ensuring the best customer experience is achieved when you:
Give accurate information about an item;
Do not mislead, avoid any confusion or false expectations with a product;
Give fast responses;
Follow the customer journey, provide extra information about the product, detailed images, and videos;
Encourage shopper to leave a review, request feedback;
Respond to both positive and negative feedback;
Improve drawbacks;
Show appreciation for the positive reviews.
2. Send follow-up emails after an Amazon purchase
Though Amazon itself asks for customer feedback after he has bought a product, this is a standard email with generic wording. Create personalized review requests and send them to the customers, encouraging them to write Amazon reviews. Select any of the software tools available on the market automating this process.
3. Get Amazon reviews with a product insert
One efficient way of getting Amazon reviews is with Amazon packaging insert cards. These cards contain any marketing information you'd like to communicate to the customer about your product or brand. A good point in this product insert card is that this way you can communicate directly to the customer and deliver any marketing message 'in person', which can include sharing his purchasing experience.
According to Amazon TOS, you have few chances to ask a shopper for a positive review directly. Amazon insert is one of the tools to request customers to do so. Experts say, that 70% of customers will leave a product review when asked. It is important that you ask for a neutral review, as Amazon's TOS prohibit incentivizing reviews.
Find out how to create a great product packaging insert card here.
4. Contact shoppers who reviewed similar products
You can try and contact shoppers who have reviewed products similar to yours, even if those are your competitor's products. You can find these shoppers under "Customers Who Bought This Item Also Bought" and "Customers Who Viewed This Item Also Viewed."
If the reviewer's name and contact info are connected with their profile, you can find their details and send an email. If not - try reaching for them via any of the social networks.
5. Regularly offer discounts and special promotions
Customers are always happy when they get discounts. Since Amazon TOS prohibits asking customers to leave a review in exchange for a discount, you can offer discount codes as part of your regular promotion strategy.
How to Leave a Product Review on Amazon?
To leave a product review for an order buyer has to:
Do one of the following:
#1. Go to the product detail page for the item.
#2. If they've placed an order for the item, you can also go to Your Orders.
#3. Click Write a customer review in the Customer Reviews section.
#4. Select a Star Rating.
#5. A green checkmark shows for successfully submitted ratings.
#6. Add text, photos, or videos, if necessary, and click Submit.