Aloha, Amazon Seller!
Do you want to build your own Amazon brand store? Our easy-to-follow, step-by-step guide for creating an Amazon store is your best chance of success.
Whether you are a big vendor or a small business, you always think about how to add value to your product. One of the strategies driving sales and conversions is branding. The brand makes your product different from millions of other products. Sometimes the brand name itself is a reason for purchase.
People love to buy brands. Do you know why? Brands make people feel special and show their taste. Brands create positive experiences. Branded goods give their owners a feeling of safety and luxury.
If you are thinking about creating your own brand, it's high time now. It will work well if you create an Amazon store for your brand.
What is an Amazon store and how to set it up? Creating your own Amazon store will increase brand awareness because you will have your collections and all promo activities in one place. This will give you a chance to implement a solid and bright marketing concept making your products different from the others. All your creative ideas would be inextricably associated with your brand name.
You don't need to be a coding specialist to open an Amazon storefront. It is quite straightforward. We will give you easy step-by-step insight into how to start your Amazon seller store on Amazon.com and how to create an Amazon storefront.
What is an Amazon Store?
When you've made up your mind to establish your own brand, you'll immediately think about how to introduce it to the outside world. Of course, you need a special website where your customers can see your perfect branded products. Private label listing on Amazon or any other platform will also generate sales. However, there is a much more advanced way to collect all your branded items in one place. That's a service called Amazon Storefront.
It is very similar to the brick-and-mortar brand outlet, just you create it online and your customers don't need to go there on foot. Nice opportunity to sell products to the customers who want to shop without leaving the house, isn't it?
Amazon store is an option this platform offers to sellers and vendors to promote their branded products. The feature is good for several reasons: it creates brand awareness, it's a self-service, you don't need to be a coding specialist to create it, and it doesn't cost extra if you are subscribed to a Professional selling plan on Amazon.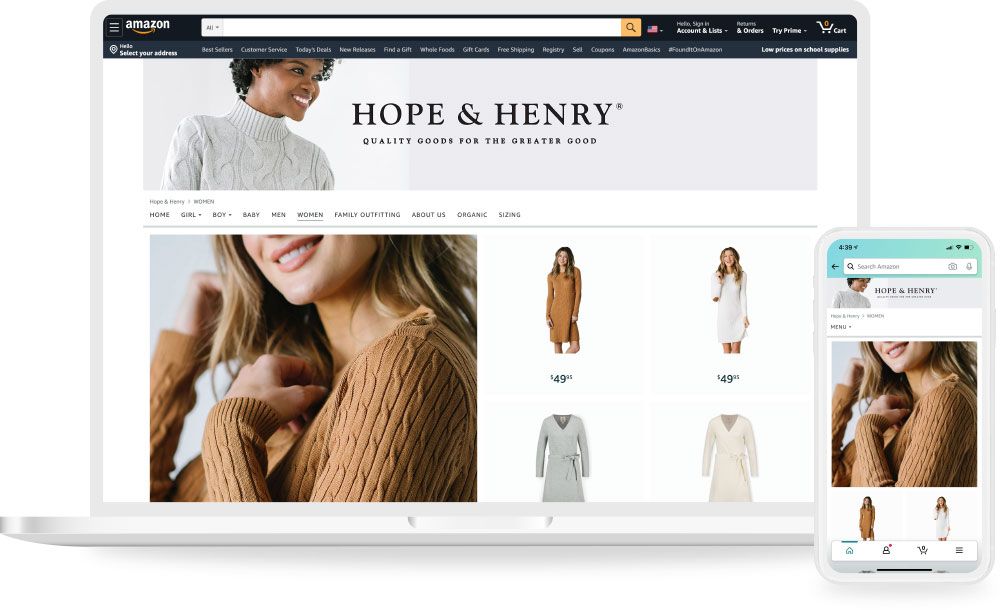 Who Can Create an Amazon Store?
Any seller, agency, or vendor who is a brand owner can create an Amazon store. However, in order to create your own Amazon storefront, you need to enroll in the Amazon Brand Registry program.
Amazon Brand Registry program is intended to protect trademark owners from illegal replication or reproduction of their product. To apply for Amazon Brand Registry, you need to have a valid registered trademark for your product. The trademarks are issued by the World Intellectual Property Organization.
You can enroll in the Amazon Brand Registry program from your Amazon Seller Central. To become a member of the program, you need to navigate to brandregistry.amazon.com. Then you need to follow Amazon instructions and fill in the requested information. You will need to:
Provide your brand owner name;
List registered trademark number;
Fill in the brand product categories;
Name the manufacturer;
Send filled-in application to Amazon for approval.
Why Should You Create an Amazon Store?
When you create your brand, most likely you've already outlined an applicable marketing strategy to promote your perfect branded product. Setting up an Amazon Store could be a good tool to support it. It is always good to have all your items in one place, apply your advertisement, discount, pricing, and other strategies as a complex approach.
The store is the 'face' of your brand and your product. It can bring recognition to your brand in a lot of ways. You can apply creative design techniques and ideas, set up collections, catalogs, and more. The store allows for multipage customized solutions.
The store is aimed at:
Increasing customer engagement and conversions;
Generating new customers;
Stipulating for the essential growth of organic rankings;
Providing for convenient shopping in one place;
Creating brand-centric customer experience;
Building buyers' trust;
Adding up product's business value.
Also, the Store is an excellent option to showcase your inventory by creating a slideshow of photos or videos, making bright product insights.
What are Amazon Features Available to Amazon Seller Storefront Owners?
E-commerce giant offers a number of advanced tools to Amazon storefronts owners helping them promote, grow, and develop their brands. These features include Amazon Brand Registry, Amazon advertising, Sponsored Brands, A+ content, and brand analytics.
Amazon Brand Registry is an Amazon program that allows verified brand owners to have access to a set of tools created to help sellers build and protect their brand, enhance reporting, and more.
Sponsored Brands is an ad feature promoting the brand's logo and custom headline.
Amazon Advertising is a component of the Amazon Advertising program, that helps promote a brand both on and off Amazon. The options available to storefront owners are Sponsored Product Ads, Sponsored Brand Ads, and Sponsored Display Ads.
Read more about different types of Amazon ads in our blog.
Amazon Brand Analytics is a set of tools intended at analyzing your products data, your audience, competition, your customer persona, and more.
A+ Content is an Amazon feature enhancing your branded product listing.
Here's how to add A+ Content:
In your Seller Central's menu, select 'Advertising' > 'Enhanced Brand Content.
Put in the SKU of the item to add content;
Choose one of the modules or templates;
Follow the Amazon prompts: add images and text describing the details of your item;
Make a preview of the page to be sure that everything looks like you designed it;
Submit the content to Amazon for approval.
Here are a couple of tips on how to make your A+ content perfect. Tell shoppers how good is your product, convince them to buy it. Your description should be clear and detailed, try to include all information your customer needs to understand how your item differs from competitors. Put it on the table, if it works. Use your researched keywords to drive conversions.
Use only professional-quality, high-resolution images, showing how different is your product. Add video instructions on how to use it.
Apply brand identity elements to create your brand image: brand logo, brand colors, banners, etc.
Provide detailed explanations with specific words and numbers to help customers become experts on your product.
Add customer reviews. Try to put them in a way to convince shoppers who might hesitate about the purchase.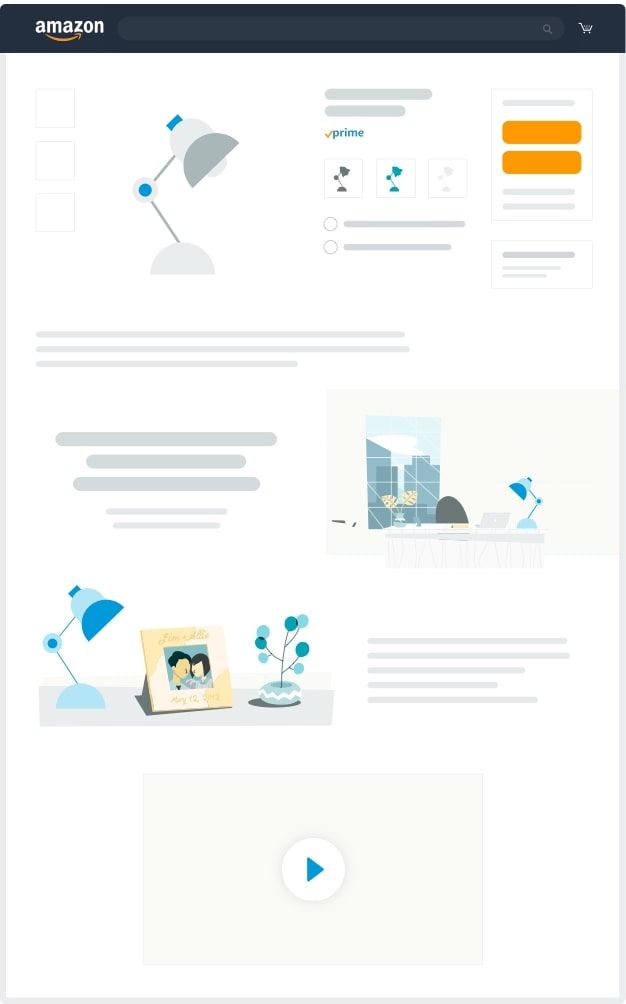 Now it's time to find out how to create an Amazon storefront.
How to Create an Amazon Store?
As we said above, Amazon offers a special 'store within the store' option for your brand. It is very easy and does not require special skills or knowledge, but it's a lot of fun! Let's see how to create an Amazon store.
In the store builder, you can find a vast set of templates helping you create your #1 brand store. Let's do it step-by-step.
A Step-by-step Guide to Create an Amazon Store
1. Begin by going to your Seller Central account and selecting the 'Stores' > 'Manage Stores' in the navigation menu.
2. Input the requested information regarding your store settings, brand details, etc.
3. Click the 'Create Store' button.
4. Choose your Store template. You can use adjustable tiles for images, text, video, and other content. There are several templates you can use.
Product Grid is the simplest template, showing a number of products on the page.
Product highlight is the template allowing you to flagship your bestseller attracting attention to it.
Marquee is a template for multiple products with a big picture of a product, description, and customer quotes.
Showcase is an option to create your own layout. This option is intended for companies with web design teams.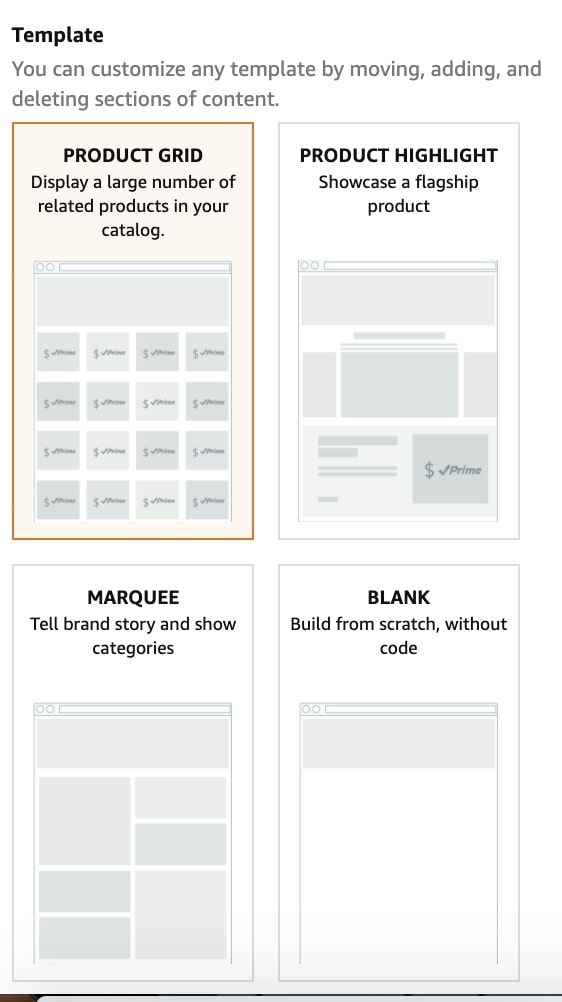 5. Add multiple pages to your store. Go to Page Manager and select 'Add a page'. Enter the page name and description, and choose a page template. Use the Tile Manager to set up the page. Create more. Set navigation between the pages. Each page can navigate up to three levels.
6. Select products you want to display in your store, add them via tiles. Make sure that all products you would like to have in your store are uploaded to your Amazon seller account.
7. Go to the Preview Window to see what your store will look like on desktop and mobile devices. Edit the page if needed.
8. Publish your store by clicking "Submit for publishing." Publishing your online store involves a moderation process that can take several days. Status Bar will show you the progress.
9. After your store is online, go to Store Builder > Insights to see the performance.
Here are several tips to help you create your perfect store:
Tell a story about your brand;
Make people interested in your content;
Chose a template that fits your brand;
Replace the automatically generated URL of your store with your brand name. Ask Amazon's support for this;
Set logical and elegant navigation between the pages;
Use a Call to Action (CTA). Create a 'Buy Now" button.
How Much Does it Cost to Set Up a Store?
Creating an Amazon store doesn't cost extra if you are subscribed to a  Professional selling plan on Amazon. However, the subscription to a Professional selling plan costs $39.99 per month. To subscribe to a Professional selling plan, go to the 'Become a seller' page on Amazon and register your Seller Central. You can find more information on how to start selling on Amazon in SageSeller's registration guide.
How Does Amazon Store Work?
After activation of your store, you can start discovering what is an Amazon store and how it functions online.
It is very straightforward: if you've done everything according to your marketing strategy and the concept was correct, then your customers will be attracted to your store and many of them will become your regular customers. A lot of potential customers will be attracted by the possibility to share your brand story, news, and special proposals. It's now up to you to develop and implement your perfect ideas for retail trade.
Your store is a showcase of your brand and inventory. It is good to constantly review and update your listings and pricing strategy.
You can drive buyers to visit your Amazon store with the PPC campaigns, discounts, and sales you announce in your store from time to time. Also, take care of the 'sitters' – the goods that do not sell well. Apply discounts.
Use Stores insights to optimize ad campaigns. The store's insights dashboard is a tool for understanding your store-related sales, visits, page views, and traffic sources on Amazon and outside it.
One of the ways to drive traffic to the store is sponsored advertising and other marketing tools, like social media and e-mail. Using Sponsored Brands or display ad campaigns will engage shoppers to your store. Brand loyalty to your store can be promoted by sharing in social media accounts: inform your potential shoppers that they can visit the store to know the latest developments from your brand on Amazon.
How Can I Measure the Performance of the Amazon Store?
The store's insights dashboard comprises metrics such as daily visitors, page views, and sales generated from the store. If you apply external marketing campaigns to your store, there is an option to add a tag to the URL to handle the analysis of the traffic sources to your store.
How to Bundle Stores with Other Amazon Advertising Tools?
You can use your store as the landing page for your Sponsored Brands campaigns. Display ad campaigns can also direct traffic to your store or a sub-page within your store.
How Can Buyers Discover an Amazon Store?
Amazon stores can be seen through the brand byline. This is a special brand name link displayed under or above the product name on a product's detail page. You can also direct your customers to your store if you use a short URL, such as amazon.com/brandname.
You can engage traffic to your store from your own sites and social media, or sponsored advertising on Amazon and outside the platform as well. Buyers may share information about your store or your campaigns and discounts on Facebook, Twitter, Pinterest, or any other social media. Stores can also be discovered through shopping results on Amazon.