Aloha, Amazon seller!
Every seller knows how important it is to keep track of your product costs. With ever-growing competition on Amazon, there's less room for high-profit margins. Every penny must be accounted for. That applies in particular to Fulfillment by Amazon fees.
Fulfillment by Amazon is a convenient service for sellers. However, it comes with a cost that goes up year by year. The year 2023 is not an exception.
Amazon announced new changes to FBA and storage fees for 2023. In addition, Amazon introduced new peak fulfillment fees - these are increased fees applicable during the Holiday season, effective from October 15, 2022, to January 14, 2023.
Since Amazon charges FBA fees per unit based on weight and dimensions, it is vital to ensure these product metrics are precise to avoid paying incorrect FBA fees. That helps maintain expected product margin and ROI and the overall business profitability.
In addition, it's vital to ensure you're not overcharged on the FBA fees since Amazon doesn't catch these mistakes.
This post will discuss the essential Amazon FBA fees, the new changes to Amazon FBA and storage fees for 2023, and tips to ensure you're not overcharged for the FBA fees.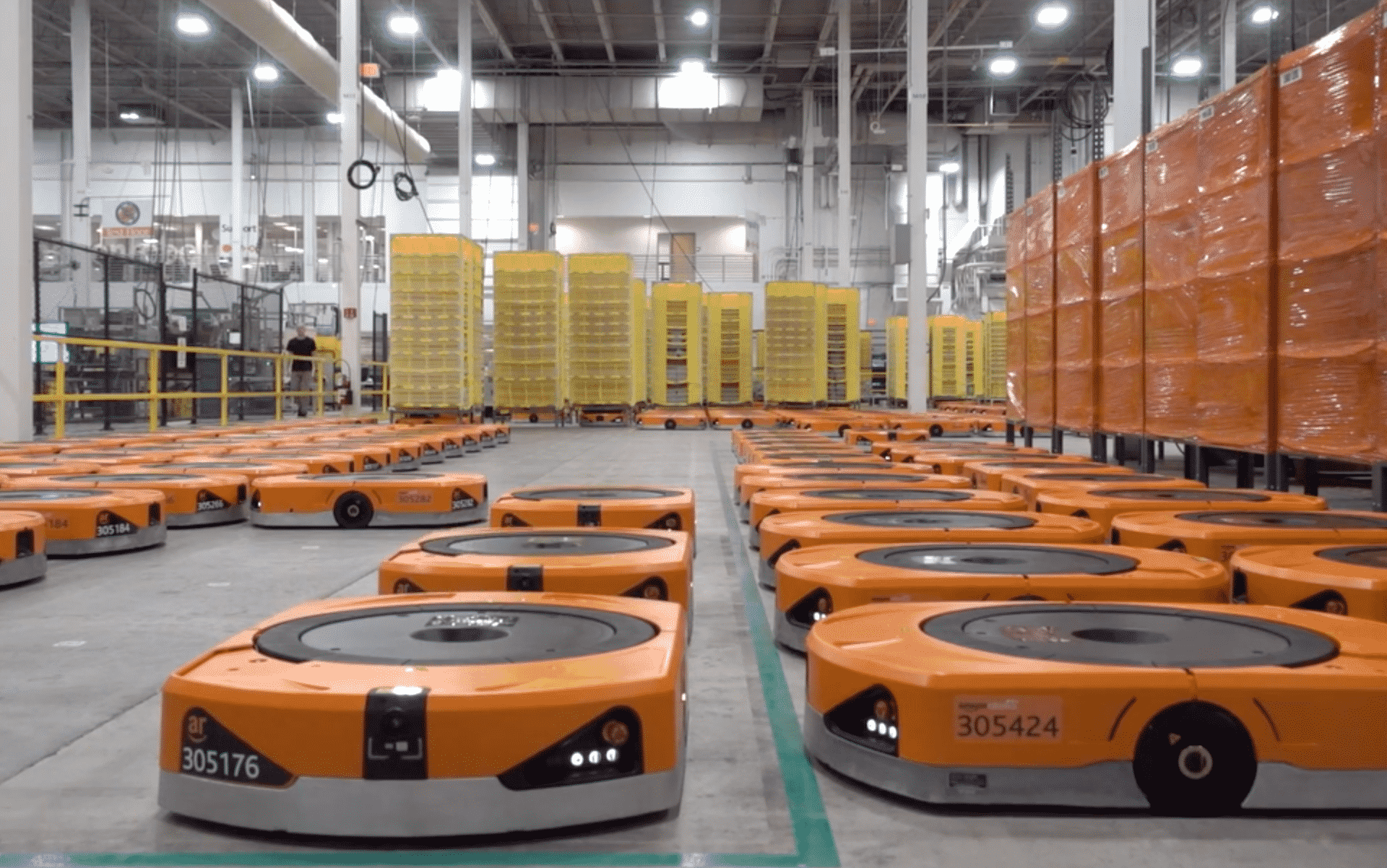 What Are the Amazon FBA Fees?

Amazon FBA fees are charged for different services provided to the FBA merchant by Amazon.

Just to remind you, FBA sellers pay selling plan fees, referral fees, fulfillment fees for order picking, packing, shipping and handling, customer service, and managing returns, as well as other optional costs, for instance, long-term storage fees.
The types of Amazon FBA seller fees
referral fees;
fulfillment fees;
monthly inventory storage fees;
long-term storage fees;
removal fees;
disposal fees.
Some of these fees are unavoidable, and you will need to pay them as an FBA seller, but some other fees are not payable if you manage your inventory efficiently.
Required Amazon Fees

Selling plan fees

There are two selling plans on Amazon Individual and Professional selling plans. With the Individual plan, you pay $0.99 per each sold item, and with the Professional plan, you pay $39.99 per month, irrespective of how many items you sell. The Professional plan will save you money if you sell more than 40 products a month. In addition, the Professional plan offers many helpful selling and marketing features, for instance, the possibility to win the Buy Box, advertising, and reporting tools.
Referral fees

Referral fees are paid on Amazon for each sold product. The fee varies depending on the product category. The majority of referral fees range from 8% to 15%. However, in specific categories, like Amazon Device Accessories, they can amount to 45%.
Fulfillment fees
Fulfillment fees are paid to Amazon for handling your logistics. Amazon FBA fees are per-unit fees charged to fulfill items to shoppers for purchases in the Amazon store. Amazon FBA costs vary depending on an item's category, size, and weight.
Values used to calculate fulfillment fees
product size tiers - measurement categories based on the unit weight, product dimensions, and dimensional weight of a packaged item;
shipping weight - the rounded item weight used to determine fees; the shipping weight is calculated based on the item's unit weight or dimensional weight;
dimensional weight - is used in some instances instead of unit weight to determine the shipping weight.

The fee category determines which rates apply to a particular product for certain fee types.
The complete list of the Fulfillment fees is here.

Monthly inventory storage fees
These fees are paid to Amazon monthly for your inventory storage in the Amazon fulfillment center. The price is based on the daily average volume of space your inventory occupies.
Optional FBA Fees

Long-term storage fees
If your product is stored in Amazon's fulfillment center for more than 365 days, you should pay a fee to Amazon. You should manage inventory three to five months in advance to avoid paying it. To eliminate the slow-moving inventory, you could run a promo campaign with discounts, etc.
Amazon removal fees
When you ask to ship your item back, removal fees are paid to Amazon. You may want to remove an item from the fulfillment center if there is a problem with the item's quality, the item has been updated with new branding or features, or you don't want to sell the item anymore.
In one of the above cases, the storage fees add up while the item stays in the fulfillment center; therefore, you need to remove it.
Disposal fees
Disposal fees are paid when you don't want to keep an item in the fulfillment center and will ask Amazon to destroy your product.
Changes to Amazon FBA and Storage Fees for 2023
FBA outbound fee rates are increased by $0.22, on average (the change applies from February 16, 2023);
returns processing fee rates for Apparel and Shoe categories are reduced by an average of $0.20 per return;
peak storage fees (October to December) are raised for the non-sortable network by $0.20 per cubic foot, while the sortable network will not change;
the monthly off-peak storage fee (January to September) is increased for standard-size products by $0.04 per cubic foot and oversized products by $0.03 per cubic foot;
a separate 5% fuel and inflation surcharge will apply (from January 17, 2023);
New Selection Program fees are decreased;
Small and Light Program Fees are reduced;
removal fees and storage fees are increased by 10%;
6-month long-term storage fees are reintroduced.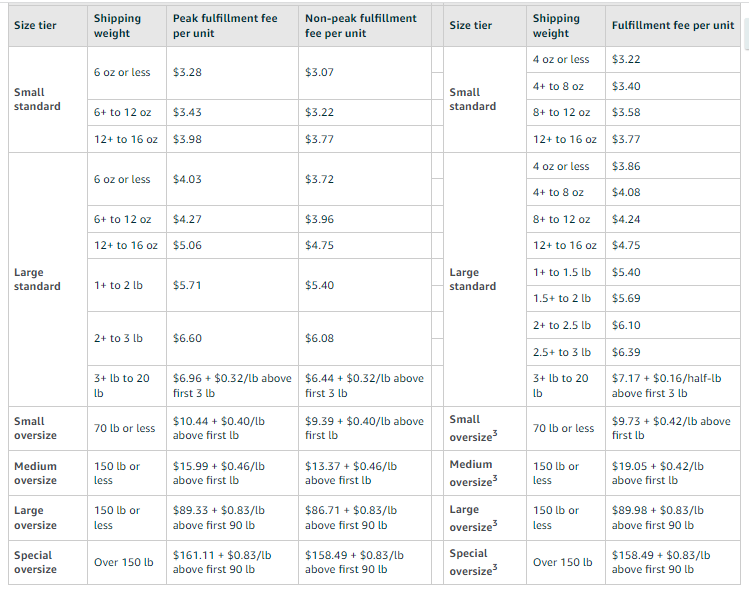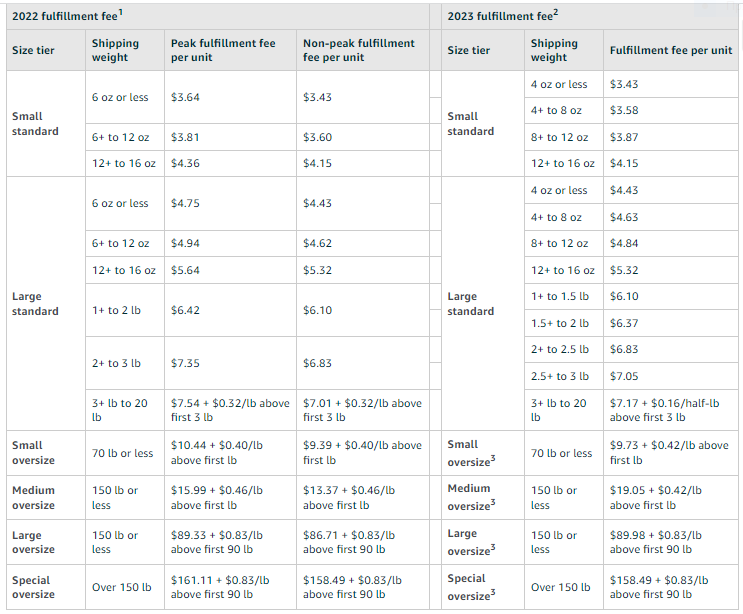 New peak fulfillment fees

A peak fulfillment fee is applied from October 15, 2022, to January 14, 2023. From January 15, 2023, FBA fulfillment fees will revert to the non-peak period rates.
How to Avoid Paying Incorrect FBA Fees?

Calculating numerous FBA fees is a challenging task. However, you must stay on top of your business profitability and ROI.

You must ensure your FBA fees are calculated correctly to avoid overcharges.
The first step to avoiding incorrect FBA fees is knowing the dimensions and weights of your products.

While Amazon FBA is set up to keep fulfillment operations running as smoothly as possible for sellers and consumers, mistakes happen.

Sometimes your products may be mismeasured—causing you to overpay for FBA fees.

Unfortunately, Amazon doesn't catch FBA fee overcharges due to product measurement mistakes. You could potentially be overpaying FBA fees for months — or even years.

Additionally, you only have 90 days from the date a fee was charged to ask Amazon to investigate whether its measurements of a product are accurate.
By taking the time to measure your products and inputting this information into your Amazon listing, you can avoid incorrect FBA fees. However, that's quite a tedious task.

How can SellerVue Help?

With SellerVue, you'll always have the most accurate information about your fees and profits and gain valuable insights into your business to make changes that will improve your bottom line.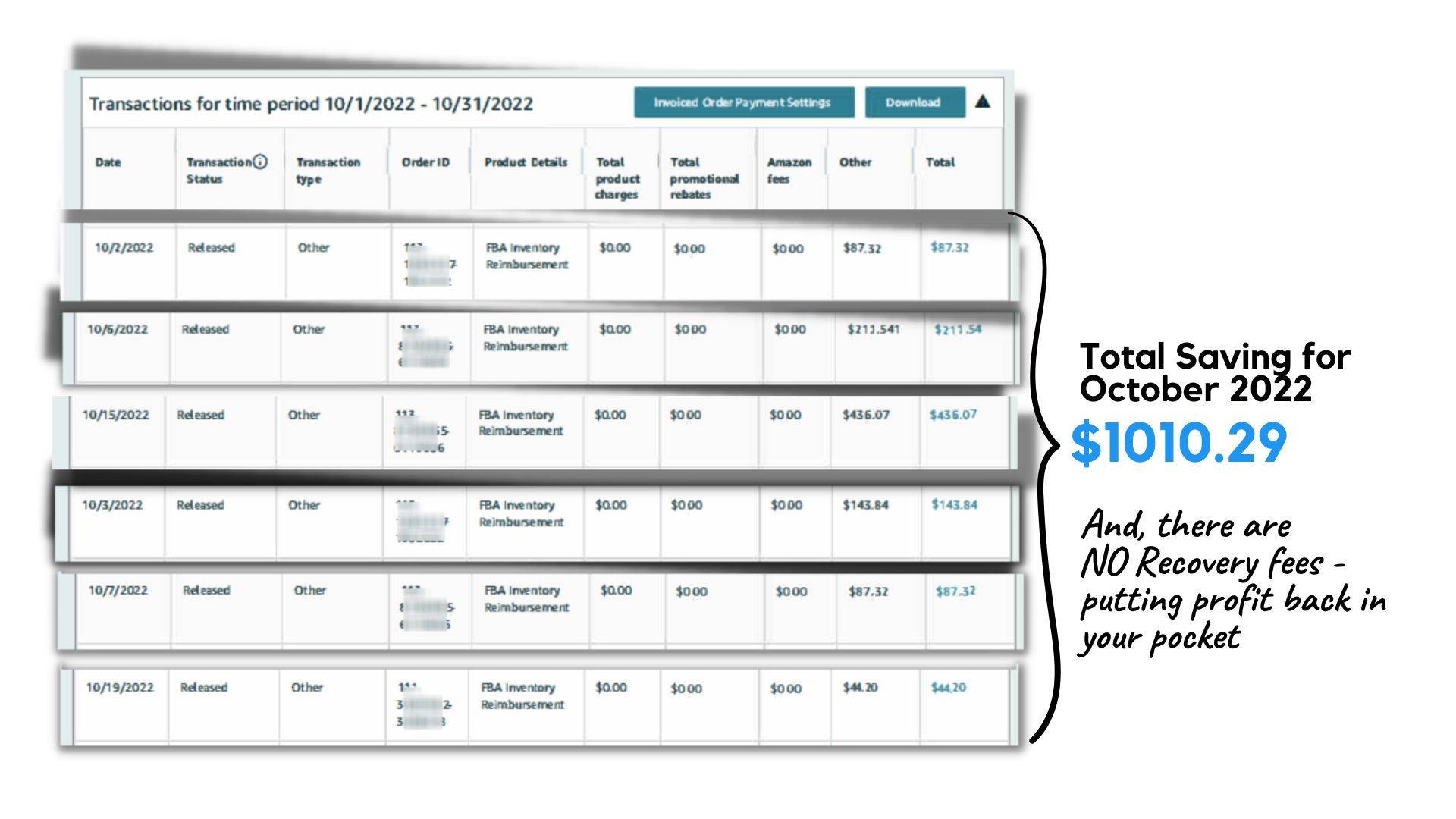 SellerVue is the perfect tool for Amazon business owners who want to be in control of their business and its profit. SellerVue's dimensions and weight tracker is a unique software checking daily the dimensions and weights you expect versus what Amazon's Cubiscan software, performing Amazon rechecks on dimensions and weight, comes up with.

SellerVue's Dimensions and Weight Tracker benefits

it helps determine if there are any discrepancies between the expected dimensions and the dimensions Amazon is charging you for;
it gives the ability to track FBA fees to timely claim reimbursements;
it helps you quickly get your money back when Amazon miscalculates your fees;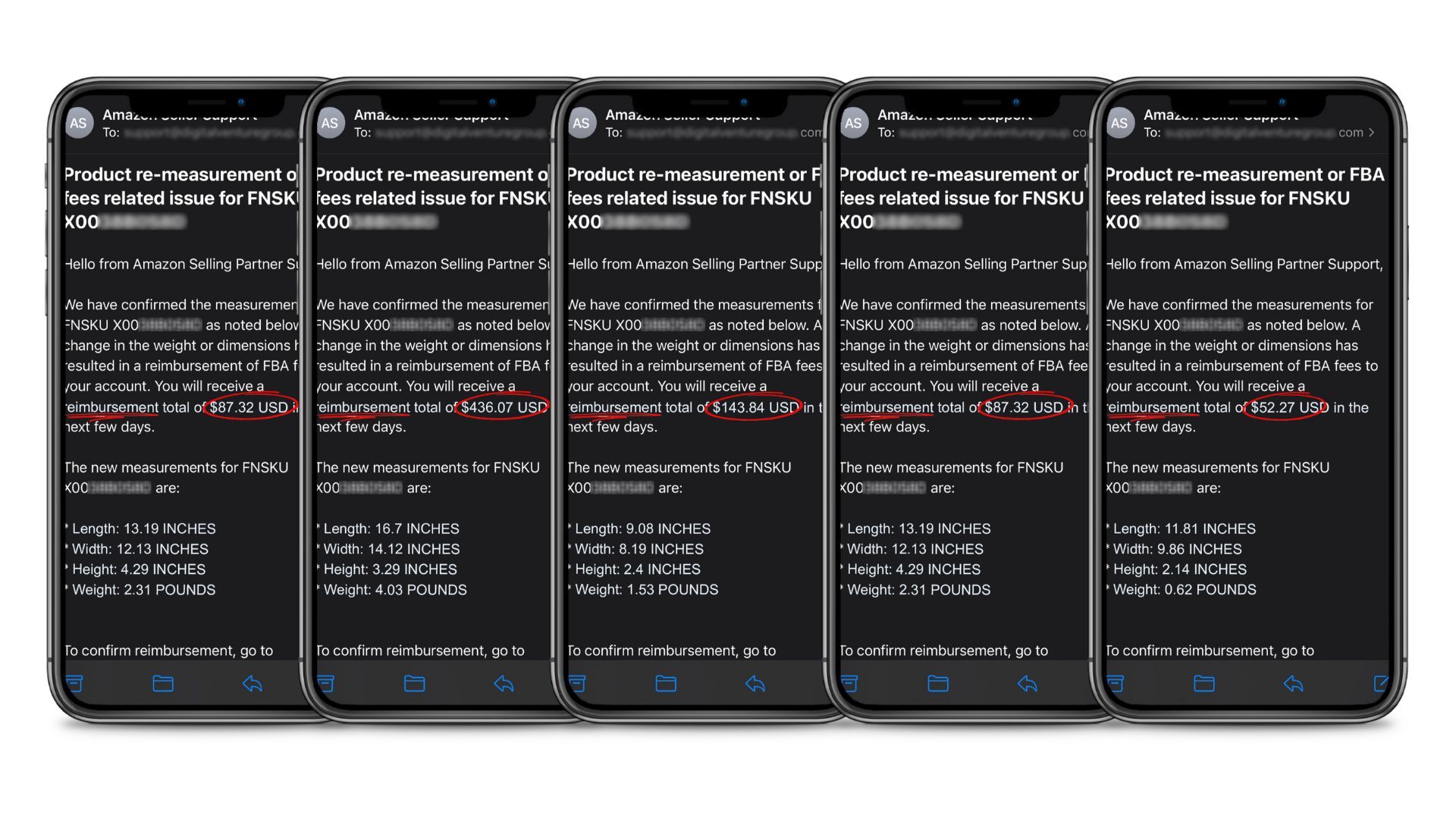 SellerVue's Change Log feature allows to record any changes to dimensions and weights easily; by recording fee changes in the product-size-tier, sellers can avoid any unforeseen charges;
with SellerVue, you can rest assured that you're always getting the most accurate information about your fees and profits.
Additionally, SellerVue offers customer support from a team of experts who are always happy to help with any questions or issues you may have.
SellerVue is the perfect tool for you if you're an Amazon seller who wants to take control of your business and boost your profits.
If you're looking for an easy way to check if Amazon owes you any money, look no further than SellerVue.
Sign up for a 14-day free SellerVue trial to explore all of the platform's features with no commitment and no credit card required.