Aloha, Amazon Seller!
Follow our guide and you can understand what are the advantages and disadvantages of Amazon vendor vs seller. How to become an Amazon seller? How to become an Amazon distributor? What is an Amazon Vendor program? Read this article to get answers.
Having your own product, you can do different types of sales on Amazon.com. The biggest marketplace in the world offers you different options to choose from. One of those is becoming a vendor, which allows you to become a first-party supplier or distributor to Amazon.
Becoming an Amazon vendor gives sellers a lot of advantages, but the seller cannot join the vendor program on his own: Amazon selects on its own and invites to become vendors those sellers who have best-selling products.
Amazon Vendor or Seller: What Is the Difference?
The majority of the sellers on Amazon are third-party sellers, using FBA (Fulfillment by Amazon) or FBM (Fulfillment by Merchant) fulfillment type, or a mix of both. This means that Amazon seller sells their item directly to an end customer, taking care of the whole sales process related to each order: sales, marketing campaign, pricing strategy, customer returns, etc. Amazon seller's sales activities are conducted from Amazon Seller Central Accounts.
There is another possibility to sell on Amazon, which is becoming vendor Amazon. The difference between vendor Amazon and Amazon seller is that vendors Amazon sell their items directly to Amazon as manufacturers or distributors, this way becoming Amazon's first-party partners.
When you become an Amazon vendor, this means that you can sell consignments or bulks of your product directly to Amazon at wholesale prices, while Amazon takes care of the retail sales to individual end customers under its brand. These products are labeled "Ships from and sold by Amazon.com." Being a vendor, you sell to Amazon, not on Amazon. Amazon vendors carry out their sales activities from Amazon Vendor Central Accounts.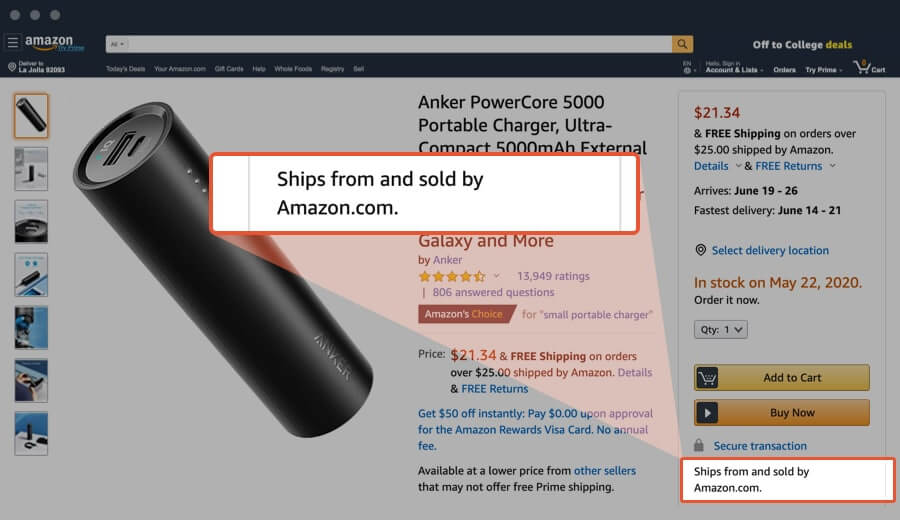 How to Become a Vendor on Amazon?
Now, when you know the difference between a seller and a vendor, you would, naturally, ask yourself how to be a vendor on Amazon and how to become an Amazon distributor. This is not as straightforward as it might seem. On Amazon, you cannot just say 'I've decided to be a vendor' and sign up for a vendor program or initiate Amazon distribution.
It is solely Amazon's choice whether to invite you to join Amazon's vendor program or not, and whether you have a chance of becoming an Amazon vendor. If they do, the Amazon team will send you an invitation proposing you become a vendor.
The selection criteria are consistent and high traffic, as well as high sales volume of your brand. When Amazon sees that your brand acquires popularity, has a high conversion rate, and generates a lot of purchase orders, they may consider you as a potential vendor.
In other words, the first step to becoming an Amazon vendor is to create a perfect brand.
What is Amazon Vendor Program?
Under the Vendor Program, your brand enters into a wholesale relationship with Amazon, and you become an Amazon partner under an Amazon Vendor Program. For a vendor, it is mandatory to register their brand in the Amazon Brand Registry program.
How Does a Vendor Account Work?
When you have received an invitation from Amazon to become a vendor, you need to accept or decline it. If you are interested in the offer, you need to agree to the terms and conditions and get access to Vendor Central.
Once done, you need to select the items you have in stock for Amazon to formulate purchase orders. This is done in the "Items" tab. You have to input all your details, including prices, and wait for purchase orders from Amazon. The purchase orders are automatically generated once a week depending on the demand.
As soon as the purchase order is received from Amazon, you will need to deliver the products ordered to the warehouses specified by Amazon. Note, that it is important to observe the terms of shipments, as delays or errors may result in fines – chargebacks.
The payment from Amazon will come within 60 or 90 days, according to your payment plan on Amazon.
Amazon Vendor vs Seller: Pros and Cons
The selling model you select on Amazon depends on the nature of the business you run. No matter whether you'd like to become an Amazon seller or an Amazon vendor, you need to be aware that both business models have their positive sides and drawbacks, which you can find below.
Amazon Vendor Model Pros and Cons
Amazon Vendor Model Pros:
Consumers trust Amazon and will buy your product;
Advanced Amazon Marketing Services available to vendors;
Simplified sales model and Amazon vendor central management;
Amazon promo programs and improved content.
Amazon Vendor Model Cons:
Losing control over pricing thus decreased profit margins;
Inflexible Amazon's requirements to fill out purchase orders;
Loss of control over your brand;
Loss of control over your inventory;
Amazon pays you within 60-90 days after invoice submission.
Amazon Seller Model Pros and Cons
Amazon Seller Model Pros:
Full control over price strategy;
Control over inventory;
Order supply based on demand;
Amazon (typically should) pay you 14 days after the sale.
Amazon Seller Central Cons
Fulfillment Costs and other Amazon fees;
Limited marketing tools;
Taking care of the full sales process including any problems.
Amazon Seller vs Vendor: Pros and Cons in Detail
When you accept an Amazon vendor proposal, you would need to analyze Amazon seller vs vendor advantages and disadvantages for your business. The pros and cons of Vendor Central vs Seller Central depend a lot on your sales approach and strategy: if you want to sell regular bulk orders, streamline your overall business model and operations, and don't want to dig into sophisticated program management, then the vendor activity is for you. On the other hand, if you want to build your brand, control prices, marketing campaigns, and have a grip over all stages of the sales process, then you'd rather choose to stick to being a Seller.
Amazon Vendor Advantages
Simplified Business Model
Basically, with the vendor partnership, the business model is quite straightforward: timely fill orders to Amazon – billing - avoiding chargebacks. In contrast, FBA sellers are responsible for lost inventory, customer returns, tax liabilities, and a lot of other sales-driven organizational matters.
High Customer Perception Value
Consumers trust Amazon's opinion and reputation, and since your items are labeled "Ships from and sold by Amazon.com," they would believe that your product is Amazon's choice.
Amazon Marketing Services and Participation in Promotional Programs
Amazon Marketing Services tools allow vendors to drive conversion through keyword-targeted ad campaigns. Both vendors and sellers have access to the option, but vendors have more powerful tools.
Amazon offers the vendors participation in promotional programs like Subscribe & Save and Amazon Vine.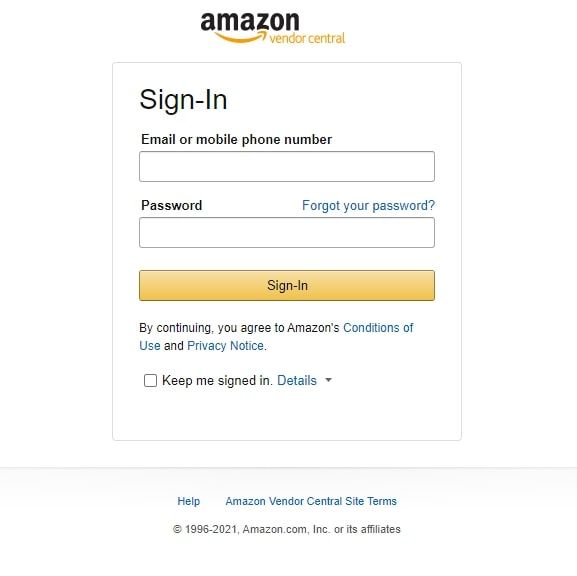 Amazon Vendor Disadvantages
Lack of Price Control
Amazon sets its retail prices based on its internal algorithms and can frequently change them. This could lower vendor's margins, while FBA and FBM sellers set their prices according to their own price strategies.
Inflexible Shipment Requirements
If you are not following the terms of filling purchase orders as a vendor, you are subject to chargebacks. This means that as a vendor you need to streamline your inventory processes and quickly fulfill orders. If you fail, you are subject to a fine.
No Possibility of Sales Channel Diversification
It is considered, that a diversified customer base reduces business risks. In the case of vendor cooperation, Amazon is becoming the largest single buyer for the vendor's brands. This can be a potential threat if Amazon changes the rules of the game.
Loss of Brand Control
As Amazon overtakes more or less the whole sales process, the vendor has little influence on how the brand is represented on Amazon.
To sum up, when it comes to price and inventory, Amazon seller has full control of it, while Amazon vendor has little control, however, the seller has much more hustle with processing orders. When it comes to the profit, the seller pays a lot of fees to Amazon, while in the case of the vendor, Amazon may set a low purchase price for the items, therefore reducing the vendor's profit margin. Therefore, you need to do a calculation and analyze your figures before taking a decision to become a vendor. Good thing is, that you can terminate the partnership as soon as you don't think it pays off. Changing status will not influence your listings.