Aloha, Amazon Seller!
Today we're going to discuss how important it is to keep an eye on every detail of each single SKU in your portfolio to grow your profit and maintain your skyrocketing sales.
As an experienced FBA/FBM seller you already know that concentrating only on your overall sales numbers generates a lot of missed profit in the long run. Apart from the extensive number of Amazon fees that can easily 'burn' a big lump of your profit if not managed wisely, you need to consider sales dynamics for the purposes of the forecast. Accurate profit analytics for each SKU is your key to success.
This is why to make the most out of your sales case, you would need an SKU-level approach to profitability. This involves accounting for overhead and indirect costs for each separate ASIN and SKU. And, of course, you know all about the headache you get trying to extract the numbers showing you, for instance, the orders and units generated from organic sales separated from ad orders and units.
Here's where SelleRise has good news for you. We created a perfectly simple solution to track all profit and reimbursement parameters with a couple of clicks.
SelleRise is the simplest service for Amazon Sellers available on the market. From now on there's no need for you to dig into endless Excel spreadsheets to understand what you really earn from every unit or how efficiently your PPC sells it.
Let's go and see how easily and smoothly it works. It is really 'simply visual', and if you'd like to 'see' your figures, this is a tool for you.
Look at Each SKU's Profitability
SelleRise Sales&Profit is a great tool to control your product performance easily by ASIN, SKU, or marketplace. That's where you can see the list of all your products with generated profit within the period you select. When you click on each product you can see all details of the orders, units, refunds, sales, product costs, advertisement expenses, Amazon fees, and, finally, profit.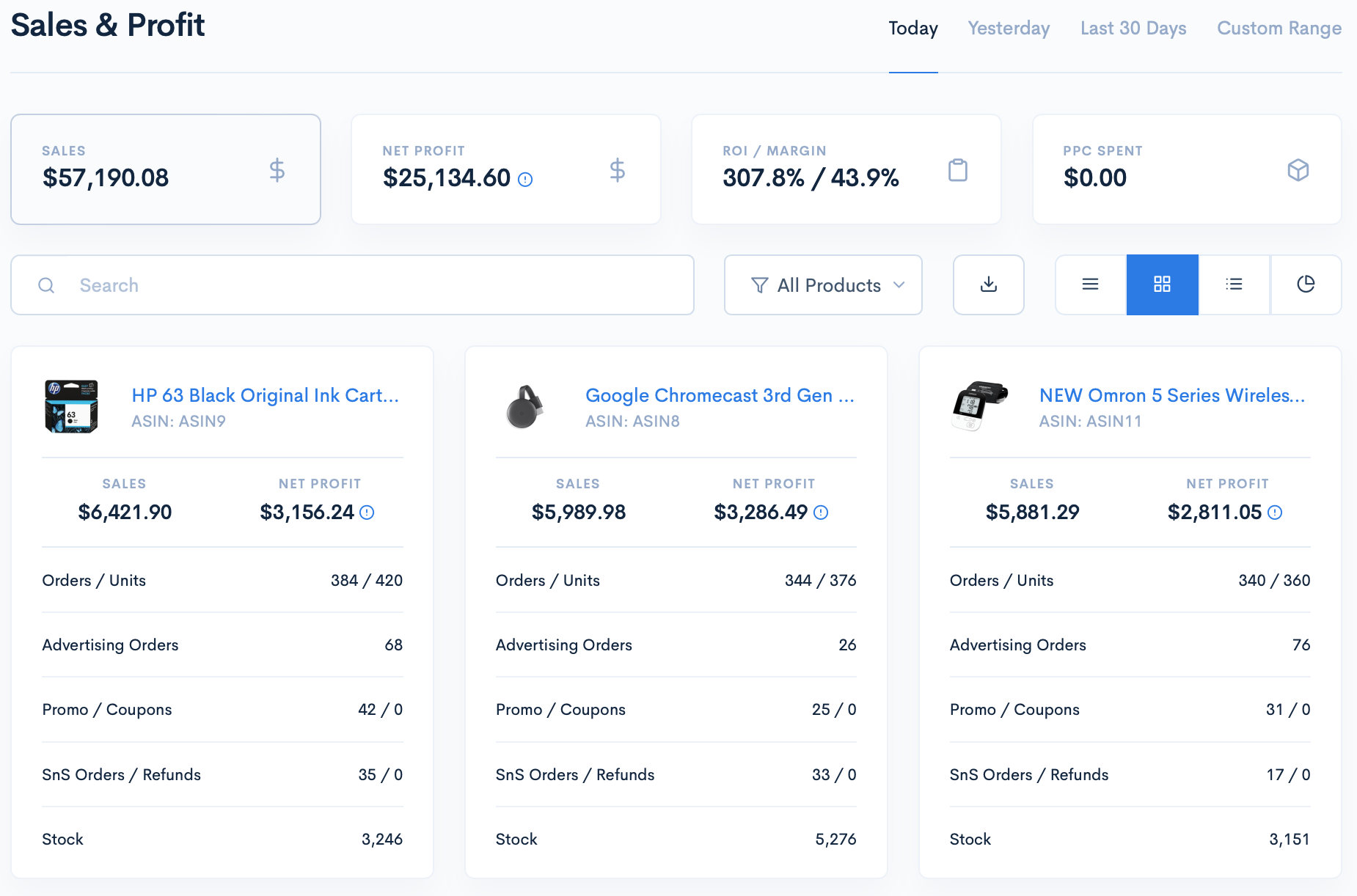 With SelleRise live Dashboard all your numbers are displayed in one click. Here you can easily track how much sales are advertising-driven and how much is organically driven.
This is then scaled down to organic orders, ad orders, organic units, and ad units in one single click. You can simultaneously see your indicators on the side diagram.
Dashboard from SelleRise immediately and aggregately displays all your Amazon fees. This is a place where you can track product profit for each of your SKUs and every detail about your Amazon transactions.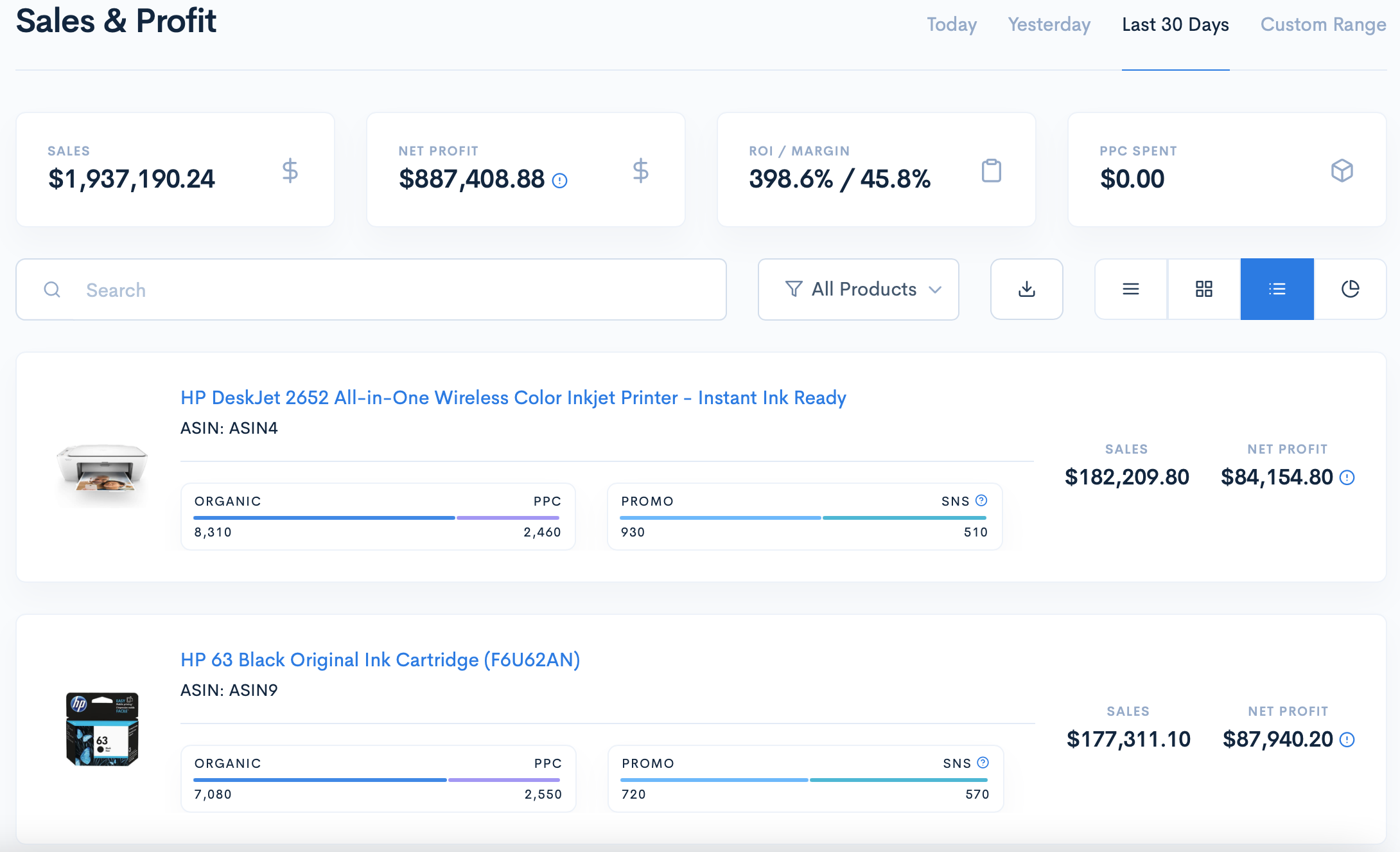 Get Your Reimbursements with All-In-One Reimbursement Dashboard
Tracing your Amazon reimbursements for each ASIN and SKU is absolutely not a problem anymore. SelleRise all-in-one Reimbursement Dashboard will easily do it for you.
There you can see the estimated sum for eligible FBA reimbursements and a required reimbursement sum, which you can claim back already.
You can easily monitor your Lost&Damaged reimbursements for each SKU, as well as Customer Return reimbursements.
SelleRise will also help you to get your refund and send you detailed instructions for each single reimbursement case.
Are you convinced that SelleRise is a great tool for each of your SKUs? Try SelleRise now! It's a pretty good time to make sure it's the simplest service.