Aloha, Amazon Seller!
What is ASIN? How can the sellers choose the correct ASIN number for their goods on Amazon? Get a full explanation of what they are and how to create them in our guide.
On Amazon.com, being one of the most popular e-commerce marketplaces, there are billions of products listed by millions of sellers. No wonder that you need a specific identifier, number, or barcode to distinguish between them, trace them, find them if they are lost, etc.
For this reason, all products sold globally should have unique product identifiers (UPIs). However, Amazon applies its own system of data identifiers for the products sold on the market, called ASINs. Being a seller, you would most likely make use of them in your sales process when creating the product to list it on Amazon, tracking your item, and making a reverse ASIN search. It is important to know what does ASIN mean, and what is ASIN number exactly, as far as Amazon, same as in many other cases, has strict rules regarding its use.
What is ASIN?
Okay, what does ASIN stand for and what does ASIN mean on Amazon? ASIN is Amazon Standard Identification Number.
As said, ASIN is a unique identifier, consisting of 10 letters, numbers, or both, which Amazon assigns to your product within their system. Amazon ASIN number is solely used in the marketplace and, unlike other UPIs, is not intended for use outside Amazon.
The purpose why they use it is to track the product and distinguish it from the others. The ASIN code not only helps to find each and every item among the constantly growing range of products in Amazon warehouses but also to monitor its shipping status in real-time, allowing sellers and buyers to know the exact location of the package ordered online.
ASIN number Amazon is used to:
Track items on Amazon website;
Locate items in Amazon warehouses;
Monitor the picking and shipping of products;
Enable sellers and buyers to find the exact item when they want.
Amazon ASIN number is solely used in the marketplace and, unlike other UPIs, is not intended for use outside Amazon. It's also worth saying, that if you sell in multiple marketplaces, your 'national' ASINs for the same product may vary across marketplaces.
When it comes to books, the ASIN number is the same as the ISBN number.
How Can You Find Your Product ASIN?
As you don't create an Amazon ASIN, where can you find it then? You might be interested to find your competitors' ASINs as well. There are basically three places where you can find it:
The Amazon's web address of your item;
The product's details page on Amazon;
Seller ASIN lookup software.
The easiest way to detect your ASIN is to look at the URL of your product. You can find the Amazon ASIN after the product's name and "dp".

Also, you can find an ASIN if you enter product name, UPC, or model the search box on Amazon or at the Add a product page of your Amazon Seller Central. When you get to the product's detail page, you will see an ASIN among other product details.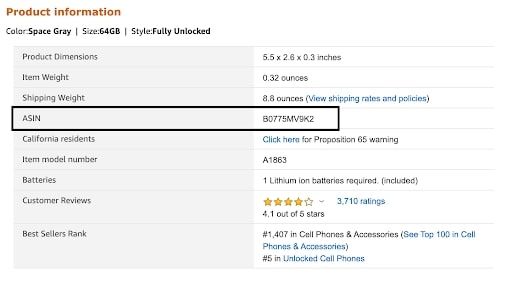 There is a third possibility to find your ASIN, with seller tools for ASIN number lookup. This makes sense if you are a big seller on Amazon and have bulks of products across marketplaces you need to trace.
How to Get an ASIN Number from Amazon?
Each new ASIN is generated when an item is entered into Amazon's catalog. Whenever you add a new item to Amazon, you must create a new ASIN.
Let's see how to get an ASIN. In order to create it, you can use the "Add a Product" tool from Amazon. If you have an item that exists on Amazon, you'll find the corresponding ASIN. If it's a new product, then you need to create a new ASIN. As soon as a new ASIN, another seller can also use it if they have the same product.
In order to create a new ASIN on Amazon, you will need to use its international UPI, a Global Trade Item Number (GTIN). Amazon uses these universal product identifiers to create and match its own unique ASIN codes.
While UPIs are GTINs, Manufacturer Part Numbers (MPNs), and brand names, GTINs are:
UPC – Universal Product Code (12 digits, used in the USA);
EAN – European Authentication Number (13, 14, or 8 digits, used outside the USA);
ISBN – International Standard Book Number (10 or 13 digits, used internationally);
JAN – Japanese Article Number (8 or 13 digits, used in Japan only);
GTIN-14 - Global Trade Item Number-14 (14 digits, shipping container code).
When Do You Create a New ASIN or Use an Existing One?
Each and every item on Amazon should have one ASIN and one product detail page. If there are duplicate items, their ASINs are merged.
When Do You Use an Existing ASIN?
Before you start selling on Amazon, you need to do and check if an ASIN for your item already exists. If so, you can sell using this ASIN. This is often done by resellers or retailers.
When Do You Create a new ASIN?
If an ASIN for your product doesn't exist yet, you'll have to create a new product in Amazon's catalog first. Once done, your product will be assigned a new ASIN. This is often done by private labels or brand owners.
Why is the Amazon ASIN Important?
As said, ASIN identifies your product on Amazon. ASIN product classification is applied for referencing catalog data, tracking inventory, and indexing search pages. Amazon's product catalog structure is based on the ASINs to help buyers make a relevant search. As a customer-centered company, Amazon strives to arrange for its customer a smooth and fast journey through the product categories to find 'that exact' product shopper is looking for.
Therefore, when assigning an ASIN number to your product, you make it visible for the buyer's search on Amazon. This is also the reason why you need correct ASINs for your items. As said, you can either create a new ASIN or sell under another product's one, if the product already exists on Amazon.
Amazon prohibits creating a new ASIN for an already existing product. If you do that, your listing could be suspended or removed. This is why it is important to check if your product already on Amazon before you start selling.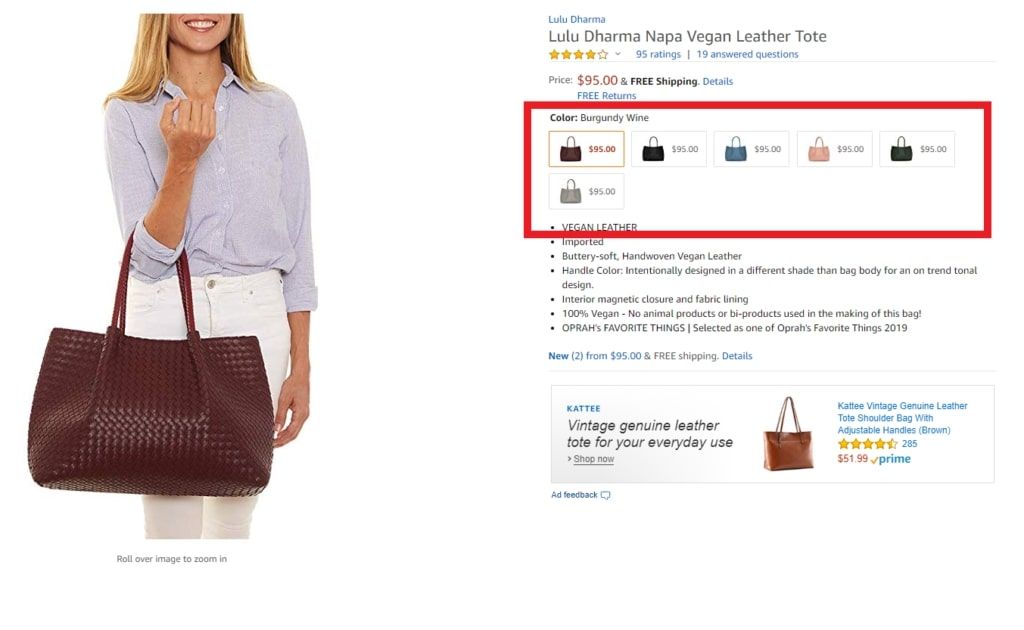 What is a Product Variation Policy on Amazon?
When the seller offers a buyer different product variations, like color, size, etc., they have one ASIN number. However, shoppers need to distinguish between them.
For variant products, Amazon implements one parent ASIN number. The variations are then treated as children products. You can review Amazon Variation Policy here.
What is Reverse ASIN lookup?
Reverse ASIN lookup is used to trace competitors' bestsellers and see their best-performing keywords.  With the help of Amazon ASIN lookup, you can find your competitor's ASIN and their most successful keywords you can use in your own PPC campaigns.
Amazon ASIN lookup shows what keywords the item is currently ranking for, and those that your competitors use to boost their sales. This process is similar to looking up search terms and researching which ASINs rank top on a term-by-term basis.
Reverse ASIN keyword search helps to perform keyword research on competitor items and compare them with your own results. Search by ASIN needs to be done by targeting ASINs directly competing with your products. You should select only the keywords and search queries that are relevant to your items. You can also consider keyword long-tails.